Looking for an unbiased All in One SEO review?
When starting a new website, search engine optimization (SEO) can be challenging for beginners. Yet, with a WordPress SEO plugin like All in One SEO (AIOSEO), you can optimize your website for search engines and unlock high-quality organic traffic.
In this AIOSEO review, we'll show you how this powerful WordPress plugin can help improve your SEO and grow your business.
What Is All in One SEO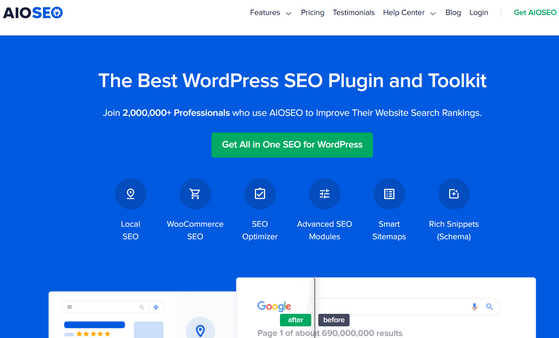 All in One SEO is the original SEO plugin for WordPress. With over 3 million users, it's the top choice for making your WordPress site SEO friendly.
This powerful plugin is easy to set up and offers point-and-click SEO settings to help boost your SEO rankings. It also provides advanced suggestions to improve your SEO writing, internal linking, and more.
All in One SEO follows the best SEO practices and latest industry standards to ensure your site is optimized correctly. Moreover, it integrates easily with social media and popular plugins like MemberPress, WooCommerce, and more.
Why Do You Need a WordPress SEO Plugin?
Search engine optimization (SEO) is the top way to grow your website traffic because everyone uses search engines to find what they need.
For example, if you're searching for the best "pet adoption centers in my area," you'd most likely Google it. The websites with content optimized for those keywords will appear at the top of search results, and you'll check them out first.
Those websites get free organic traffic every time someone searches for "pet adoption centers in my area," sending potential leads and customers to their business.
If you want free organic traffic like that, you need to optimize your website for SEO, and a WordPress SEO plugin offers the easiest way to do it. A good SEO plugin will show you how to optimize your website to improve your chance of ranking.
Now that you know why you need an SEO plugin let's dive into our AIOSEO review.
All in One SEO Review: What Does It Do?
All in One SEO helps you optimize every page and blog post on your website without hiring an expert. It guides you through optimizing your website step-by-step, so even beginners can improve their website's search rankings.
Here are some of All in One SEO's best features that make it robust and easy for anyone to use.
1. Quick Setup Wizard
After installing the AIOSEO plugin and activating it on your WordPress site, you'll see a setup wizard that will help you pick the best settings for your website.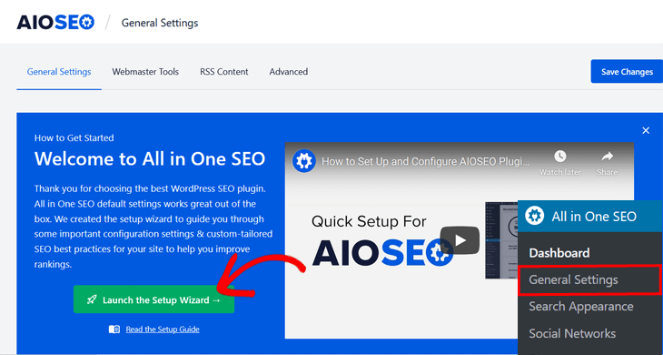 Follow the easy steps, and in less than 10 minutes, the plugin will apply the optimal SEO settings for your website's profile.
The first section will ask you to choose a category that best suits your website. For instance, you can choose an online store, blog, corporation, small business, news channel, and more.
In the next step, you can configure your home page meta description and title, which you can type manually or using smart tags. For example, you can select the +Site Title tag and click variables like +Author Last Name and +Tagline to instantly add them to your home page title.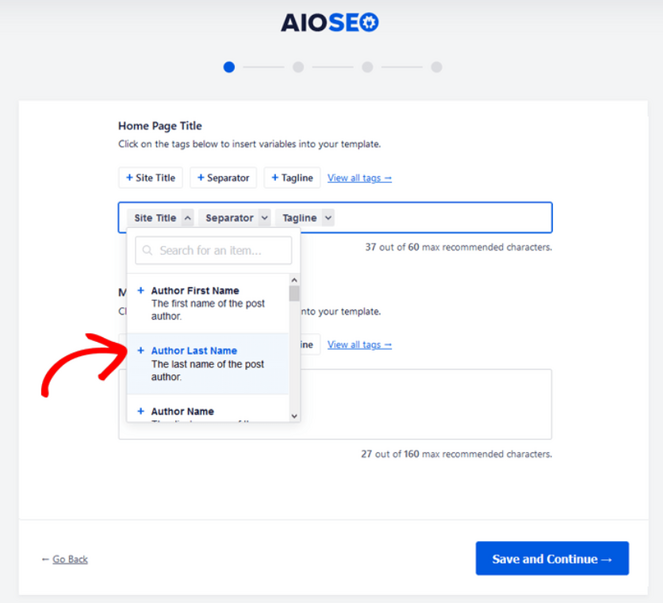 The setup wizard lets you enter your business name, logo, contact information, and social media profiles. You can also choose several SEO features to enable.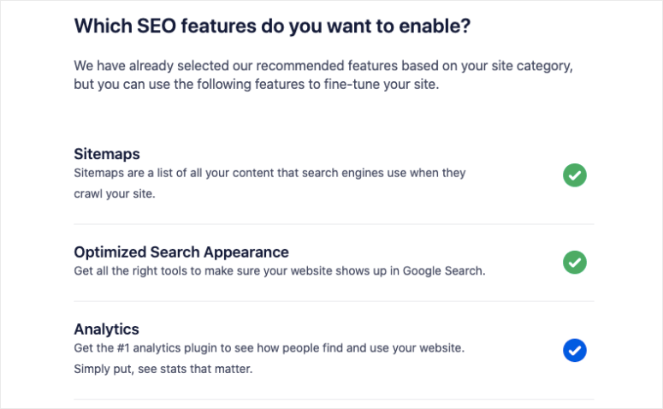 By default, the Sitemaps and Optimized Search Appearance settings are enabled. However, you can also enable Google Analytics, video sitemaps, and more.
It only takes a few minutes to set up All in One SEO. After that, you can start optimizing your WordPress content.
2. SEO Audits from Your Dashboard
After setting up All in One SEO, you can manage your website optimization from your WordPress dashboard. Your SEO dashboard shows your site's overall SEO score, and you can enable alerts for any issues the plugin finds and solve them with a few clicks.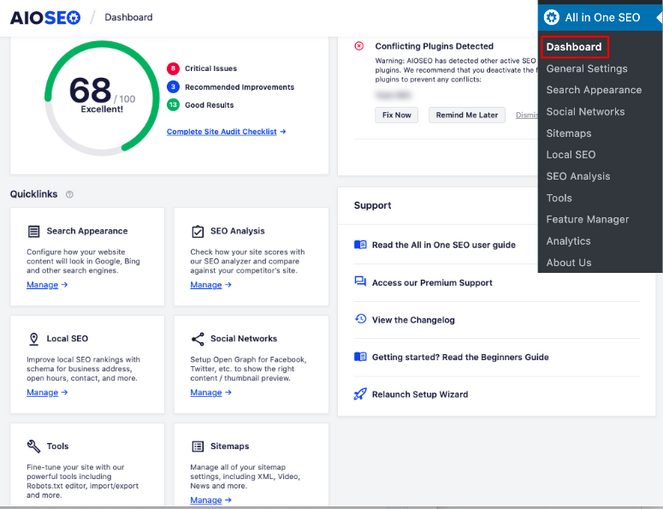 If you need more details, click the Complete Site Audit Checklist. Doing so will show a list of errors with recommendations for improvements alongside the positive results of your SEO efforts.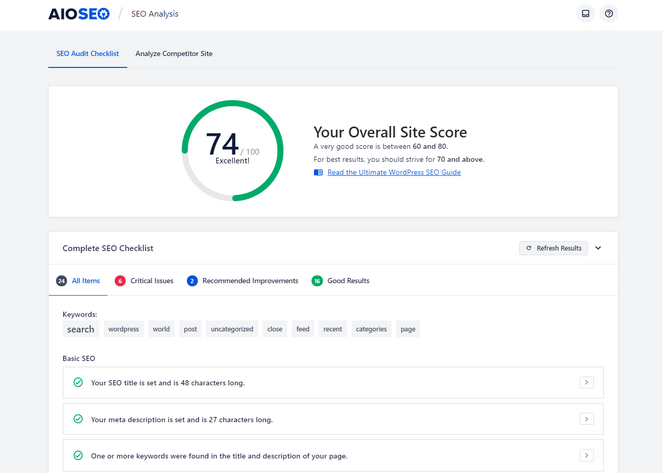 You can also find several links on the dashboard to manage features like SEO analysis, local SEO, search appearance, social networks, sitemaps, and more. Additionally, you can access beginner guides and support from the same page.
3. Effortless On-Page Optimization
Managing your on-page optimization is easy with All in One SEO. Its SEO meta box lets you edit your SEO title and description on every post and page, helping them display correctly in search results.

A compelling title and meta description will encourage potential visitors to click your content and visit your website.
All in One SEO lets you use smart tags to set titles and meta descriptions with a few clicks.
For instance, you can use the +Post Title, +Post Separator, and +Site Title tags to generate your SEO post title. As a result, you won't need to update the post to change its SEO title or description because the smart tags will do it automatically.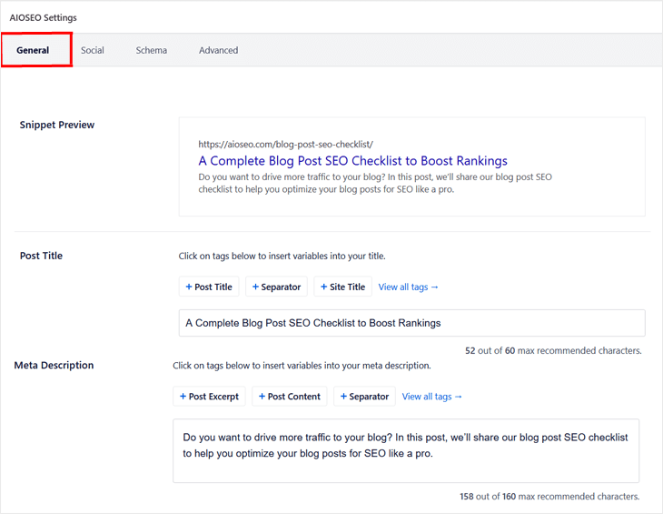 Alternatively, you can manually edit your SEO titles and descriptions by typing directly into the fields.
After entering your meta content, the SEO meta box will preview how your post or page will look in the search results. It will also adapt as you make changes.
4. Intelligent On-Page SEO Analysis
Another helpful feature is All in One SEO's on-page content analysis, which looks at your content and will tell you if it follows the best SEO practices.
For this feature to work correctly, you must first enter a focus keyword for every post or page.

All in One SEO will give you a basic score; beneath it, you can see which SEO practices you've followed appropriately. For example, if you've used your focus keyword correctly, that list item will be green.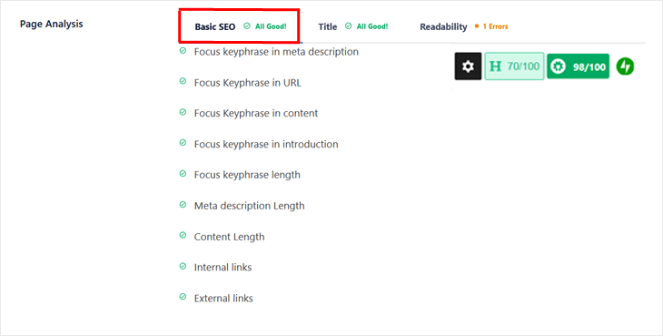 However, if you miss any items on the list, it will be red, indicating that you should work on it more to improve your chances of ranking.
You can also check your Title and content Readability, which will have a similar list of suggestions for improving your SEO.
With these helpful tools, you can ensure every page and post is optimized before clicking publish.
5. Multiple XML Sitemaps
Sitemaps are an easy way to tell search engines the location of the content on your website, so it's easier to crawl and index. Because it plays a crucial role in ranking your website, All in One SEO offers several different sitemap tools, including:
General
Video
Google News
RSS
We recommend enabling the General sitemap to tell Google which content you want it to rank. In addition, you can include URLs and set their importance in sitemaps, change the last modified date, and set the update frequency.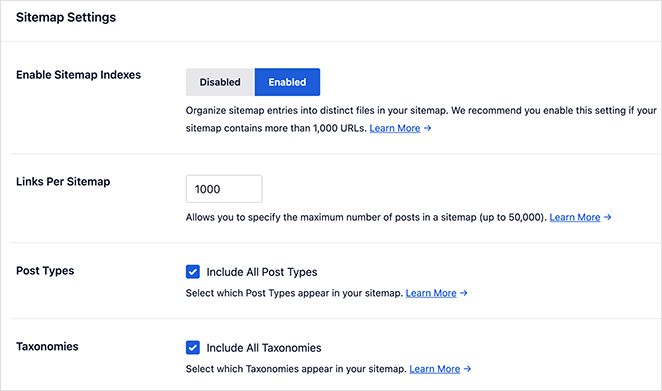 The advanced SEO settings also allow you to exclude posts, pages, terms, and images from sitemaps with a few clicks.
6. Local SEO
All in One SEO also lets you optimize your website for local searches. With the Local SEO feature, you can add your business name, logo, address, contact details, and more.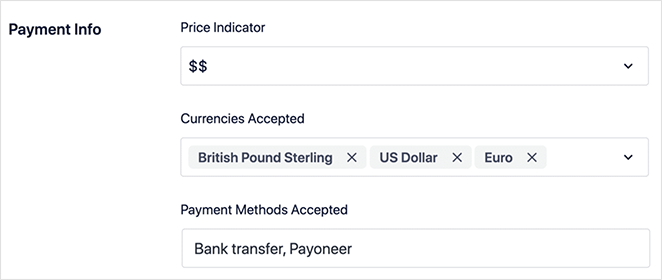 As a result, your local business will have a higher chance of appearing in local search results and Google Maps, which helps generate local business leads. Additionally, there are settings to add your business hours and payment methods to improve user experience.
7. Smart Link Assistant
Links are a crucial ranking factor because they direct users and google bots to relevant content. All in One SEO has a link assistant feature to make adding internal and external links to your content easier.
This tool shows the number of links to and from your content in a handy dashboard overview. At a glance, you can learn how your posts are performing and analyze your link-building strategy.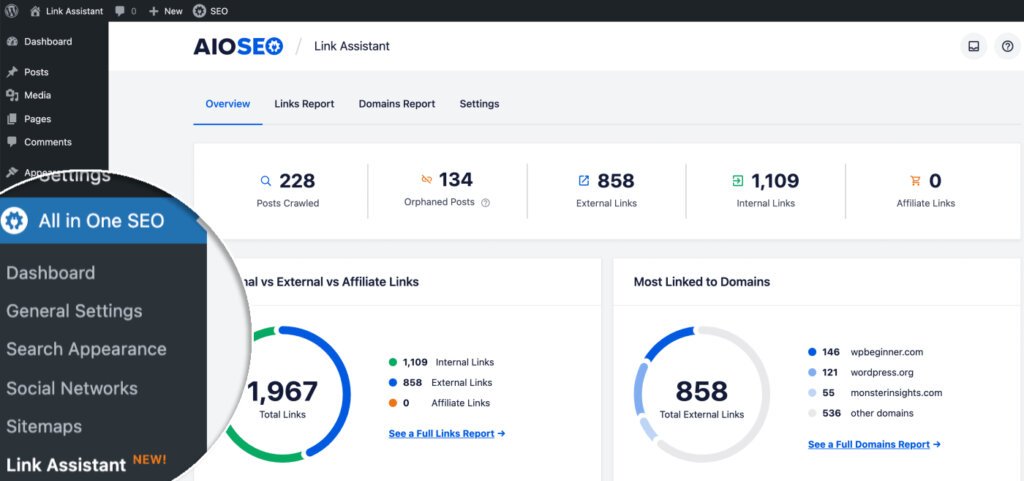 From there, you can use the link opportunities tool to build more links to relevant content on your site.
8. Seamless Digital Marketing Integrations
All in One SEO offers direct integration with many popular marketing tools, WordPress plugins, and platforms. For example, you can integrate with social media marketing platforms like Facebook, Pinterest, and Twitter to control how your thumbnails look on each social network.
The plugin also works seamlessly with WooCommerce to help you boost your online store's rankings.
All in One SEO also integrates easily with the following tools:
Google Search Console
Bing Webmaster Tools
Open Graph
Our favorite All in One SEO integration is SEMRush which lets you find and rank for extra keywords you may have overlooked.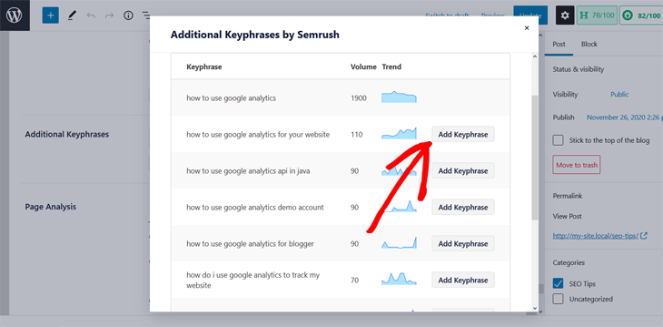 SEMRush will display related keywords with their performance inside your WordPress site. Then you can add any keyword with 1 click, making it easier to rank for multiple keywords.
More All In One SEO Features
All in One SEO has so many features that it's impossible to cover them in detail in this AIOSEO review. So here's an overview of the other powerful features that come with this SEO plugin:
Rich Snippets Schema – Add schema markup to your videos, products, and recipes to get rich snippets in Google.
Google AMP SEO – Improve your mobile search engine rankings.
RSS Content – Add advertisements to your RSS feeds to monetize your content.
Competitor Site SEO Analysis – Analyze your competitors to outrank them with better SEO.
User Access Controls – Control who can access and manage your SEO settings.
Robots.txt Editor – Choose which folders and files on your website that Google can crawl.
Import SEO Settings – Import your SEO settings from other SEO plugins like RankMath or Yoast to All in One SEO.
All in One SEO Pricing: Is All in One SEO Free?
You can download a free version of All in One SEO from the WordPress plugin repository. It has all the essential features needed to optimize your WordPress site and improve your rankings.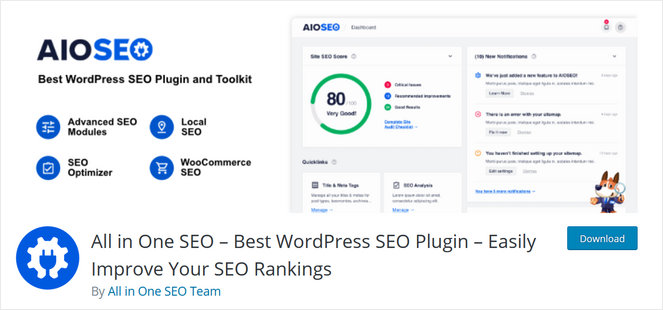 However, upgrading to the Pro version of All in One SEO is best to unlock maximum traffic. It's packed with all the powerful features mentioned in this review, including:
Schema markup
Advanced SEO modules
SEO sitemaps
Local SEO
WooCommerce SEO
Unlimited keywords
And more
There are 4 different pricing plans for All in One SEO, which are as follows: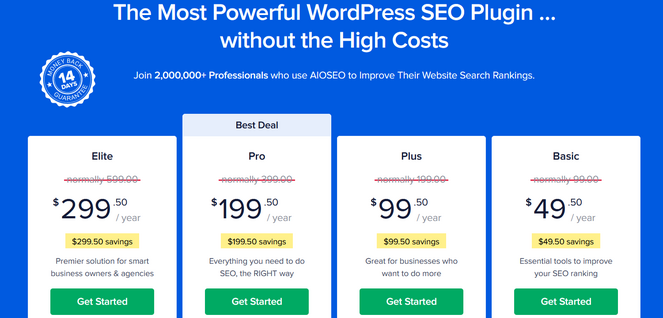 Basic: $49.50 per year
Plus: $99.50 per year
Pro: $199.50 per year
Elite: $299.50 per year
Regardless of your budget, All in One SEO has a plan to fit your business needs.
Verdict: Is All in One SEO the Best WordPress SEO Plugin?
After completing this All in One SEO review, we believe that All in One SEO is the best SEO plugin for WordPress. It's easier to use than alternative SEO plugins, offers flexible pricing options, and lets you control your website's SEO without installing additional extensions and plugins.
Ready to improve your website's search rankings?
Get started with All in One SEO today.
We hope you enjoyed this AIOSEO review. If you liked this post, please check out these tips to get free content for your website.