Are you looking for the best ebook marketing tips?
Ebooks are among the best ways to establish yourself as an authority in any niche while generating passive income from your website. But to sell your expertise and make your ebook a success, you need the right digital marketing strategy.
Read on for the best ebook marketing strategies and tips you'll want to try today.
Proven Ebook Marketing Tips for Success
We've spoken to the experts and compiled this list of the best ebook marketing tips for your small business. Read them carefully, then start promoting your ebook to see fantastic results.
1. Ensure Your Ebook Offers Value
Your ebook marketing campaign will likely promise high-quality content. As an expert, you need to deliver on that promise; otherwise, you'll lose credibility and harm your marketing efforts.
When planning your ebook, think about what you want to write and what your target audience finds most appealing. You should also consider how you'll present your ideas and lessons. Draw on your experience to tell a compelling story that sticks in readers' minds.
It's also important to present your ebook with an eye-catching cover to help it capture attention. You can use a graphic design tool like Canva to create an ebook cover or work with a designer to realize your concepts.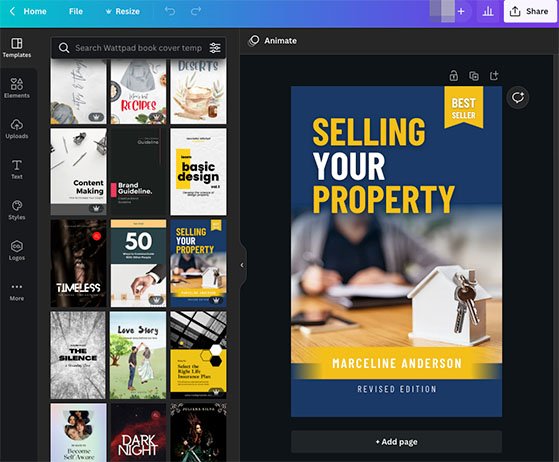 If your design skills aren't strong enough, we suggest looking for a designer to help you get the best finished product.
2. Set Up an Effective Conversion Funnel
Once your ebook draft is complete, you'll need a way to host, deliver, and sell your ebook. One of the easiest ways to do this is to use your existing business website. That way, you have complete control over the entire campaign.
If you don't already have one, you can follow these instructions to create a website.
You can create a conversion funnel on your website designed to promote your ebook, attract visitors to your sales page, convert them to leads, and convince them to buy your book.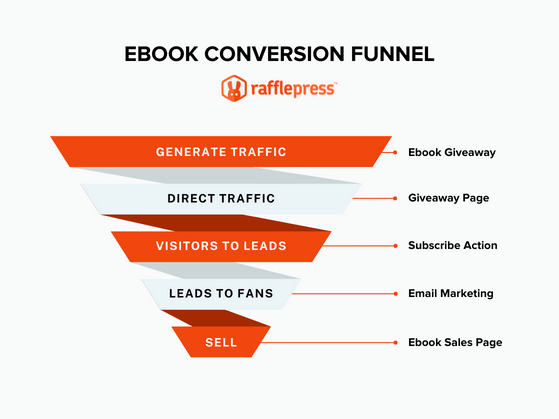 Here is an example of how your conversion funnel might look:
Generate traffic: Giveaway on social media promoting your book
Send traffic to landing page: Giveaway landing page on your website
Convert visitors to leads: Giveaway action to join your newsletter
Nurture leads to fans: Email marketing campaigns
Get fans to buy your book: Ebook sales page or online store
The easiest way to handle the first 3 stages of your ebook marketing funnel is to run an online contest, and if you have a WordPress website, RafflePress is the best tool for the job.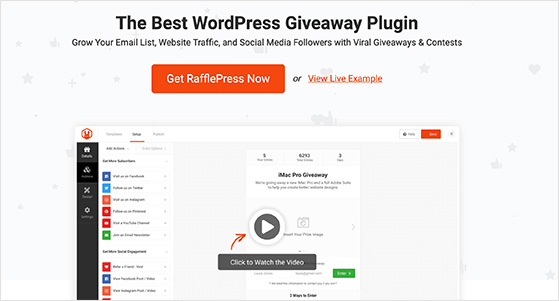 RafflePress lets you create any giveaway contest in WordPress with its drag-and-drop builder. It's easy to use and includes powerful giveaway actions that can help you:
Raise brand awareness
Drive traffic to your website
Boost your social media followers
And more
Besides helping you run viral giveaway contests, RafflePress comes with built-in giveaway landing pages. They let you link to your giveaway from marketing messages to boost entries and engagement while keeping everything organized on your business website.
Follow this step-by-step guide to run an ebook contest with RafflePress and kick-start your marketing strategy.
You can also use RafflePress to run a pre-launch campaign, which we'll explain next.
3. Plan a Pre-Launch Campaign
A pre-launch campaign is an effective way to build excitement during your ebook's creation. You can share sneak peeks of your ebook and snippets from chapters and share pre-launch discounts for people buying your book in advance.
You can set up a pre-launch campaign using RafflePress's pre-launch giveaway template.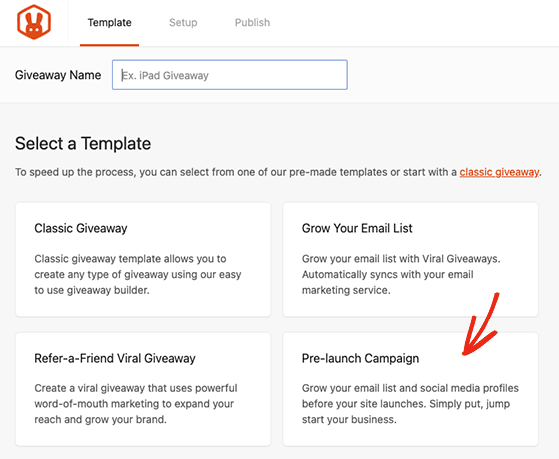 After launching it, the giveaway widget automatically includes entry actions to promote your product or service, or in your case, your ebook.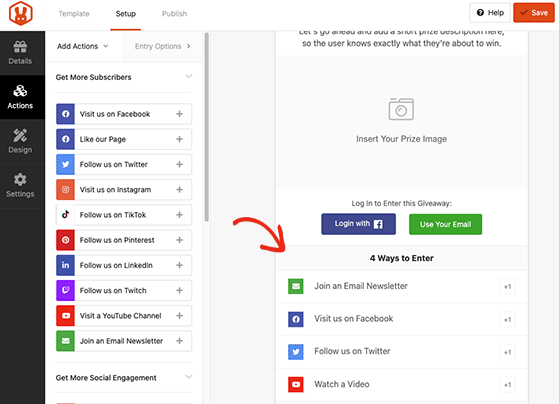 The default template actions include:
Join an Email Newsletter
Visit us on Facebook
Watch a Video
However, you can change these and add other platforms that better suit your needs, such as TikTok, Instagram, Pinterest, LinkedIn, and more.
We recommend using the viral Refer-a-Friend action because it uses word-of-mouth marketing to spread awareness of your campaign and boost your lead-generation efforts.
Here are some other pre-launch ideas you can try:
Promote an ebook landing page on social media with a discount
Post a sneak peek and get your audience to comment with their thoughts
Send previews of your book to influencers and ask them to promote it with your hashtag
4. Build an Ebook Sales Page
An effective way to sell your target audience the value of your ebook is to build a dedicated sales landing page. You can use your landing page to tell potential customers what they'll learn and explain the benefits they'll take away from reading your ebook.
Your sales page should include:
Benefit-driven and powerful headline
High-quality images
Your books' biggest takeaways
Compelling call to action
Don't forget to perform keyword research and optimize your landing page for search engines. That way, you can attract targeted organic traffic from users actively looking for your type of book.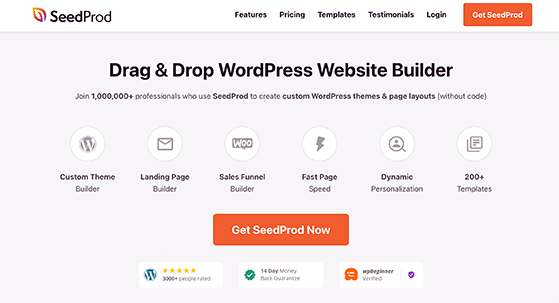 Creating a landing page in WordPress for your ebook is easy with a page builder plugin like SeedProd. It includes a visual drag-and-drop page builder, letting you build high-converting pages without writing code.
You can easily add all the features you need, such as CTA buttons, opt-in forms, social media profiles, image galleries, and more. It lets you connect directly with your email marketing service to collect contact details from leads.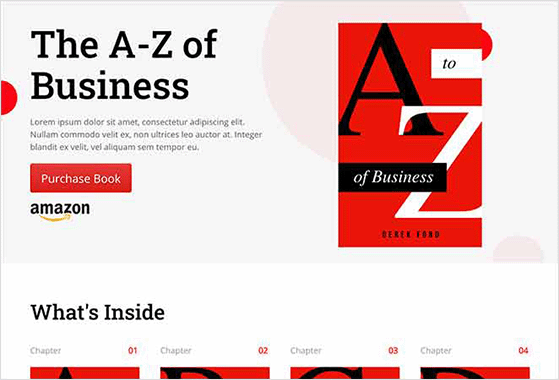 SeedProd also supports WooCommerce integration for eCommerce websites. That means you can sell copies of your ebook from your landing page quickly and easily.
Here's a step-by-step guide to creating an ebook landing page with SeedProd.
5. Market Your Ebook on Social Media
We've already mentioned the importance of promoting your ebook on popular social media platforms, but in this section, we'll explain it in more detail.
Around 58.4% of the world's population currently uses social media, making it an effective way to spread the word about your new ebook. To harness its power effectively, you need to learn which platforms your target audience uses the most.
You can do that by looking at your social media and website analytics, which will tell you your visitors' age, location, language, and other demographics. It's also possible to look at Google Analytics to see which platforms people come to your site from.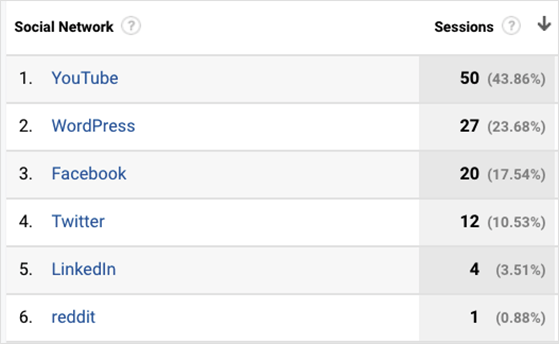 Once you know where your audience is, you can create social media marketing campaigns to promote your ebook.
Paid social media ads are an excellent way to do that. For example, Facebook ads include detailed targeting options that help you reach the right audiences.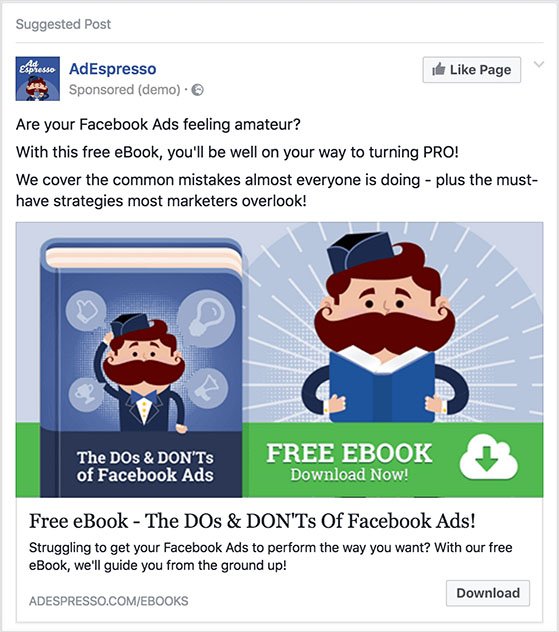 You can also run paid ads on Twitter, Instagram, Pinterest, LinkedIn, TikTok, and many other leading social networks. Besides helping you drill down your targeting, paid ads provide detailed insights and metrics that can help you improve your campaign's performance.
Pro Tip: You can use social media ads to attract and direct traffic to your ebook landing page and improve conversion rates.
6. Tell Your Email Newsletter Subscribers
Email should be a super important part of your ebook marketing strategy. Not only can you use email to promote your ebook, but it can also nurture new leads through your conversion funnel.
For example, you can send users an automated email sequence educating them about your future ebook after signing up via your giveaway. Once the email marketing campaign is complete, your contacts should feel confident enough to buy your book and become paying customers.
You can also send an email marketing campaign to your existing subscribers and customers. They may not know about your new book, so an email reminder is a great way to engage their interest and turn them into repeat customers.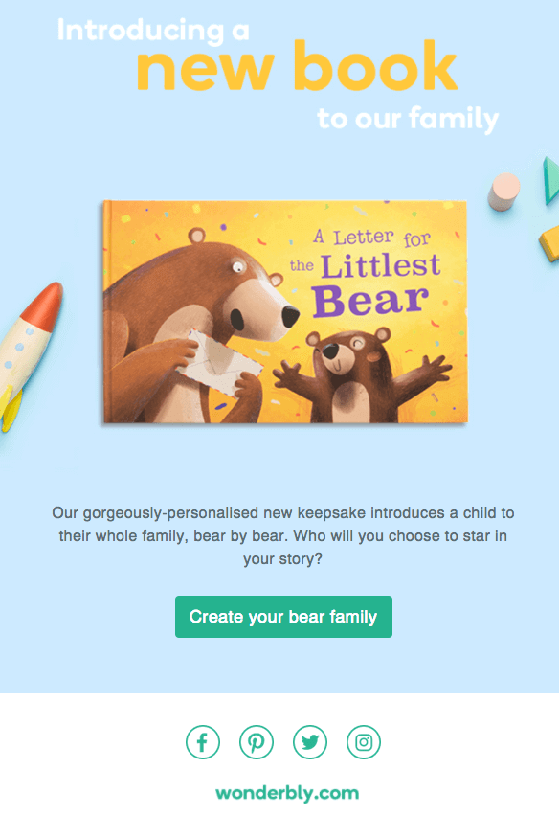 Try offering a discount code or coupon to incentivize your email list to convert.
7. Repurpose Your Ebook Content
Ebook promotion doesn't stop after the first wave of campaigns. You need to regularly market your book to see recurring leads and sales, which is where content repurposing comes in.
Content repurposing means taking one piece of content and turning it into other media types. For example, you can take the information from a single ebook and turn it into:
Blog posts: list posts with actionable instructions
Guest posts: write for another website and include a link to your ebook landing page
Content upgrades: expand on a blog post's content with a checklist from your book
Lead magnet: create a short free version of your book that users can download by subscribing
Infographic: make a step-by-step visual guide on a specific topic
Webinar: host a live webinar to talk about themes in your book
Video: guide viewers through a tutorial with a screen share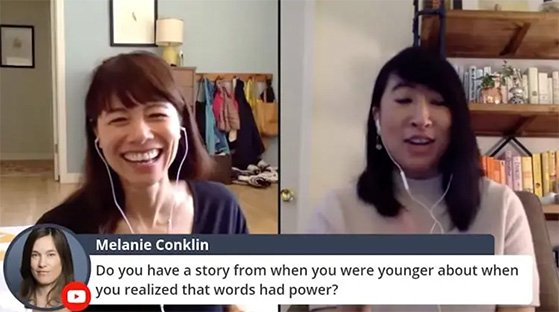 That's 7 pieces of content from a single ebook, but there are so many more types of content you can create. Moreover, these different formats are ideal for sharing across multiple social media channels to raise ebook awareness.
The only limit is your ability to generate more ideas!
Ebook Marketing Frequently Asked Questions (FAQs)
What is the best way to price an ebook?
The best price for your ebook depends on its length, quality, and your target audience. However, some general tips for pricing your ebook include:
Set a price that is fair to both you and your readers.
Consider the price of similar ebooks in your niche.
Don't be afraid to experiment with different pricing strategies.
What are some creative ways to promote my ebook?
In addition to the methods mentioned in this guide, here are some more creative ways to promote your ebook:
Create a video trailer for your ebook.
Host a webinar or workshop based on your ebook content.
Guest blog on other websites related to your topic.
Partner with other authors or businesses to promote your ebook.
How do I track the success of my ebook marketing campaign?
To track the success of your ebook marketing campaign, you can monitor the following metrics:
Number of ebook downloads
Number of email subscribers you gain
Amount of social media engagement your ebook generates
Sales of your ebook
By tracking these metrics, you can see what marketing strategies are working well and make adjustments to your campaign as needed.
That's it for now.
We hope you enjoyed this post and it helped you learn about the many ebook marketing tips you can use to promote your new book.
Want to drive more traffic and sales to your online store? Check out this guide on creating a WooCommerce contest in WordPress.
If you liked this article, please subscribe to our YouTube Channel for RafflePress video tutorials. You can also find us on Twitter and Facebook.