Want to learn how to create a retargeting strategy for your business? Retargeting is a great way to help people through buying, increasing leads, and sales.
But what's the best way to create a retargeting strategy? This article will share easy tips for getting the most from your digital marketing activities with retargeting.
Here's a table of contents to help you quickly navigate this article:
What Is a Retargeting Strategy?
Retargeting is a strategy that turns shoppers into customers by showing ads to users that have shown an interest in your brand. Users can show interest by visiting your website, clicking a social media ad, and more.
It's an effective way to bring interested users back to your website to encourage them to purchase.
Are Remarketing and Retargeting the Same?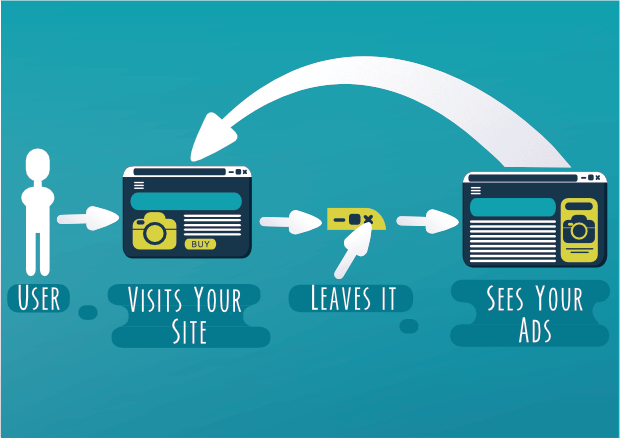 Remarketing and retargeting have slight differences, but they work towards the same goal. And that goal is to get back visitors who've shown an interest in your business.
In essence, remarketing is when you gather information such as email addresses and phone numbers to make lists. Those lists are then used later to send emails.
Retargeting, on the other hand, is mainly about showing ads to people based on their browsing activities.
You can use each strategy on its own, but using a combination of both will yield better results.
Why Create a Retargeting Strategy?
A retargeting strategy is an essential aspect of your marketing plan and has many benefits. The most apparent benefit is retargeting can help you generate more sales.
Here are some more benefits of retargeting:
Reach interested prospects within your target audience
Increase brand awareness and build trust
Gain insights on where you can recapture your audience
Improve return on investment for ad campaigns
How to Create a Retargeting Strategy
Now that you know more about retargeting, you can follow the guide below to set up a retargeting strategy for your business.
Setting Your Retargeting Goals
Before you embark on creating a retargeting strategy, it's important to define your goals. The main retargeting goals you can aim for are Awareness and Conversion. Let's take a closer look at both.
Awareness
Awareness retargeting campaigns are most often used for re-engaging website visitors. You can tell them about new products, discounts, and features.
One of the drawbacks of an awareness campaign is you're showing less targeted content to visitors who haven't engaged much with your brand. They're not in your contacts and usually have lower click-through rates than other campaigns.
Conversion
On the other hand, Conversion goals are when you want prospects to click an ad or offer and take action, such as filling out a form or signing up for a free trial.
Conversion campaigns are best for moving people down your sales funnel. You can use them in many parts of the funnel too.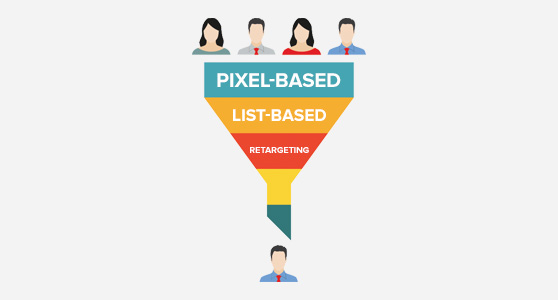 Pixel-based ads can generate leads, then list-based ads can qualify those leads. You can use retargeting ads to move those leads toward the bottom of your funnel.
Choose a Retargeting Strategy Type
You can use 5 main types of retargeting strategies in your campaigns. Here's an explanation of each type:
Pixel-based retargeting – Lets you show ads to anonymous users of your site. When a prospect visits your site, a browser cookie is stored with the information. The cookie is later used to show ads based on the users browsing activity.
Social retargeting – This is a type of pixel retargeting and works similarly. It shows ads to people who have interacted with your social content.
List-based retargeting – Lets you upload a list of customer email addresses to a retargeting platform. You can then create an ad to target those specific people.
Search retargeting – Lets you show ads based on peoples' search behavior.
Onsite retargeting – Encourages users to stay on your site longer to make a purchase or for you to upsell.
Now you know the types of retargeting strategies available, how do you put them in place? Below you'll find some smart tactics for using retargeting in your business.
Retargeting Best Practices
Before you jump into the retargeting strategies highlighted below, it's worth checking out these retargeting best practices first. It explains everything you need to know about segmenting your audience, choosing a retargeting channel, and optimizing your landing or product pages.
Now let's look at those tips!
1. Promote Your Best Content
It's easy to think that retargeting ads are only used for products. The truth is, they're a great way to drive people towards your content.
The best way to do this is to dig into your analytics and find your best-performing content. Then include it in your retargeting ads.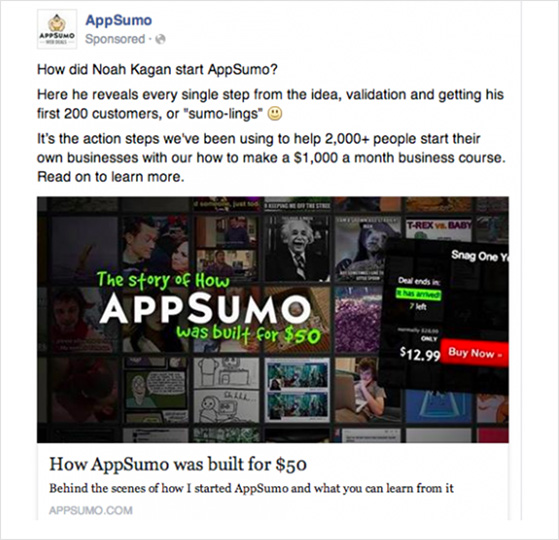 One way to set it up could be to target everyone visiting your site. Then exclude those who've already seen the content. You can use contextual targeting only to show the ad when people are reading relevant content to boost engagement and sales.
2. Run a Giveaway With Retargeting Scripts
You may have already heard that RafflePress is the best WordPress giveaway plugin, and that's super-effective for driving tons of traffic to your website. But you probably didn't know that you can use your contests to retarget people after they've entered to increase sales.
RafflePress' Success Tracking options make it easy to add Google analytics tracking scripts and retargeting pixels to your giveaway.
All you need to do is head to Settings » Success Tracking from your WordPress admin area and paste your retargeting code. Then click Save.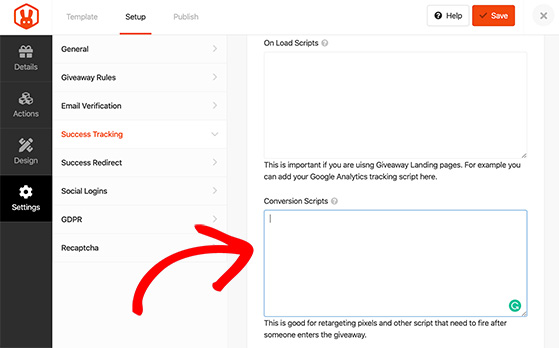 RafflePress will set these scripts to fire as soon as someone enters your giveaway.
3. Promote Pages Based on Page Types
Picture this: you're a furniture retailer looking to increase sales. Why not create retargeting lists for all your product categories?
For instance, you can build a list for people who visit any of your pages in the sofa category. And even one for the coffee table category. Then you can serve ads featuring sofas to the first list and one with coffee tables to the other.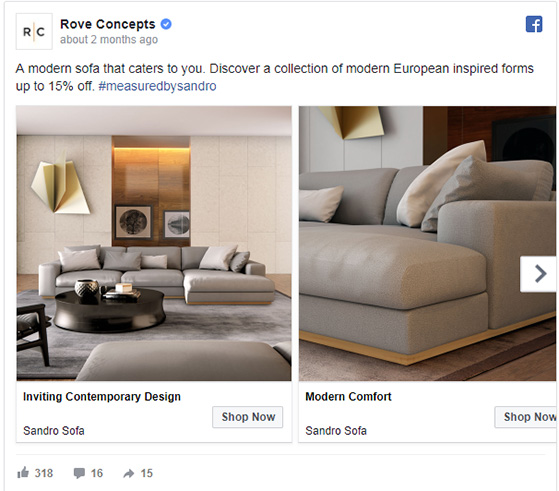 This makes sure you're always showing the right content to the right people.
4. Target Based on Upcoming Events
If you're a business that holds regular events or meetups, you can run retargeting campaigns to increase attendance.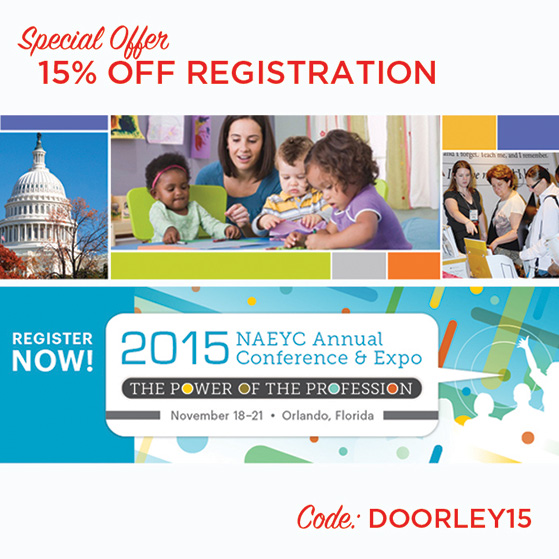 For example, by offering a discount, you could run a campaign targeting people who've visited your registration page and haven't registered. You can even use this retargeting strategy for webinars and training.
For even more event promotion ideas, see this guide.
5. Target People Opening Your Emails
If you add your retargeting pixel into your signature or the HTML template of your emails, you can target people who open your email broadcasts.
This works because you're aiming at people already interested enough in you to click and open your emails. And as a result, they're more likely to interact with your broadcast and take action.
6. Use Exit-intent Popups to Target Abandoning Visitors
You can also use exit-Intent campaigns to increase newsletter subscribers too.
Adam Enfroy, a writer who creates blog posts on scaling up your startup, used Exit Intent popups to deliver lead magnets to site visitors.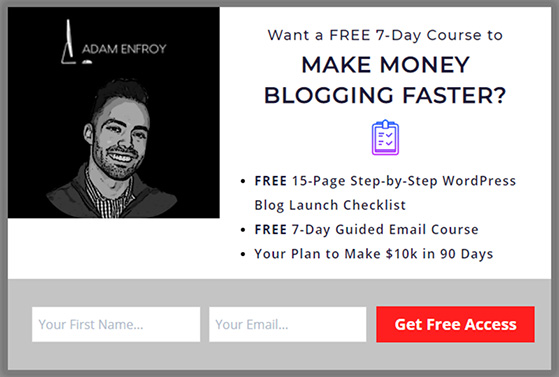 The popup only appears to users who haven't opted in when they're about to exit the site. And as a result, he got over 11k new email subscribers in 2019.
7. Exclude Converted Visitors
One of the first things you should do when setting up a list-based retargeting campaign is to exclude people who have already converted.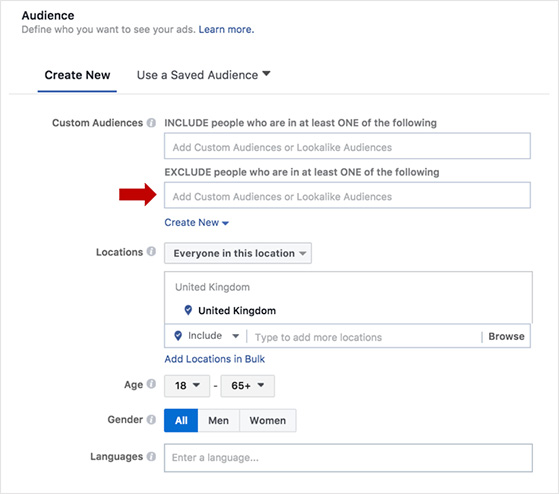 So if you're building a campaign to generate leads, you can add your current list of converted users as a negative retargeting list. Therefore you won't waste your ad budget on an irrelevant audience.
8. Feature a Well-Known Face
Another suggestion for list-based targeting is to use a familiar face. If you have someone in touch with many prospects who haven't yet converted, you can create a custom list and target ads to them.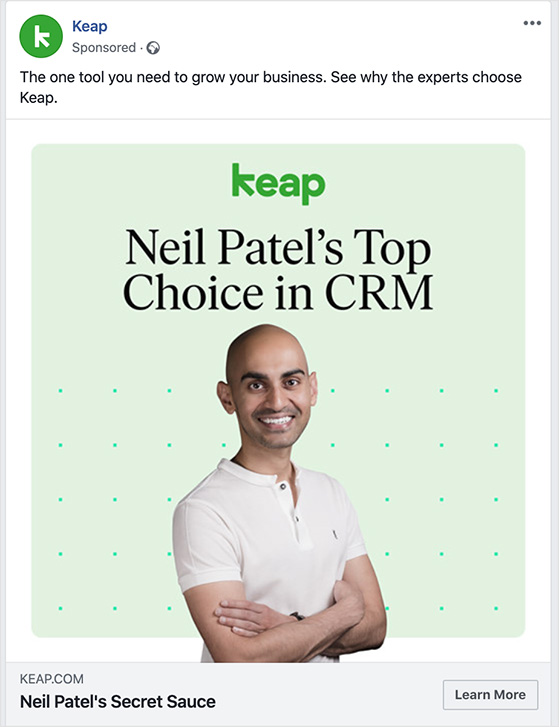 You could set your ad up with a picture of that person's face, a personal message, and a clear call to action to request a call.
9. Retarget With a Discount
If you've lost a lot of users based on price, you can retarget them with a discount to try and win them back. To begin with, you could offer a 10% discount and if they still don't convert, increase your discount sequentially every week.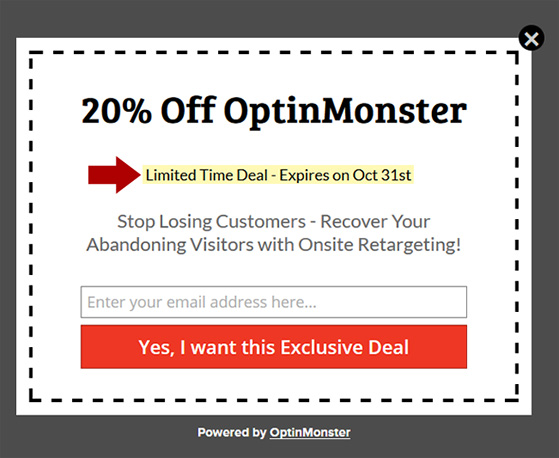 Just make sure you exclude people who have already converted from your list.
10. Reward Top Customers
The great thing about loyal customers is they can quickly turn into brand evangelists who raise the awareness of your product or service. Why not reward those people by offering them a renewal discount through retargeting ads.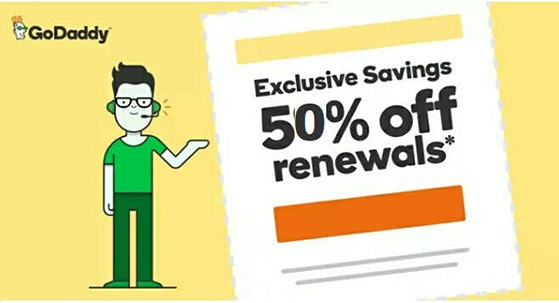 You can even do this for people who regularly share your content on social media.
11. Cross-sell and Upsell Customers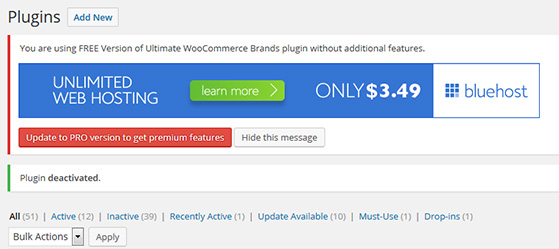 Imagine you're an accounting software provider and have a list of people who've purchased the base version of your product.
You could use their email addresses to build a retargeting list to show them ads. And those ads could encourage them to subscribe to a better plan known as upselling.
12. Target People Not Opening Emails
Chances are, you have an email list of people who don't open your emails. It could be that they're missing your emails because they're being filtered into their spam folders. So a clever strategy is to retarget those people using Facebook ads where users can't miss your message.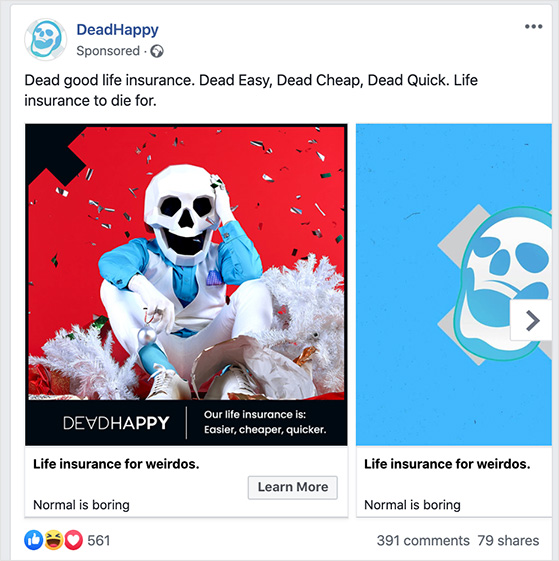 Add your list to Facebook ads to build a custom audience and start building your ad.
13. Use Urgency to Push People into Action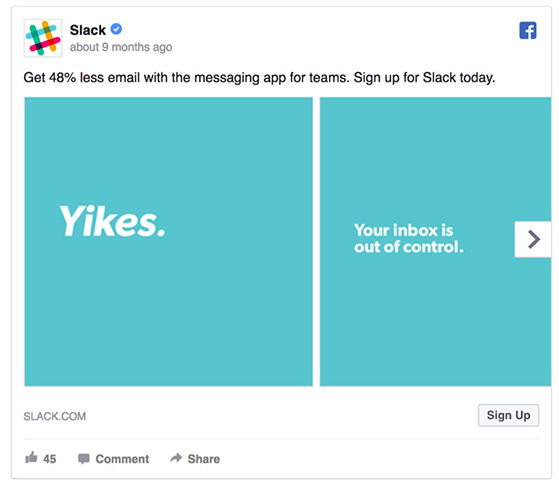 Using the fear of missing out (FOMO) creates a sense of urgency that spurs people to take action, so it's worth adding this to your retargeting strategy.
Imagine you run a website selling flights and travel packages. You can target your ads with last-minute deals to people who have recently visited your website.
Make sure you use persuasive copy that spurs people to click through to your landing page.
14. Use Onsite Retargeting to Reduce Cart Abandonment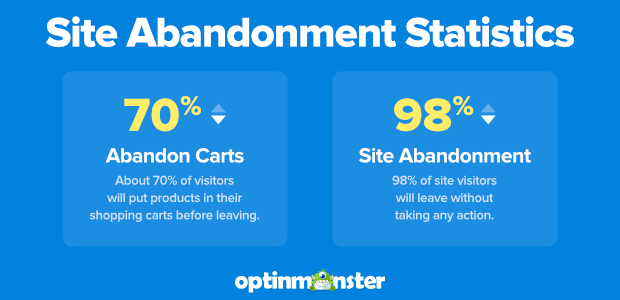 It's a fact that 98 out of 100 people will exit your website without buying anything. And 70% of those people will add something to their cart before leaving.
But did you know that 98% of site visitors will leave without taking any action? Many of them won't return either.
This is known as cart abandonment, but there's a simple way to reduce cart abandonment, and that's with onsite retargeting.
In this case study, Scott Wyden Imagery used OptinMonster to recover 21% of abandoned carts. All it took was for him to use an Exit-Intent campaign and a 10% discount coupon.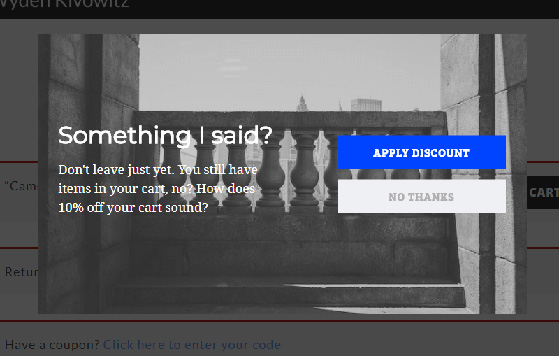 He created a lightbox optin for the campaign and replaced the default optin form with Yes and No buttons. So when people clicked the Yes button, the discount was automatically applied to their carts.
Even better, the optin only appears on checkout pages when the user is about to exit the page, converting 21.06% of abandoning carts.
15. Exclude Visitors Spending Less Than 10 Seconds on Your Site
People who don't spend much time on your site are probably not that interested in your brand. So focusing your retargeting efforts on them can waste your ad budget.
It's wise to exclude those people from your campaign, but the timings can be tricky. Experiment with your time-frames compared to the results you get.
If you're getting poor results and racing through your budget, you could increase the parameters to less than 15 seconds.
You could also include people who've bounced from your site too. This would require creating and uploading a list to Google Analytics. There's a handy guide for how to do that here.
And that's it!
You now know how to create a successful retargeting strategy. And while you're here, you might find this guide on how to promote a new product helpful too.
Don't forget to follow us on YouTube, Twitter, and Facebook for more great tips to grow your business.