Are you wondering if you should buy Facebook likes for your business page?
No doubt you've seen competitors with thousands of fans and are desperate to look just as popular. We totally get why it can be tempting to buy likes instead of naturally growing your brand.
It's quicker and the results are instant, making it appear like you're a force to be reckoned with.
But going down this route can have serious consequences in the long-run. So today we'll share 5 reasons why you should NOT buy Facebook likes, and what you can do instead to grow your page.
Let's get started!
Is It Legal to Buy Facebook Likes?
There are no laws stating that you can't buy likes for your Facebook page. However, as you'll learn in this post, Facebook's guidelines indicate that it's a practice you shouldn't engage in.
5 Reasons Why You Shouldn't Buy Facebook Likes
1. Facebook Could Penalize You
Perhaps the top reason why you shouldn't buy Facebook likes is that Facebook can find out and penalize you for it. Truth is, they take a lot of interest in pages engaging in this activity because it takes away from the authentic experience of connecting with people on the platform.
Facebook describes fake likes as likes bought from external services that offer packages of likes for a set price.
These services are usually offered by:
Click farms – people with real accounts who are paid to like certain pages.
Fake accounts – accounts with no real person behind them created for the purpose of liking pages.
Self-compromised accounts – where a person actively installs malware or gives up control of their account in return for likes on their page.
Compromised accounts – accounts infected with malware which makes the page like other pages without the owner knowing.
And to make it harder for these scam services to sell likes Facebook has an abuse-detecting team working to identify and block them from their activity.
So if you decide to buy Facebook likes, you could very well end up with your account blocked and/or those likes removed.
2. You'll Hurt Your Brand Image
You also need to consider your brand image if you're tempted to buy likes for Facebook. People are pretty smart and can generally spot fake followers easily.
Let's face it, it's not difficult to search the web for guides on how to spot fake Facebook Likes. Plus, new tools are cropping up all the time making it easier for you to find them.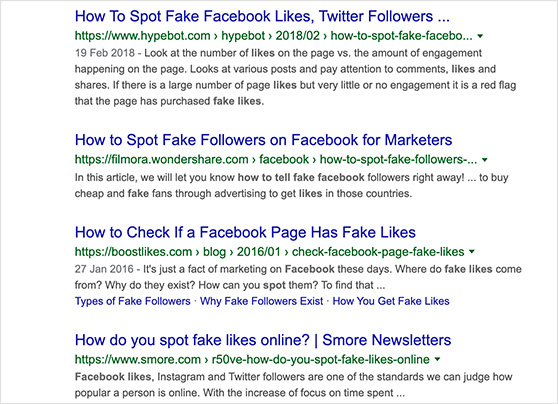 And when potential customers find out you're inflating follower numbers dishonestly, they're less likely to put trust in you as a brand. If you're lying about your Facebook followers, who knows what else you're making up?
Authenticity is really important to people, so don't make the mistake of buying likes, thinking it will somehow make your brand look amazing. Instead, it will make you look amateur and untrustworthy.
3. It Lowers Your Engagement Rate
Here's something else you might not know about buying fake likes on Facebook. Doing so can significantly impact the engagement rate of your posts.
Since the majority of fake likes come from fake accounts, these people, if they actually are people (as opposed to bots), won't be all that interested in your content. You bought them without having a target audience in mind, so chances are they're not the people who'll be most interested in your brand, product, or service.
This means you'll get fewer likes, reactions, and comments on your updates, making them less likely to appear in the news feed.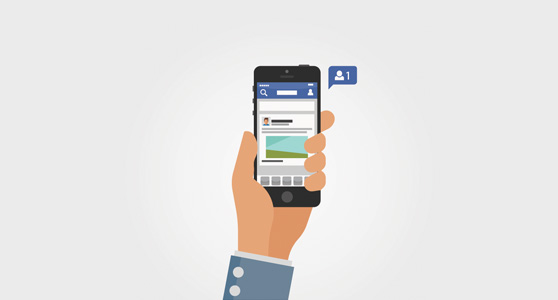 Facebook's algorithm is designed to show the most relevant content at the top of the news feed. That means posts with lots of interaction and relevance to your audience will show up first.
Your posts probably won't appear much at all because your audience isn't relevant to your brand, or interested in what you have to say. And being low on the news feed makes it less likely for new customers to find you.
Related: 11 Must-Have Facebook Marketing Tools
4. You'll Waste Your Ad Budget
Our previous point ties nicely into the fact that buying Facebook likes ultimately leads to a wasted ad budget.
Let's look at it this way, one of the reasons why you run an ad campaign is to increase impressions and engagement on your page. But if your followers are made up of paid likes, your ad money will go towards promoting content seen only by uninterested fake fans and spam accounts no one is paying attention to.
When you buy Facebook likes, you limit the potential of future ad campaigns to reach an audience that's actually interested.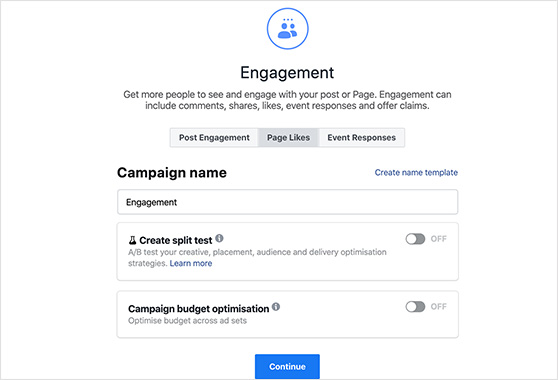 Your money is much better-spent targeting real users within your demographics, which in turn, increases the number of real people knowing about and engaging with your brand. Sure, it might take longer, but the rewards are so much better.
5. It Harms Future Marketing Efforts
And while we're on the topic of demographics, using click-farms and fake Facebook likes to increase your fans, you run the risk of distorting your follower demographics.
Before running a marketing campaign, a smart move is to find out the demographics of your audience. One way to do this on Facebook is to look at your insights and see the demographics of the people who already like your page. This helps you target your content to the right people.
But the problem with buying likes is it sends your demographics all out of whack.
These people aren't truly engaging with your page, so using them as your target audience won't really work. Essentially it makes it impossible to know who your customers are, which hurts your long-term strategy.
What to Do Instead of Buying Facebook Likes
With the reasons for why you shouldn't buy Facebook likes set in stone, how can you get more likes on your Facebook page? Here's some ideas for what to do to build a genuine audience on Facebook, without resorting to shady tactics.
Run a Giveaway on Facebook
One of the best ways to get more likes on your Facebook page is to run a giveaway. Giveaways are insanely popular and have the potential to make your page go viral.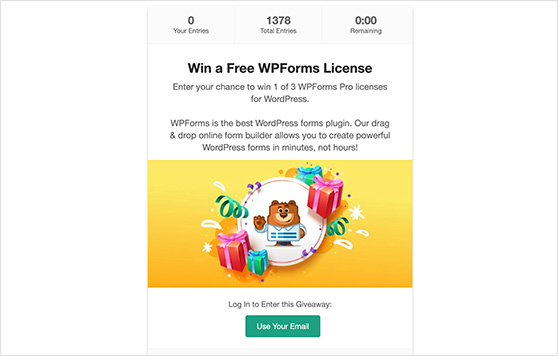 RafflePress is the best choice for running viral giveaways and is packed full of features that make running a giveaway on Facebook super easy.
To grow your page using a giveaway, you can make use of RafflePress's built-in Grow Your Facebook Page Template, which comes pre-loaded with user actions designed to boost your page.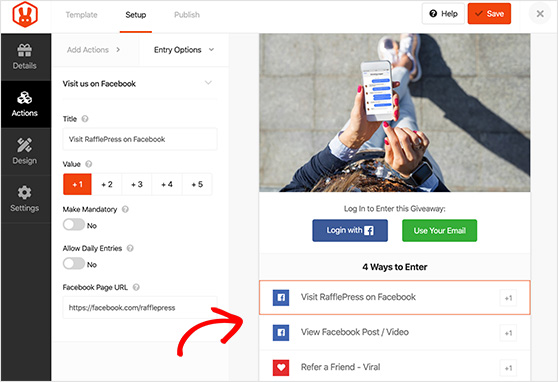 You can get people to do the following actions to help grow your page:
Visit your Facebook page
Watch a video or Facebook post
And if you're feeling creative, you can even design your own activities too!
As we mentioned, this is an awesome way to get more people interested in your brand. For ideas on what prizes to include in your contest, check this handy guide out.
And if you'd like some great Facebook giveaway ideas, this article has everything you need.
Take Advantage of Video
Another way to get more Facebook Page likes is to take advantage of the soaring popularity of video. Videos do really well on Facebook and the truth is, only YouTube has a higher reach for video content.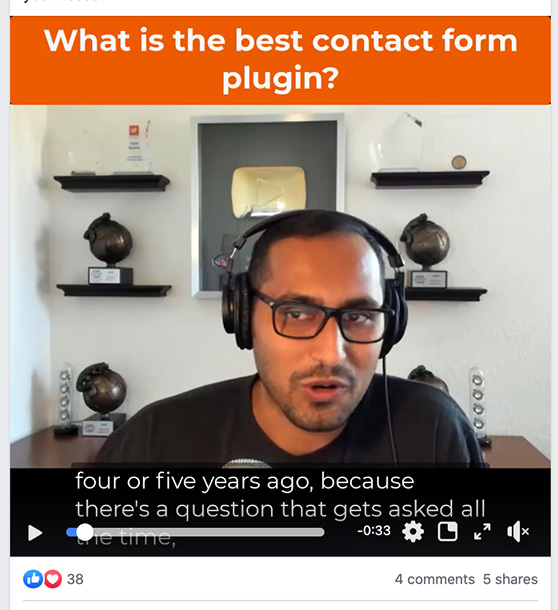 Our friends at WPBeginner posted this video to their page to help their fans discover the best contact form plugin, which resulted in great engagement and feedback.
You could also run a Facebook Live session and promote it in advance to generate interest before you go live.
Use Insights For Inspiration
Earlier in this article, we mentioned how using Facebook insights with fake likes can make it difficult to identify your ideal audience.
But on the flip side, if you grow your facebook page genuinely, you can use insights to figure out what to share in the future.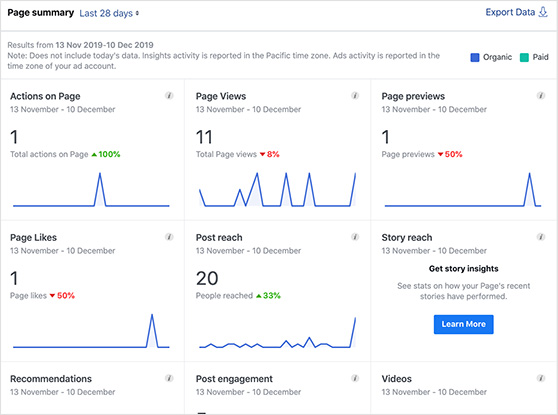 With real Facebook likes, you can use insights to get a real view of who your followers are and what content they like best. You'll be able to decide which content types have the best reach and engagement, then use that information to deliver more of what your audience wants to see in their feeds.
Let's face it, the best way to maximize your success is to learn from your past actions. So, giving people the content they really want will naturally lead to more followers.
There you have it!
Today you've learned why it's a really bad idea to buy Facebook likes and what you can do instead to grow your page, for a thriving community of engaged fans.
We hope you enjoyed reading this article. And if the thought of running a Facebook giveaway fills you with excitement, why not check out our list of contest promotion ideas to make it a great success.
While you're here, remember to follow our YouTube channel for video tutorials. You can also follow us on Facebook and Twitter here.