Are you looking for the best Father's Day giveaway ideas to excite your audience?
Father's Day is an excellent time to market your products and services. However, getting your audience's attention is harder when many other brands run similar marketing campaigns.
Don't worry! You can make your brand stand out with a viral giveaway, and in this article, we'll share our top Father's Day contest ideas to help you succeed.
Benefits of Running a Father's Day Giveaway Campaign
There are many ways you can benefit from running a Father's Day promotion, but the most apparent benefit is the extra revenue you can earn. Although Father's Day isn't as popular as holidays like Mother's Day, you can still make many sales over the period.
A Father's Day campaign can also help you:
Boost your social media followers
Attract new customers
Promote specific products
Increase customer loyalty
Above all, a giveaway is an exciting opportunity to engage your target audience.
Essential Elements of Father's Day Giveaway Contest
Before we look at the best Father's Day giveaway marketing ideas, let's look at what your giveaway should include.
The most popular Father's Day contests include these essential elements:
Eye-catching imagery: Users won't trust you enough to enter if your giveaway page isn't professional and engaging. Use eye-catching images and colors to make your giveaway attractive and on-brand.
Prize value: The giveaway prize is the main reason users visit your giveaway page. Show users what the prize is worth and use high-quality images to help them imagine winning it.
Call-to-action button: You want users to act when they visit your giveaway. Make your call-to-action button stand out with a contrasting color that's easy to spot.
Bonus entries: Offer users different ways to earn more chances to win. The more options people have for entering your giveaway, the more they'll complete, which will help you spread the word.
Terms and conditions: Always include a giveaway rules section so participants know what does and doesn't qualify as an entry. You should also tell users who can enter and how often they can enter.
9 Father's Day Giveaway Ideas & Examples
So far, you know the benefits of running a giveaway and the best elements to include. Now let's look at some of the top giveaway ideas for Father's Day to grow your business.
1. Father's Day Selfie Contest
A selfie contest is one of the most popular Father's Day giveaway ideas. Most people own a smartphone, so why don't you encourage users to submit pictures of their dad and themselves for the chance to win a prize?
In this Father's Day photo contest example, Bachpan play school asked fans on Twitter to post a selfie with their dads in the comments using the hashtags #FATHERSDAY #BACHPAN #AHPS. The winner had the chance to win a mystery prize.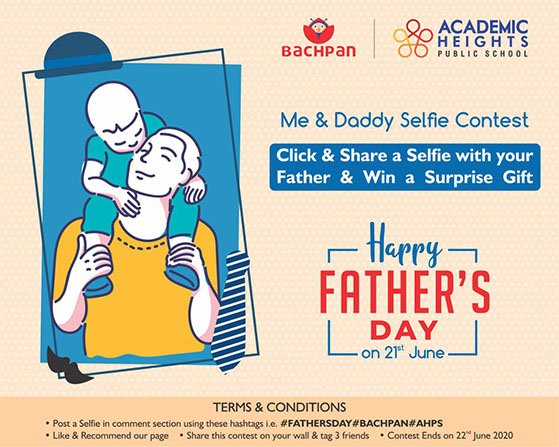 How to Do It:
You can run a similar giveaway for your Father's Day campaign with RafflePress.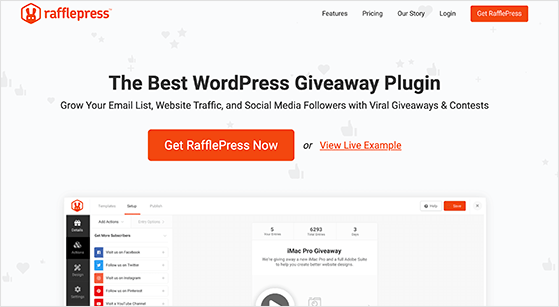 RafflePress is the best giveaway plugin for WordPress. Its easy drag-and-drop giveaway builder lets you run any type of contest from your WordPress website in minutes.
The powerful 'Submit an Image' action makes running a Father's Day selfie contest easy. Simply add the action to your giveaway widget, and type your instructions for entering.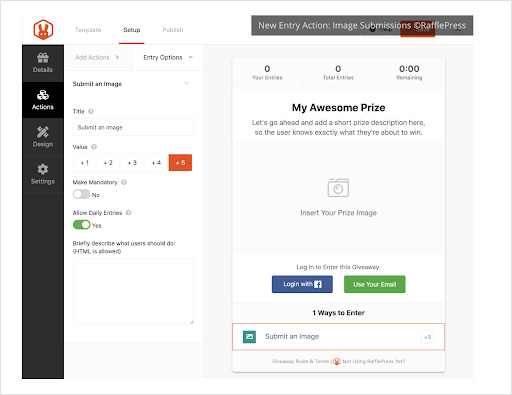 The images are stored automatically in WordPress, making it easy to view submissions and choose a winner.
You can also ask users to complete the 'Tweet a Message' action to share the giveaway on Twitter. That action lets you create a custom message with hashtags and mentions to boost brand awareness.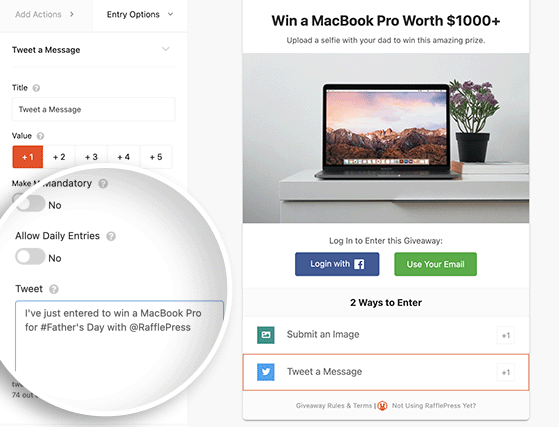 2. Refer a Friend Father's Day Contest
Referral contests are also popular Father's Day contest ideas. They work by asking users to share the giveaway with a friend to earn an entry, and the more friends they refer, the more chances they have to win.
Doodle India ran a similar Father's Day giveaway on Instagram.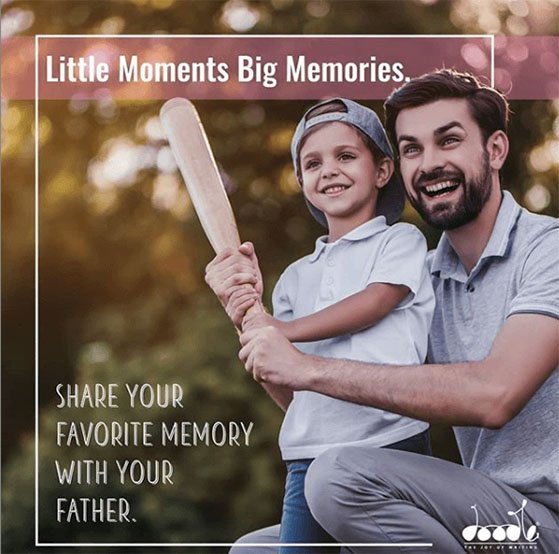 They asked fans to share their most memorable moments with their dads in the comments. Users also had to:
Like the post
Follow on Instagram
Tag 3 friends and ask them to participate
How to Do It:
Running this type of giveaway is easy with RafflePress. First, choose the 'Grow Your Instagram Following' giveaway template.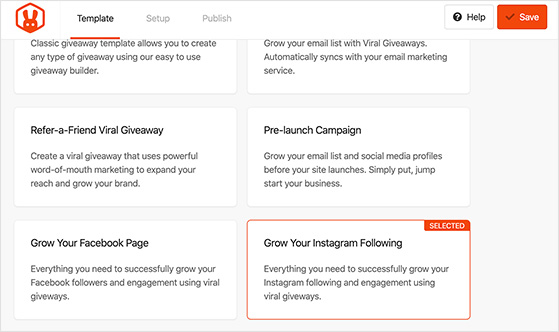 The template adds actions to visit your Instagram profile and view a post or video. Users can view the post right inside the giveaway widget, making it easier to leave a comment.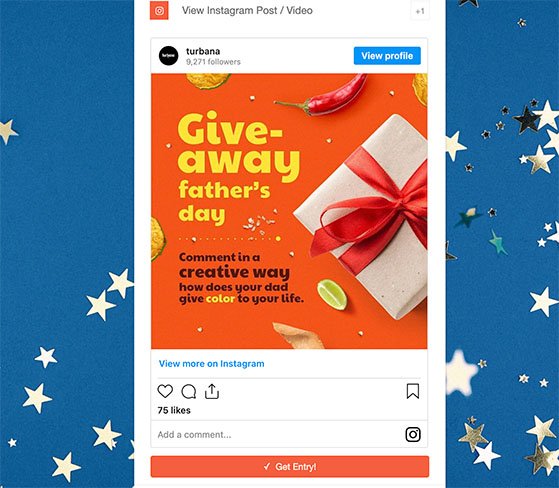 You can then use the Refer a Friend action to ask users to share the giveaway via email and social media.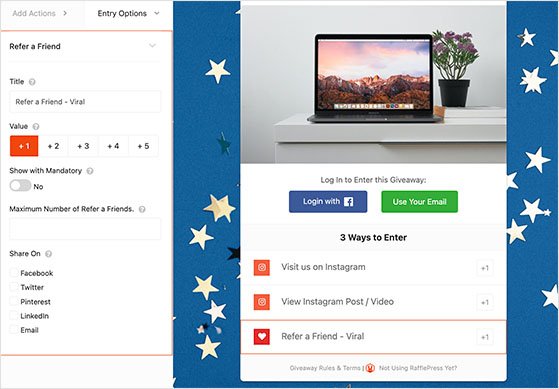 3. Let Fathers Pick a Prize
Another excellent Father's Day giveaway idea is to let participants choose a prize if they win. For instance, you can share a photo collage of some exciting prizes and run a poll asking users to pick their favorite.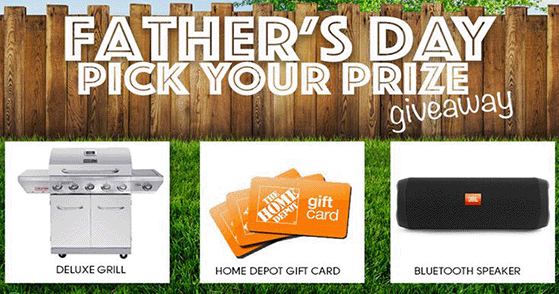 When the giveaway ends, you can choose a winner randomly from everyone that entered to keep the decision process fair.
How to Do It:
RafflePress has a handy giveaway action to make this type of giveaway easy to run: the Polls and Surveys action. You can add different options in the action settings and even include multiple choices.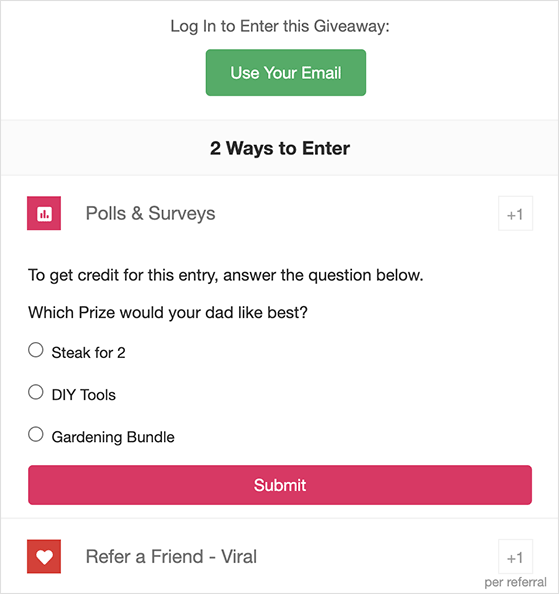 We also recommend including bonus actions to help spread the word about your giveaway and offer more ways to win, such as:
Join an email newsletter
Refer a Friend
Tweet a Message
4. Father's Day Social Media Contest
Social media is an excellent place to promote your Father's Day campaigns, and social media giveaways are a popular way to make your campaign go viral.
In this Instagram giveaway example, Micro Scooters offered a bundle of limited edition scooters to the lucky winners. To enter, users had to comment with their favorite Father's Day memory, tag a friend, like the post, and follow the brand's Instagram profile.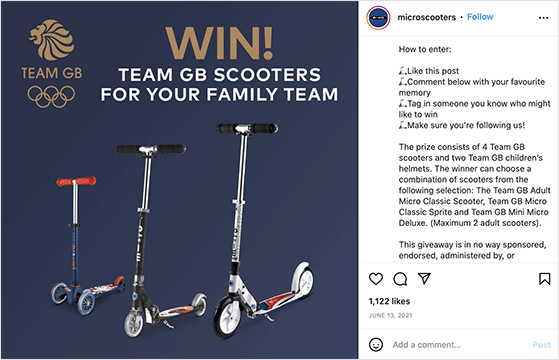 Sweet Cloud Cupcakes ran a similar Facebook Father's Day giveaway for a chance to win a selection of sweet treats.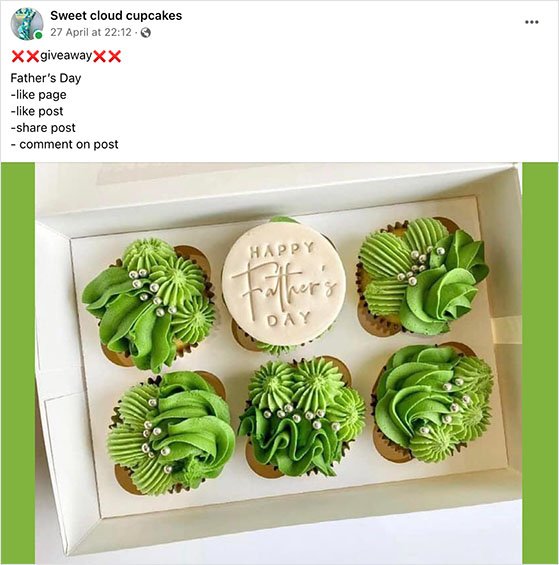 How to Do It:
Running a social media contest for Father's Day is easy with RafflePress. It includes giveaway actions for popular social media networks, including:
Facebook visit, view, like, and share
Twitter follow and share
Instagram visit and view
LinkedIn follow and share
YouTube visit and view
Check out this guide on running a social media contest for all the steps.
5. Submit Father's Day Stories
Giveaways are an excellent way to get your audience's creative juices flowing and simultaneously collect user-generated content (UGC). UGC is any type of content that your audience creates, including:
Photos
Blog posts
Reviews
Videos
An easy way to collect UGC during your Father's Day giveaway is to ask users to write an essay or blog post. For instance, you can ask users to write why they believe their dad should win a specific prize.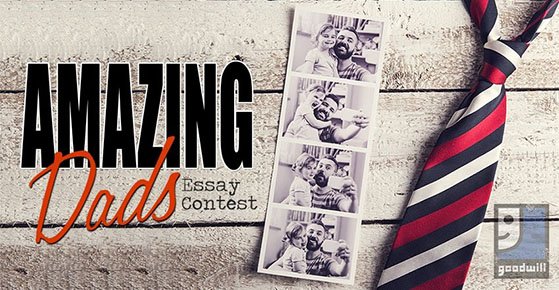 Users can submit the essay in your comments section or publish it on their blogs and share the link for a chance to win.
How to Do It:
You can use the Write a Blog Post action to run an essay contest with RafflePress. First, explain how users should submit their essay; for example, paste the essay URL in the giveaway action settings.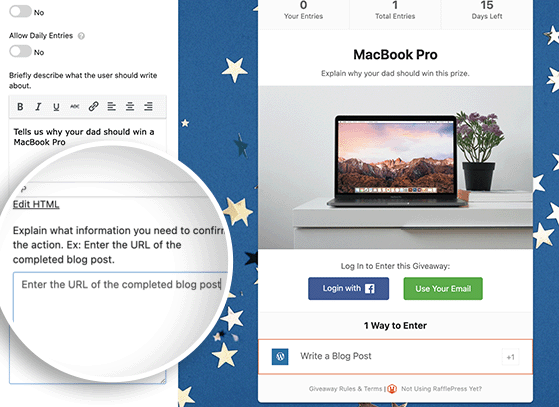 Participants can then share their essays with you for a chance to win a prize for their dads.
Don't forget to include extra entry actions to boost brand awareness.
6. Father's Day Gift Guide Giveaway
Another easy Father's Day giveaway idea is to compile a gift guide and ask visitors to comment on the post for the chance to win. The prize could be an item from the Father's Day gift guide or gift cards for a popular retailer.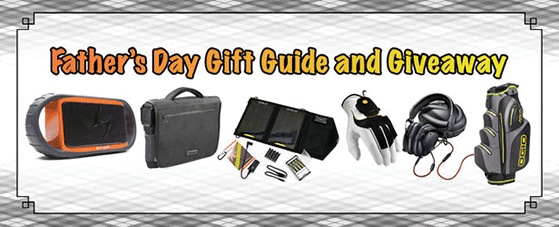 How to Do It:
Many bloggers ask users to leave a comment to win, and the only way to verify the entry is to go through each comment manually. However, you won't need to do that with RafflePress.
Instead, you can use the Leave a Comment giveaway action. You can include a link to your gift guide and choose a way to confirm the comment in the action settings.
For example, you can ask participants to share the email they used when leaving a comment.
By choosing this option, you can see everyone that entered in your giveaway entry dashboard at a glance. It also helps you get more blog comments to boost engagement.
7. Live Stream Father's Day Giveaway
Live streaming is another popular way to grow your brand and promote your products and services. Why don't you throw a giveaway into the mix to make your stream even more engaging?
Jeff Ostroff uses live streams to showcase prizes in more detail and answer questions in real-time. He also links to his giveaway widget in the stream description to drive traffic to his website.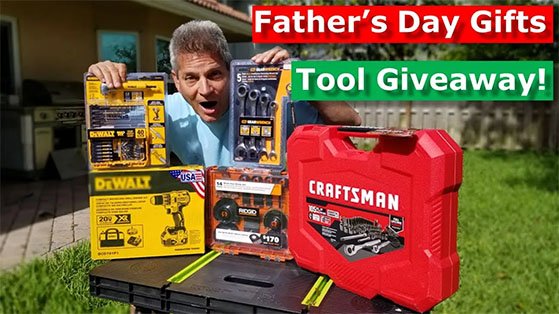 How to Do It:
You can follow in Jeff's shoes by creating a Father's Day giveaway and live streaming the event on YouTube or Twitch. RafflePress has entry actions for both platforms to help you grow your followers, boost awareness, and engage your audience, including:
Watch a YouTube Video
Visit a YouTube Channel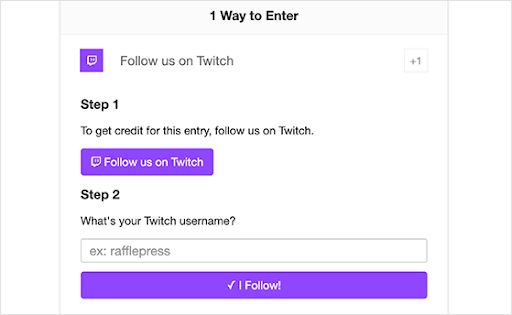 Add a link to your giveaway landing page in your stream description, and you'll see the new followers come rolling in.
8. Father's Day Hashtag Contest
Earlier, we talked about selfie contests, but you can use any type of giveaway to leverage the viral power of hashtags. Hashtag contests use branded and giveaway hashtags to increase a post's visibility on social media.
Crossdale Apartments used the selfie idea for this hashtag contest. Users had to comment their photos with the #gingkodads hashtag for a chance to win.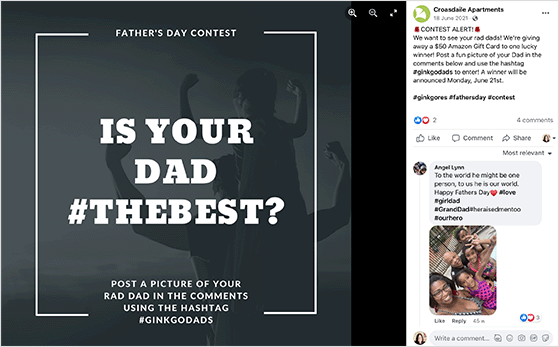 How to Do It:
You can try this giveaway idea with RafflePress easily. Follow this guide to create a photo contest and include the Refer-a-Friend giveaway action.
After choosing the platforms users should share the giveaway on, you can enter a custom message with your branded giveaway hashtag.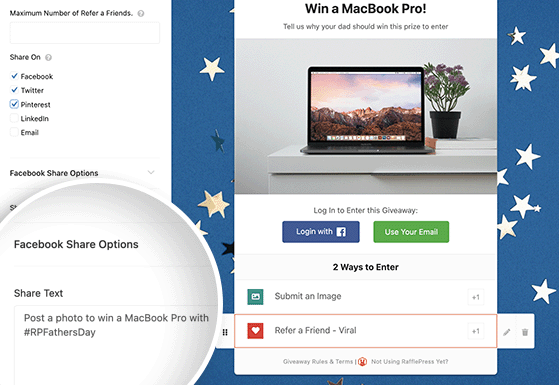 9. Bonus: Exit Popup Father's Day Giveaway
Our last Father's Day giveaway idea involves catching the attention of website visitors before they leave. Instead of losing a potential customer, you can quickly redirect their attention by offering the chance to win a fantastic prize.
The easiest way to do that is with an exit-intent popup. Exit popups only show on your website when users indicate they're about to leave.
You can create exit popups easily with OptinMonster, the best lead generation software. It offers a visual drag-and-drop campaign builder and many templates to simplify the design process.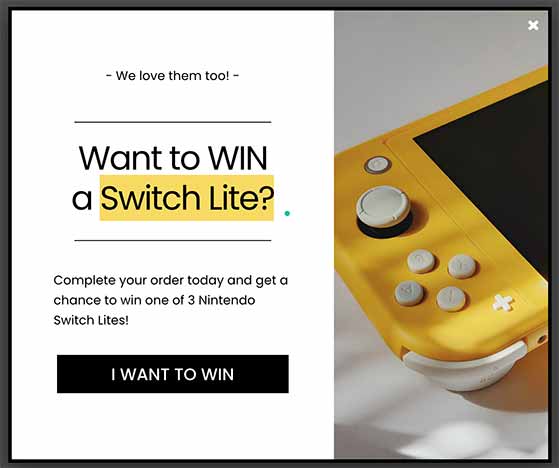 Then you can add a call to action button linking to your giveaway page, inviting users to enter.
There you have it!
We hope this article helped you find the best Father's Day giveaway ideas for your marketing campaign. You might also like these contest marketing tips and ideas for even more inspiration.
If you liked this article, please subscribe to our YouTube Channel for RafflePress video tutorials. You can also find us on Twitter and Facebook.