Are you looking for an easy way to promote your business? With an online contest or giveaway, you can expose your products and services to your target audience and use giveaway marketing tactics to generate leads and secure more customers.
That said, you might be wondering, "are giveaways good marketing?". This article will provide the answer and show you how giveaway marketing can get fantastic results for your business.
First, let's explore what giveaway marketing actually is.
What is Giveaway Marketing?
To understand giveaway marketing, you first need to know what marketing is. Marketing is about businesses promoting and raising awareness about their products or services to get more leads and sales.
For instance, a popular marketing tactic is to run advertising campaigns that encourage people to learn more.
Giveaway marketing is similar. The only difference is you use giveaways or contests to distribute products or merchandise to promote your business. The prize you offer acts as an incentive for engaging your target audience and raising awareness about your brand as a result.
For example, fashion brands could promote their new clothing line with a giveaway to win key items from the collection. Software brands could run a giveaway to win a free license key.
If those businesses were to go down the traditional marketing route, it could end up being costly. Not only would you have to pay someone to plan and build the campaign, but you'd also need to pay the costs involved with advertising.
With a contest or giveaway, all it costs is the price of the prize and an app to bring it all together.
Are Giveaways Good Marketing?
Now that you know what giveaway marketing is, you probably want to see if they're worth it.
So, are giveaways good marketing? Keep reading to explore why giveaway marketing can help successfully promote and grow your business.
Giveaways Help You Generate Leads
If you want to generate leads and increase sales from people interested in your brand, running a giveaway is one of the easiest ways to do it.
When creating your contest, you can ask people to:
Join your email newsletter
Follow you on social media
Complete a survey
And more
In exchange for completing one of those actions, they're entered into your prize draw. In this situation, both you and the participant get something valuable from the exchange. You get a new lead, and the participant gets the chance to win a great prize.
Take KnivesShipFree, for example.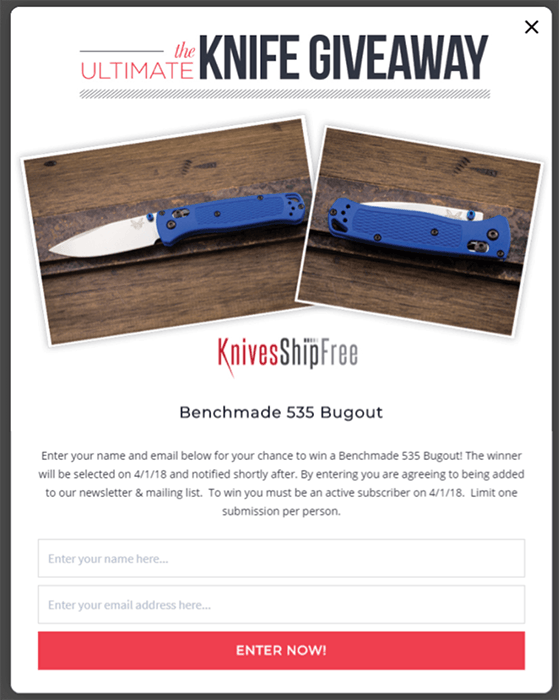 With the help of OptinMonster, they ran a regular monthly contest to promote their new products. After only 3 months, they added over 5,000 new emails to their list, boosting their revenue by $10,118.20 with giveaways.
Giveaways Improve Product Exposure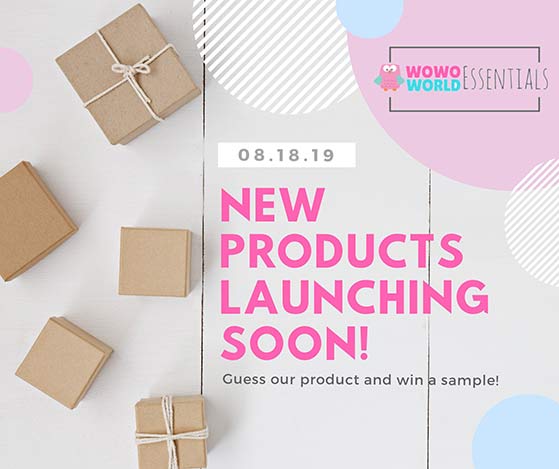 It's also possible to use giveaway marketing to increase product awareness and generate a buzz. You can do this by offering the product in question as the contest prize and using giveaway hashtags to promote it on social media.
Since most social media users explore hashtags to find topics they're interested in, utilizing them in your giveaway will expose your product to a whole new group of people with a genuine interest in your brand.
Giveaways Increase Your Social Media Followers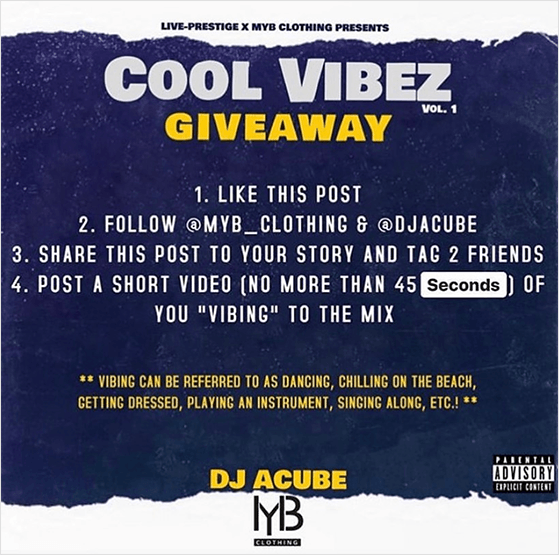 Another benefit of giveaway marketing is it offers an easy way to grow your social media followers. Many brands ask users to like them on Facebook or follow them on Instagram and Twitter, etc., to enter their contests.
As long as the audience you're aiming your giveaway at is interested in your content, it can result in an instant boost to your social following. This will make it easier to reach those people in the future and convert them into paying customers.
Contests Engage Your Existing Followers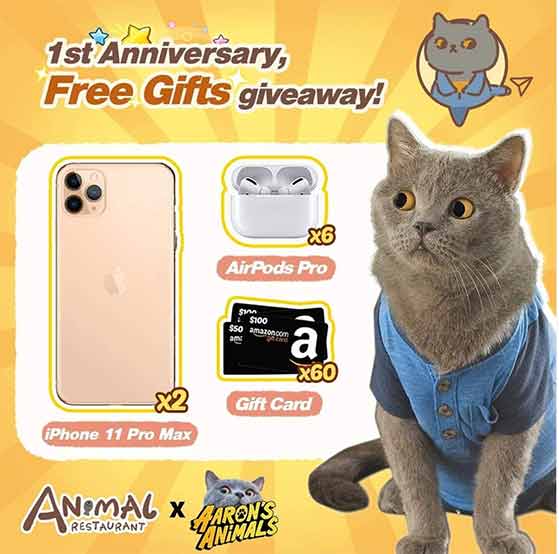 It's easy to focus your giveaway marketing efforts on attracting a new audience, but what about the people who already follow you? If you don't engage with your existing fans, they'll lose interest and move on to a different brand.
Running a giveaway is one of the best ways to keep existing followers active and engaged with your business. If they know you'll run a contest with an exciting freebie from time to time, they'll stick around because they'll have something to look forward to, resulting in followers loyal to your brand.
Giveaways Boost Your Website Traffic
It's easy to think that giveaway marketing is mostly focused on social media. But you'd be surprised to learn that a successful contest can dramatically increase your website traffic.
The key to making this work is to host your giveaway on your business website with a contest app like RafflePress. This will help you build stunning giveaway landing pages to collect your contest entries. Then it's merely a case of promoting your contest.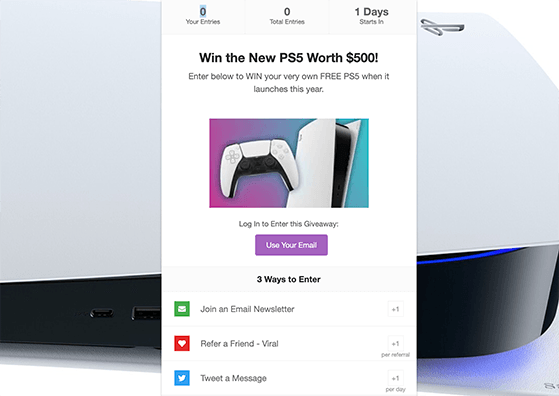 Since users will have to visit a page on your website to enter the giveaway, it can quickly lead to plenty of traffic coming your way from people who might otherwise have never seen your site.
In this example, OptinMonster generated 3,500+ new users from a single giveaway.
How to Get Great Giveaway Marketing Results
Now that you know what giveaway marketing is and you've discovered that giveaways are good marketing, what next?
The next step is to ensure you get the best contest marketing results. Follow the tips below to learn how.
1. Define Your Giveaway Timeline
It can take some time to plan, build, and run a successful contest. So creating a giveaway marketing timeline will help you stay on track. It might sound like a large project, but you can split each stage of your contest into easy-to-manage chunks for clarity.
Here's an example of a typical giveaway timeline:
Week 1: Plan and build your contest
Week 2: Launch and test your giveaway
Week 3: Promote your contest and draw a winner
Week 4: Announce the winner and follow up
With each stage of your process planned, you'll know exactly what to do and when to do it.
If you want to learn how long a giveaway should last, check this out.
2. Create Well-Defined Goals
To get the best results from your giveaway, you need to ensure you have a clear set of goals in place. Your goals will determine how you build your contest and measure the results when it's over. So consider what you want to accomplish.
For instance, you can run a giveaway to:
Increase user engagement
Boost product awareness
Send more traffic to your website
Collect user-generated content (UGC)
Generate sales
Make sure your giveaway goals align with your business objectives. With your goals in place, it'll be easier to build a successful contest.
3. Pick An Exciting and Relevant Prize
The success of your giveaway depends, in part, on the type of prize you offer.
If you don't offer a prize that excites and interests your target audience, they won't make any effort to enter. It could even result in entries from people who just want a freebie, not people who will eventually convert into customers.
The best giveaway prize ideas are relevant to your brand and audience.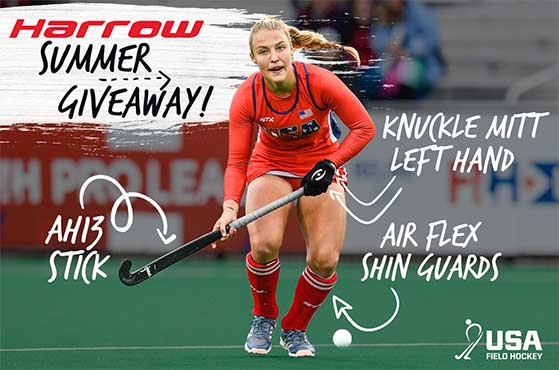 For example, sports brands could offer sporting goods and merchandise to ensure interested people enter.
Because their customers love tech, WPForms offered a high-end drone as their giveaway prize. At the same time, they generated over 11,000 Facebook group members.
4. Partner with Influencers and Non-Competing Brands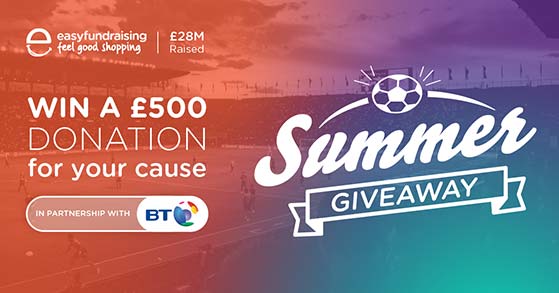 When it comes to giveaway marketing, you don't need to do it all alone. Many companies see the most success from teaming up with complementary brands and influencers in their industry.
With a brand or influencer partnership, you can share some of the responsibilities involved. For instance, the cost of the grand prize and judging the winner.
But the best thing is it gives your contest some extra oomph by exposing it to a different but relevant audience. Not to mention, each brand and influencer involved will help promote the contest online.
5. Build Your Campaign with a Giveaway Tool
You might think that building a giveaway that gets results is hard. But with the right tools, you can create a successful online contest in just a few minutes.
RafflePress, the best WordPress giveaway plugin, makes it easy to build any type of contest on your WordPress website. The pre-built giveaway templates let you create contests to grow your Facebook page, email list, Twitter followers, and more with a few clicks.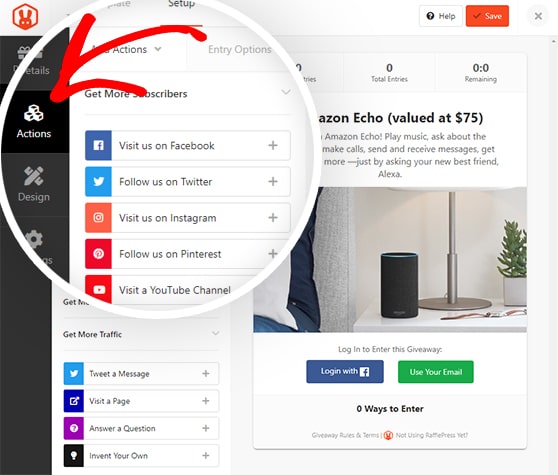 With the drag-and-drop giveaway builder, you can add multiple 1-click entry methods and display your grand prize in a mobile responsive giveaway widget, which you can publish in any blog post or page. You can even create a dedicated giveaway landing page to remove distractions and secure maximum entries.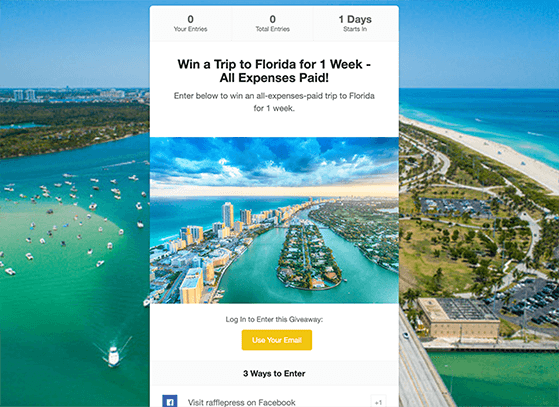 Click here to get started with RafflePress.
6. Use Referral Entry Methods to Go Viral
Besides offering the usual ways to enter your giveaway, think about what other entry methods you can use to encourage your contest to go viral.
For example, in RafflePress, you can use the Viral – Refer-a-Friend entry method to encourage participants to share the contest with their friends and followers.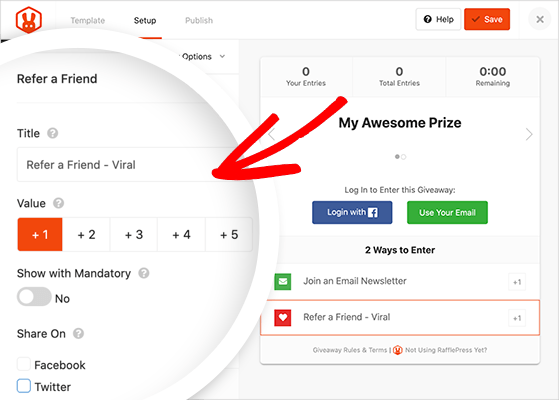 This creates a word-of-mouth marketing loop where when one person enters your contest and shares it with their friends, who enters, shares it with their friends, and so on.
Since friends and followers typically share similar interests, you'll generate a wave of new leads and followers genuinely interested in your brand.
7. Create Clear Rules and Instructions
The biggest reason why many giveaways fail is that the rules and instructions for entering aren't clear. If people don't know how to enter, they can't take part. And if your rules and guidelines are confusing, it'll annoy potential participants and could even have a negative impact.
To combat this, make sure your giveaway rules are clear. Here's an idea of what details you should include:
The giveaway start and end date and time
What the contest prize is
How people can enter your contest
The minimum age for participating
If your contest is limited to a specific geographic area
How you'll draw the winner
If your giveaway is sponsored or affiliated with anyone
That no purchase is required for entering (if applicable)
You can use RafflePress's giveaway rules generator to create and display your rules. Just enter your contest information and click Generate Rules to make them automatically.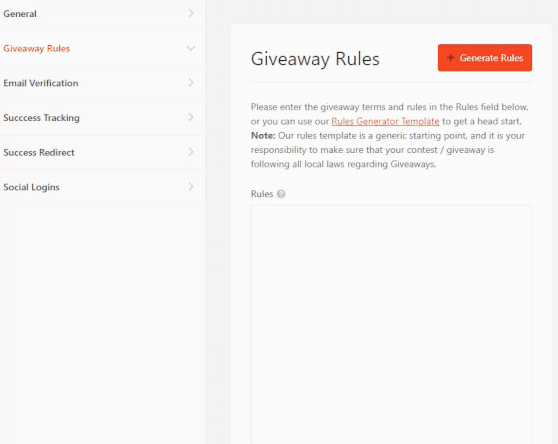 When promoting your contest on social media, you should also link to your rule page for people to access them easily.
8. Notify Everyone Involved
When it comes to promoting your contest, don't forget to notify the people involved in making it happen.
You should notify:
Partnered brands
Influencers
Sponsors
And anyone else you're working with to run your giveaway. A quick email saying your contest is live, thanking them for their help, and asking them to share it with their network, will go a long way to launching your giveaway with the right momentum.
9. Start Promoting Before You Launch
It's also a good idea to tease the news about your imminent giveaway a few weeks before you launch. This will help generate a buzz and anticipation among your audience, encouraging them to watch for your announcement post.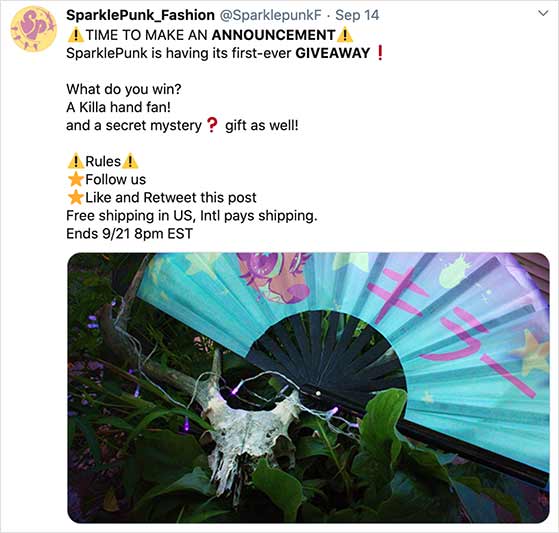 You could post a pixelated photo with a new section cleared each day, asking if your followers can guess what it is. The full image will be revealed by launch day, announcing the giveaway with all the goodies people could win.
10. Tell Your Existing Customers
Don't forget about our existing customers with your giveaway marketing. These are the people who've already proven their loyalty by buying from you, so they're the ideal people to spread the word about your new contest.
You could send an email newsletter to repeat customers, notifying them of the giveaway. And as a reward for their loyalty, you can offer a discount coupon for sharing the giveaway with their networks.
11. Provide Frequent Updates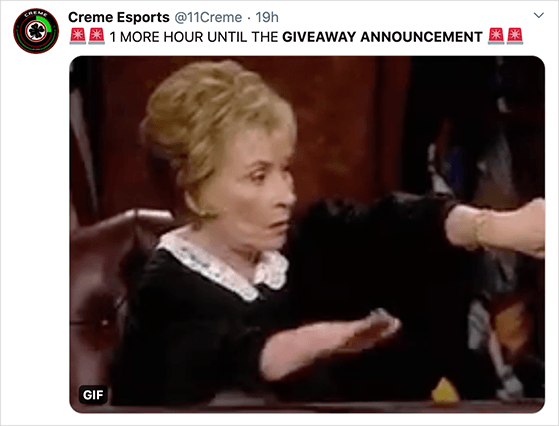 The online landscape is packed with companies vying for peoples' attention, so how will you ensure the news about your giveaway sticks?
The easiest way to keep your contest top-of-mind is to post regular updates, reminding your audience to participate.
As you move closer to the end date of your giveaway, tell people how much time they have left. This will create a sense of urgency, spurring people into action for fear of missing out.
12. Notify Your Website Visitors
Besides promoting your giveaway on social media, you should also keep your website visitors in the loop so that anyone who visits your site will know your contest is running and that they can enter.
You can use OptinMonster to add a notification bar at the top of your homepage, linking to your giveaway. Or to catch people as they're about to leave your website, you can launch a lightbox popup with a call to action to enter your contest.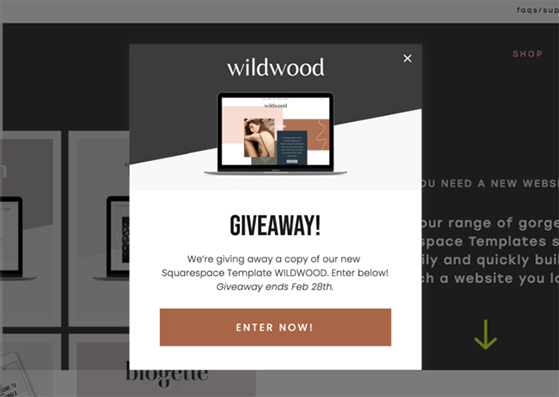 Those people are on your website anyway, so why wouldn't they want the chance to win a cool prize?
13. Highlight Your Giveaway Winner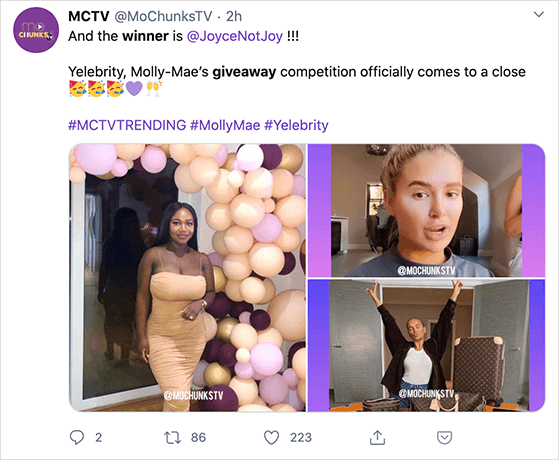 Your giveaway marketing efforts don't stop when you draw a winner. When the contest is over, announce the winner via email and social media to highlight their success. Depending on the prize, you can ask the winner to share a photo of them with the product for you to share online.
By celebrating and sharing the news about your giveaway winner with an announcement post and photo, you can create social proof for your business and encourage your audience to take part in future giveaways.
14. Follow Up With Participants
It's also a good idea to follow up with the people who didn't win your giveaway. These are the people who helped make it a success, after all. Without their activity and promotional efforts, your contest wouldn't have taken off.
So take the time to craft an email newsletter to non-winners, thanking them for their efforts and inviting them to take part in your next giveaway. You could even offer them a discount on their next purchase as a commiseration prize.
That way, everyone's a winner. The non-winners are rewarded with a small prize, and you're rewarded with customers when they redeem their discount.
15. Track and Analyze Your Giveaway Statistics
Our last giveaway marketing tip is one of the most important. When your giveaway is over and you've notified everyone involved, you should analyze your results. This will give you an idea of how successful your contest was.
The easiest way to get the data you need is to track your contest activity with MonsterInsights, the best Google Analytics plugin for WordPress.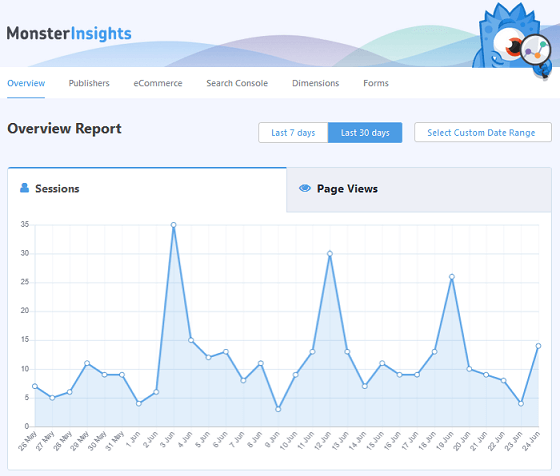 MonsterInsights makes it easy to track visits to your giveaway landing page, website traffic, referral traffic from social media, and much more. And you can view all that important data in easy-to-understand reports right in your WordPress dashboard.
With the data in hand, you can see which of your giveaway marketing strategies generated the most traffic, leads, followers, and sales. You can then use that information to improve future giveaways, making them even more successful than the last.
That's it!
We hope this article answered your question of "are giveaways good marketing?" and gave you plenty of advice on how to get the best results.
If you're considering running a giveaway on social media, these Twitter giveaway ideas offer tons of inspiration.
While you're here, don't forget to follow us on YouTube, Twitter, and Facebook for more great tips to grow your business.