Are you looking for the best Facebook marketing tools to grow your business?
Facebook is one of the biggest social media platforms in the World. So if you want to grow your business, Facebook is one of the best places to kick start your content marketing efforts.
Yet, with hundreds of businesses posting on Facebook, how can you reach your target audience? With Facebook tools, of course.
So buckle up, and let's check out the best Facebook marketing tools to advertise your business.
Why Use a Facebook Marketing Tool?
With over 2.8 billion monthly users, Facebook has a massive audience of potential customers. At the same time, there are millions of small businesses competing for that audience, making it hard for your business to stand out.
So if you want your Facebook marketing campaigns to reach your ideal audience, Facebook tools can help. And as a result of reaching more people, it's easier to turn them into loyal customers.
But it doesn't stop there. The tools we cover in this showcase can help you go viral, promote your other social media accounts, and help you get the most out of Facebook.
9 Best Facebook Marketing Tools to Grow Your Business
Let's dive in and see which online marketing tools are the best solutions to promote your business on Facebook.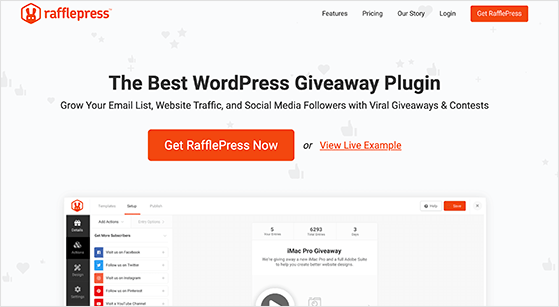 If you need a quick way to make your social media marketing efforts go viral on Facebook, you can't go wrong with RafflePress.
RafflePress is the best giveaway plugin for WordPress. It lets you create any giveaway or contest right on your business website.
Since it offers a drag-and-drop giveaway builder, you can create online contests easily without writing code. And with pre-made giveaway templates for Facebook, photo contests, and more, getting started takes just a few clicks.
From there, you can use RafflePress's powerful giveaway entry actions to get users to:
Like your Facebook posts
Share your timeline contest
Visit your Facebook page
Join your Facebook group
Comment on blog posts
And more
And the best part is each action improves your Facebook engagement, helping you build relationships with your audience.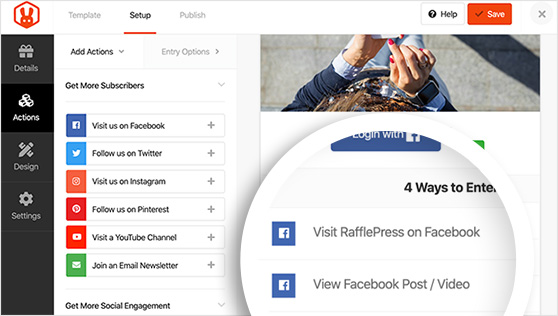 Another excellent RafflePress feature is it handles the whole process of running a giveaway, from setting Facebook rules, blocking fake entries, ending the giveaway on time, and more. In the end, this Facebook marketing tool can save you tons of valuable time.
If you need proof, check out how Smash Balloon got over 3,500 new subscribers, 300+ comments, and hundreds of Facebook followers with one giveaway!
Pricing:
RafflePress offers several pricing options starting at $49 per year.
Get Started with RafflePress Today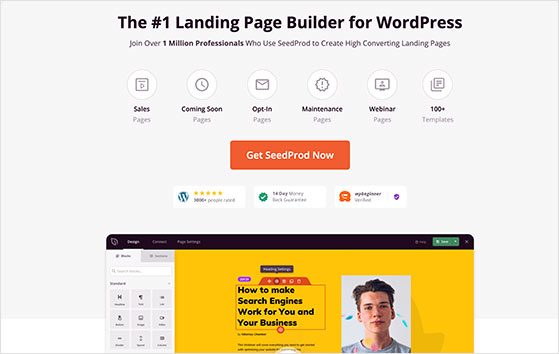 SeedProd is the best WordPress page builder with drag-and-drop functionality. It lets you create any WordPress page visually without writing code.
For example, if you run a Facebook advertising campaign, you can send that traffic to a Facebook landing page. That way, you can use SeedProd's lead generation tools to convince visitors to sign up to your email list or buy your products or services.
Alternatively, you can use SeedProd to showcase Facebook content right on your website. With SeedProd's Facebook blocks, you can show your:
Timeline
Posts
Comments
Events
Videos
This gives visitors a good impression of your Facebook content. And as a result, they're more likely to like, share, and follow you on Facebook.
​​To get started, check out this guide on how to create a Facebook landing page.
Pricing:
SeedProd has various pricing tiers, starting from $49 per year.
Custom Facebook Feed Pro from Smash Balloon is another must-have Facebook marketing tool to grow your audience fast. It allows you to display your Facebook content directly on your website, showing visitors that your Facebook presence is active.
Since users can interact with your Facebook posts right on your website, adding a Facebook feed to your site is an easy way to improve your Facebook engagement and get more Facebook followers.
Additionally, Custom Facebook Feed Pro is an excellent way to show social proof on your WordPress site. That means you can show Facebook posts of real people enjoying your products, making new visitors more likely to buy.
This plugin is another Facebook tool that's easy to use. The live visual editor requires no technical skills and shows a preview of your feed in real-time.
Pricing:
The cost of Custom Facebook Feed Pro starts from $98 per year.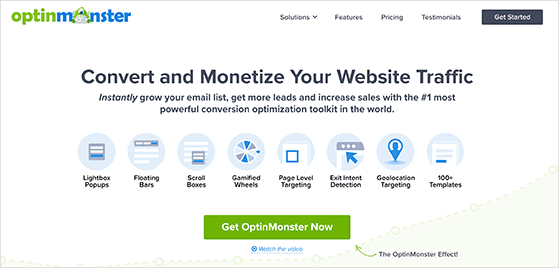 OptinMonster is one of the most popular Facebook marketing tools around. You can use this tool to create lead generation campaigns that convert website visitors into subscribers and customers.
Additionally, you can use OptinMonster to encourage visitors to like your Facebook page or interact with your Facebook content.
For example, you can use OptinMonster's lightbox popups to ask people to follow you. Or create an inline campaign to promote Facebook posts related to your blog posts.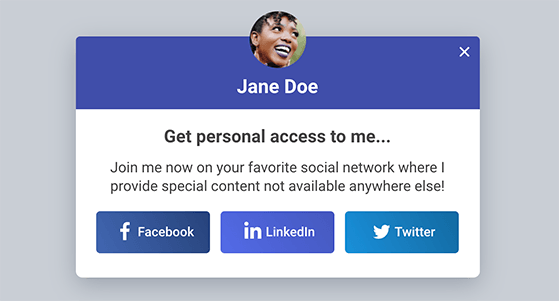 Even better, OptinMonster lets you personalize campaigns to specific audiences, such as people coming from other social media networks or websites. That way, you can show campaigns tailored to their demographics and interests.
And with built-in analytics, you can see smart insights about how well your marketing campaigns perform.
Pricing:
Getting started with OptinMonster costs from as little as $9 per month.
You might also like to learn how OptinMonster generated 3,500 new users with RafflePress.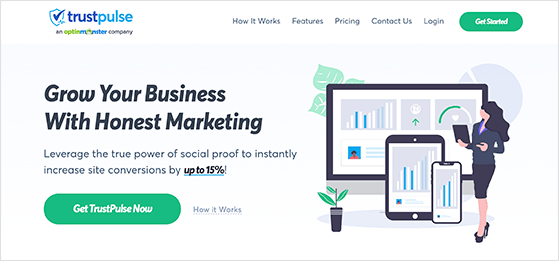 TrustPulse is a Facebook marketing tool that allows you to show notifications based on your website's activity. For example, you can show recent sales, new reviews, and even giveaway entry notifications on your website.
This tool uses social proof to evoke the fear of missing out (FOMO) in visitors. As a result of seeing activity from other people, visitors are more likely to take action to avoid 'missing out.'
You can use TrustPusle for Facebook marketing too.
For example, you can show a notification when someone enters your Facebook giveaway, likes your business page, or joins your Facebook group. That way, visitors see that your Facebook presence is thriving, making them more likely to engage with your brand.
And like the other Facebook marketing tools in this post, TrustPulse is super easy to use. It takes 5 minutes to get started, and with real-time tracking, you can see how well your campaigns are doing at a glance.
Pricing:
The pricing for TrustPulse starts from just $9 per month.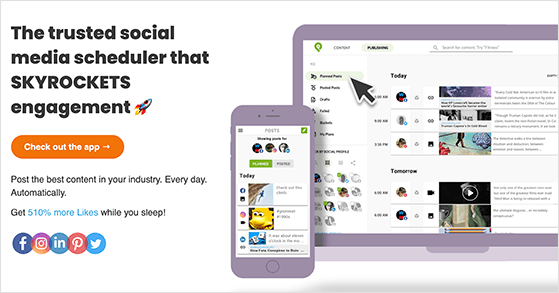 Post Planner is a popular marketing tool for Facebook that lets you automate your Facebook publishing schedule to make it more efficient.
For example, you can plan when to publish posts on your Facebook page. And you can schedule Facebook posts in advance to get the maximum reach and engagement.
Post Planner also offers a handy calendar to plan your Facebook content visually, and you can track brand mentions to keep up with what people say about your business. Plus, with a quotes database readily available, and an assets library, you'll always have fresh content to share.
Pricing:
Post Planner has several pricing plans starting from $5 per month for small businesses and $79 per month for Enterprise brands.

MobileMonkey is a powerful Facebook marketing tool that helps you reach your audience through chatbots and SMS messages. That way, you can communicate with potential customers on the platform they're most comfortable with.
For instance, you can use Facebook messenger to build relationships, generate leads, and nurture users through your marketing funnel. And with that level of attention, you can turn those leads into paying customers and brand advocates.
In addition, MobileMonkey offers a single inbox to keep all chats and customer conversations in one place. And with audience insights, you can measure the effectiveness of your chat campaigns.
Pricing:
MobileMonkey pricing starts from $21.75 per month.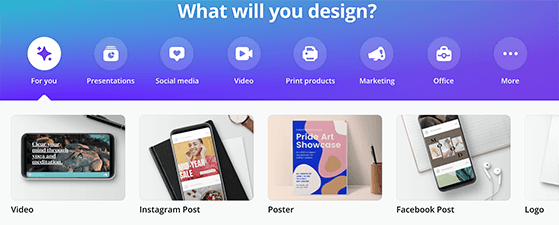 Canva is a popular design tool that lets you create visual content without needing any design experience. And since Facebook posts that include images get 120% more engagement than other posts, Canva is an excellent tool to make your content stand out.
This Facebook marketing tool offers various templates you can customize and use in your Facebook campaigns, including images for:
Posts
Cover photos
Facebook stories
Ad sets
Facebook videos
And more
Canva's editor is beginner-friendly with various free design elements. Plus, after creating your Facebook content, you can share it with business colleagues to collaborate or share it directly on social media for your audience to see.
Pricing:
Canva is a free Facebook marketing tool. But for more design elements and business settings, pro plans start from $9.99 per month.
3 Free Facebook Marketing Tools
After exploring the most popular Facebook marketing tools, let's look at some of Facebook's tools. The following solutions are available on the Facebook platform and are completely free to use.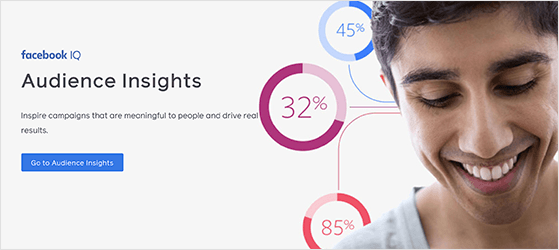 Facebook Audience Insights is a free marketing tool that comes with Facebook automatically. It's an excellent way to learn more about your audience and boost your Facebook engagement.
With this tool, you can see insights about your content and audience directly from Facebook's platform. From there, you can learn which Facebook marketing campaigns are most effective and use them more for the best results.
Alternatively, you can use Facebook Audience Insight to see which campaigns aren't as effective. Then, you can improve them, so they perform better.
In addition to detailed insights, this tool can help you learn more about your audience demographics. That way, you can ensure your content fits the needs of your users.
And with the e-learning course, you can learn everything about audience insights to get the best results for your business on Facebook.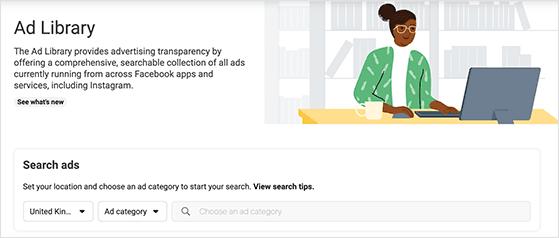 The Facebook Ad Library is another excellent marketing tool to level up your Facebook advertising. It's a comprehensive and searchable collection of ads currently running across all Facebook services, including the Facebook ad management platform and Instagram.
The library is easy to use; just enter a location, category, and search term. You'll then see a page of currently active Facebook ads based on those search parameters.
One of the best ways to use the Facebook Ads Library is to see ads from brands similar to yours. Then after looking at their ad strategy, you can create better Facebook ads to compete and capture your audience's attention more effectively.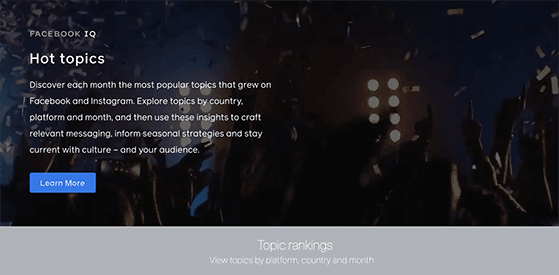 Facebook Hot Topics is a useful Facebook marketing tool that not many marketers are aware of. Each month, you can use this tool to learn about the most popular topics on Facebook and Instagram.
You can search topics by country, platform, and month. For example, in June 2021, Ben Simmons was top in the "Sports" interest among 76% of men.
And from there, you can use Facebook's topic insights to create relevant messaging, craft seasonal campaigns, and stay up to date with topics important to your audience.
Which Facebook Marketing Tool Is Best?
After looking at the most popular Facebook tools, which is the best?
In our opinion, RafflePress is the best Facebook marketing tool for several reasons:
It helps you go viral on Facebook
Includes premade Facebook giveaway templates
Offers 1-click giveaway entries to like and share on Facebook
Bonus actions to grow your email list, refer friends, and run photo contests
Directs traffic to your website with giveaway landing pages
Code-free design options with live previews
Manage giveaways and entries in one place
Protection from spam and fraudulent entries
At-a-glance insights with giveaway entry reports
Fast and bloat-free
So if you're ready to grow your Facebook audience, increase engagement, and drive targeted traffic to your WordPress website, what are you waiting for?
Get Started with RafflePress Today
We hope this article helped you find the best Facebook marketing tools for your business. While you're here, you might also like these top eCommerce marketing tools to grow your online store.
Don't forget to follow us on YouTube, Twitter, and Facebook for more great tips and tutorials.