Are you looking for Facebook marketing tips for small business websites?
Facebook is one of the largest social media platforms globally, so creating a solid Facebook marketing strategy is an excellent way to reach your target audience.
In this post, we'll share some proven Facebook marketing tips to promote your small business.
Why Use Facebook to Market Your Small Business?
There are many benefits of using Facebook to market your business. First, it has a massive audience of more than 2.89 billion users, more than any other social media network.
And since Facebook's audience spans many demographics, it isn't hard to find your audience on the platform.
Some other advantages of marketing your business on Facebook include:
Content Promotion – Facebook marketing isn't just limited to products or services. You can promote your content there, too, including blog posts and videos, helping you reach people at different points in your marketing funnel.
Audience Targeting – In Facebook's ad manager, you can create audiences based on who you want to reach. That means you can hone in on the people most likely to engage with your brand.
Remarketing – With the Facebook Pixel, you can reach users who visit your website and show ads inside their Facebook feed. From there, you can entice them back to your site to re-engage with your business.
Engagement – Facebook marketing is just as good at engaging existing customers as attracting new business. With some clever tactics, you can keep your audience happy, ensuring they remember and choose your brand over your competitors.
By now, you're aware of the benefits of Facebook marketing. But what is the difference between organic and paid marketing on Facebook?
Let's find out.
Organic vs Paid Facebook Marketing
The differences between organic and paid Facebook marketing tactics come down to how much exposure your content gets and how soon you see results.
For example, you can see results soon after placing an ad or boosting a Facebook post with paid Facebook marketing. Then, as soon as your budget runs out, the exposure stops. Yet, organic Facebook marketing takes more time to find the best approach, but the results can last longer.
One of the best ways to maximize your results is to combine organic and paid Facebook marketing methods. With that in mind, check out the Facebook marketing tips for small businesses below to start promoting your brand.
Off-Platform Facebook Marketing Tips for Small Business
First, let's look at some Facebook marketing strategies that apply to your website and other social media networks.
1. Run a Facebook Giveaway Contest
One of the easiest ways to market your small business on Facebook is to run a giveaway. A Facebook giveaway can help promote your brand to tons of people both on and off Facebook fast.
And if you're a WordPress website owner, the quickest way to spin up a Facebook contest is with RafflePress, the best WordPress giveaway plugin.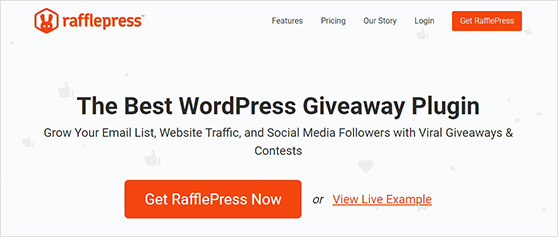 RafflePress is the top choice for Facebook giveaways because it includes ready-made templates to grow your Facebook following. It also offers 1-click actions that make it easy to enter your giveaway, including:
Visit a Facebook page
View a Facebook post or video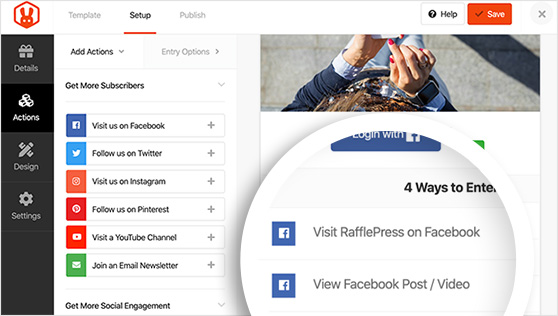 Besides promoting your brand on Facebook, RafflePress includes giveaway entry actions for other social media channels, email newsletters, podcasts, Twitch, viral refer-a-friend, and more.
So whatever your business goal, RafflePress has a giveaway marketing tactic to help you reach it quickly.
Check out this post to learn how to run a giveaway on Facebook with RafflePress.
2. Create a Facebook Landing Page
Another practical Facebook marketing tip is to create a Facebook landing page on your business website. There are 2 ways you can approach this:
Create a Facebook landing page to promote your Facebook page
Make a Facebook landing page to engage visitors from your Facebook ad campaign
Both options are an excellent way to boost brand awareness on Facebook. And the easiest way to make either page on WordPress is with SeedProd, the best WordPress page builder plugin.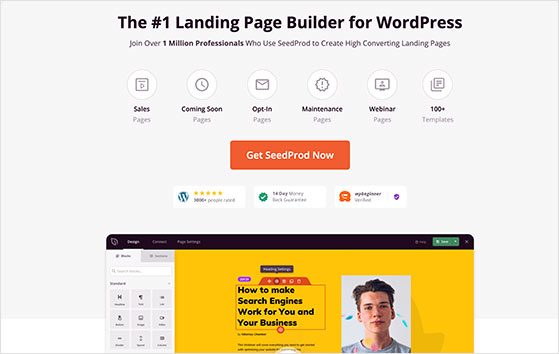 With SeedProd, you can create any WordPress page in less than 30 minutes without writing code. It comes with hundreds of mobile responsive landing page templates you can customize easily in the visual drag-and-drop builder.
From there, you can optimize your landing page with lead generation tools and blocks like:
Email signup forms
Call to action buttons
Giveaways with the RafflePress block
Facebook embeds, including post content, events, and page feeds
Countdown timers
Google maps for local businesses
And much more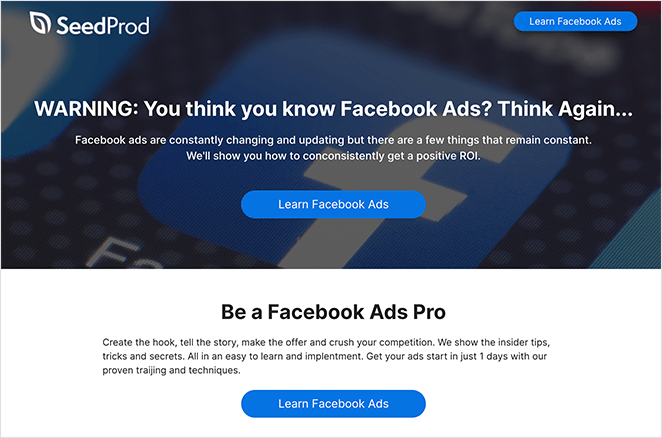 See this guide to learn how to create a Facebook landing page step-by-step with SeedProd.
3. Embed Facebook Posts on Your Site
Something that's just as powerful as making a Facebook landing page is embedding entire feeds of Facebook content on your website.
With a Facebook feed, your audience can scroll through and see the content you share on Facebook. Plus, they can interact with your posts without having to leave your site.
It's the ideal way to automatically market your business on Facebook and keep your site updated with new, engaging content. Even better, you can add a Facebook feed anywhere on your WordPress site using Smash Balloon.
Smash Balloon's Custom Facebook Feed Pro plugin is super easy to set up. After connecting the plugin with your Facebook account, you can display a customized Facebook feed on your website tailored to your audience.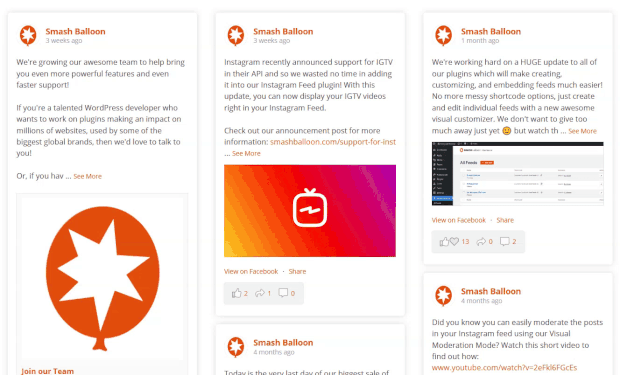 To see how easy it is, check out this tutorial on how to embed a Facebook feed.
4. Add Facebook Share Buttons to Your Content
If you're creating high-quality content on your blog, it has an excellent chance to go viral and attract tons of attention. But if it isn't easy to share your content, your chances of people seeing it is reduced.
That's why it's crucial to include social media sharing buttons on your website. So even when you're not actively promoting your content, your website visitors can by hitting the share button.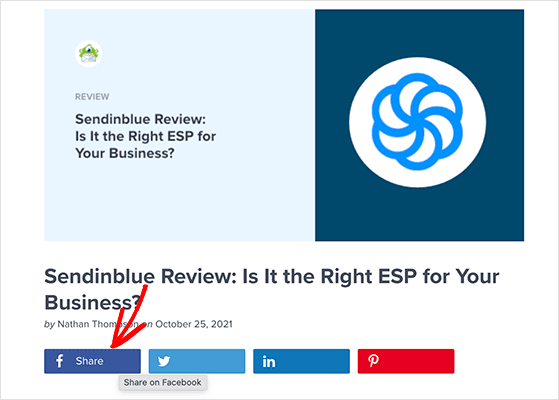 Adding a Facebook share button and other social buttons to your site is surprisingly easy. There are tons of WordPress plugins you can use to get the job done.
Check out this guide from our friends at WPBeginner to learn how to add social share buttons to WordPress.
5. Promote Your Facebook Page in a Popup
Another way to market your small business on Facebook is to add popups to your website. They're a great way to capture people's attention and come in many different styles.
OptinMonster is the best way to add popups to your site. It comes with a variety of popup types, including:
Lightbox popups
Slide-in scroll boxes
Floating bars
Welcome mats
And more
Plus, each popup includes templates specifically designed to grow your followers on popular social media platforms like Facebook.
Here's an example: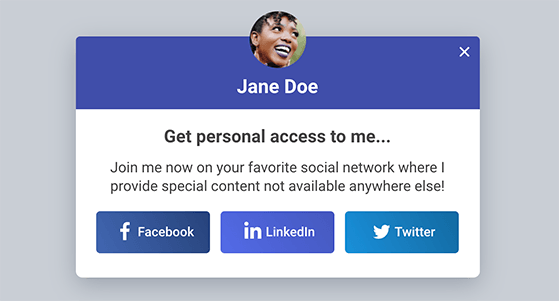 With campaigns like this, you can take advantage of OptinMonster's powerful lead generation tools and use them to benefit your Facebook marketing efforts.
For instance, you can:
Use Exit-Intent Technology to target users when leaving your site with exit popups, and ask them to visit your Facebook page.
Add a slide-in timed to display when users finish reading a post, asking them to share it on Facebook.
Use A/B testing to see which campaigns generate the best results.
In the end, you have a tool that can both increase leads on your website and connect with more people on Facebook.
6. Share Your Facebook Content on Other Social Media Platforms
While you're adding quality posts to your content calendar, use your social media tools to cross-promote your Facebook posts on other social networks.
Chances are your ideal audience is spread over multiple social platforms, and some might not even know you're on Facebook. So posting links to your Facebook posts on other platforms can make those people aware you exist and encourage them to engage with your page.
Here are the best social media marketing tools to promote your content on other social networks.
On-Platform Facebook Marketing Tips for Small Business
So far, we've looked at Facebook marketing tips for your website and other social channels. Now let's explore some strategies to use directly on Facebook.
7. Optimize Your Facebook Business Page
Before approaching these marketing tips on the platform, you should first ensure your Facebook business page is optimized for your target audience.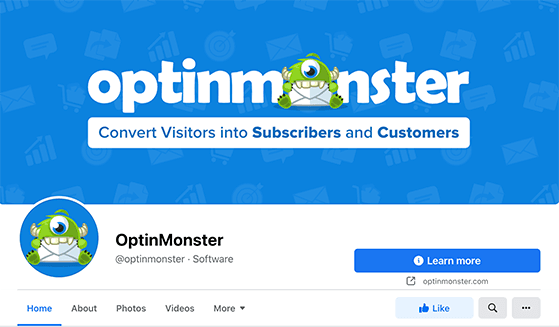 You should optimize your Facebook page by:
Choosing a vanity URL
Adding a link to your business website
Uploading your logo as your profile photo
Adding a Facebook cover photo
Entering your contact information
Completing your about section
From there, you can focus on crafting compelling content to engage your Facebook fans.
9. Use The Right Facebook Image Sizes
When you're preparing content to post on Facebook, it's crucial to know that Facebook automatically crops images from desktop to mobile devices. So, if you don't use the correct image sizes, your visual content can look pixelated, grainy, or cropped in an awkward position.
And with poorly cropped images, your Facebook page can look unprofessional.
The good news is, we've put together a list of the optimal sizes for Facebook images:
| Image Type | Image Size |
| --- | --- |
| Facebook Profile Picture | 400 x 400 px |
| Facebook Event Cover Photo | 1920 x 1005 px |
| Facebook Group Cover Photo | 1920 x 1005 px |
| Facebook Business Page Cover | 1200 x 674 px |
| Facebook Profile Cover Photo | 1125 x 633 px |
| Facebook Photo Post | 1200 x 630 px |
| Facebook Video Post | 1280 x 720 px |
| Facebook Linked Image | 1200 x 630 px |
| Facebook Stories | 1080 x 1920 px |
| Facebook "Our Story" Cover | 1200 x 445 px |
| Facebook Ad Carousel | 1080 x 1080 px |
| Facebook Ad Single Image | 1200 x 628 px |
| Facebook Catalog Image | 1080 x 1080 px |
So keep these image dimensions in mind when you're planning your Facebook content calendar.
9. Post Different Types of Content
One of the best approaches to marketing your small business on Facebook is to post a good mix of different content types. That way, you can reach a broader audience no matter what type of content they prefer consuming.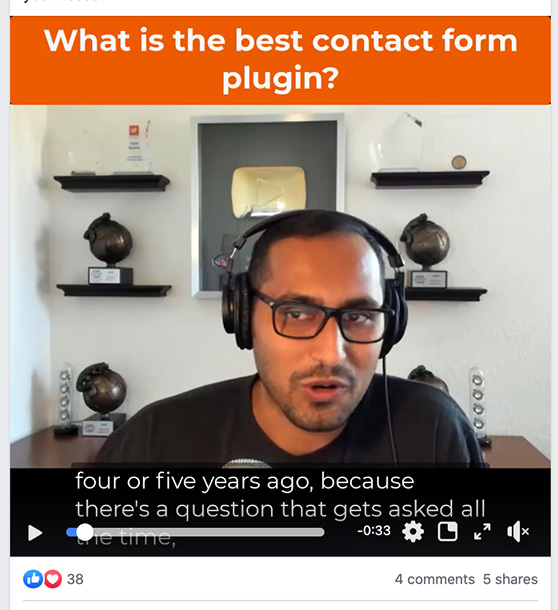 Your Facebook content strategy should include a mix of:
Videos – Native Facebook videos get 478% more shares on Facebook than videos from other sources. So consider uploading video content directly to your page to increase engagement.
Images – Visual content stands out more on the news feed compared to text, so ensure each post has a high-quality image to illustrate your content.
User-Generated Content (UGC) – UGC is content made by other people, and sharing it gives you credibility with your ideal audience. So think about customer testimonials, news, and even photo contest submissions that you can post to your page.
Blog Posts – Sharing original content from your business blog is a great way to direct traffic to your website. From there, you can nurture visitors into leads and potential customers.
10. Post at the Right Times
Sharing your best content is an excellent strategy, but if you don't post it at the right time, you could miss your target audience entirely. So dig into your Facebook insights and look at when your fans engage with your content.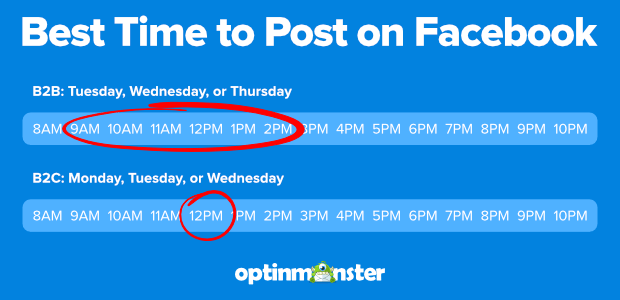 According to OptinMonster, the best times to post on Facebook are:
Tuesday, Wednesday, Thursday between 9 AM and 2 PM EST for B2B brands
Monday, Tuesday, Wednesday at 12 PM EST for B2C brands
Of course, the best time for your business to post depends on your unique Facebook audience.
11. Create a Facebook Group
The great thing about social media is it's ideal for building close-knit communities. And Facebook makes it easy to build a community around your brand with Facebook Groups.
If you create a Facebook Group, you can cross-promote your website and Facebook content to market your business more effectively.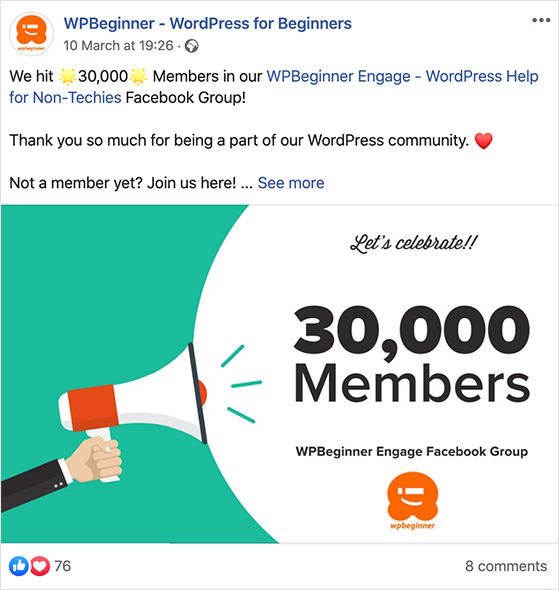 But don't make the mistake of making a group ONLY to promote your page. A good group takes care of its members by answering questions and sharing information to solve their problems.
12. Market Your Business with Facebook Ads
Let's not forget about Facebook ad campaigns when marketing your small business. Facebook's ad platform is a powerful way to reach specific audiences, putting your content right in their news feed.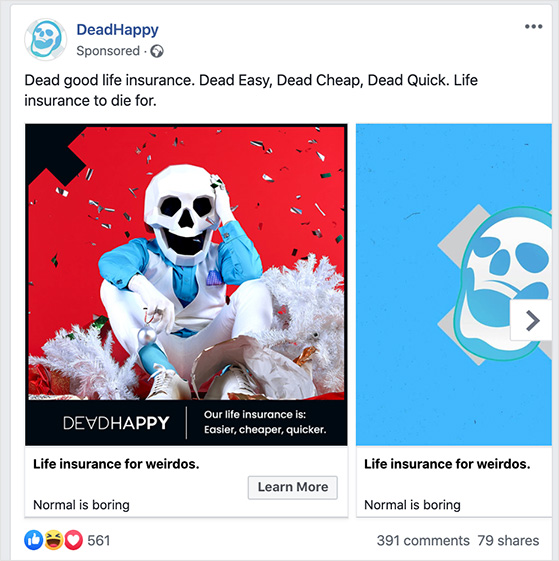 There are several ways to use Facebook ads, including:
Image and video ads
Poll ads
Carousel and slideshow ads
Collection ads
Instant experience ads
Messenger ads
And more
To get started, log into Facebook Ads Manager and select the Campaigns tab, then click Create to start a new Facebook ad campaign based on the goals you want to achieve.
There you have it!
We hope this article helped you find proven Facebook marketing tips for small business websites. While you're here, you might also like these tactics to get free content for your website.
Don't forget to follow us on YouTube, Twitter, and Facebook for more great tips and tutorials.