Do you want to create a Twitter marketing strategy for your business?
Marketing your business on Twitter is an excellent way to engage your target audience, increase brand awareness, and boost conversions. But how do you ensure you're posting content your audience wants to consume?
We'll answer that question in this article, tell you what a Twitter marketing strategy is, and share the top Twitter marketing tips to grow your small business.
What Is a Twitter Marketing Strategy?
A Twitter marketing strategy is a plan that centers on creating and posting relevant content for your followers and target audience on Twitter's social media platform. Your Twitter strategy's goal is to get more followers and leads, improve brand recognition, and turn your Twitter audience into paying customers.
A Twitter strategy works similarly to other social media marketing strategies and includes similar steps:
Reach your audience
Create relevant and engaging content
Develop a posting schedule
Analyze your results
But what makes Twitter an excellent platform to use?
What Makes Twitter a Great Marketing Tool?
Twitter is an effective social media marketing platform for several reasons.
First, it's completely free to use, allowing you to build a following without spending a dime. Additionally, Twitter lets you post branded content and promote it in seconds, helping you expand your reach.
Because the platform allows you to offer almost instant customer service and support, Twitter is a great way to ensure your customers are happy with your products or services. You can also use its advanced search features to find competitors and analyze their marketing tactics.
Just as important, Twitter lets you share your brand's latest updates and engage in meaningful conversations with your audience.
In the end, Twitter is a fast-paced marketing platform with tons of room to grow your brand and reach and engage with your ideal audience for free.
Twitter Marketing Strategy Tips to Grow Your Brand
So far, we've explored what a Twitter marketing strategy is and learned what makes the platform so unique. Now let's look at some of the top Twitter marketing tips and how to use them for your business.
The following tips will help you boost brand awareness, increase conversions, and create long-lasting relationships with your followers.
1. Run a Twitter Giveaway Contest
The fastest way to boost your Twitter followers and engagement instantly is to give your audience something they want. Running a giveaway is a great way to do that because it requires little effort or cost on your part and can yield remarkable results.
All you need to do is offer something for free in exchange for likes, retweets, and follows from people who want to win.
There's also a super-easy way to run viral Twitter giveaways right from your website. You can use the best WordPress giveaway plugin, RafflePress.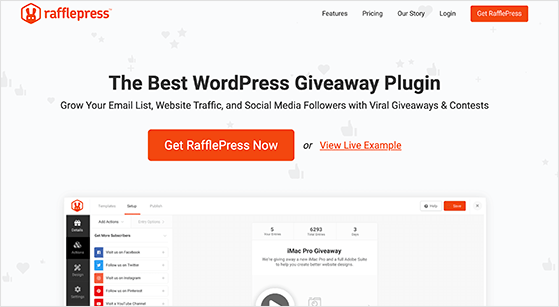 RafflePress handles all the technical aspects of your Twitter giveaway, including:
Rules
Design
Verification
As a result, you can run giveaways with zero hassle.
More importantly, you won't need to write a single line of code to make your giveaway look fantastic. Instead, RafflePress has a drag-and-drop builder that even non-techy people can use easily.
Using the builder, you can have your giveaway up and running with just a few clicks:
Choose a giveaway template (yes, there's one just for Twitter)
Decide how people should enter (follow on Twitter, post on Twitter, etc.)
Create rules with the giveaway rules generator
Publish your giveaway widget or landing page
You won't need to worry about fake entries either. RafflePress automatically filters fraudulent entries to ensure your contests are fair.
You can even reward people who share and refer your giveaway to go viral on Twitter.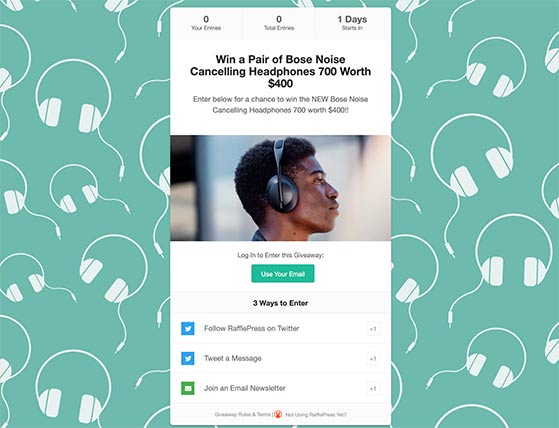 So, create targeted Twitter giveaways and watch your followers, engagement, and brand awareness increase.
2. Create a Twitter Landing Page
Getting your Twitter audience to visit your website is only half the battle. Next, you need to decide how to turn them into qualified leads and, ultimately, paying customers.
In other words, you need a reason for users to interact with your website.
Again, you can tackle this hurdle by giving something away for free. But this time, we're talking about lead magnets.
Lead magnets are free items or services like checklists, swipe files, ebooks, etc. You can give these away in exchange for contact details, like a user's email address. After entering their email, users can download or access your content immediately.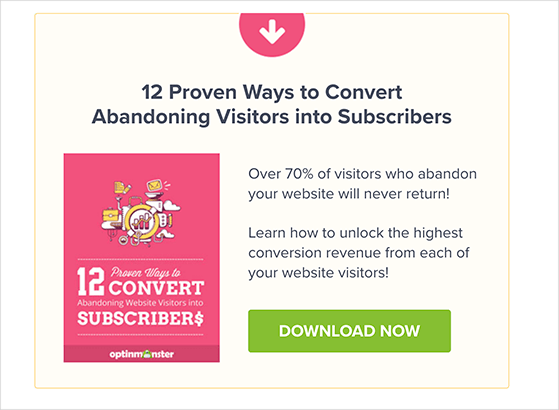 The easiest way to encourage visitors to sign up for your lead magnet is to create a landing page. Landing pages center around a single goal, like getting users to enter their email.
There are many ways to create landing pages for your website. But we suggest using SeedProd, the best WordPress page builder plugin, to create yours.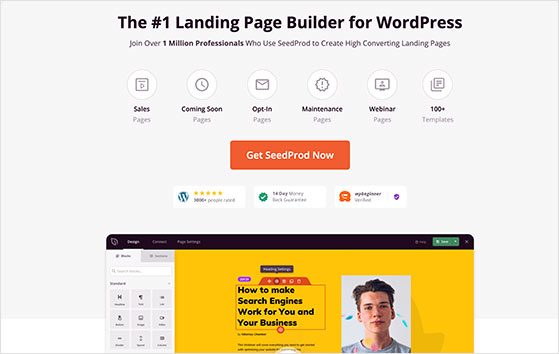 SeedProd includes everything you need to build high-converting landing pages. It comes with 150+ pre-made landing pages, and WordPress theme templates you can customize easily.
You also won't need any coding knowledge to use this plugin. SeedProd's drag-and-drop visual editor is easy to use even if you're a beginner, allowing you to create any type of landing page or WordPress theme with a few clicks.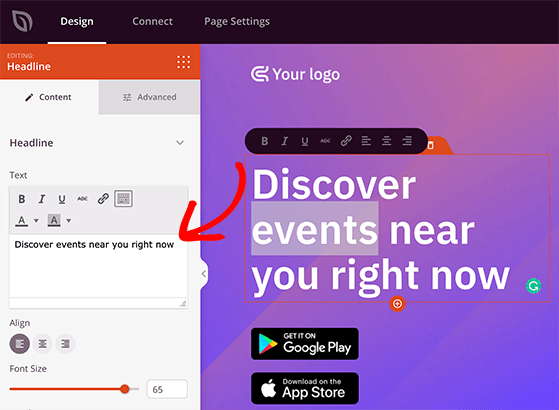 Moreover, this plugin has powerful built-in lead generation features, such as:
Contact, login, and sign-up forms
RafflePress giveaway integration
Twitter follow buttons and post embeds
Social media sharing buttons
WooCommerce support
Email marketing integration
Live mobile previews
And many more features to make your landing page a success.
So build a Twitter landing page that converts to turn your Twitter audience into qualified leads easily.
3. Embed Twitter Feeds on Your Site
Another effective Twitter marketing strategy is posting your Twitter feeds on your website.
This tactic is a great way to boost your engagement while showing all of your Twitter content right on your website. From there, visitors can see your Twitter posts and follow your account without leaving.
An easy way to embed Twitter feeds on your site is with Smash Balloon's Custom Twitter Feeds Pro plugin.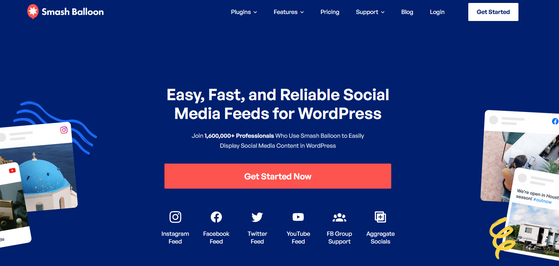 This plugin lets you publish your Twitter timeline and even show posts from different Twitter hashtags. You can also create feeds for different Twitter handles, mentions, lists, and advanced search results.
Your feed automatically updates your website every time you post a new tweet, meaning you won't need to add tweets manually. The plugin is also lightweight and won't slow your website down, offering a smooth user experience.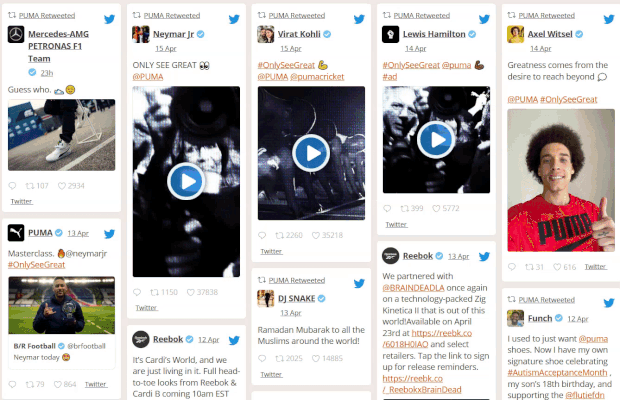 More importantly, you can create beautiful layouts with the plugin's customizations options without worrying about code.
To help you get started, here's a guide on how to create a Twitter feed for your site.
4. Use Popups to Promote Your Twitter Profile
Creating a Twitter popup on your website is another Twitter marketing tip that will help to increase your Twitter engagement and followers.
Popups are an excellent way to immediately grab visitors' attention and convince them to perform specific actions. For example, you can use popups to ask website visitors to follow you or recommend Twitter content you think users will like.
One of the best tools to help with that is OptinMonster, the best conversion optimization toolkit, and popup builder. With OptinMonster, you can create Twitter popups without any coding.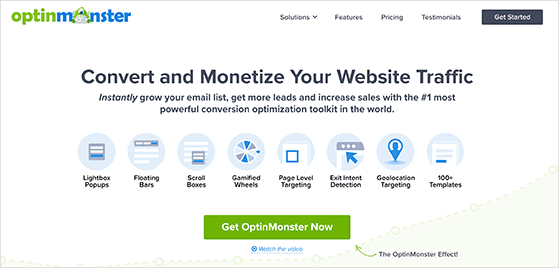 Just use its drag-and-drop builder to create popups visually and in real-time. Or select one of the professionally-designed templates to get started right away.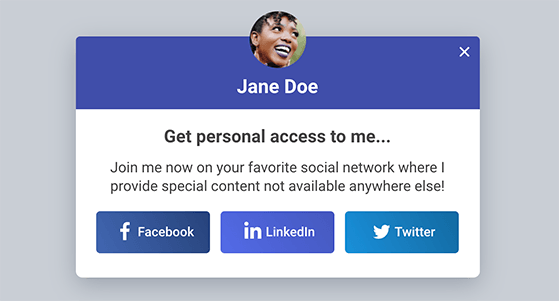 Additionally, this tool allows you to track your popup's performance. As a result, you can see how effectively your popups are working.
So if you want more Twitter followers and engagement, follow this guide to create Twitter popups for your site.
5. Optimize Your Twitter Profile
If you want people to know that your Twitter profile is yours automatically, you need to optimize it with customized content that your audience will recognize.
There are several areas of your Twitter profile you can optimize to ensure users don't forget about you, including:
Handle: This is your username, like @rafflepress, for example. Ideally, your handle should be your company name, so it's easy to search for and find you on Twitter.
Header: Your header is your Twitter profile's background image. You can display a unique image related to your brand or a variation of your company logo and tagline in this area.
Profile Picture: Your Twitter profile picture is what users will see whenever you interact on Twitter. This image sits above your Twitter bio and can be your company logo, initials, or even a picture of your CEO.
Bio: A Twitter bio includes a summary of what your brand is. Because it has a 160 character limit, you'll need to keep this summary short, engaging, and include all the important details about what your company does.
Website URL: Under your bio is a place to enter your website's URL. This provides users with a direct link to your site.
Birthday: In the same palace as your URL, you can enter the day your company was founded. This allows your audience to learn about your business on a more personal level.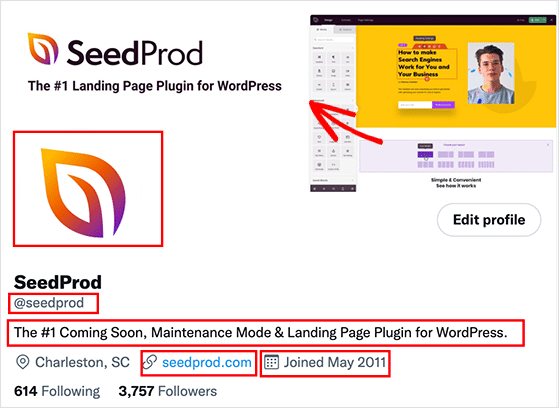 6. Clean Up Your Twitter Account
When you optimize your Twitter profile, it's also a good idea to clean up any content you don't want your audience to see.
Some Twitter accounts are pretty old and may have employed Twitter marketing strategies that didn't work well in the past. That can lead to:
Broken links to blog posts that no longer exist
Tweets that are no longer relevant to your audience
Embarrassing content that your account is tagged in
Twitter lists that don't apply to your content strategy
People you follow, who are no longer active
It might sound like a lot of work, but weeding out irrelevant content from your Twitter account can make a massive difference to your brand's reputation.
7. Tweet At the Right Time
Compared to other social media platforms, like Facebook and YouTube, Twitter moves much faster. As a result, you'll need to post regularly to keep your brand top of mind.
The most popular brands already Tweet regularly. So, you might get left behind if you don't tweet as often as your competitors.
Research shows that you should post at least 6 times a day for active Twitter engagement. Moreover, the timing of your tweets is just as important.
Typically, people browse Twitter during the afternoon, which could be one of the best times to post. There are also specific periods that offer even more engagement on Twitter.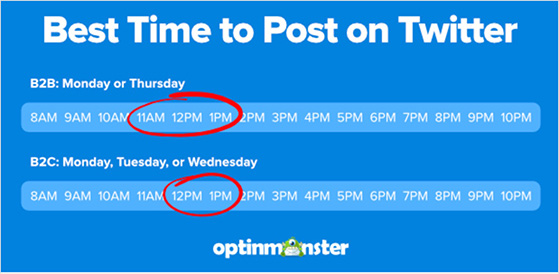 If your Twitter marketing strategy centers on consumers, you should tweet between 12 PM to 1 PM on Mondays, Tuesdays, and Wednesdays.
But if your strategy focuses on other businesses, the critical time for you to tweet is between 11 AM to 1 PM on Mondays and Thursdays.
You can check out this post for more data on the best time to post on social media.
8. Use the Right Twitter Hashtags
Tweets with hashtags tend to achieve 2x as much engagement as those without. With that in mind, including hashtags in your Twitter marketing strategy is an excellent way to broaden your reach.

That said, there are a few guidelines you should consider to ensure your tweets reach the maximum number of people:
Use hashtags unique to your business so your followers can find you more easily.
Create hashtags tailored to specific campaigns to make them more memorable, such as tailored giveaway hashtags.
Use Twitter Analytics to find which hashtags perform the best and use them in future campaigns.
Avoid overusing hashtags. Too many can look spammy so stick to 1 or 2 hashtags to ensure the best engagement.
9. Post More Visual Content
Try to use images and videos as part of your Twitter marketing strategy. Research shows that tweets with images outperform text-based tweets, while videos get 6x more engagement than tweets without them.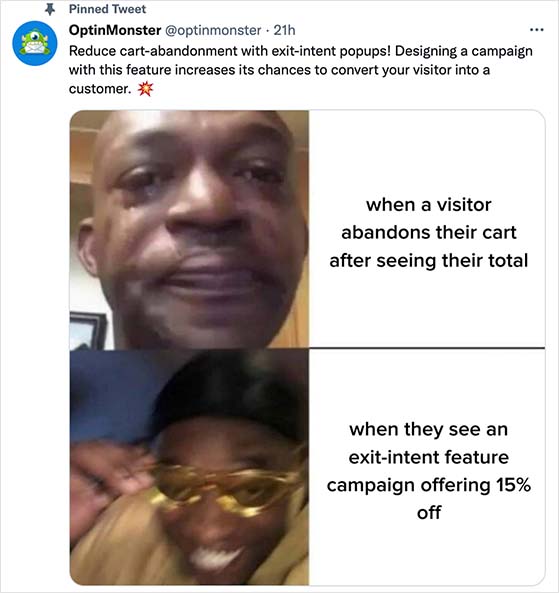 Videos and images provide an eye-catching and engaging aspect to your content that can make people pause as they scroll their feeds. Moreover, you can use visual content to promote products relevant to your audience and user-generated content to increase your brand's authenticity.
10. Create Interesting Twitter Lists
Anyone can create or view Twitter lists. They're an organized group of accounts you select and put in different categories. For example, you could create a list of marketing experts, top content creators, and more.
When you open a Twitter list, you'll only see tweets from accounts on it, making it ideal if you only want to follow specific accounts. For instance, you could create lists for inspiration, your target audience, and your competitors.
That way, you can see posts and interactions easily, without them getting lost in the Twitter feed.
11. Leverage Twitter Advertising
Advertising on Twitter is an effective way to reach your target audience. Twitter ads make your tweets easier to find by thousands of people who use the platform.
As a result, it helps you increase your influence and following on Twitter. There are 2 types of Twitter ads you can run: promoted tweets and Twitter ads.
Promoted tweets make your tweets appear in the Twitter stream or the search results of particular users. You can use this strategy to send more people to a specific webpage.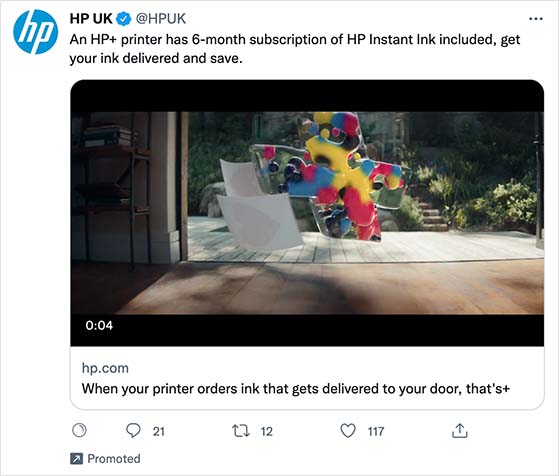 It works by putting your promoted tweets in a daily campaign that targets a specific audience. Everyone can engage with a promoted tweet, and you'll pay a monthly fee for as long as you promote the tweet.
On the other hand, Twitter Ads is a better solution if you use different types of tweets to achieve a single business goal. For example, if you want to grow your Twitter followers or brand awareness through the platform.
You can choose from different objectives, including:
App installs
Video views
Website conversions
Additionally, you can set audience targeting for your campaign. However, this decision will impact the total cost of your campaign.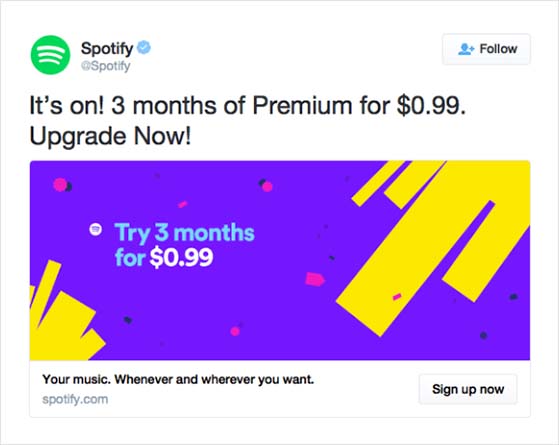 There you have it.
We hope this article has helped you learn how to create an effective Twitter marketing strategy and find some excellent Twitter marketing tips for your business.
While you're here, it's a good idea to learn why you should never buy Twitter likes.
If you liked this article, please subscribe to our YouTube Channel for RafflePress video tutorials. You can also find us on Twitter and Facebook.