Do you want to run a back to school giveaway?
Boosting traffic and sales is a top priority for any business, especially during the back to school season. With a giveaway, you can harness the annual back to school frenzy to attract new leads and customers.
In this guide, we'll show you how to run an effective back to school giveaway right from your business website.
Why Are Back to School Giveaways Effective?
Back to school shopping is a multi-billion-dollar market. Research shows Americans spent $110.8 billion on school products alone.
That means parents, students, and teachers alike are on the lookout for the best deals and the most useful school supplies. With this in mind, a back to school event can position your brand as the go-to choice ahead of the new school year.
Moreover, a school supply giveaway is an excellent way to reach a broader audience. New shoppers may discover your brand through the giveaway promotion, ultimately becoming regular customers.
So how exactly do you run a back to school giveaway from start to finish? The best approach is to start with a robust giveaway plan.
Planning Your Back to School Giveaway
Careful planning is essential for a successful giveaway. This involves selecting the right prize, setting clear rules, and developing a robust promotional strategy to reach your target audience.
Let's look at each part of the planning process to ensure you're on the right track.
Choose the Right Prize
What's a giveaway without a prize? The right prize can attract the right audience and generate enough excitement to potentially go viral.
Make your giveaway prize relevant and enticing to your ideal audience. Consider free school supplies that are essential to starting the new school year, such as:
Free haircuts
Back to school backpack
School bookbag giveaway
Free food
Fun activities
Gift cards
High school stress ball
Budget lunch bags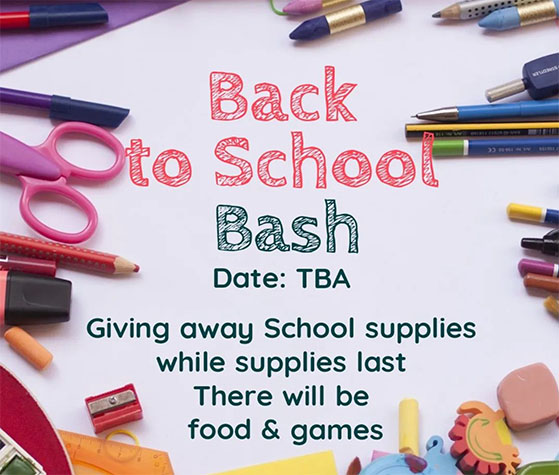 You can even offer to donate to a local nonprofit or food truck for kids experiencing homelessness or who are on a low income. Gestures like this are a great way to give back to your local community while growing your business.
Set Your Goals
Once you know what prize to offer, consider what you hope to achieve with your back to school giveaway. Setting clear and measurable goals is critical to determine your giveaway's success and guide your strategies and tactics.
Before launching your giveaway, outline what you want to achieve. Your objectives could be increasing brand visibility, boosting sales, growing your email list, or improving customer engagement.
Make your goals specific and measurable. If your goal is to increase sales, specify a target percentage or dollar amount. If you want to grow your email list, set a specific number of new subscribers you wish to acquire.
This brings us to choosing the right entry methods for your giveaway, which we'll explain next.
Choose Entry Methods to Boost Traffic and Sales
Your giveaway entry methods are the tasks users should complete for the chance to win your grand prize. These entry methods should align with your giveaway goals. However, each goal may require a different strategy.
Let's look at a few examples.
To boost sales, think of ways to convert participants into customers. For instance, you might offer a back to school supply discount to those who didn't win.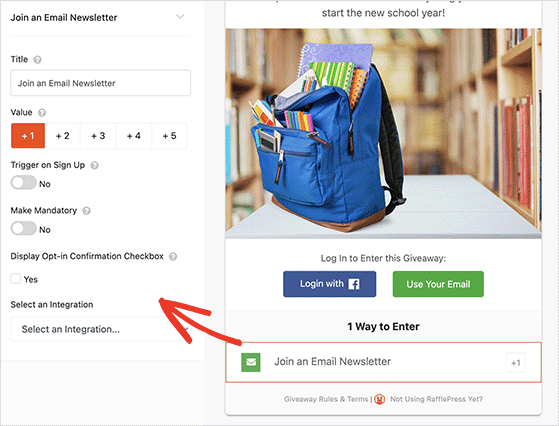 To boost website traffic, consider methods to draw people to your site, like sharing your back 2 school giveaway on social media or partnering with influencers.
To collect user-generated content, ask users to submit an image of their back to school bash or first-day-of-school snaps.
Set Clear Giveaway Rules
Transparency is key in any giveaway, so setting clear rules is essential for managing expectations and keeping your giveaway fair. Clearly state the start and end dates for your back to school giveaway, how to enter, eligibility criteria, and how you'll select and notify the winners.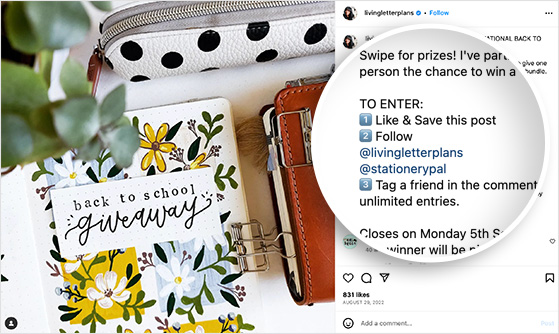 You should also ensure your giveaway complies with all local laws and social media platform rules to avoid any legal ramifications.
Pro tip: later in this guide, we'll share a super easy way to generate giveaway rules automatically.
With your giveaway plan in place, it's showtime. Now you can start building your giveaway to promote to your target audience.
Running Your Back to School Giveaway
The easiest way to run a giveaway is using a giveaway tool designed specifically for that job. They make setting up and running your giveaway promotion a breeze and include essential actions to help meet your giveaway goals.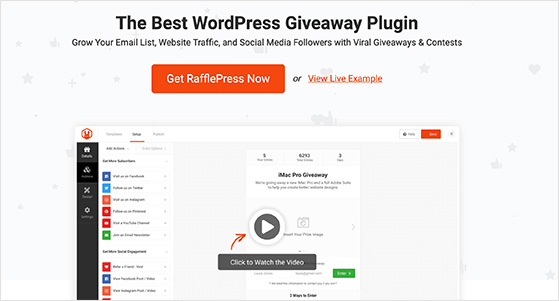 RafflePress, for example, is the best giveaway plugin for WordPress website owners. It lets you set up, run, and manage any giveaway campaign on your WordPress website without code.
Everything is handled inside your WordPress dashboard. You can get started quickly with a goal-based giveaway template, then customize your giveaway widget using the drag-and-drop builder.
That includes adding your prize details, images, giveaway duration, description, and more.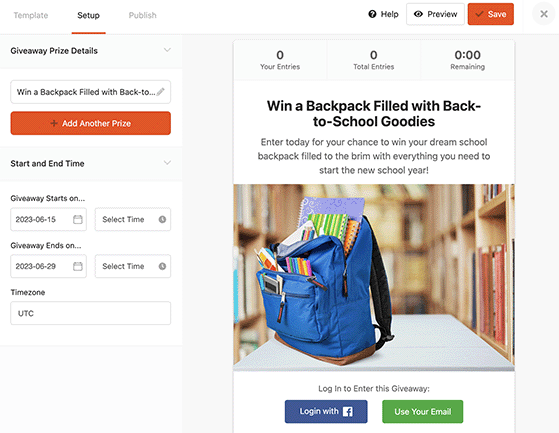 RafflePress also has countless 1-click entry actions to meet your campaign's goals, including:
Social media following
Social sharing
Newsletter subscription
Image submission
Page visiting
Invent your own
The most effective is the Refer-a-Friend action – a viral loop incentivizing users to refer others to your giveaway for more chances to win. It uses the power of word-of-mouth and personal recommendations, which are often more impactful than traditional promotional methods.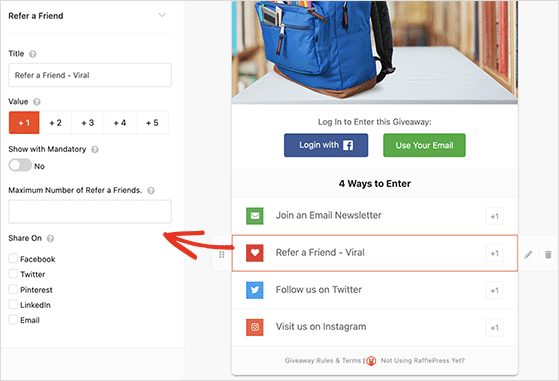 But that's not all. RafflePress also lets you generate giveaway rules automatically. Simply answer a few questions, and it'll create rules for you and display them on your giveaway widget.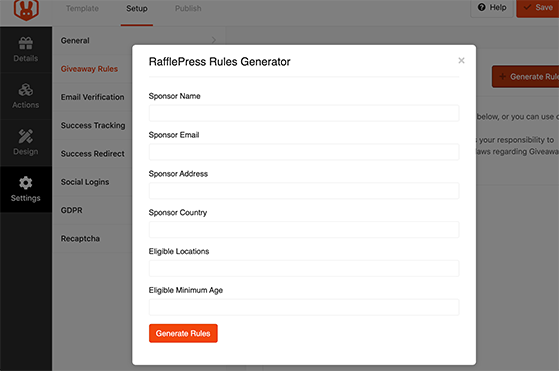 To help you get started, follow this guide on creating a giveaway in WordPress using RafflePress.
Set Up Your Giveaway Page
After setting up your giveaway widget, you'll need somewhere to display it so users can enter. With RafflePress, you can publish your back to school giveaway in any blog post, page, or widget-ready area with the RafflePress WordPress block or shortcode.
Alternatively, you can use the built-in giveaway landing page feature. Simply give your page a slug in the settings panel, and the plugin will create an instant distraction-free landing page on your WordPress site – no code required!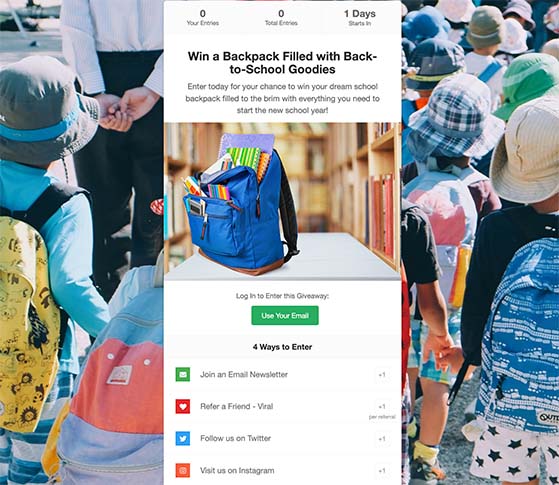 Another way to create a giveaway page is by using a drag-and-drop page builder. That way, you can add more customizations to your page, such as testimonials, videos, slideshows, and more, to boost entries.
SeedProd is our top choice for this. It's the best WordPress website and page builder, with over 1 million users.
This user-friendly plugin has a dedicated RafflePress block, allowing you to add your giveaway to a custom page with a few clicks.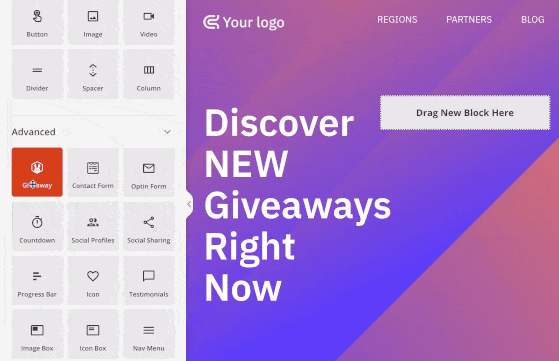 Promote Your Back to School Giveaway
When your giveaway starts running, it's time to shout about it from the rooftops. You'll want to harness every possible promotion channel to drive traffic and attract participants.
Here are some popular giveaway promotion methods you can use:
Add popups and banners to your website linking to your giveaway page.
Send email newsletters announcing the giveaway launch.
Broadcast your free back to school giveaway on social media.
Partner with influencers and other businesses to increase your giveaway's reach.
Send push notifications to remind your subscribers to enter.
Write a blog post or guest post on other influential websites.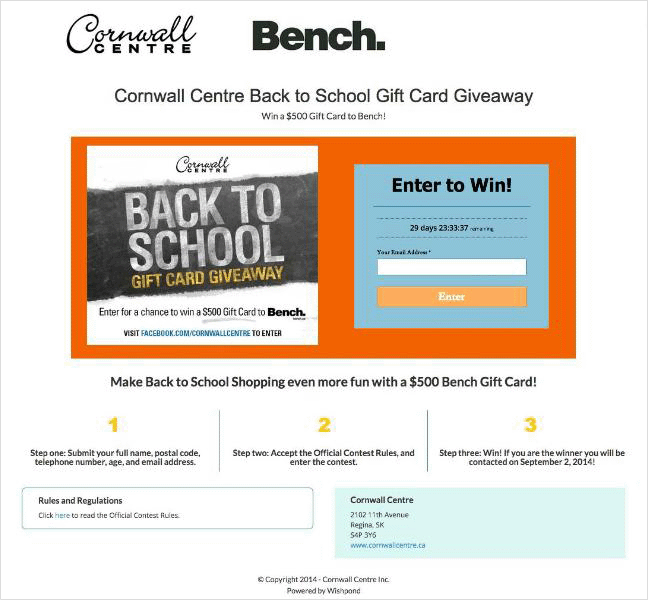 You could go as far as pinning up a flier in your local community center. The idea is to attract as many quality leads as possible.
Choose a Giveaway Winner
Let's not forget the moment everyone waits for – the winner announcement.
When your back to school giveaway ends, you'll need to select and announce the winner to your audience. For this, ensuring the selection process is fair, transparent, and follows any legal requirements is crucial.
Ideally, you should have defined the selection process before launching. However, here are some popular ways to draw a giveaway winner.
If your giveaway involves a random draw, you can use RafflePress's random winner picker to ensure a fair selection process. Simply enter your criteria, and it'll randomly select a winner from the list of entrants.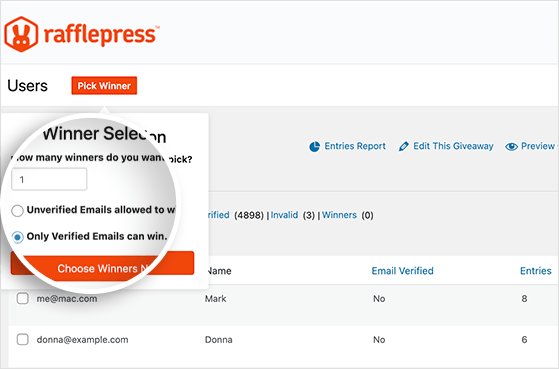 Alternatively, you can judge the winner yourself for creative giveaways like video or photo contests. Again, communicate the criteria clearly to build trust and keep participants engaged.
After choosing the winner, plan a creative and engaging winner announcement to maintain excitement even after the giveaway ends. Be prompt and enthusiastic in your announcement, and congratulate the winner publicly.
Once you've announced the winner, follow up to arrange prize delivery. This is also an excellent opportunity to ask for feedback about your giveaway.
Track Your Back to School Giveaway Results
By now, you might think your back to school giveaway is over. However, one more task needs your attention – the results.
Monitor your giveaway metrics to measure its success.
An easy way to do this is with MonsterInsights, the best WordPress Google Analytics plugin. It lets you add Google Analytics to WordPress quickly and easily.
From there, you can see all your website metrics right from your WordPress dashboard.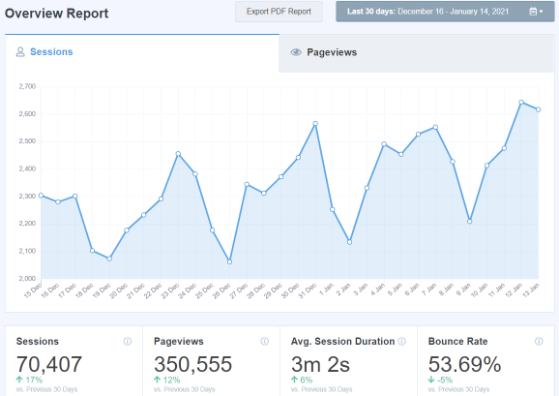 Look at engagement levels. Are more people visiting your site? Are they interacting with your brand more on social media? Are these increased interactions leading to more sales?
Compare your metrics to the goals you initially set for your giveaway to see if your campaign succeeded. If it didn't go as planned, you can use this information to improve your next giveaway campaign.
Next Steps
Back to school giveaways can be a goldmine for boosting your brand's visibility, traffic, and sales. With careful planning, execution, and analysis, your giveaway can easily take your business growth to the next level.
Ready to run a back to school giveaway of your own?
Get started with RafflePress today!
Note: RafflePress is made for WordPress websites and doesn't work with other website platforms.
Back to School Giveaway FAQs
What types of products make for good back to school giveaway prizes?
Consider school-related items or services. It could be anything from free backpacks to online tutoring services.
How can I promote my back to school giveaway?
Utilize your email newsletters, social media, and blog posts, and consider collaborating with influencers.
How do I track the results of my giveaway?
Monitor your site's traffic, engagement levels on social media, and sales conversion rates.
What if my giveaway doesn't achieve the desired results?
Use it as a learning experience. Identify what didn't work and use these insights for future giveaways.
What are some industry trends for back to school giveaways?
It varies by industry. Keeping an eye on successful brands in your field can give you a sense of the trends.
There you have it!
We hope this guide has helped you learn how to run a back to school giveaway in WordPress.
You might also like the following helpful guides for further reading:
If you liked this article, please subscribe to our YouTube Channel for RafflePress video tutorials. You can also find us on Twitter and Facebook.