Since we launched RafflePress last month, we've been listening closely to your feedback. Our goal is to add the features you need most in order to skyrocket your business growth with viral giveaways.
Today we're excited to announce a TON of new features we've added, all from your feedback and suggestions!
Let's take a look at what's new…
New Action: Automatic Entries
Now it's easier than ever for people to enter your giveaways. You can opt to assign entries to people just for signing up for your giveaway! No need for extra steps or requirements.
Streamlined 1-Step Email Newsletter Signup
We've simplified the process to add people to your email list so you can grow your email list faster than ever.
Now you can choose to automatically add people to your email list when they sign up for your giveaway, instead of asking them to sign up for your giveaway and email newsletter separately.
All you have to do is select the Trigger on Sign Up option when setting up your giveaway.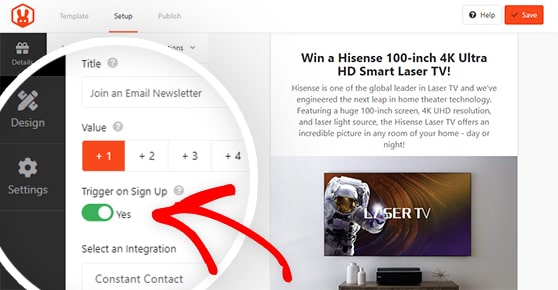 This reduced friction will help you to grow your list even faster.
For more details, see our documentation on automatic entries.
NEW Daily Entries
One of the best benefits of running an online giveaway is that it's great for generating traffic to your site.
To help you grow your website traffic even more, we've just added daily entries.
Now for every repeatable action, such as tweeting about your giveaway, you can enable daily entries to keep people coming back to your site again and again.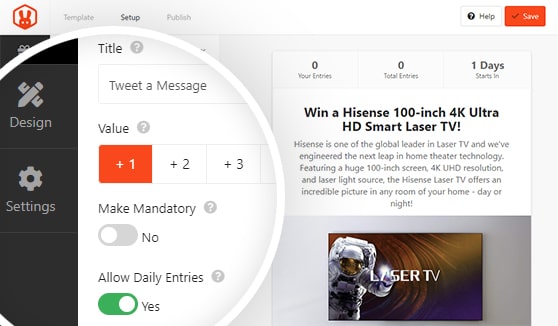 Automatic Answer Validation
Are you asking people to answer a question with a specific answer in order to enter your giveaway?
With answer validation, it's easier than ever to make sure your contest entries are valid. For more details, see our documentation on the Answer a Question action.
Unlock Lifetime Updates Before It's Too Late!
We have LOTS more features and updates planned for RafflePress.
Don't miss out – for a limited time, you can still unlock updates and support for LIFE with our Ultimate lifetime plan.
That's right, the Ultimate lifetime plan won't be around forever. The value of RafflePress keeps increasing, so the Ultimate plan will be increasing in price soon, before it's gone altogether.
Ready to unlock lifetime updates and support?
Click here to get the Ultimate license while you can!
(If you have a license already, here's how to upgrade your RafflePress license.)
Thank you all for your support of RafflePress! Your feedback, comments, shares, and messages all help us make RafflePress the best giveaway and contest plugin for WordPress.