Looking for a guide on how to promote a Kickstarter project?
Kickstarter is a popular platform for launching crowdfunding projects. It helps startups, small businesses, and entrepreneurs with fundraising and product discovery.
Like any other digital marketing campaign, successful Kickstarter campaigns rely on executing a solid marketing strategy. So in this article, we'll show you how to promote a Kickstarter project so you can get help from potential backers and, ultimately, reach your funding goal.
Why Promote Your Kickstarter Project?
Developing a Kickstarter marketing plan will help you find that first group of supporters who will become influencers when your project launches. However, it takes more than launching your campaign and hoping for funding.
Besides creating an outstanding campaign page, you'll need to engage your target audience and offer exciting incentives to persuade them to donate the amount of money you need. Plus, the entire crowdfunding campaign will only succeed if you reach your goal in time.
Whether you're crowdfunding on GoFundMe, Indiegogo, or Kickstarter, the idea is the same: use the time you have to acquire as many conversions and potential customers as possible.
How to Promote a Kickstarter Project
If you're in the planning phase of your crowdfunding project, you're in luck. The following tips will help you promote your Kickstarter or Indiegogo campaign so you can reach your goal and start selling your product.
1. Tell Your Immediate Contacts
Your first wave of supporters almost always comes from your close friends and family. They're your biggest supporters and will want to see you succeed.
Game designer Kevin Cole, whose Kickstarter project raised $12,000 from 362 backers, says more than half of those backers were people he knew personally. His advice is to "motivate them, involve them, lean on them, and be there for them too! You are not an island."
When you launch your project, email everyone you know so they can celebrate and encourage them to support you if they're able. Help from these folks will show potential backers that your project has the support and enthusiasm to move forward.
2. Go Viral with a Giveaway
Another way to get the ball rolling on your Kickstarter project is to launch with a viral giveaway campaign. Giveaways are insanely popular and have the potential to go viral on social media. Let's face it; everyone loves a freebie.
A Kickstarter giveaway aims to build momentum and promote your project to a broader audience. Essentially, it's brand awareness on steroids where, as more people enter your giveaway and share it with their networks, even more people will learn about it, enter, share, and the cycle continues.
Imagine running a giveaway to win a limited edition prototype of your Kickstarter. The word about your project can quickly spread via word-of-mouth on social media platforms, reaching tons of potential backers.
Chances are you already have a website for your Kickstarter project. If you run your site on WordPress, then RafflePress is the best way to go viral with a giveaway.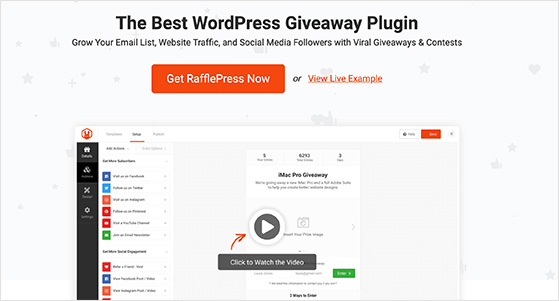 RafflePress is the best WordPress giveaway plugin on the market. It lets you design, create, and run any giveaway or contest from your WordPress site.
Setting up a giveaway with RafflePress's drag-and-drop builder takes just a few minutes. And with countless ways to enter your giveaway, you can generate leads for your project quickly and easily.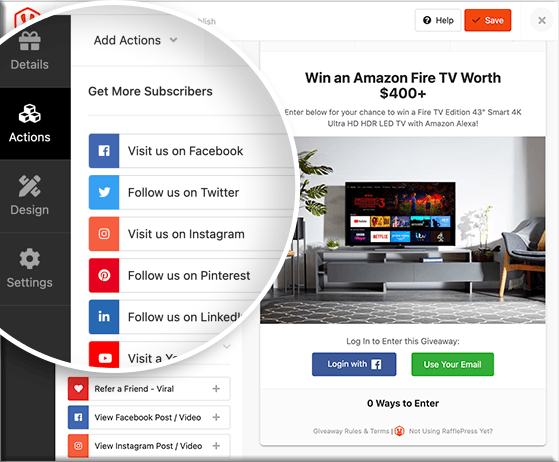 Some of the actions users can take on your RafflePress giveaway are as follows:
Social media follow
Subscribe to a podcast
Visit a web page
Leave a comment
And more
You can even invent your own giveaway entry action tailored to your Kickstarter campaign. For example, you could ask potential backers to join an exclusive Facebook Group for regular updates.
From there, you can publish your giveaway on a distraction-free giveaway landing page, add the link to your Kickstarter page, and share it far and wide on social media.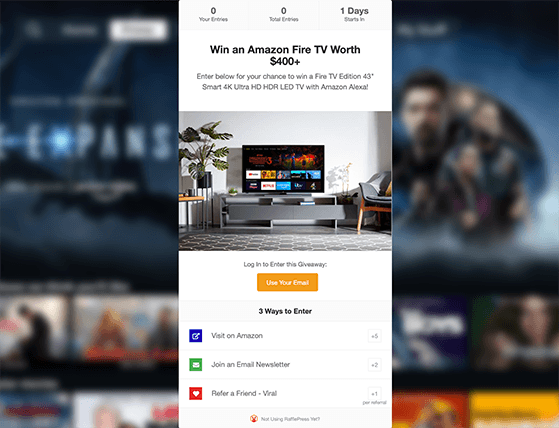 If you need help getting started, here's a guide on how to run a giveaway in WordPress.
3. Make a Pre-Launch Landing Page
Another step you can take before launching your Kickstarter campaign is to set up a pre-launch page. Kickstarter even lets you make a pre-launch page right on the platform.
It's an effective way to let your audience know about your project. In addition to teasing it, the feature turns your supporters into followers, allowing them to opt-in for notifications about when it goes live.

While it's a fantastic feature, Kickstarter's pre-launch page gives you little control over its design. The page will only include the following information:
Project title and subtitle
Category
Creator name and avatar
Project location
Notify me button
Unfortunately, you can't adjust the page design. That's why we recommend creating your own pre-launch landing page with a page builder like SeedProd.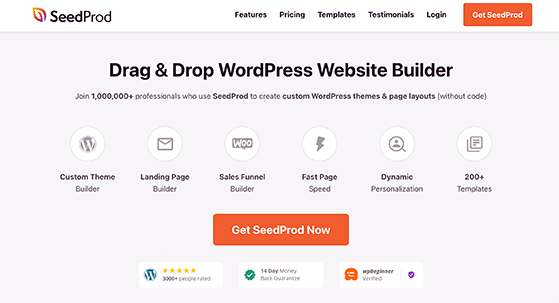 It's a beginner-friendly WordPress page builder plugin that gives you complete control over every aspect of your WordPress site and page design. You can create custom WordPress themes with its drag-and-drop editor and build stunning landing pages for your Kickstarter without writing code.
Since SeedProd comes with hundreds of professionally designed landing page templates, you can find one you like quickly and customize it to suit your campaign. Plus, the block-based interface lets you add powerful design elements that can convince visitors to become backers, including:
Welcome videos introducing your Kickstarter project
Bullet lists highlighting your project's benefits
Social media sharing buttons
Call to action buttons to follow your project on Kickstarter
Opt-in forms to sign up for email notifications
And much more.
You can even give your landing page a custom domain name separate from your business site with SeedProd's domain mapping feature. So instead of your URL looking like: mysite.com/mykickstarter, you can turn it into: mykickstarter.com without setting up a whole new WordPress installation.
Need some inspiration? Check out some of these high-converting landing page examples.
4. Create Relevant Content on Your Website
Since we're talking about your website, let's look at how you can use it to promote your Kickstarter project. Besides running a giveaway and setting up a pre-launch page, there's so much more you can do to turn website visitors into Kickstarter backers.
For one, you can start writing content about your project on your blog. Compelling content can generate organic traffic from search engines, whether it's a short how-to guide, a listicle, or a long-form opinion piece.
By organic traffic, we mean people actively searching on Google and other search engines for solutions to their problems. If they see your blog post talking about your project in search results and click it, that counts as a new organic website visitor.
Now imagine if you could generate hundreds or even thousands of those visitors throughout your campaign. That's a lot of people you can turn into supporters.
To create the right content for your Kickstarter, you'll need to research the phrases related to your project that people are likely to search for. For instance, if your project is a nifty mobile app for teenagers, you'll need to find terms related to that topic.
Don't worry if this sounds challenging. This guide on how to do keyword research for your blog will help you with the basics.
5. Draw Attention with Website Popups
Here's something else you can do on your website to promote your Kickstarter project; use every piece of real estate to talk about it!
We're talking about the key pages and areas of your site that get the most amount of traffic. You can use those places to show attention-grabbing notifications and banners linking to your crowdfunding page.
For example, with a powerful lead generation tool like OptinMonster, you can display stunning opt-in campaigns virtually anywhere on your site, including slide-in banners, floating header and footer bars, and lightbox popup windows.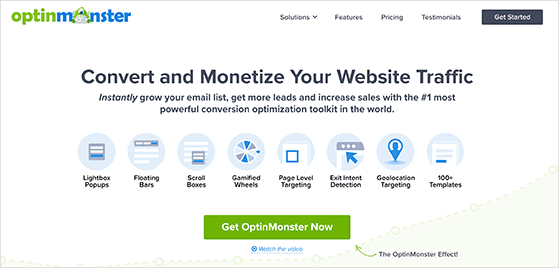 You can even use their targeting rules to capture leads when visitors are about to leave your site. Simply create an Exit-Intent popup campaign, and you can nudge users toward your Kickstarter before they close the window.
6. Increase Trust with Social Proof
Social proof is another key factor in promoting your Kickstarter project. If you're a small business starting out for the first time, chances are you will need a reputation potential backers can trust.
That's where social proof can help in the form of logos from media outlets, reviews, testimonials, and user-generated content. It adds weight to your claims because people trust opinions from their peers more than simply taking your word for it.
But the type of social proof we want to mention is social proof notifications like this: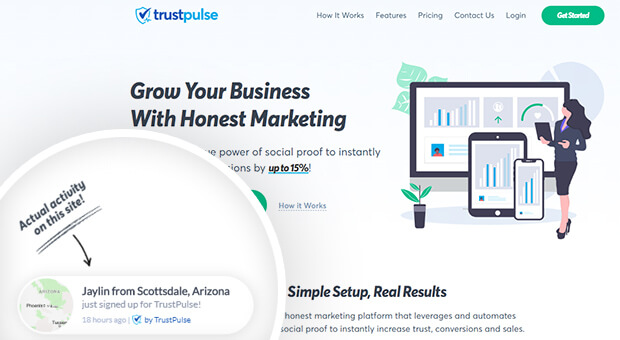 They're discreet popup notifications that tell visitors about actions on your website. For example, many eCommerce companies use them to tell potential customers when someone buys a product.
However, you can use them to show when people learn more about your Kickstarter, and the best way to do it is with TrustPulse. You can set up notifications quickly and easily and tell the platform exactly which activity should trigger a popup.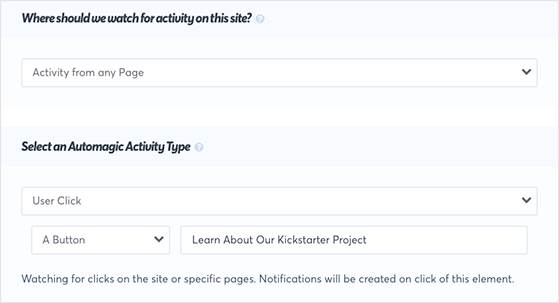 Even better are the on-fire notifications that show the total number of users who have taken action. With social proof like this, you can quickly build the trust and credibility your Kickstarter needs.
7. Offer Desirable Rewards
One of the cornerstones of any successful Kickstarter campaign is the rewards you'll offer in exchange for users pledging their support. These incentives will reel in donations because they give people something tangible for handing over their money.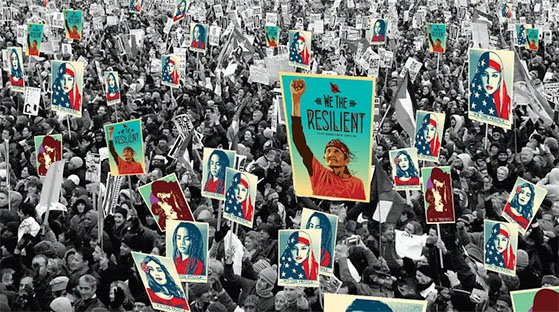 When building your campaign, think about the rewards that will excite your audience. We the People, for example, offered the following rewards to backers at different pledge amounts:
$5 – Postcard to the President
$10 – We the People Sticker Pack
$25 – Amplifier Super Sticker Pack
$40 – All 3 Shephard Fairey Prints
$60 – All 6 We the People Prints
And so on.
The great thing about this approach is that it offers rewards for all budgets, so no one is excluded from participating.
8. Leverage Your Email List
Your email list is another powerful tool for promoting your Kickstarter campaign. The people on your list chose to be there, so they'll be interested in what you have to say.
At different stages throughout your crowdfunding journey, reach out to your email list with news and updates.
For example, you can send a prelaunch email before the campaign starts, send updates about essential campaign milestones, thank backers for supporting you, celebrate reaching your campaign goal, and more.
Take this example from Misc Goods Co: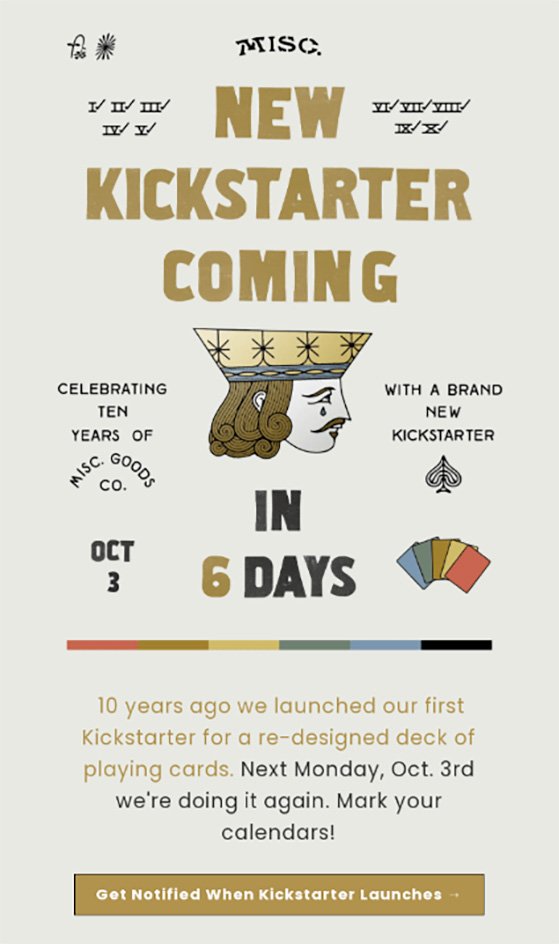 The email is eye-catching, engaging, and tells readers where to go to back the project.
Even better, many email marketing providers have templates you can customize to suit your needs, so you won't need to start from scratch.
9. Cross-Promote Your Project on Social Media
We can't forget about social media when learning how to promote Kickstarter projects. As we mentioned earlier, it's where you can raise brand awareness and reach a broader target audience.
Where you promote your project on social media depends on where your audience is most active. It could be that your audience prefers Twitter over LinkedIn or forgo the typical social media platforms for forums and communities like Reddit and Discord.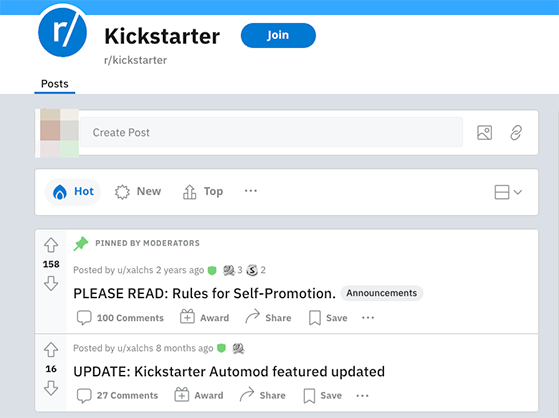 During the planning phase of your project, research your audience to learn where they hang out. Then you can follow up by sharing your promotional material on those platforms when you launch.
You can also cross-promote your content on multiple social media networks for maximum reach and exposure.
10. Reach Out to the Press and Influencers
While you're thinking about your social media campaigns, look at how you'll get influencers and media outlets involved. Performing influencer outreach is a fantastic way to get thought leaders, celebrities, and public figures involved in your promotion.
Plus, by utilizing the audience of influencers, you can spread the word quickly about your Kickstarter to the right people.
One way to involve influencers is to reach out to popular bloggers and ask them to write about your campaign. You may need to offer an incentive to do so, but it's another effective way to get more eyes on your Kickstarter page.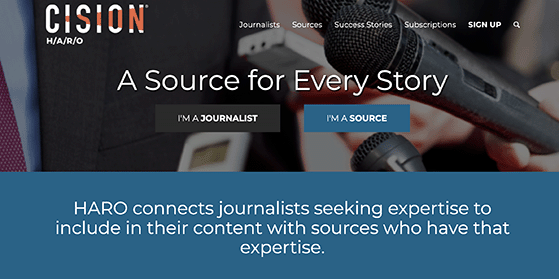 In addition, you can reach out to public relations sites like HARO with a press release to generate press coverage about your project.
11. Run an Affiliate Program
Affiliate marketing is another effective way to promote your Kickstarter crowdfunding campaign. With an affiliate program, you can reward successful referrals with a commission.
This is precisely what SwitchPod did.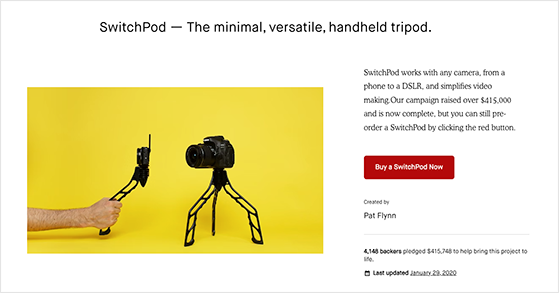 They offered various commission rates for their different types of Boosters:
1st tier: highest commission for influencers
2nd tier: second highest rate for friends and family members
3rd tier: a lower rate for anyone wanting to spread the word
By using this approach, SwitchPod was able to make over a quarter of its Kickstarter goal.
If you're looking for an easy way to run an affiliate marketing program, you can't go wrong with AffiliateWP. It's the best WordPress affiliate marketing plugin, helping thousands of smart business owners grow their revenue.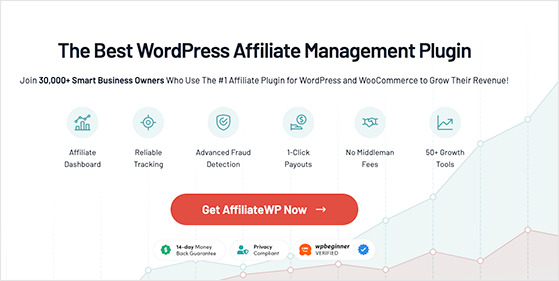 The plugin is easy to set up and includes a powerful affiliate management system for overseeing your program, including 1-click payouts, unlimited creatives, commission rules, advanced traffic, affiliate reports, and more.
For more details, you can check out this guide on creating an affiliate program in WordPress.
12. Use Paid Advertising Platforms
Our final tip for promoting a successful Kickster campaign involves using paid advertising to target and reach your audience across the internet. We put this tip last because you may not have the budget for paid ads, but if you do, it's a worthwhile investment for your campaign.
You can run various advertising campaigns to promote your project, including Google ads in search results, banner ads, Facebook ads, and more.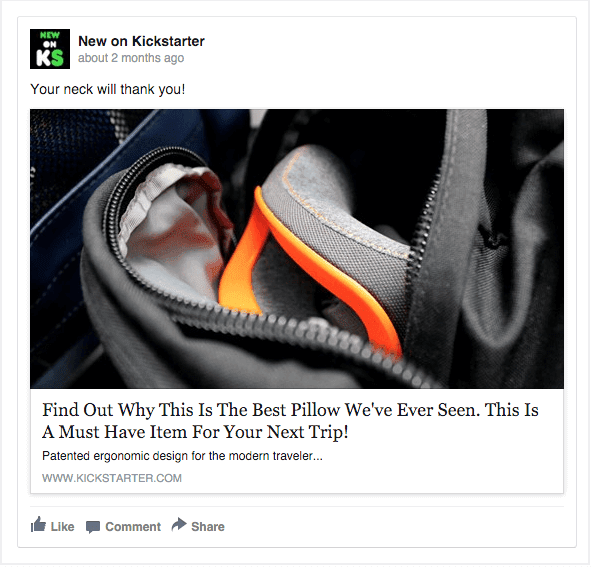 Plus, there are many websites where you can promote your Kickstarter campaign for free, including ProductHunt, Kicktraq, Cool Backer, and more. And if you have the budget, you can check out paid Kickstarter promotion platforms like Gadget Flow.
There you have it!
We hope you found this guide helpful and that it helped you learn how to promote a Kickstarter project effectively.
You can also check out some of the following articles for more marketing and WordPress tips:
If you liked this article, please subscribe to our YouTube Channel for RafflePress video tutorials. You can also find us on Twitter and Facebook.