Looking for an easy guide on how to create a waitlist for your business website?
Creating a waitlist for your product or service is a great way to build anticipation and exclusivity. They can also help you gather valuable insights, create buzz, and foster a community of eager customers.
In this article, we'll show you how to create a waitlist that maximizes excitement and drives demand for your business.
Before diving in, let's look at why you need a waitlist.
Why Do I Need a Waitlist?
Simply put, a waitlist lets people sign up to be the first to access your new product or service.
For example, if you're launching a new beauty product, interested users can sign up to learn exactly when they can buy it. Similarly, you can create a waitlist for people interested in new real estate rentals or online courses.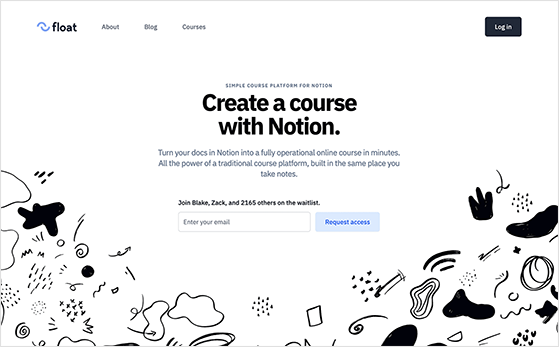 By allowing people to register their interest, business owners can collect email addresses to grow their email list, gauge demand for their product or service, run pre-launch sales, and cultivate customer loyalty before launch day.
So how do you create a waitlist from start to finish? Follow the steps below to find out.
How to Create a Waitlist from Scratch
Let's start this guide by showing you how to set up your first waitlist from scratch. This will cover everything from researching your audience and creating an offer to promoting your waitlist and collecting contact information.
1. Identify Your Target Audience
To create a successful waitlist, you first need to learn more about your target audience. The type of information you'll need to research may include their demographics, product preferences, interests, and pain points.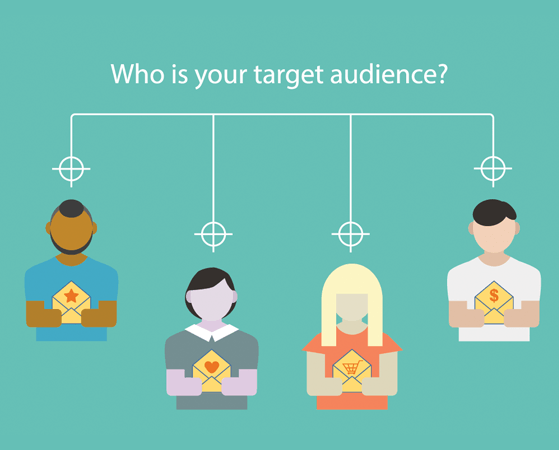 Gathering these details will help tailor your message and promotional efforts to resonate with your target customers.
Try some of these tips to understand your target audience:
Read online surveys, industry reports, and social media to understand how your audience ticks.
Talk to existing customers by creating a survey and asking them about their wants, needs, and pain points.
Get feedback from your team, who may have insights about your audience you haven't considered.
Create a buyer persona to flesh out your ideal customer for use on specific marketing campaigns.
For help, you can see this step-by-step guide on how to create a buyer persona.
2. Create an Irresistible Offer
Once you know more about your ideal audience, you'll need to craft an irresistible offer. Incentives will help motivate users to join your waitlist because they'll get something valuable in return.
Some popular offers may include exclusive discounts or coupon codes, early access to a course, limited edition items, entry into a prize draw, free ebooks, and other valuable resources. Ensure the offer aligns with your audience's needs, making it difficult for them to resist signing up.
In this example from Dialpad, users can join the waitlist and get early access to Dialpad Ai Recap ahead of everyone else.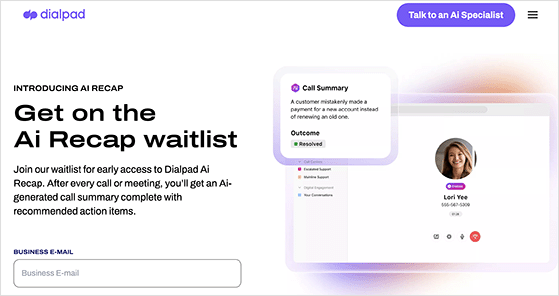 If you're a WordPress website owner, you can incentivize users with an exclusive giveaway. RafflePress, the best WordPress giveaway plugin, lets you run any giveaway or contest from your WordPress site without code.
Its ready-made pre-launch giveaway template comes with everything you need to promote your waitlist successfully. Users can enter by signing up to your email list, visiting a Facebook page, following you on Twitter, and watching a YouTube video.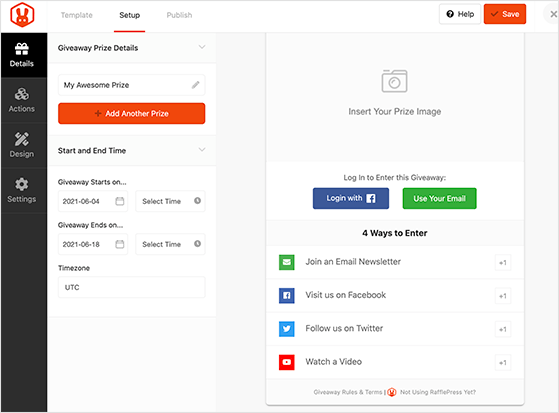 You can even add bonus tasks, including image submissions to collect user-generated content, blog post comments, podcast subscriptions, and more.
The giveaway builder is easy to use, including a drag-and-drop interface. From there, you can publish it anywhere on your site, including posts, pages, and a distraction-free giveaway landing page.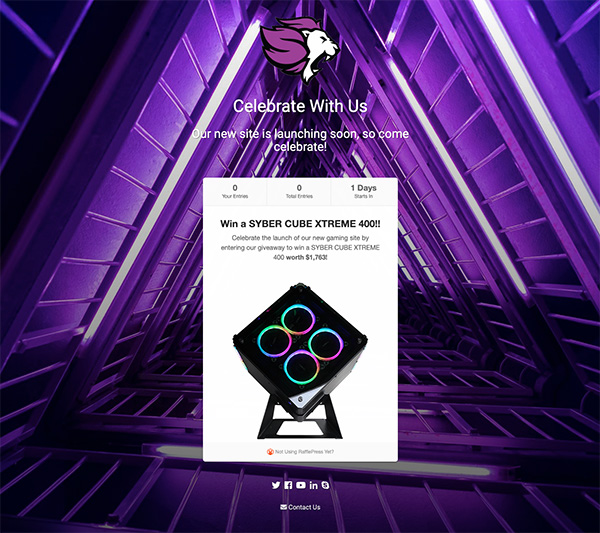 Besides its ease of use, RafflePress includes a GDPR checkbox to ensure compliance with relevant privacy laws. It also integrates seamlessly with popular email marketing automation tools, such as Mailchimp, Constant Contact, and more, to grow your waitlist.
It takes minutes to set up, and when the giveaway is over, you can draw winners randomly and display them right on the widget. Check out this easy step-by-step guide to do a giveaway with RafflePress.
Or dive in with affordable pricing and get started with RafflePress today.
Remember, for a successful waitlist giveaway, you'll need a strong giveaway prize that attracts plenty of interest.
3. Make a Waitlist Landing Page
Once you've planned an incentive to attract potential waitlist registrations, you'll need somewhere for them to sign up.
The easiest way to collect pre-launch waitlist subscriptions is to add a waitlist form to your website. On WordPress, you can do this using a contact form builder plugin like WPForms, or a lead generation tool such as OptinMonster, which comes with various types of opt-in forms.
Our favorite solution is to create a waitlist landing page. That way, you can use social sharing to post the page in other places, such as your social media profiles and online forums, to boost awareness.
With SeedProd, the best WordPress page builder and website builder, making a waitlist landing page is a breeze. It has hundreds of pre-made landing page templates and a drag-and-drop builder to perfect your waitlist page design.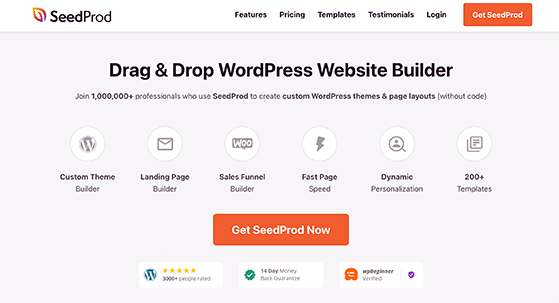 Even better, SeedProd comes with a coming soon page mode, allowing you to hide your new product or service page behind a pre-launch screen. It also integrates seamlessly with the tools mentioned above, allowing you to add signup forms without code easily.
Plus, with its RafflePress block, you can incentivize signups with a giveaway.
Other blocks include the ability to display testimonials for social proof, countdown timers to create urgency, social media share buttons, and much more. For help getting started, you can see this easy guide on how to create a waitlist landing page in WordPress.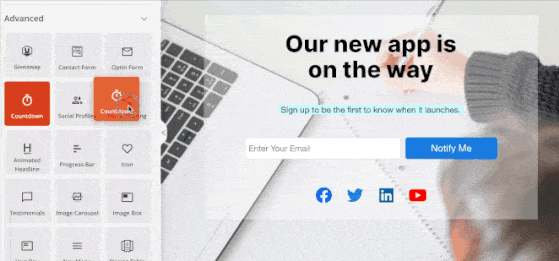 Remember to craft compelling copy communicating the benefits and value of joining your waitlist. Highlight the exclusivity, early access, and other perks subscribers will enjoy and use a solid call-to-action to encourage immediate action.
4. Build Anticipation with Teasers
The next step is to use various marketing strategies to encourage your audience to join your waitlist. One method is using teasers to build anticipation.
For example, you can share sneak peeks, behind-the-scenes content, and hints about your upcoming product or service. This strategy piques curiosity and generates buzz, compelling users to join your waitlist and participate in the excitement.
Here Tooting Works uses Instagram to share a teaser of their new co-working space. They include a slideshow of workspace photos and instructions on how to join the waitlist.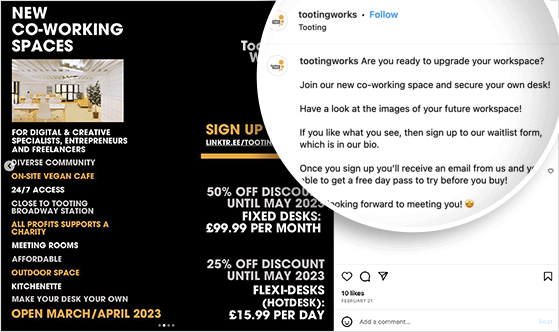 In this situation, you can add your waitlist landing page link to your Instagram bio.
5. Leverage Influencer Marketing
Another way to amplify your waitlist promotion efforts is with influencer marketing.
Collaborate with influencers who resonate with your audience and have a substantial following. By leveraging their reach and influence, you can grow your waitlist and generate organic hype around your brand.
Tools like social media platforms, influencer marketing platforms, and Google searches can help you find relevant influencers. From there, reach out to them and start building relationships.
Engage with the influencer's content, share their posts, and comment on their updates. This will help you establish a connection before approaching them for collaboration.
When you approach a potential influencer, explain how collaborating with you and promoting your waitlist can benefit them and their audience. You could offer them exclusive content, early access to your product or service, or other incentives that align with their interests.
With your relationship established, work with the influencer to create engaging and authentic content to promote your waitlist. This can include sponsored posts, videos, reviews, giveaways, or even live streams.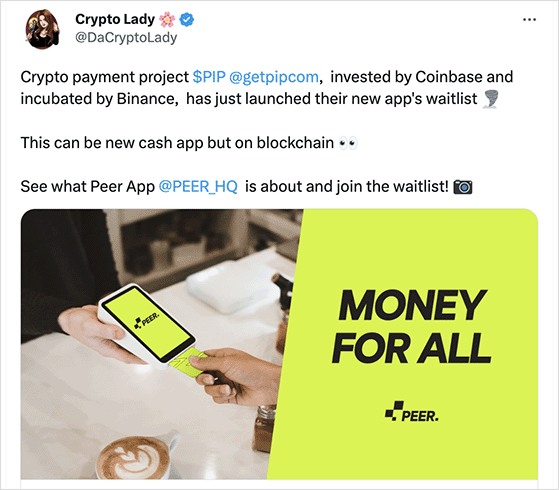 In this example, a crypto influencer with over 1 million followers leveraged her influencer to promote a waitlist for a new crypto wallet, generating over 100k views, retweets and likes.
6. Use Your Social Media Channels
The influencers you work with will likely use social media for your collaboration but don't forget about using it yourself. Get stuck in and harness the power of social media sharing to promote your waitlist.
Create engaging content, such as captivating visuals, videos, and interactive posts, to spark interest and encourage potential customers to join. You can also use targeted advertisements and hashtags to expand your reach and attract a broader audience.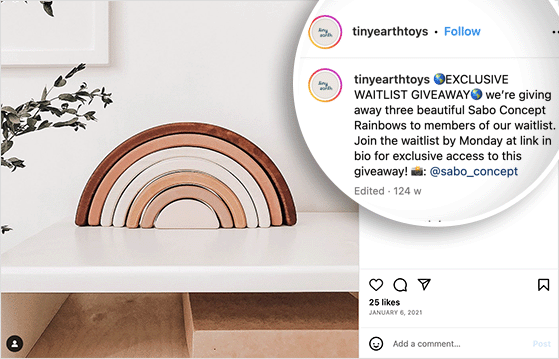 In this example, Tiny Earth Toys used Instagram to promote early access to their exclusive waitlist giveaway.
7. Use Exclusivity and Scarcity Tactics
Using exclusivity and scarcity is another effective way to promote your waitlist. These tactics create a sense of urgency and desire among your audience that they'll find hard to resist.
Try limiting the number of spots available on your waitlist or offer a limited-time opportunity to join. This scarcity mindset, otherwise known as the fear of missing out (FOMO), motivates potential customers to act quickly and secure their place.
We love this example from CrossFit Moreland.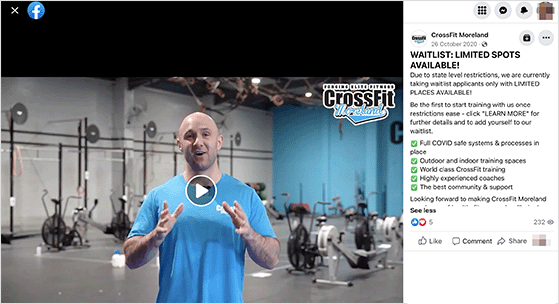 Instead of sharing a simple social media post, they recorded a video explaining why users should join the waitlist now, emphasizing the limited places available before they're sold out. This personal approach is a surefire way to secure those all-important signups.
8. Incentivize Referrals
We mentioned earlier how you can leverage influencers to promote your waitlist. But what about people who have already joined?
Since these users are already interested in your future product or service, they're ideal people to spread the word. Encourage waitlist subscribers to refer their friends and colleagues through a referral program.
Incentivize referrals by offering additional benefits or rewards for successful referrals, such as bonus entries into your giveaway.
RafflePress's refer-a-friend giveaway action is perfect for this. Once users register to enter your giveaway, they can complete the refer-a-friend action to earn more entries and spread the word to their friends.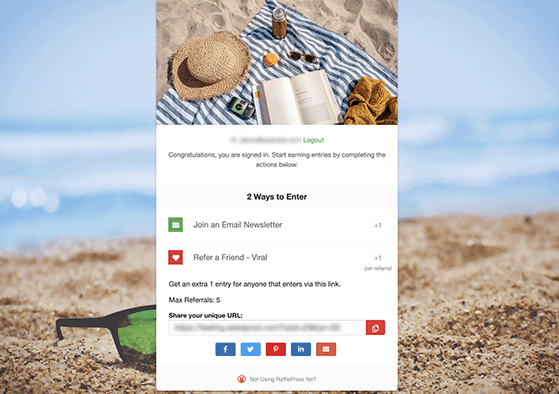 This strategy increases the number of subscribers on your waitlist and taps into the power of word-of-mouth marketing.
9. Engage with Waitlist Subscribers
When building your waitlist, remember to engage with your subscribers to foster a sense of community and maintain their excitement. Provide regular updates, exclusive content, and opportunities for them to interact with your brand.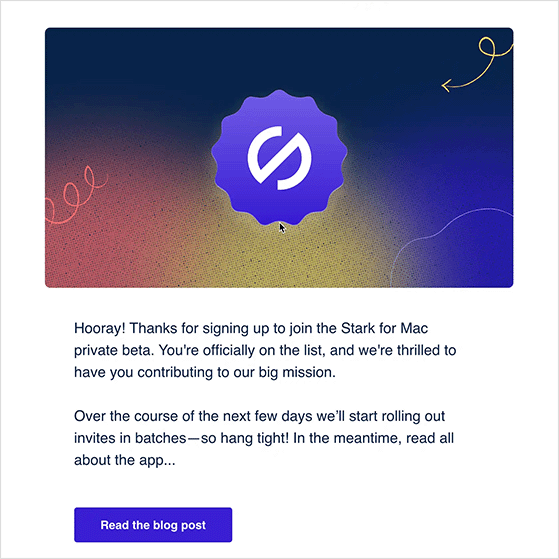 Here are some popular tips to keep your waitlist subscribers engaged:
Welcome email: Send a personalized welcome email when someone joins your waitlist. Express your gratitude for their interest and provide an overview of what they can expect.
Regular updates: Keep your subscribers informed about your launch progress. Use email marketing to send regular updates and notifications with relevant information, such as developmental milestones, new features, or behind-the-scenes insights.
Exclusive content: Send subscribers exclusive content that adds value and excites them. This could include sneak peeks, exclusive videos, articles, or access to a community or forum to connect with other subscribers.
Surveys and feedback: Seek input from your waitlist to involve them in the decision-making process. Send surveys or polls to gather their preferences, opinions, and feedback.
By nurturing these relationships, you can strengthen customer loyalty and increase the chances of converting your waitlist subscribers into paying customers.
10. Transition Seamlessly from Waitlist to Launch
When it's time to transition from the waitlist stage to the official launch of your product or service, you'll need to ensure a seamless experience for your subscribers. Provide a clear timeline, communicate launch details, and deliver on the promised benefits.
The idea is to make the transition meaningful and reward your waitlist subscribers for their patience and loyalty.
Your launch sequence may look similar to this:
Send a teaser email telling users you're launching in weeks.
Tell users with priority access when and how to redeem early access.
Communicate your official launch date to subscribers.
Broadcast your launch date on social media networks to generate buzz.
Ensure the website, app, or any other platform you're launching with is ready to handle increased traffic and user demand.
Provide clear instructions, tutorials, or training materials to help new customers get started easily.
Official launch
11. Measure the Success of Your Waitlist
After the launch of your product or service, measure the success of your waitlist strategy. Evaluate key performance indicators (KPIs) such as conversion rates, customer satisfaction, and overall sales.
You can do this by tracking your pre-launch with Google Analytics.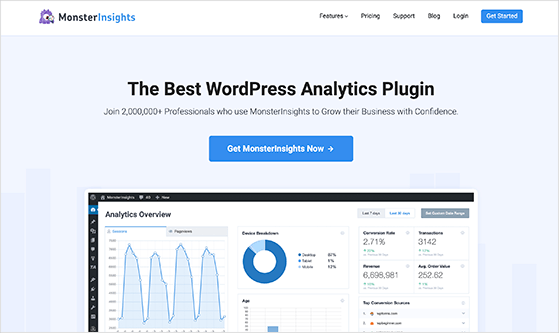 Popular analytics plugins like MonsterInsights will display your analytics data right inside your WordPress dashboard. From there, you can analyze your KPIs to see how well your waitlist campaign did.
It's also important to collect and analyze customer feedback to understand the impact of your waitlist on their purchasing decisions.
How to Create a Waitlist: Frequently Asked Questions (FAQs)
How long should a waitlist typically be?
A waitlist's length can vary depending on product availability, production capacity, and marketing goals. It's essential to balance creating scarcity and ensuring a reasonable wait time for customers.
Can a waitlist be used for service-based businesses?
Absolutely! Waitlists can be highly effective for service-based businesses. They allow you to manage client demand, schedule appointments, and maintain a steady flow of customers.
Should I charge a fee to join the waitlist?
Charging a fee to join the waitlist depends on your business model and the perceived value of your offering. It can create a sense of commitment and exclusivity, but it's crucial to evaluate whether it aligns with your target audience's expectations.
How often should I communicate with waitlist subscribers?
Regular communication is key to keeping waitlist subscribers engaged. Provide updates, exclusive content, and relevant information at least once or twice a month. However, avoid overwhelming them with excessive communication.
Can I use a waitlist for product launches without an established customer base?
Yes, a waitlist can be an effective tool for building an initial customer base. By generating buzz and creating anticipation, you can attract potential customers, even if you're launching a new product or entering a new market.
There you have it!
We hope this guide has helped you learn how to create a waitlist that generates hype and increases demand.
By understanding your audience, crafting an irresistible offer, utilizing various marketing channels, and nurturing waitlist subscribers, you can build anticipation and drive demand for your products or services. Use these strategies with a customer-centric approach, and watch your waitlist become a powerful tool for business growth.
Before you leave, you might also like this guide on the best social media marketing tools to grow your brand.
If you liked this article, please subscribe to our YouTube Channel for RafflePress video tutorials. You can also find us on Twitter and Facebook.