100+ Need-To-Know Social Media Marketing Statistics (2021)
Are you looking for the latest social media marketing statistics and trends?
Staying up-to-date with the latest figures isn't easy when things constantly change. But keeping up helps you identify any gaps in your marketing strategy and offers fresh ideas to grow your business faster than ever and take it to the next.
In this article, you'll discover everything you need to know about the latest stats in the world of social media so you can better engage with your audience and drive more sales.
Today we'll cover the following topics:
Let's get started!
Social Media Marketing Stats Worldwide
How many people use social media globally?
It's safe to say that social media has taken the world by storm, and with over 3 billion users worldwide, it doesn't show any signs of slowing down.
While it was once the playground of younger people, the social landscape is now a more evenly distributed place. In fact, 35-54-year-olds now use social media just as much as their younger counterparts, which demonstrates this shift in attitude.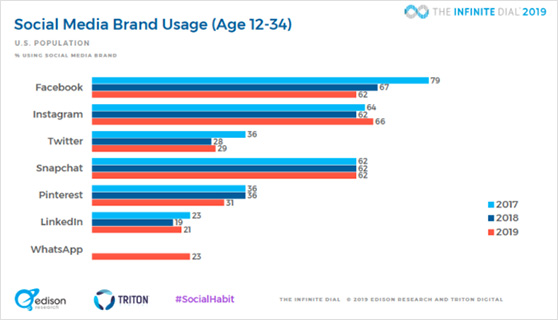 When you consider how easy it is to communicate through a Tweet or status update, as opposed to taking the time to make a phone call, it's little wonder we spend an average of 2 hours and 22 minutes a day using social platforms.
Twitter Social Media Marketing Stats
What is the demographic of Twitter users?
Out of the millions of active Twitter accounts, it's the adult demographic that tend to spend their time there. Almost 30% of Twitter users across the globe are between the ages of 25 – 34.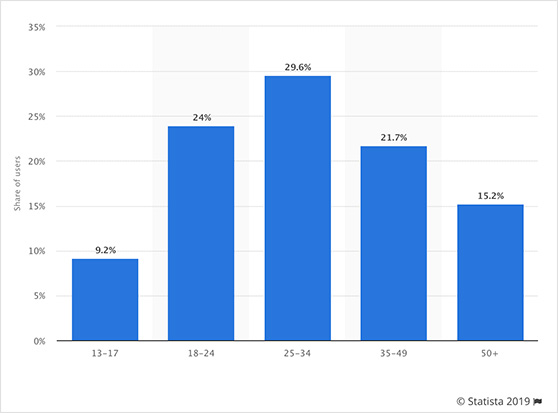 Compare this to the age of Snapchat users which is usually between 18-20 years and it paints a fairly clear picture of how Twitter appeals to a more mature audience.
What's even more interesting is that in the U.S., the most avid users tend to be the 10% of women Tweeting about politics. With #medicare being among the top 25 hashtags of 2018, it makes a lot of sense.
What is Twitter used for?
This coincides nicely with the number of Americans discussing politics on Twitter which comes in at a whopping 42%.
But it's not all about political leaders and their sizable following. 71% of American Tweeters actually read the latest news on the platform. This isn't all too surprising given that news organizations play a bigger role on Twitter than other content providers when it comes to hot-blooded issues.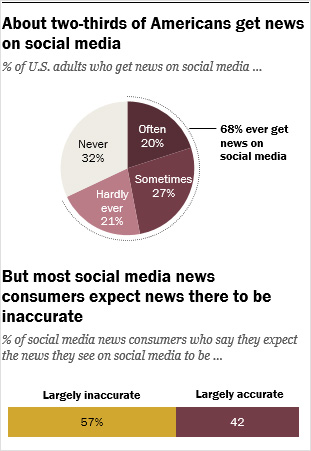 (Source: Pew Research)
That said, things are looking to change, especially when you take into account that in the last few years there's been a 2.5 times increase in conversations about customer service on Twitter. Perhaps businesses are finally wising up to the customer satisfaction potential of social media.
Why should you advertise on Twitter?
Let's not forget that advertising plays an important role in social media marketing for Twitter. Truth is, most of its users spend 26% more time with ads on Twitter than other social media users.
That could be why ad engagement for Twitter is up by 23%, although Twitter believes that this is due to their work improving the ads platform and targeting conditions, which they hope will bring more relevant ads to users over time.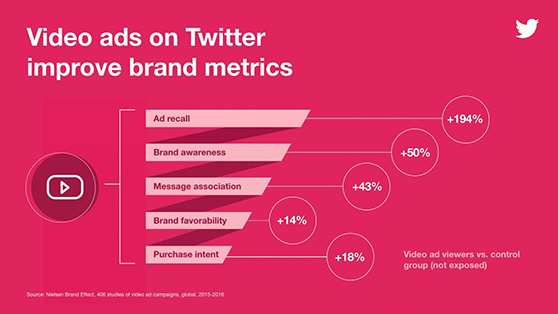 (Source: Active Digital)
Video also features strongly on Twitter too, which makes sense given its rising popularity as a way to discover interesting topics. Video is Twitter's fastest-growing advertising tool, and when you take into account that Twitter ads with video are 50% cheaper in cost-per-engagement, then you can see why it's a viable option.
Why should you use Twitter for business?
For businesses, this is great news because it makes advertising campaigns much more affordable. And with Twitter's site referral traffic up 6%, year-over-year, it's a good opportunity to convert traffic into leads.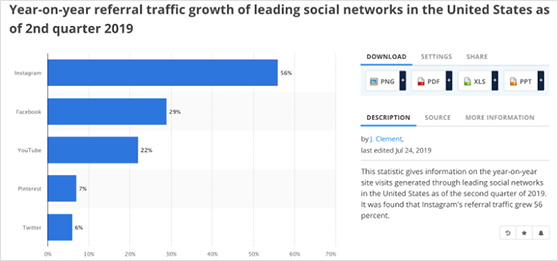 (Source: Statista)
When you're compiling those ads, however, make sure you include relevant hashtags. Tweets with hashtags tend to get almost 100% more engagement than those without, providing an easy way to get more eyes on your content.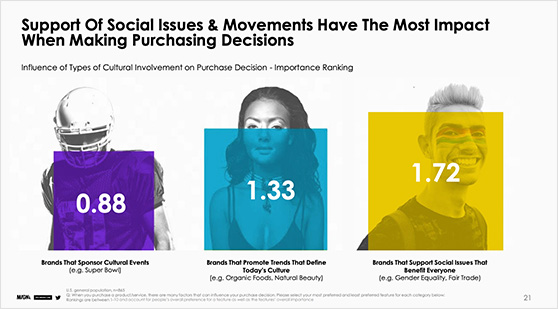 (Source: Magna)
But don't forget that these days people value authenticity over hard sales tactics. In fact, Twitter users are more likely to appreciate brands that are inclusive and transparent. This can be seen in the uproar over controversial advertising campaigns.
If you're interested in learning how to write a viral tweet, check out this guide.
Facebook Social Media Marketing Stats
What age group uses Facebook the most?
In contrast to Twitter, the fastest-growing group of Facebook users is seniors, which tends to follow the trend of younger users opting for the likes of Spachat and Instagram.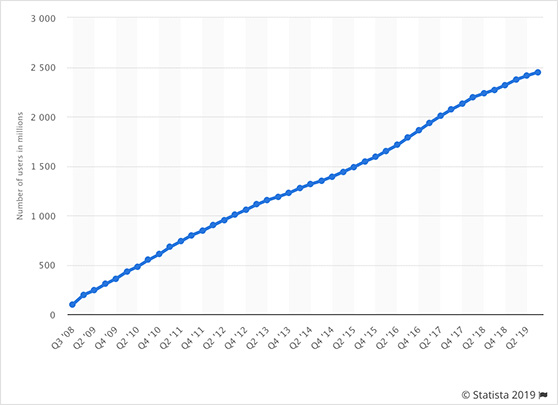 And while Facebook has over 2.45 billion active users, statistics show that usage is plateauing, with over 1bn of those people are mobile-only users.
What are the main uses of Facebook?
Social Media and Google are at the top of people's lists for finding news sources and content. But you might also be shocked to know that 43% report that they get their news from Facebook.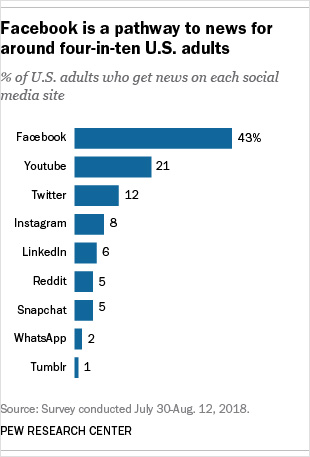 This might be worrying when you see cries of "Fake News!" littering your feeds, but Facebook assures us that they're working to tackle misinformation and false reporting.
In contrast, 65% of social media users in the U.S go on Facebook to view photos.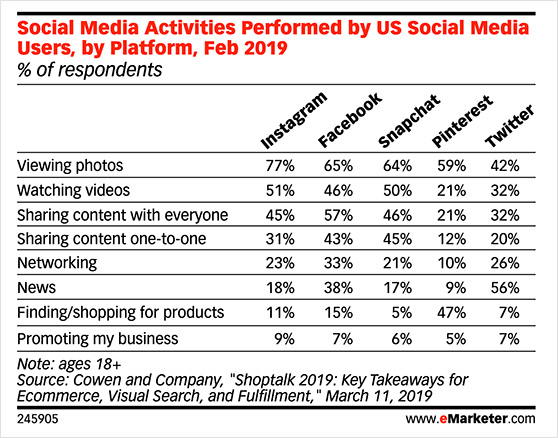 But only 15% use it to shop for products which can be frustrating for advertisers when you consider how many people can be reached through Facebook ads, which we'll look at next.
Are Facebook ads worth it?
As we just mentioned, you can reach over 2 billion people through ads on Facebook which has huge potential for brands trying to reach certain audiences. Especially when 26% of people who click on ads report making a purchase.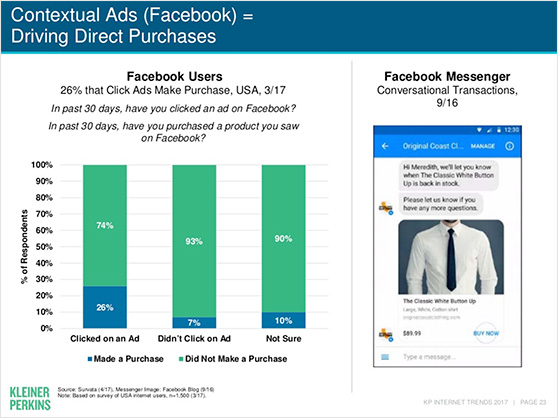 It's also worth paying attention to mobile user experience for Facebook ads because 78% of ad revenue comes from mobile advertisements.
So if you want to skyrocket your conversions, brushing up on your Facebook ad targeting knowledge will go a long way to helping you achieve success.
How do businesses use Facebook?
Speaking of brushing up on your skills, businesses can learn a lot from studying social media marketing on Facebook.
For example, did you know that Facebook will usually reject an ad image that contains more than 20% text? You can avoid this by using an eye-catching image and keeping text to a minimum.
Even better, carousel ads have a 10 times increase in clicks compared to non-carousel ad units, so you can try those instead for a bigger impact.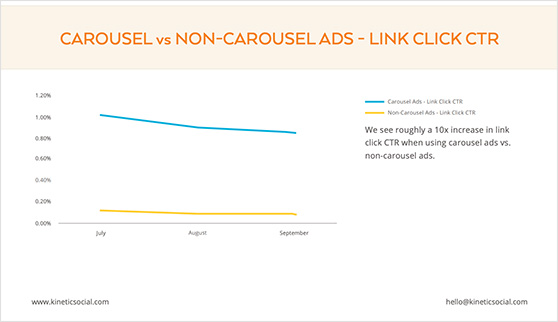 How about we look at another social media platform owned by Facebook next?
Instagram Social Media Marketing Stats
Who are the primary users of Instagram?
Instagram has made strides in the social media marketing world lately, especially when you consider the explosion in influencer marketing.
1 billion people use Instagram every month and it's the most popular traditional social network among U.S. teens, which explains why so many brands are spending huge amounts of money marketing to them.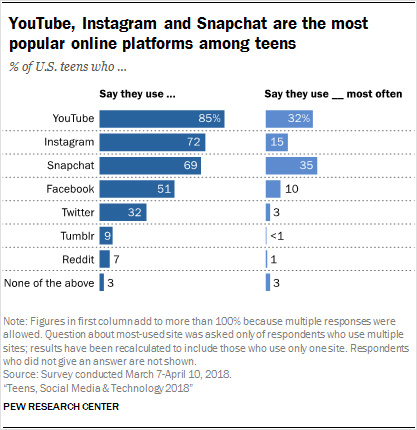 That said, the majority of Instagram users, 89% to be exact are outside the U.S., which shows that its appeal is a global one. And with the gender mix of Instagram users being pretty equal, 52% female and 48% male, it makes it easier to target both demographics.
What is the main purpose of Instagram?
It's probably no surprise that 130 million Instagram users tap on shopping posts each month. After all, with the booming influencer industry all vying for our attention, it's hard to resist.
Even the love heart sticker reflects our love of double-tapping our favorite product posts. For Instagram stories, it's the most popular Giphy sticker.
And while we're browsing the latest beauty trends, only 14% of U.S. adults use Instagram as their go-to news source. When you compare that to Facebook, the difference is staggering, but clearly demonstrates the different appeal of both platforms.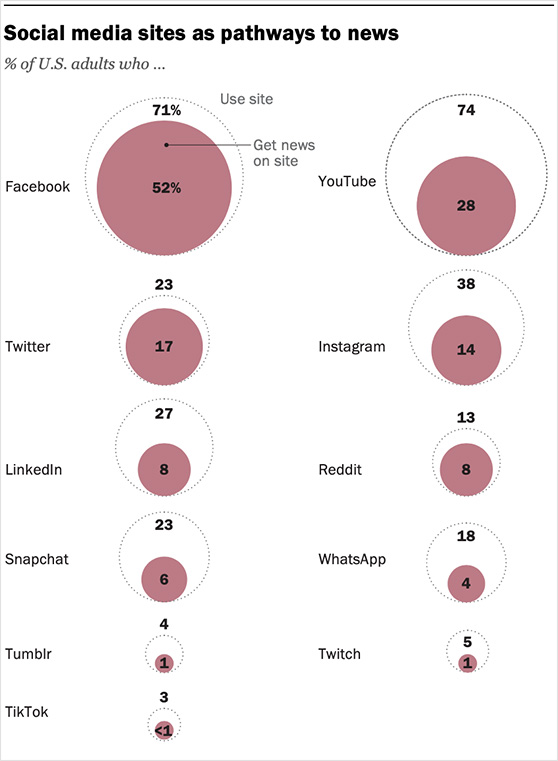 (Source: Pew Research)
If we could look into a crystal ball and predict the future of Instagram, it's likely we'll see people spending an average of 28 minutes a day there in 2020. For marketers, that means coming up with a more robust social media marketing plan to take advantage of all that attention.
Further Reading: 16 Instagram Story Giveaway Ideas (and how to Create One)
How does advertising on Instagram work?
Moving on to advertising, did you know that over 2 million advertisers actively use Instagram?
You would think that with so many people using the platform to promote their products, there'd be more using their native ad platform. But the truth is, only about 38% of marketers regularly use it.
With so many great social media marketing tools around, we can see why people might want to consolidate their marketing efforts into a platform or tool that covers more than one social network.
That said, the average cost-per-click by placement across Instagram ads is typically higher than ads on Facebook, but it's still worth looking into if your audience is there, because engagement rates are much better.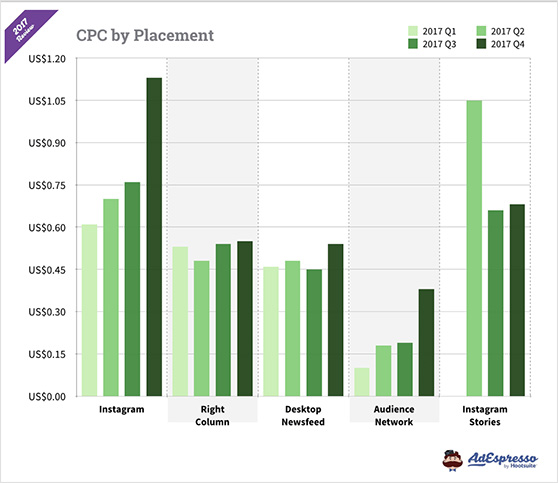 How do I use Instagram for business?
Brands, on the other hand, post an average of 2.5 Stories on Instagram per week, highlighting how popular stories are with audiences. It's also worth noting that 60% of them use an interactive element in their stories, like a video or call-to-action.

Considering stories have a completion rate of 85%, it's a smart move to weave them into your marketing strategy.
Running an online giveaway is a great way to do this – especially when you know that over 20% of Instagram users visit a business profile daily. You could create a beautiful image and promote your contest in stories with a call-to-action for visitors to click through and enter.
And let's not forget the huge potential influencers have in marketing your brand. Brands tend to pay Instagram influencers around $100 – $2,085 for every post. While this might be expensive for smaller businesses, it's still worth looking into if Instagram is where a large part of your audience is.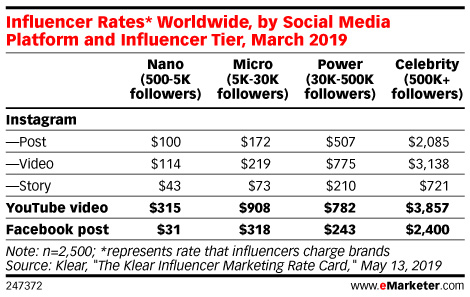 Now let's move onto something completely different, the mother of all video social networks.
YouTube Social Media Marketing Stats
Who are the target audience for YouTube?
YouTube is the 2nd most-visited website in existence with over 1.9 billion logged-in users visiting every month. But those statistics could be even higher when you think about how many people watch YouTube without being logged into a Google account.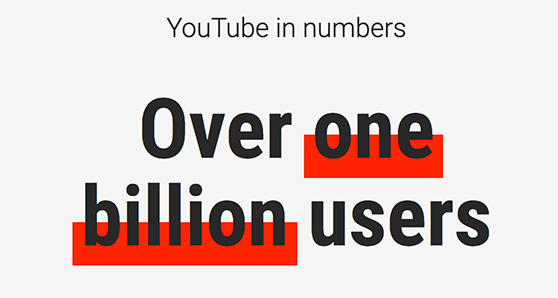 (Source: YouTube)
And with a large portion of those people visiting YouTube on a daily basis, it offers huge potential for social media marketing efforts.
YouTube isn't concentrated in the U.S. either. Only 15.8 percent of YouTube visitors are American. This is likely due to the platform being available in a total of 80 languages, which covers 95% of the internet's population.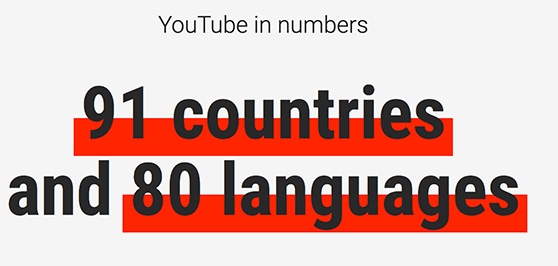 So, what do all these people watch?
Which type of YouTube video is most watched?
For starters, music is a popular choice. YouTube provides almost half of all on-demand music. So when you're chilling to your favorite YouTube playlist while you work, you're contributing to that demand.
Besides using videos to focus and catch up on the latest charts, many people use YouTube to relax and unwind. In fact, relaxation videos are up 70%. Yoga and meditation videos spring to mind, but ASMR videos, which are super popular, also falls into this category.

(Source: Google)
It's not all about recreation either. Shopping plays a large role in the videos we watch on YouTube. Consumer insights for YouTube show that people have watched 50,000 years of product reviews on the platform.
Turns out we love to know what we're getting into before we commit to buying something.
How does advertising on YouTube work?
This leads nicely into the state of YouTube advertising, with mobile ads getting peoples' attention 83% of the time. Let's face it, those ads are pretty annoying but they get the job done.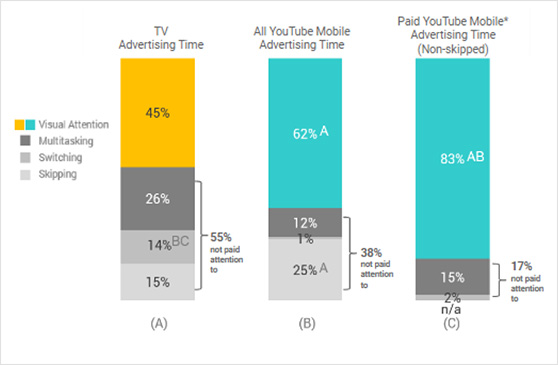 (Source: Ipsos)
The fact that 95% of YouTube ads are audible, likely plays into this. People don't necessarily have to watch them for the message to hit home, and if they're not looking at the screen, they're probably not going to hit the skip button either.
This is likely why YouTube doubled the number of pre-roll ads it shows, moving further towards replicating TV online. Not only does it offer more ways to get eyes on their ads, but it prevents disturbing people's viewing experience during videos too.
How is YouTube used in business?
Considering the reach of ads on YouTube, it makes sense to try and tap into that audience. Since 2016, twice as many small and medium-sized businesses are advertising on the platform.
And surprisingly, LEGO has double the amount of views as other brands with over 9 billion.
But what about the professional side of social media marketing statistics? Let's look at LinkedIn next.
LinkedIn Social Media Marketing Stats
What is LinkedIn's target audience?
It's interesting to learn that LinkedIn is one of the fastest-growing social media networks with 2 professionals joining every second. It sees about 172,00 new users every day, which translates to 62 million per year.
With 92% of Fortune 500 companies using LinkedIn, it's safe to say that this is the best social network for connecting with like-minded professionals. In fact, 45% of them are in upper management, highlighting the hiring power of the platform.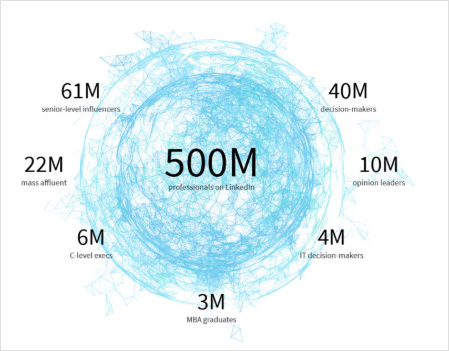 (Source: LinkedIn)
What content works best on LinkedIn?
In stark contrast to the usage stats of YouTube, users only spend an average of 17 minutes per month on LinkedIn, with job seekers doubling that to 30 minutes a day.
It's the content on LinkedIn that's really interesting. Nearly 50% of social traffic to B2B websites comes from LinkedIn. Sure, Facebook and Twitter may have more active monthly users, but LinkedIn is clearly the go-to place for business to business (B2B) content distribution.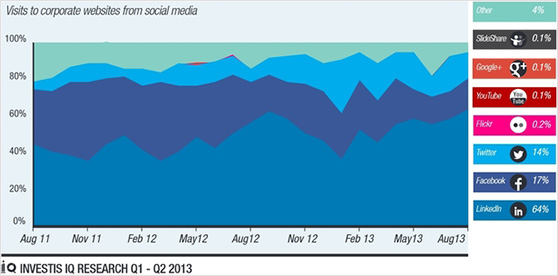 Video content also plays a big role on LinkedIn too. Posts with video are 5 times more likely to get comments than those without. So even business-focused companies should get to grips with using video in their content marketing plan.
Further Reading: How to Develop a Content Marketing Strategy
Are LinkedIn Ads worth it?
When considering your options for advertising on LinkedIn, it's worth noting that 58% of B2B advertisers like LinkedIn's ROI on ads. What this means for you, is that you'll get the best return on investment by directing more of your B2B marketing efforts to LinkedIn rather than sites like Facebook and Twitter.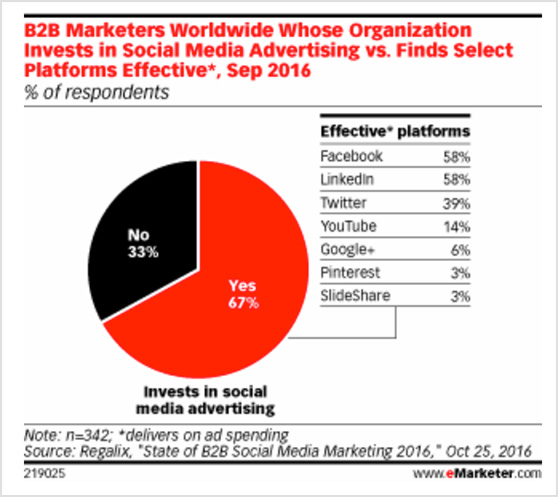 With this in mind, you're also more likely to get a reply from your emails on LinkedIn. Turns out InMail has a 300% higher response rate than traditional email, which makes it far easier for you to reach the right candidate for your latest job openings.
So what else can businesses learn from LinkedIns' social media marketing stats?
How can I use LinkedIn for my business?
Something for you to consider when putting together your marketing plan is that 1 in 3 B2B marketers say LinkedIn generates revenue for them. That's around 3 times more than Twitter, and 19 times more than Instagram!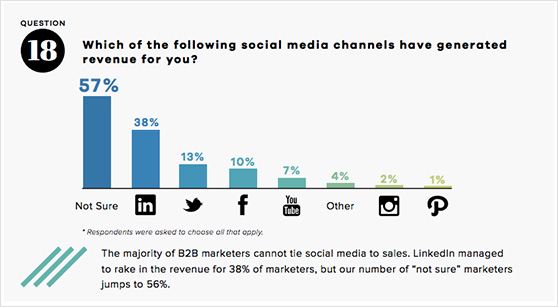 (Source: Demand Wave)
And from the same source, 71% of those people say they use LinkedIn as part of their marketing strategy. This ties-in with the number of high-level decision-makers on LinkedIn using the platform to target B2B customers and clients.
If you haven't already created a LinkedIn Business page, you might find this guide helpful.
So there you have it, some fascinating social media marketing statistics and trends you to need to know. Now it's up to you to decide how you'll use this information to get amazing results for your business.
We hope you found this article helpful. And if you did, check out our YouTube channel. You can also follow us on Twitter and Facebook.