Do you want to learn how to add Google Analytics to WooCommerce?
By setting up Google Analytics, you can track your online store's performance and gain valuable metrics and insights about your customers. You can learn where customers come from, which products sell the most, and more with eCommerce events tracking.
This article will show you how to add Google Analytics to WooCommerce easily.
Why Is Google Analytics Important?
Google offers many free tools through its analytics platform. Those tools allow you to view the analytics data needed to optimize and improve your WooCommerce store.
Additionally, having Google's tracking ID on your website helps it crawl and index your site correctly. That way, you can see data such as pageviews that will help you boost sales and increase conversion rates.
Even though there are several ways to optimize your WordPress site, adding your Google Analytics tracking ID to WooCommerce is the fastest way to track the data and progress of your online store.
Why You Need Google Analytics Tracking for WooCommerce
If you don't have any eCommerce data about your WooCommerce site or audience, you'll be guessing what your target audience likes, which could be risky for your business. For example, you could advertise the wrong products or even promote deals your audience isn't interested in.
You can avoid issues like that by tracking your WooCommerce store accurately with universal analytics from Google.
By setting up a WooCommerce Google Analytics integration, you'll get the following tracking options and insights:
Top Products – Learn which products generate the most revenue and promote them more effectively.
Shopper Behavior – Discover how customers travel through your website, which pages they click, how often they click the checkout button and more.
Checkout Behavior Analysis – Track cart abandonment so you can learn which areas of your checkout process need optimizing.
Campaign Performance – Use Google Analytics to track marketing campaigns and see which performs the best.
Referral Traffic – Learn which websites send the most traffic to your eCommerce store, enabling you to personalize the experience to that specific audience.
SEO Performance – Track the pages users find in search engines and use the data to optimize your WooCommerce store for better SEO.
Anonymize IP Addresses – provide more security and privacy to your customers by hiding their IP from the tracking info.
As you can see, there are many benefits to setting up Google Analytics on your WordPress website. Let's dive in and learn how to set up WooCommerce Google Analytics for your online store.
How to Add Google Analytics to WooCommerce
There are many ways to connect WooCommerce to Google Analytics. However, the easiest method is to use MonsterInsights, the best WooCommerce Google Analytics plugin.
MonsterInsights integrates effortlessly with WooCommerce, allowing you to add the Google Analytics tracking info with a few clicks. You won't need to edit any code or hire a developer and can see real-time reports inside your WordPress admin.
To add Google Analytics to WooCommerce, follow these steps:
Note: If you've switched, you can follow this guide to add Google Analytics 4 to WordPress.
Step 1: Install and Activate MonsterInsights
The first step is to get the MonsterInsights plugin and install it on your WordPress website.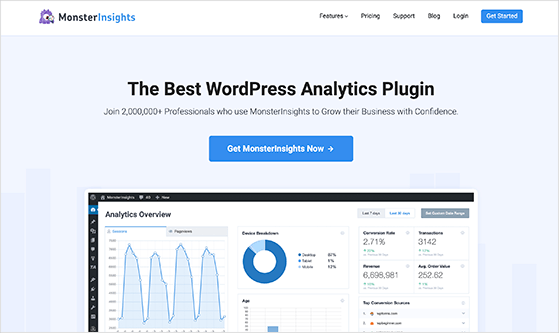 As mentioned above, MonsterInsights is the best Google Analytics plugin for WordPress. It offers many features and reports you can view from your WordPress dashboard.
This plugin makes it super-easy to add new Google Analytics global site tags to your website without coding. Plus, you can set up advanced tracking, such as purchase transactions, coupon referrals, and more, which isn't available on the default analytics platform.
To set up WooCommerce store tracking, you'll need a MonsterInsights Pro plan. Then, install and activate the plugin on your WordPress website after downloading the plugin to your computer.
If you need help with this step, here's a guide on how to install a WordPress plugin.
After installing the MonsterInsights plugin .zip file, go to Insights » Settings from your WordPress dashboard, and enter your license key.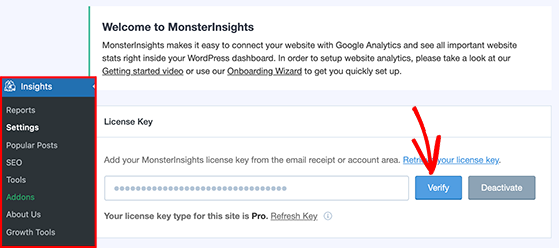 Then, click the Verify button to confirm your license.
Step 2: Install MonsterInsights eCommerce Addon
Now that MonsterInsights is live on your website, it's time to install and activate the MonsterInsights eCommerce addon. The functionality of this addon tracks your WooCommerce sales and website performance automatically.
To install the addon, go to Insights » Addons and find the eCommerce section. Then click Install Now to install and automatically activate the addon. 

Step 3: Enable Enhanced eCommerce Tracking in Google Analytics
After activating the MonsterInsights eCommerce addon, you'll need to enable Enhanced eCommerce in Google Analytics for WooCommerce. This gives you more tracking information than when you enable standard tracking and uses the tracking code you installed when adding google analytics to WordPress.
To do that, log into your Google Analytics account, navigate to the Google Analytics dashboard, and select the property you'd like to set up enhanced eCommerce for.

Next, click Admin and head to the eCommerce Settings heading under the View column.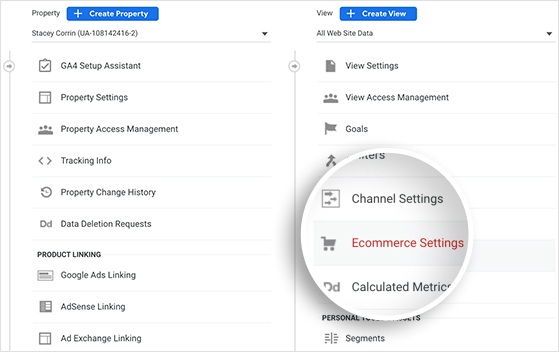 You'll see the Enable Ecommerce option on this screen under the Ecommerce set-up heading. So click the toggle until it's in the "On" position.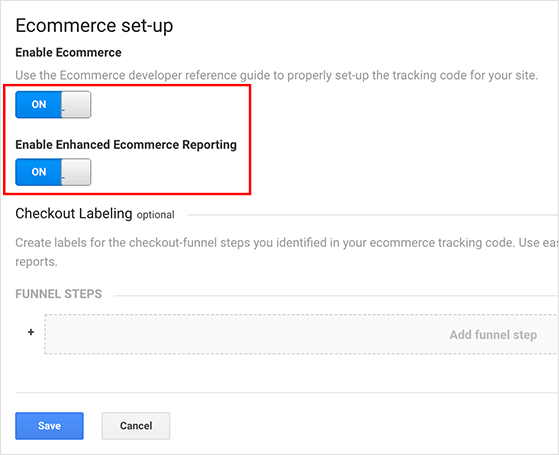 Now do the same for the Enable Enhanced Ecommerce Reporting option and click the Save Changes button.
Step 4: Enable Enhanced eCommerce Tracking in MonsterInsights
The final step is to enable enhanced eCommerce tracking inside the MonsterInsights plugin settings. You can do that by navigating to the Insights » Settings » eCommerce screen.
Then, under the eCommerce tracking heading, you'll see an option to Use Enhanced eCommerce. So turn that option to the "On" position to enable it.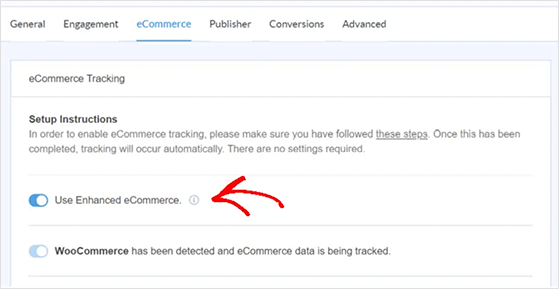 MonsterInsights will now detect WooCommerce on your WordPress site automatically. However, it could take some time for the plugin to gather enough data to show in its reports.
How to View Your WooCommerce Google Analytics Report in WordPress
One of the best things about MonsterInsights is seeing how your WooCommerce store is doing inside your WordPress dashboard. This powerful WooCommerce plugin pulls the most important reports from Google Analytics and shows them on your website.
That means you won't need to go anywhere to view them. It's also helpful if you're new to Google Analytics and don't know where to find the different reports.
To view the data about your online store, go to Insights » Reports » eCommerce from your WordPress dashboard.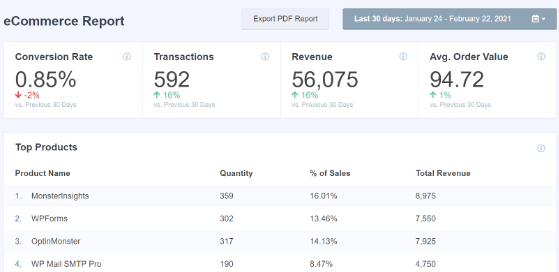 On this page, you can see your site's:
Conversion rate
Transactions
Average order value
You can also select a date range for the report and view a comparison to the last time period. As a result, it's easy to see if your site's performance has improved or worsened.
Now scroll to the following report, where you'll see your site's Top Products. These are the best-selling items in your store.

Some other reports you can view include:
Top conversion sources
Total Add to Carts
Total Removed from Cart
Time to Purchase
Sessions to Purchase

As you can see, MonsterInsight's smart reporting system instantly makes it super easy to get a snapshot of how your WooCommerce store is doing. So after setting up Google Analytics on your store, you'll have an easier way to find areas where you can make improvements.
There you have it!
We hope this article helped you learn how to easily add Google Analytics to WooCommerce. You might also like these best eCommerce marketing tools to scale your store.
If you liked this article, please subscribe to our YouTube Channel for RafflePress video tutorials. You can also find us on Twitter and Facebook.