Do you want to run referral marketing contests for your business? And are you unsure of what the best apps are to use? Don't stress! In this article, we'll compare KingSumo vs UpViral vs RafflePress, 3 popular referral marketing tools, so you can run viral giveaways and referral marketing campaigns to grow your business.
KingSumo vs UpViral vs RafflePress: Detailed Comparison
In this comparison, we'll create the same giveaway campaign in KingSumo vs UpViral vs RafflePress so you can compare them easily. Then, at the end of this article, we'll look at how they compare in price.
First, let's see how easy it is to set up these referral marketing and giveaway apps.
Setup and Installation
When you're first starting out, using KingSumo and UpViral seems like the fastest way to get started. Both platforms run through your web browser, so you won't need to add anything to your website.
The fact that these are both hosted platforms also means that they're fairly limited. For example, embedding campaigns on your website or viewing entries isn't quite so slick.
Another big factor is the data: you don't have full control over the data collected through your giveaways because it stays on KingSumo and UpViral servers.
In contrast, RafflePress runs on top of WordPress. That means you'll want to install WordPress first, then install the giveaway plugin on top.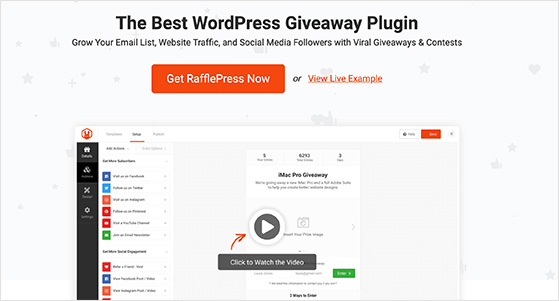 It sounds like a hassle compared to KingSumo or UpViral, but installing WordPress is much easier than it used to be.
So why should you use WordPress?
There are so many benefits to using WordPress for your business website. By investing just a little more time to get your giveaway campaign set up, you could save time and frustration later.
For example, one of the biggest benefits is that you control everything so you can launch giveaways in a way that suits your business best. Moreover, you control the data you collect, putting both your and your audience's minds at ease.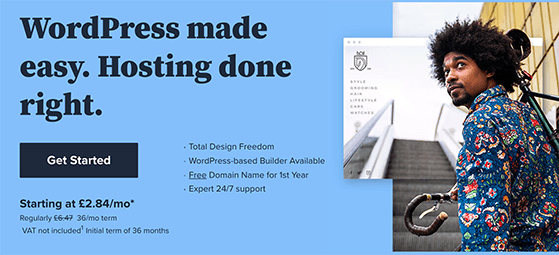 With the right website host, setting up WordPress is easy and affordable. Bluehost lets you install WordPress with 1 click and offers 24/7 support if you need a hand getting set up.
Bluehost also offers a free domain and SSL certificate to keep your giveaways secure. So you don't need to buy anything else to start your own online store or business website.
Since UpViral is hosted, you'll have limits on the number of leads you can receive. Even though those limits are high, starting at around 10,000 leads, RafflePress and KingSumo have no limits.
Building Your Campaign
Moving onto creating your referral marketing giveaway, KingSumo, UpViral, and RafflePress all have slightly different campaign builders.
First, let's look at KingSumo.
KingSumo has a minimal interface when you first start creating your giveaway. It offers a simple form with basic text labels for each form field. You can click inside each field to add your giveaway details, choose start and end times, and upload a cover image.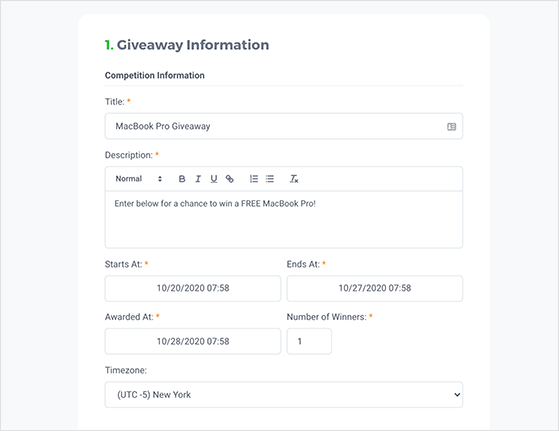 In contrast, when you create a new campaign in UpViral and RafflePress, you start by choosing a template that aligns with your campaign goals.
For instance, UpViral offers templates for boosting your email list, social media, engagement, and new product releases. However, what each template does isn't clear at first glance.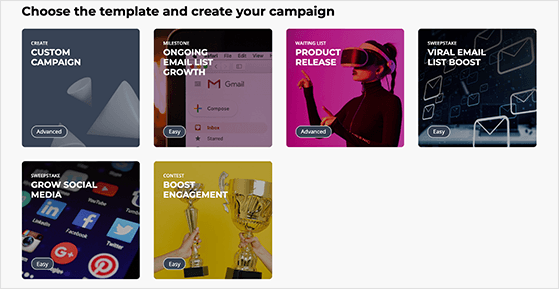 The confusion continues as you move into their campaign builder. From there, you can add an incentive to encourage users to enter your sweepstakes and select actions users can perform to earn points.
In UpViral, users need to earn points for entry into your campaign. As such, the more points that people earn, the more chances they have of winning your grand prize.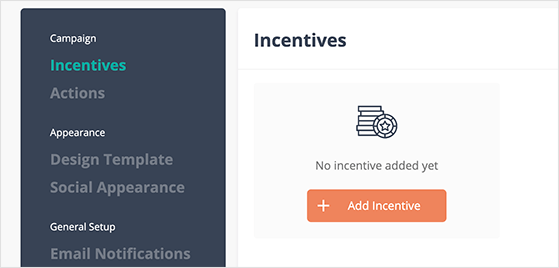 But how this works isn't immediately obvious since there aren't many tooltips explaining the process.
Yet, in RafflePress, your options are clear right from the start.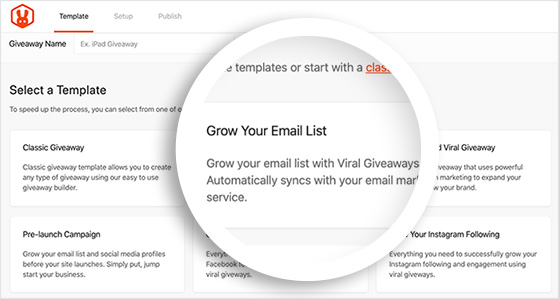 Its laser-targeted giveaway templates include details that tell you exactly what they do:
Grow Your Email List
Refer-a-Friend Viral Giveaway
Pre-launch Campaign
Grow Your Facebook Page
Grow Your YouTube Channel
Grow Your Twitter Following
After choosing a RafflePress template, you head straight to the beginner-friendly giveaway builder.
Rafflepress has the best giveaway builder interface. It combines an easy drag-and-drop layout with clear labeling, so there's no need to waste time figuring out what everything does.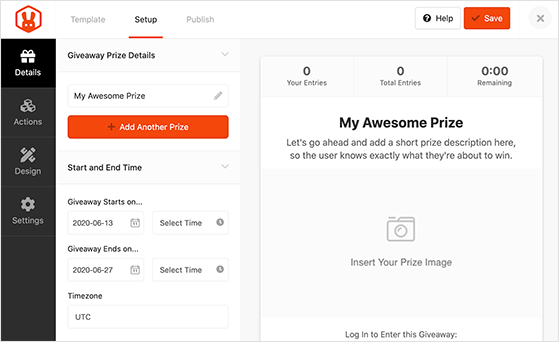 And unlike KingSumo and UpViral, the entire giveaway builder pops out of the WordPress dashboard. That's a big plus because you don't need to work around the WordPress navigation menu, offering more screen space to work with.
In RafflePress, your giveaway settings and options are on the left, while on the right is a preview of how your giveaway looks. This is something neither UpViral nor KingSumo offer. And it's a game-changer because you can adjust your giveaway visually, in real-time.
Moreover, you can drag and drop any element on your giveaway widget to reorganize it easily. Or, you can click an element to enter more details, such as your social media URLs, assign how many giveaway entries an action is worth, and more.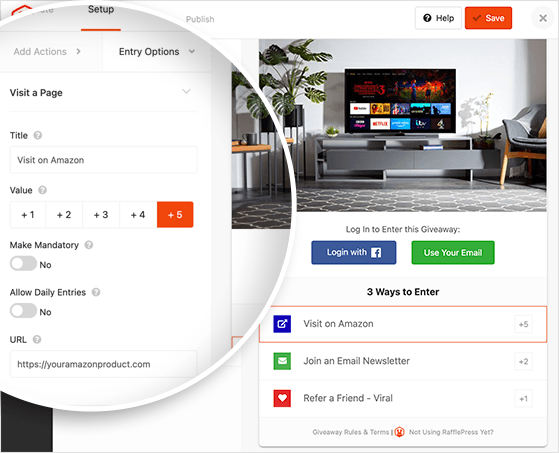 Campaign Features
The features you can access in RafflePress, KingSumo, and UpViral differ considerably. For example, while KingSumo lets participants share your giveaway on social media, it only offers bonus actions to:
Like or follow your various social accounts
Click a link
Watch a YouTube video
Subscribe to a podcast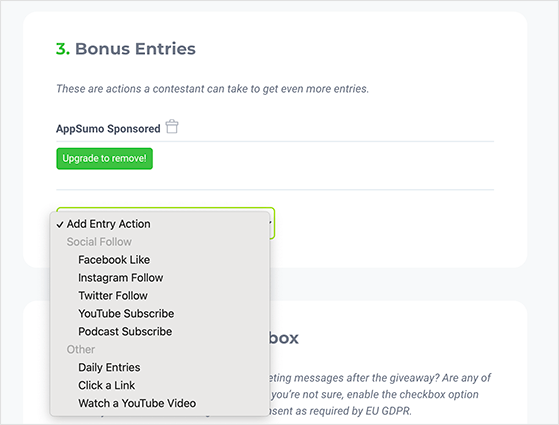 These options are limiting for businesses with more complex needs and goals. Yet, with UpViral and RafflePress, the features are more varied and comprehensive.
For instance, UpViral includes all the important social media actions, custom actions you can create yourself, and referral signups for word-of-mouth marketing.

In our opinion, RafflePress offers the most user-friendly layout and variety. Besides following and sharing on social media, you can invite users to:
Enter automatically
Sign up for your email newsletter
Answer a question
Leave a comment
Write a blog post
Subscribe to RSS
Complete a poll or survey
Subscribe to your podcast
And, of course, you can use the viral refer-a-friend action to drive even more giveaway entries and leads.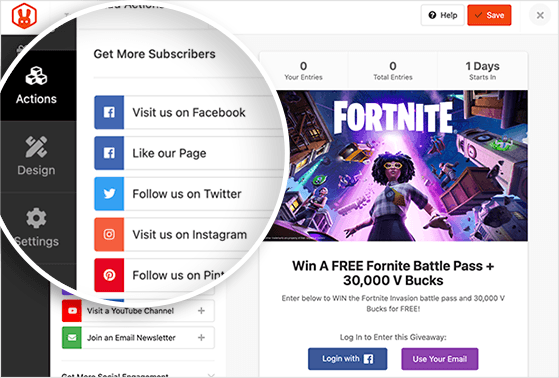 Giveaway Settings
When it comes to growing your email list, all 3 tools offer email marketing integrations.
With KingSumo, you can integrate your email list by connecting your giveaway to Zapier. Yet UpViral and RafflePress let you connect to your email service directly from their app, saving a few extra steps.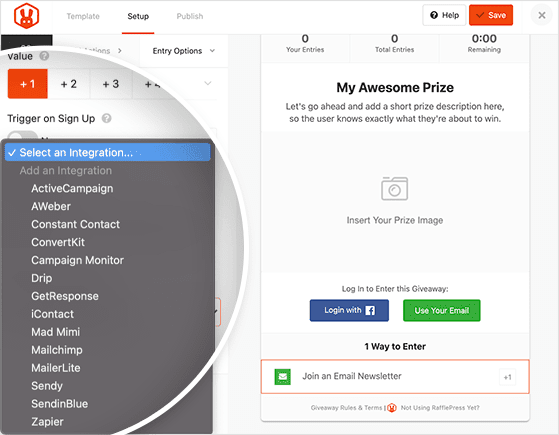 In addition, how each tool handles your giveaway terms and conditions differ wildly.
For example, KingSumo doesn't have a dedicated giveaway rules section, whereas UpViral's terms and conditions editor is hidden in the advanced settings.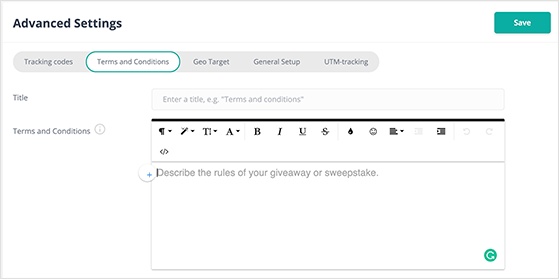 In contrast, RafflePress offers both an easy-to-find giveaway rules section and a rules generator template. All you have to do is enter some basic information, and it generates customizable rules for you.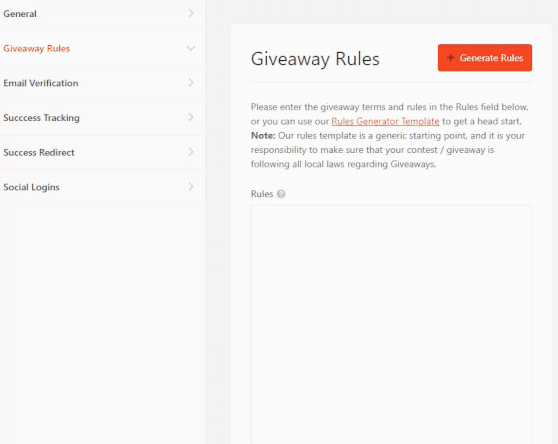 Publishing Your Campaign
Both UpViral and KingSumo let you publish your giveaway campaign on one of their hosted pages without embedding it on your site. This is a convenient way to get your campaign out in the wild quickly.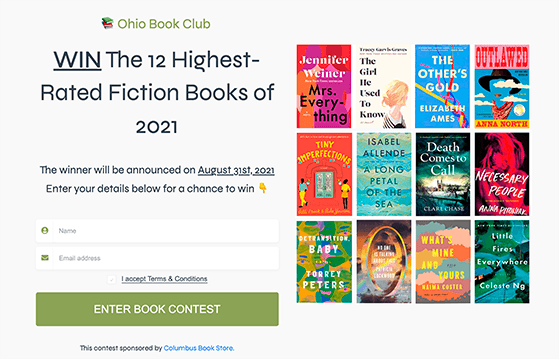 But if one of your goals is to drive traffic back to your business website, hosting your giveaway on your website is the best solution. KingSumo, UpViral, and RafflePress have different ways to do this.
For example, KingSumo and UpViral allow you to copy and paste an embed code you can add to your website.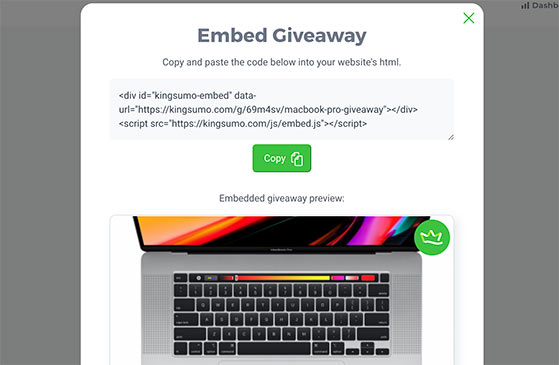 Since RafflePress uses WordPress by default, you can display your giveaway anywhere on your site with a few clicks.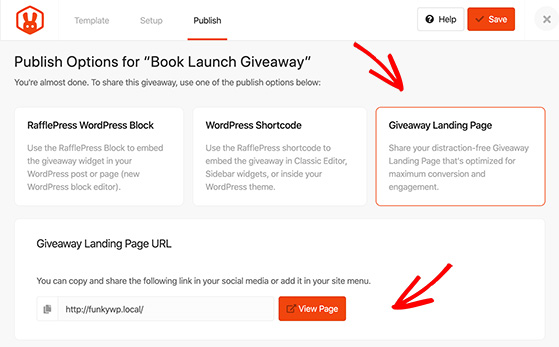 In Rafflepress, there are 3 ways to publish your giveaway:
Use the RafflePress WordPress block to add your giveaway widget in posts and pages
Paste the giveaway shortcode inside the classic WordPress editor, your sidebar widgets, or in your WordPress theme.
Launch a distraction-free giveaway landing page on a custom URL right on your website.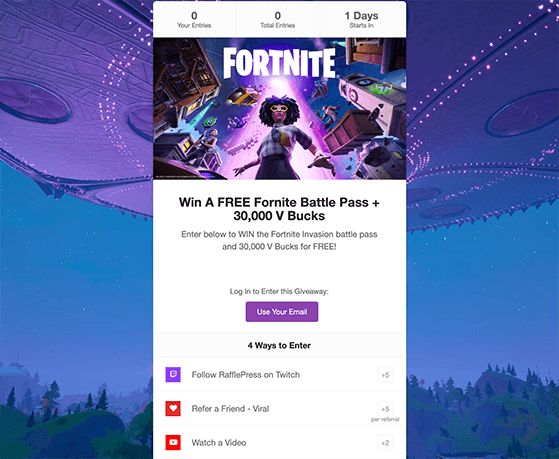 Plus, you can easily turn off the RafflePress branding, something you have to pay extra for with UpViral and KingSumo.
Choosing a Winner
When you've published and promoted your giveaway, you'll want an easy way to choose a winner. First up, let's see how KingSumo handles the winner selection process.
Once your giveaway is over, you can click the "Ready to Award" button on your KingSumo dashboard, and the system randomly picks a winner (or winners). However, it doesn't automatically email the winner for you.

In UpViral, choosing a winner is slightly different. You can either pick a winner at random or choose a winner with the most overall points. After, UpViral emails the winner automatically based on your autoresponder settings.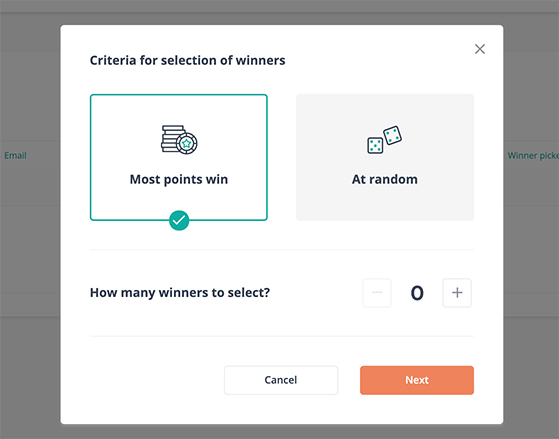 Finally, RafflePress allows you to choose single or multiple winners randomly or manually. You can also filter out unverified emails to reduce spam and false entries.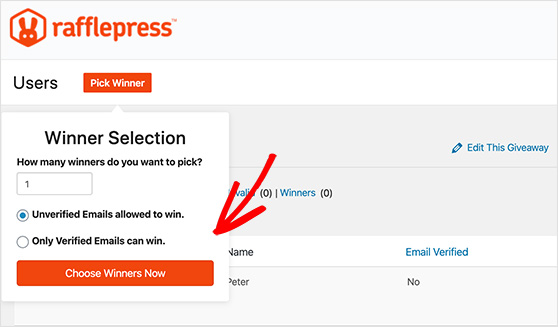 The winner is then highlighted at the top of your entry list, with a handy link allowing you to send a custom email with the good news.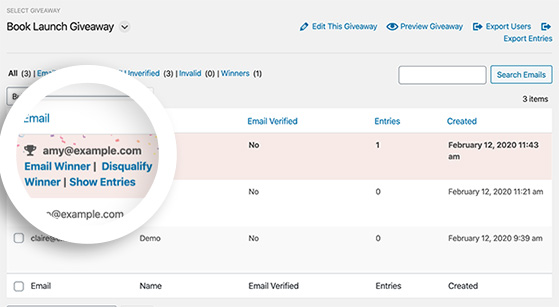 Pricing: KingSumo vs Upviral vs RafflePress
Now that we've looked at the essential features for each giveaway app, how much do they cost?
First, KingSumo offers a free version, but it has the distinct KingSumo branding stamped on every contest you create. The paid version comes in at $49, but it doesn't offer much more in extra features. So what about the KingSumo alternatives?
UpViral doesn't currently offer a free plan which will be the biggest barrier for many users. Plus, the pricing starts from $49 per month for up to only 10,000 leads.
And just like KingSumo, you'll need to upgrade to a much more expensive plan to remove the UpViral branding.
Finally, RafflePress does offer a free version of its plugin that you can download and try before spending any money. It provides everything you need to run a successful contest for free with a powerful WordPress plugin.
Pricing for the paid version of RafflePress comes in 4 tiers, as you can see below, offering plenty of choice for different budgets and business sizes.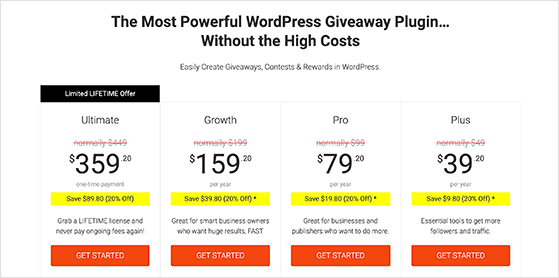 We took this screenshot during a sale. Click here to see if our 50% off promotion is still running!
KingSumo vs Upviral vs RafflePress: Which Is Best?
Now we've looked under the hood and used all of the giveaway builders; you should have a good idea of the pros and cons.
For ease of use, functionality, and competitive pricing, RafflePress is the clear winner.
RafflePress is the only WordPress plugin on this list with a giveaway builder for free; then, you can upgrade your license as you need more features.
It also gives you access to giveaway templates and actions that support your business and boosts your leads like:
Refer a friend viral giveaway actions
Built-in giveaway entry reports
Prize image gallery
WordPress giveaway landing page
Image submissions
Polls & surveys
Social logins
That's why tons of businesses, both small and large, have already chosen RafflePress.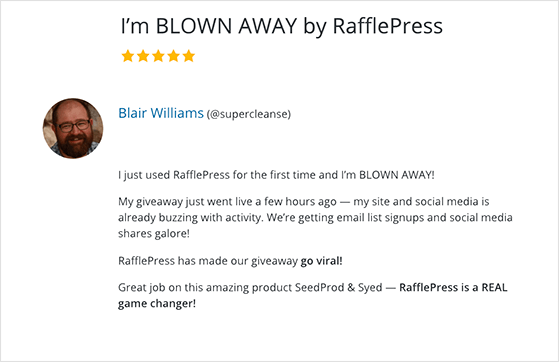 If you're not convinced, check out these RafflePress case studies:
So are you ready to build your referral marketing giveaway campaign? Get started today with the easiest WordPress giveaway plugin.
RafflePress Pro includes lots of free templates and also offers a 14-day money-back guarantee.
If this article helped you out, then please subscribe to our YouTube Channel for RafflePress video tutorials. You can also find us on Twitter and Facebook.