Want a shortcut to boost your Instagram following?
With RafflePress Instagram contests and giveaways, you can reward fans, raise brand awareness, and amplify your Instagram audience.
Our powerful Instagram contest builder lets you create giveaways in 5 minutes or less, right from your WordPress website.
Instagram Contest Template
Imagine never having to start a contest from scratch ever again.
Most Instagram contest apps give you no idea where to begin. And it can leave you scratching your head wondering what to do.
At RafflePress, we believe every campaign on Instagram should start with a solid foundation.
And that's why our Instagram contest template comes pre-built with actions for people to enter your giveaways quickly.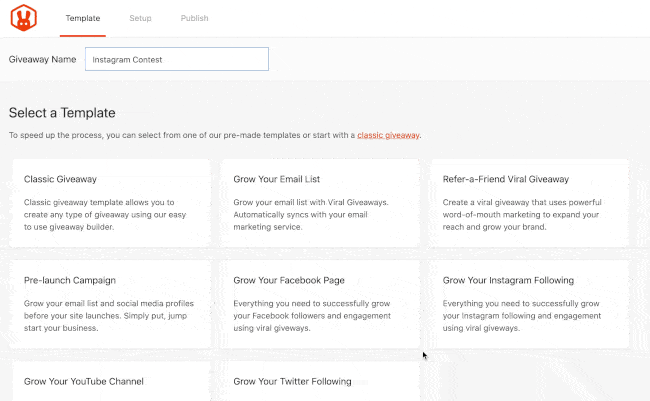 That way, people can visit your Instagram profile, view a post or video, and share your contest to secure extra entries, resulting in tons of engagement.
And with the drag and drop contest builder, you can seamlessly embed giveaways in any WordPress post or page, automatically track entries and randomly draw a winner.
But that's not all…
Stunning Online Photo Contests
Running online photo contests on Instagram has never been easier.
The Submit an Image action lets visitors upload an image for photo contests or to verify other entries.
With a few clicks, users can enter your Instagram photo contest, and you can view submissions in the giveaway dashboard for easy management.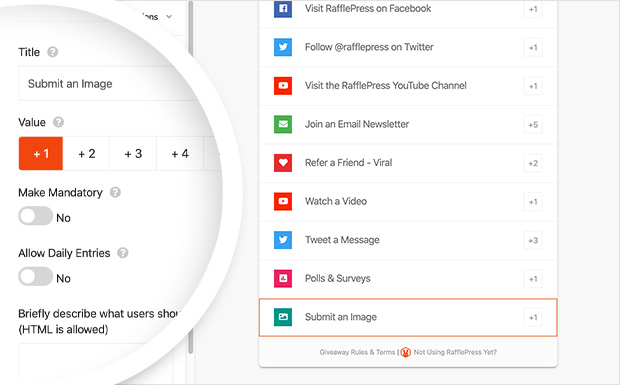 RafflePress makes it easy to comply with all Instagram contest rules and encourage maximum participation.
At RafflePress, we've made creating successful Instagram contests effortless.
Influencers, small businesses, and website owners enjoy the ease with which they can build mobile-friendly contests in WordPress.
Are you ready to explode your growth with effortless Instagram giveaways and contests? Get started with RafflePress today!