TikTok is the 6th most-used social media platform in the world. What began as a Gen Z platform for viral dance challenges has grown to include all types of content and communities.
If you're thinking about adding TikTok to your social media strategy, keep reading because the latest RafflePress update helps boost engagement and grow your TikTok following easily.
That's right. We've added 2 brand new giveaway actions to RafflePress for TikTok contests.
Let's dive in and check out all the details.
Boost Your TikTok Followers
First is the shiny new Follow us on TikTok giveaway action. With this action, you can ask participants to follow you on TikTok for entry into your giveaway.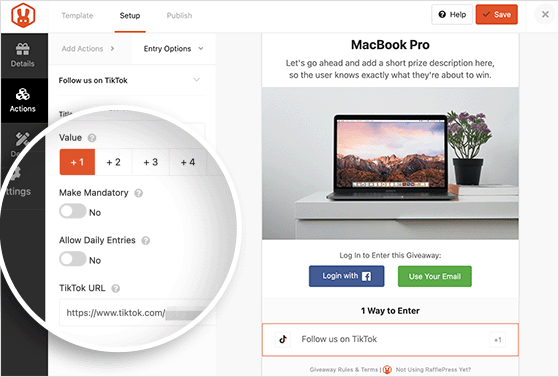 Simply enter the TikTok profile URL in the entry options panel, pick an entry value, and choose to make the action mandatory or to allow daily entries.
Visitors will see a user-friendly entry widget, and after signing up for your giveaway, they can click the follow button, which opens your TikTok profile in a new browser tab. Users can then follow your profile to complete the giveaway action and qualify for the prize draw.
There are many ways you can use this action to grow your TikTok following:
You can require users to simply follow your profile for a chance to win a prize. Or, if your giveaway is part of a collaboration, you can ask users to follow your TikTok profile and the profile of the brand you're partnering with.
Working on a TikTok giveaway with many content creators? Add each creator's TikTok profile to your widget and ask users to follow them all.
You can also use the action to award bonus entries to participants. For instance, if your primary giveaway goal is to get more email subscribers, you can also ask users to follow you on TikTok for more chances to win.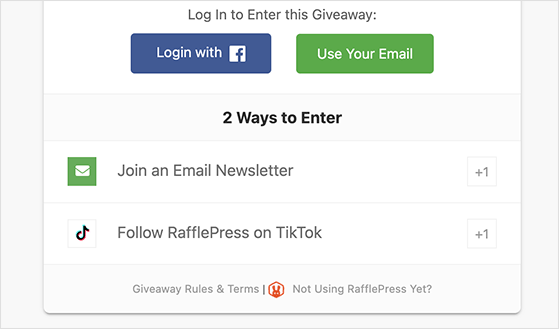 Increase Engagement on TikTok
The second new update we're announcing today is the View TikTok Post/Video action. This action complements the TikTok follow action perfectly by allowing you to ask users to view a TikTok post or video for entry into your giveaway.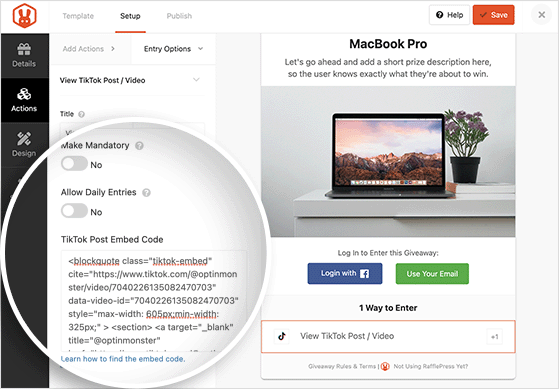 Simply paste the embed code of your TikTok post or video in the entry options panel, then choose the entry value and other requirements. Inside the plugin, we even have instructions on finding the embed code to make it easier.
Unlike the "follow" action, users won't need to visit another page to enter your giveaway. Instead, they can watch the video or view your TikTok post in the giveaway widget, which is an excellent way to keep them on your website longer.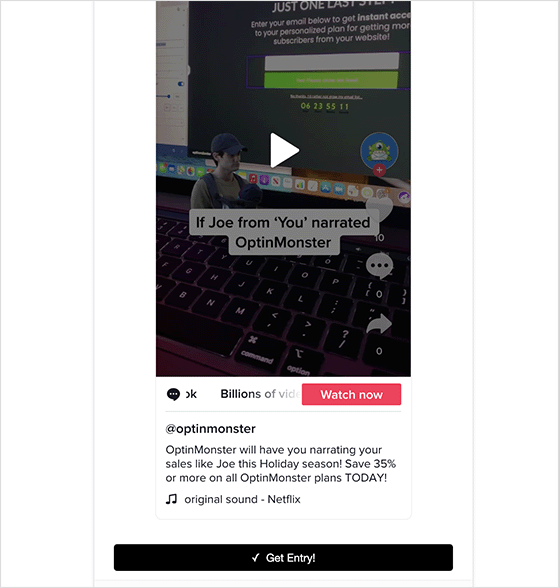 The easiest way to use this action is with the Follow us on TikTok action. Why not make both actions mandatory to grow your TikTok followers and increase engagement simultaneously?
You can also use it with any of our powerful actions for other giveaway goals:
Raise brand awareness: Watch a TikTok video and refer-a-friend to promote your TikTok videos
Get more blog subscribers: View a TikTok post and leave a blog comment
Promote a product: Watch a TikTok promo and visit a product page
Get more podcast subscribers: Watch a TikTok trailer and subscribe to a podcast
Promote your live stream: View a TikTok clip and follow you on Twitch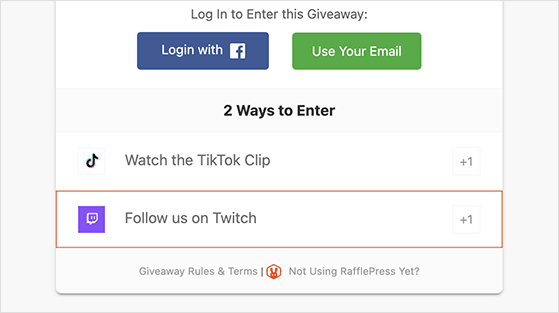 There are so many ways to grow your business with this new update. Anyone with a RafflePress premium plan can try them right away.
That's all for now.
We have lots of new features in the works, so keep an eye out for the next big announcement.
Not using RafflePress yet?
We're truly grateful for your ongoing support in making RafflePress the best WordPress giveaway plugin.
If you liked this article, please subscribe to our YouTube Channel for RafflePress video tutorials. You can also find us on Twitter and Facebook.