Looking for an easy way to make a podcast landing page?
A great podcast landing page design can help you promote recent episodes and attract new listeners. It's also an effective way to advertise podcast platforms where subscribers can find new episodes.
In this article, we'll show you how to build a high-converting podcast landing page in WordPress step-by-step.
What Is a Podcast Landing Page & Why Build One?
A podcast landing page is a web page you design to promote and showcase your podcast. When potential listeners click on a link to your podcast, it is often the first page they see. The landing page's primary goal is to encourage visitors to become subscribers or listeners.
There are several good reasons why you should consider building a podcast landing page:
A landing page can help promote your podcast to a wider audience by showcasing its unique features and the topics you cover.
By including subscription buttons or links, you can increase subscribers to your podcast and keep them up to date with new episodes.
You can engage your listeners by providing additional resources and information related to your podcast. This can include show notes, guest bios, and links to related content.
With a form or survey, you can collect valuable data from your listeners. This helps you better understand your audience and tailor your podcast to their needs and interests.
Overall, a well-designed podcast landing page is a powerful tool for promoting your podcast and growing your audience. You can attract new subscribers, engage your audience, and grow your podcast over time by creating a page that showcases your show and provides value to your listeners.
Essential Elements of a Podcast Landing Page
There are several essential elements that every podcast landing page should include to effectively promote your show and encourage visitors to become subscribers or listeners. These elements include:
Clear and compelling headline: The headline should clearly convey the topic or theme of your podcast and grab the visitor's attention.
Brief description: A short description of your podcast that highlights its unique features, benefits, and the problems it solves.
Eye-catching graphics: Include graphics, such as high-quality images, logos, and artwork, that represent your podcast and make it visually appealing.
Player or subscription button: A prominent subscription button or player that allows visitors to easily listen to your podcast or subscribe to it on various listening platforms.
Show notes: Detailed notes that provide more information about your podcast, such as guest bios, key takeaways, and links to resources mentioned in the episode.
Testimonials or reviews: Showcase positive reviews or testimonials from satisfied listeners that help build trust, credibility, and social proof.
Call to action (CTA): A clear CTA that encourages visitors to subscribe, listen, or take other actions related to your podcast.
Social media links: Links to your social media profiles that allow visitors to connect with you and stay up to date with your latest episodes and news.
By including these essential elements on your podcast landing page, you can effectively promote your podcast, attract new subscribers, and engage your audience.
Here is a podcast landing page example from The Friday Habit that ticks pretty much all of the items we mentioned above: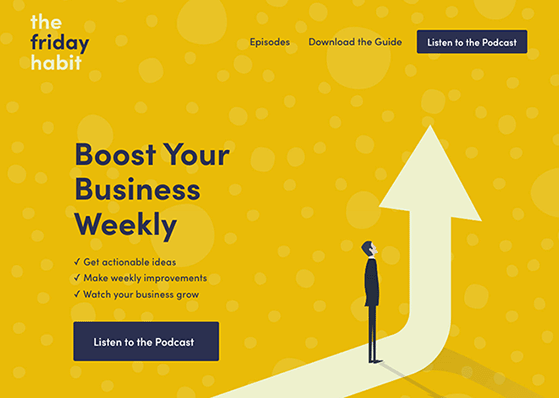 Above the page fold, you'll see an eye-catching headline and subheading that clearly describes what you'll get by listening. Accompanying the headline is an engaging graphic, multiple CTAs, and links to more podcast episodes.
Further down the page are individual podcast episodes, a full-width video, testimonials, and a sign-up form for the show's lead magnet.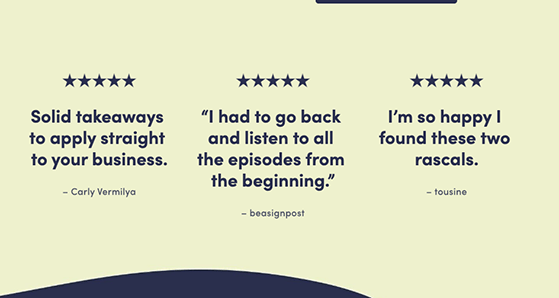 By including a lead magnet, the show can collect email addresses from interested users, allowing them to send email marketing messages in the future.
Want to make a page like the example above? We'll show you how next.
How to Build a Podcast Landing Page in WordPress
Nowadays, there are many ways to make landing pages. For example, you could use the tools included on your podcast platform, but in our experience, these tools often lack the features and functionality for making the best podcast landing page.
Alternatively, you could use a cloud-based landing page builder. They are a great solution if you don't have a podcast website but typically have a high price tag.
More importantly, you won't have control over the page. The business platform could go bust, leaving you empty-handed.
The best solution is to build a landing page attached to your existing website. That way, you own all the content and can control important factors, including page speed, uptime, security, and more.
In this guide, we'll show you how to create a podcast landing page in WordPress, the most popular website builder on the market. And, to make the process even easier, we'll use SeedProd, the best WordPress page builder plugin, to make your podcast landing page without code.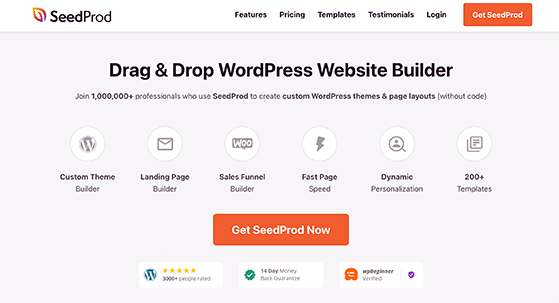 SeedProd has a powerful drag-and-drop interface that makes creating any WordPress layout a breeze. With its professional template library and block-based design system, you can spin up landing pages in under 30 minutes without a developer.
You can also use SeedProd to:
Customize your WooCommerce website designs
Put your site in maintenance mode
And much more.
Follow the steps below to start making a stunning landing page for your podcast in WordPress.
Step 1. Install and Activate SeedProd
The first thing you'll need to do is download the SeedProd plugin and add it to your WordPress website. If you need help with this, you can follow this tutorial on how to install a WordPress plugin for beginners.
Once the plugin is active on your WordPress site, you'll need to navigate to the SeedProd » Settings page and enter your license key.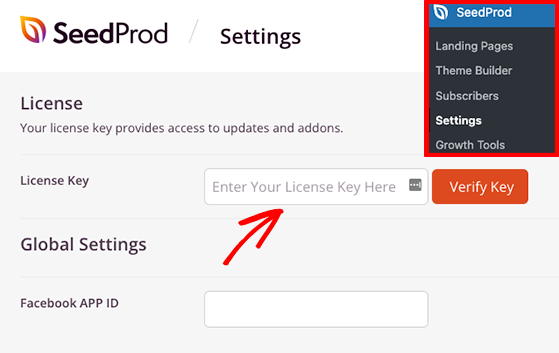 You can find your key on the SeedProd website in your account area under the Downloads section.
Remember to click the Verify Key button to save your changes.
Next, go to SeedProd » Landing Pages, where you'll see an overview of the landing page dashboard.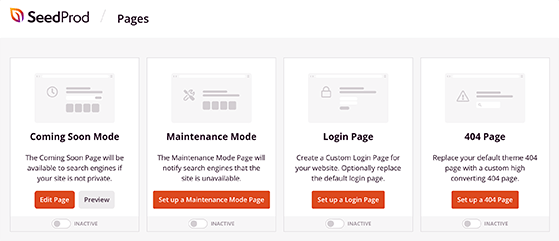 At the top are ready-made pages you can customize and activate, including:
Coming Soon Mode
Login Page
404 Page
However, the section we'll use is for individual landing pages below that. So go ahead and click the Add New Landing Page button.

Step 2. Choose a Landing Page Template
Clicking the Add New Landing Page button will open a library of pre-made landing page templates. You can click any of the filters to narrow down the designs by purpose, such as sales, lead squeeze, or webinar.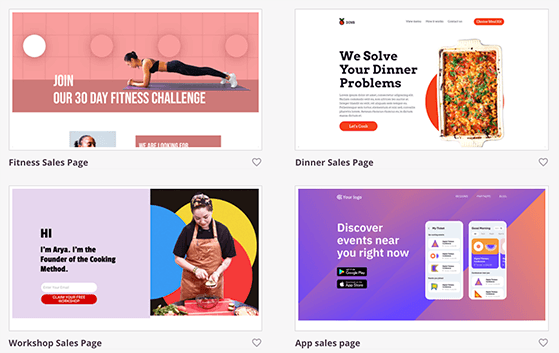 When you find a design close to how you want your page to look, hover over it and click the orange checkmark icon.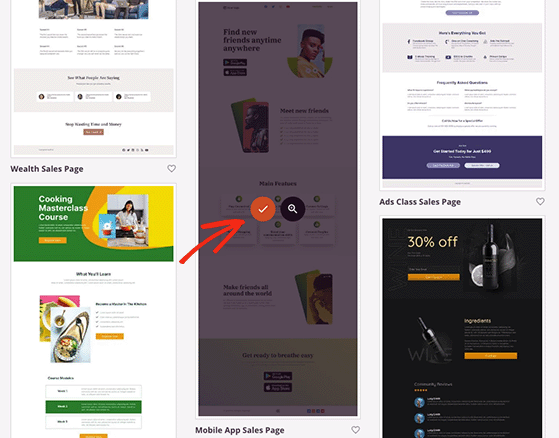 After that, you can give your new page a name and slug, which is the page's URL.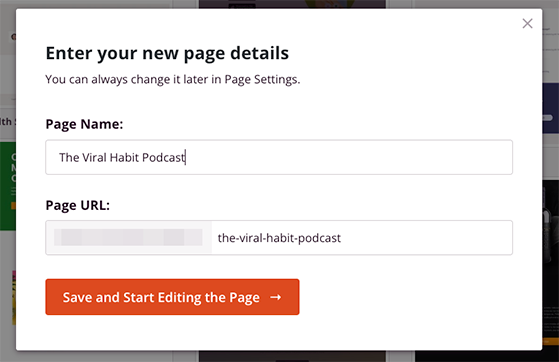 From there, click the Save and Start Editing the Page button to open the landing page builder.
Step 3. Customize Your Landing Page Template
Now you'll see the template you chose inside SeedProd's visual editor. It will have a live preview of your page on the right and blocks for customizing the design on the left.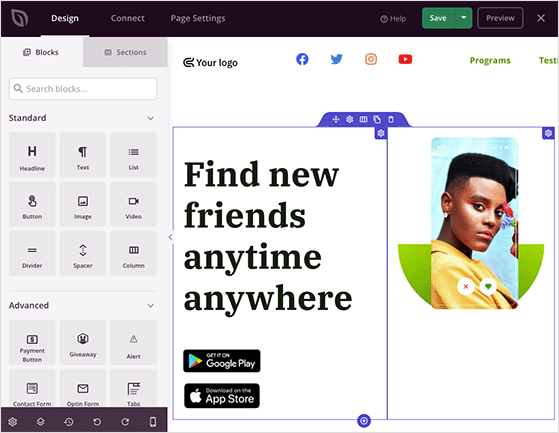 Click anywhere on the preview to start customizing the template to look more like your desired podcast page.
For example, you can click the headline to open its settings panel on the left and add your own headline text describing your podcast.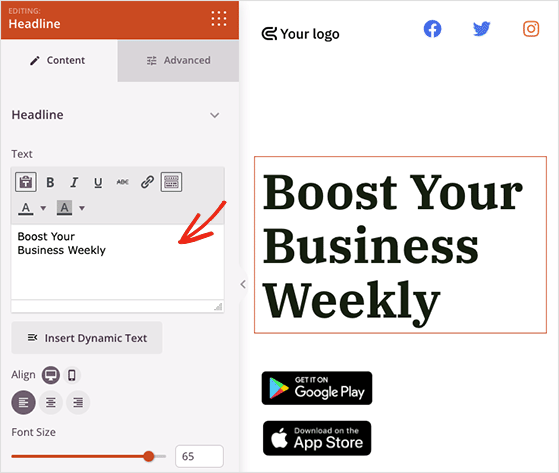 Similarly, you can drag over any blocks in the left-hand panel to add new content to your page, like list blocks, buttons, and more.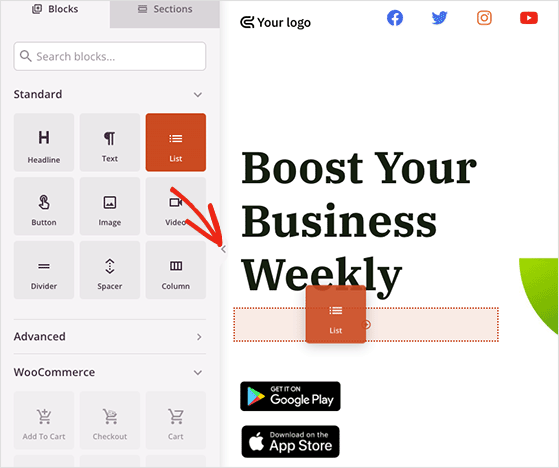 In each block setting, you'll see several ways to customize that element. For instance, you can add new list items in the Bullet List block, change the bullet icon, and adjust the colors and sizing.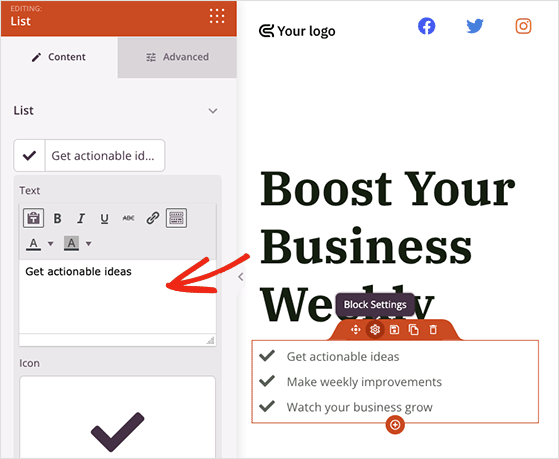 You can also delete unnecessary elements by hovering over them and clicking the trashcan icon.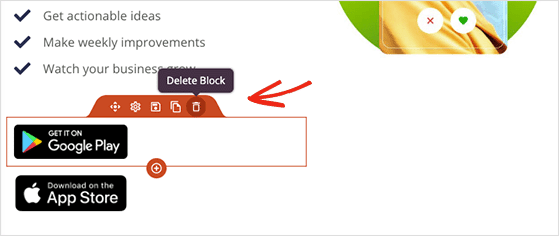 If the template's default stylings aren't to your liking, you can change them all at once by clicking the gear icon in the bottom-left corner.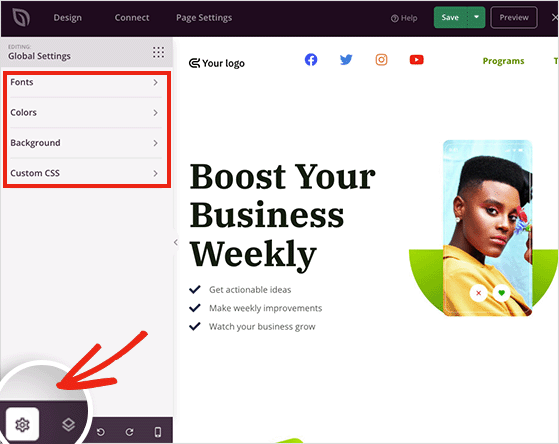 This opens the Global Settings panel, where you can edit the global colors, fonts, backgrounds, and custom CSS.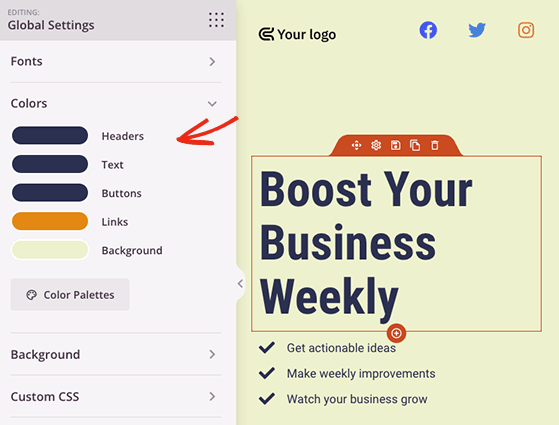 Some other elements you may want to customize include:
Your podcast logo
Header links
Dividers to make your page more interesting
Positive reviews and testimonials
Subscribe button
Social media links for sites like Facebook, LinkedIn, and YouTube.
Once your page looks more like the vision you imagined, you can add other page elements to help you get more podcast subscribers.
Step 4. Add Lead Generation Elements
One of the easiest ways to get landing page visitors to subscribe to your podcast is by adding icons and links to the different podcast platforms where you publish your episodes, like Apple Podcasts, Spotify, and Google Podcasts.
This is easy to do with SeedProd's Social Profiles block.
In the block settings, you can choose a custom icon to add links to websites other than social media.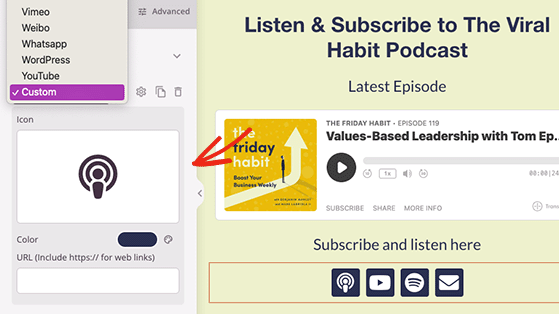 SeedProd also integrates seamlessly with RafflePress, allowing you to add giveaways directly to your landing page with the dedicated RafflePress block.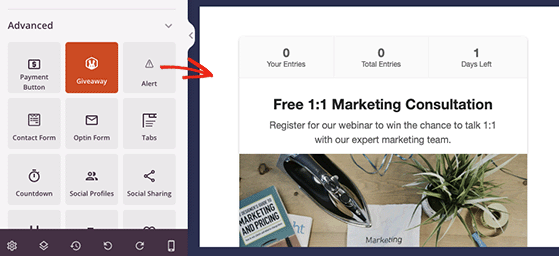 Just drag the block onto your page and choose your RafflePress giveaway from the dropdown menu.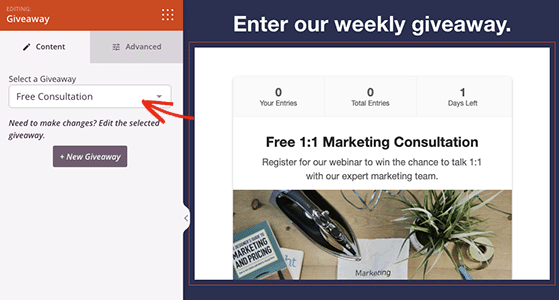 As a result, you can create buzz around your podcast and incentivize users to subscribe, with the chance of winning a prize.
Pro Tip: RafflePress has a built-in "Subscribe to Podcast" entry action to make getting more podcast subscribers easier.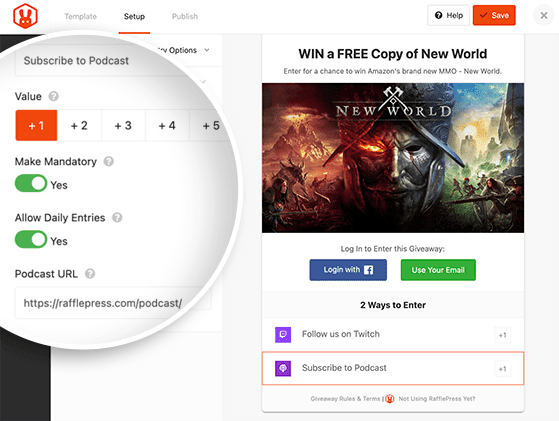 Additionally, you can use the Opt-in Form block to grow your email list, add the Contact Form block to gather user feedback, or even create urgency for your next episode with the Countdown Timer block.
When you're finished with creating your page, make sure you click the Save button.
Step 5. Connect Your Email List
If you're using SeedProd's Opt-in Form block to generate leads for your podcast, you'll want to integrate your email list next.
SeedProd integrates with leading email marketing services, so connecting your list will only take a few clicks. To do this, click the Connect tab at the top of the page, find your email provider, and click Connect.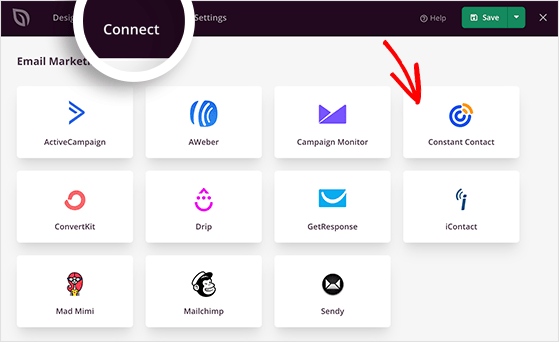 SeedProd will then guide you through authorizing the connection to keep your list updated.
Step 6. Configure Your Landing Page Settings
Next, click the Page Settings tab to change a few more landing page functions.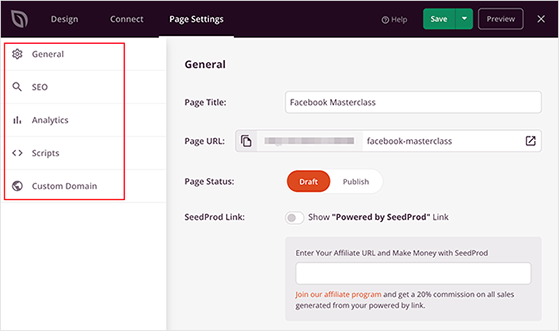 In the General section, you can give your page a new name, URL slug and enter your Facebook App ID.
The SEO tab lets you optimize your landing page for search engines with a WordPress SEO plugin. For this, we recommend using All in One SEO.
Similarly, you can track your landing page performance with MonsterInsights by clicking the Analytics tab.
Beyond that are tabs for adding scripts to your page and giving your landing page a custom domain name. However, the Custom Domain option is only available on Elite plans.
Step 7. Publish Your Podcast Landing Page
The final step is to make your podcast landing page live on your WordPress site. To do this, click the Save dropdown button and select Publish.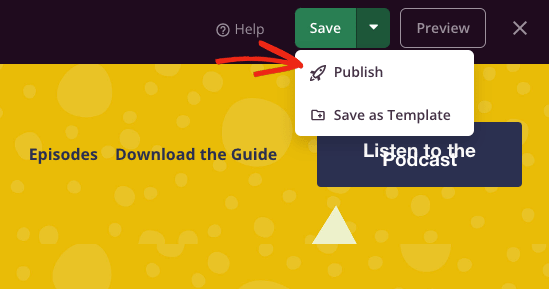 Now you're ready to visit your landing page to see how it looks!
Here's an example of the podcast landing page we made: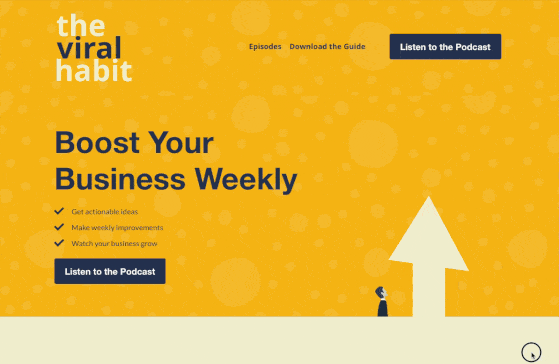 There you have it!
We hope this article helped you learn more about building a podcast landing page in WordPress.
Before you leave, you might also like this beginner's guide on how to do a giveaway in WordPress.
If you liked this article, please subscribe to our YouTube Channel for RafflePress video tutorials. You can also find us on Twitter and Facebook.