Are you looking for an unbiased comparison of popular contesting software like Wishpond vs Shortstack vs RafflePress?
Running giveaway campaigns on your WordPress site is a great way to grow your email list, increase your website traffic and boost your lead generation efforts. But it isn't always easy to find giveaway and contesting software with all the features you need.
That's why this article will compare Wishpond vs Shortstack vs RafflePress to see which solution is best for your business.
Wishpond vs Shortstack vs RafflePress: Detailed Comparison
In this contesting software comparison, we'll look at the features, benefits, and how easy Wishpond, Shortstack, and RafflePress are to use. Then at the end, we'll see how each giveaway tool compares on price.
Key Features and Benefits
To begin this comparison, here's an overview of the features and benefits that each contest tool offers.
Wishpond Features and Benefits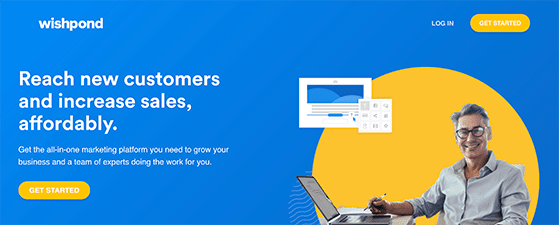 Wishpond is an all-in-one marketing platform with various tools to help you grow your business. Not only can you use this platform to run regular contests and giveaways, but you can also create landing pages, marketing funnels, popups, and market your eCommerce store.
With its email marketing tools, you can create and manage email campaigns. You can also use its sales automation tools to close deals, send personalized messages and follow up with prospects.
Other Wishpond features include:
As you can see, Wishpond takes care of your content management, marketing, and lead generation efforts all in a single powerful platform.
Shortstack Features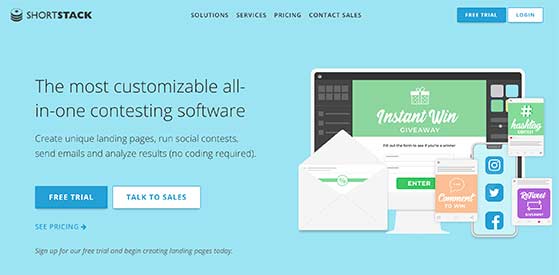 Shortstack is another online platform that helps create personal and meaningful conversations with your audience. It's a cloud-based marketing tool with features that allow you to create and manage marketing campaigns online.
With this platform, you can create personalized social media campaigns, online contests, giveaways, landing pages, forms, and more.
Other Shortstack features include:
Online games and puzzles
Coupon code campaigns
User-generated content (UGC) contests
Social media contests
Popup publishing options
Analytics and data management
Team Collaboration
Compared to Wishpond, Shortstack isn't as comprehensive. However, its features align perfectly with businesses that want to create tailored marketing campaigns that generate leads.
For more details, you can see our ShortStack review.
RafflePress Features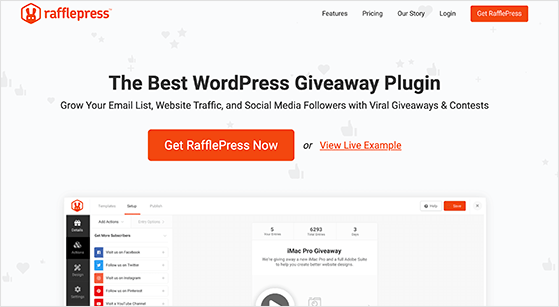 RafflePress is the only tool in this comparison that is a dedicated WordPress plugin. It lets you create viral giveaway contests easily without writing code or needing help from a developer.
This plugin includes everything you need to quickly grow your email list, website traffic, and social media followers.
For example, you can create powerful photo contests and accept image submissions directly on your WordPress site. You can also run refer-a-friend contests to grow brand awareness with word-of-mouth marketing.
Other RafflePress features include:
Premade giveaway templates to get up and running quickly
Easy-to-use drag-and-drop giveaway builder
Social media integrations to grow your social following
Distraction-free giveaway landing pages to boost leads
Success tracking and retargeting to maximize your conversion goals
Built-in giveaway rules generator for compliant contests
Random winner picker to choose winners fairly
Webhooks and integrations with popular email marketing tools
RafflePress may not be an all-in-one marketing platform, but that doesn't mean it isn't just as powerful. Because it has no unnecessary features, it's easier to fine-tune your giveaway campaigns and achieve the best results.
Ease of Use Comparison
Now that you know what Wishpond, Shortstack, and RafflePress do, how easy is each tool to use? Keep reading to find out.
Wishpond Ease of Use
Running a contest with Wishpond can seem overwhelming at first. After logging into the Wishpond dashboard, you can create a campaign from scratch or choose from various premade templates.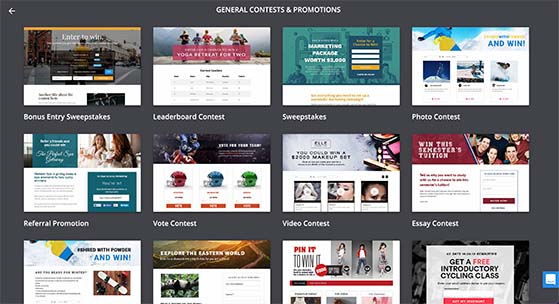 After, the template opens in a full-screen visual editor where you can customize it to suit your branding and business needs. It has a layout similar to popular page builders and panels that allow you to add more features to your template as and when you need them.
For example, you can add bonus giveaway actions to encourage participants to share your campaign online and follow your social profiles. Or, you can add more page elements like buttons, videos, and timers to increase engagement.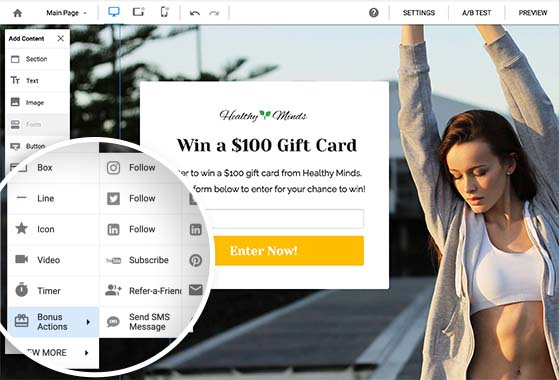 Publishing a Contest with Wishpond
To publish your campaign, Wishpond offers 4 options. You can publish your giveaway on a Wishpond hosted URL, a custom domain on your website, your Facebook page, or you can embed the giveaway directly on your website.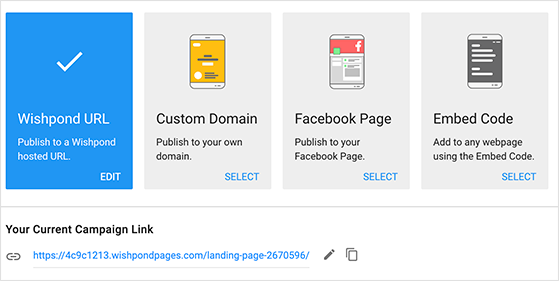 While these are all good options, they're not entirely beginner-friendly. For example, to embed the campaign directly on your site, you'll need to copy and paste some code, something many beginners aren't comfortable with.
Choosing a Winner
Wishpond makes choosing the winner of your contest relatively easy. You simply need to click the Select Winner link from your campaign dashboard, which randomly picks a winner for you.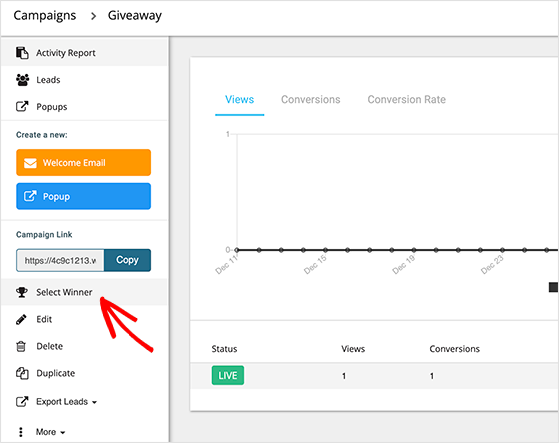 From there, you can copy the winner's email address and tell them about the good news.
Shortstack Ease of Use
Shortstack offers a similar setup process to Wishpond. After logging into the platform and clicking the Create Campaign button, you'll see a variety of pre-made contest templates.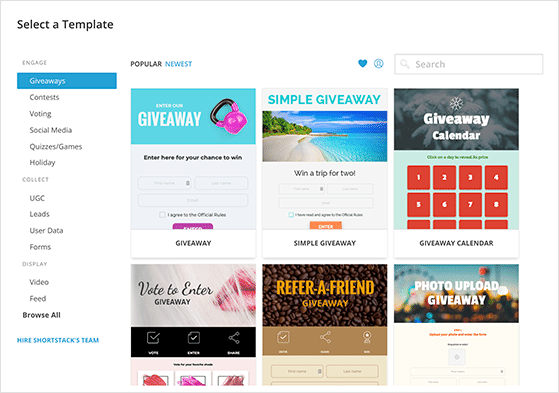 Clicking a template opens it in Shortstack's visual editor, allowing you to customize it to suit your needs. Compared to Wishpond, Shortstack's campaign editor is more cluttered and isn't as user-friendly.
Even though you can point and click to edit any area, it isn't as straightforward to learn what each feature does. You need to hover over or click each element in the side panels for more information or leave the builder to research what they mean.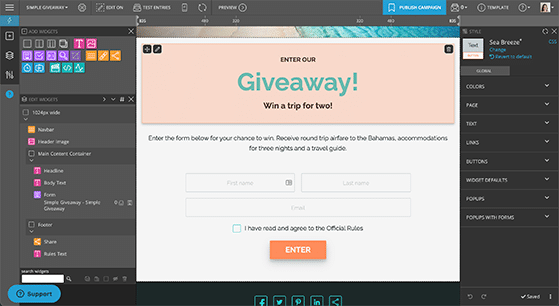 One thing we do like about this platform is the ability to turn on test contest entries. This can help you learn if you need to improve your campaign before making your contest live.
Publishing a Contest with Shortstack
Shortstack offers 2 ways to publish your contest online. You can embed it on your website or create a standalone landing page on Shortstack.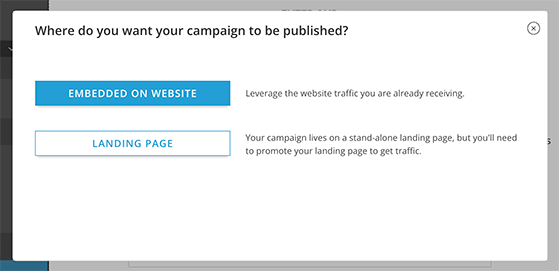 Like Wishpond, the embed option requires you to copy the embed code and publish it on your website. In comparison, the landing page option hosts your giveaway on a Shortstack hosted landing page.
Choosing the landing page option makes it easier to share your campaign online and reduces distractions. Yet, because it's hosted on Shortstack, this option doesn't utilize your website's existing traffic.
Choosing a Winner
To choose a winner for your contest in Shortstack, you can visit the Entries tab from your campaign dashboard and choose a campaign from the filter list. Then, click the Choose button to pick a winner randomly or manually.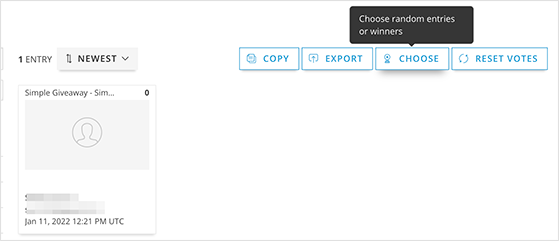 From there, you can create a tag to assign to winners. That way, you can find qualified winners and deliver the good news.
RafflePress Ease of Use
Because RafflePress is a dedicated WordPress plugin, it works differently from Wishpond and Shortstack. After installing and activating the plugin on your WordPress site, you can build your campaign right away.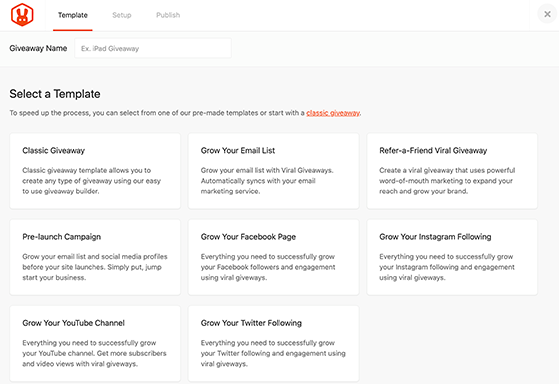 First, you can choose a premade template that aligns with your contest goals, like:
Grow your email list
Grow your Facebook page
Grow your Instagram following
Then you can use the easy drag-and-drop builder to add your giveaway prize details, images, giveaway entry options, and more.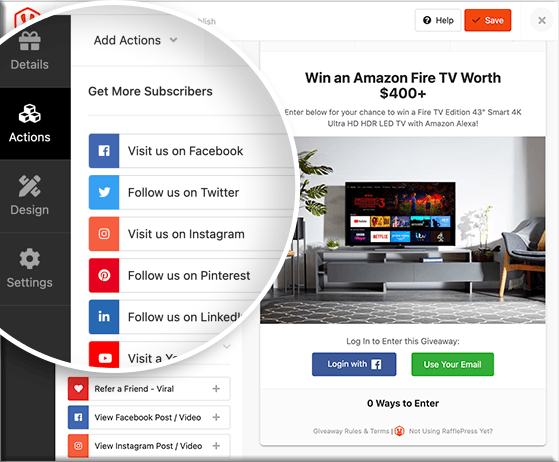 You can use the giveaway rules template to create contest rules easily in the giveaway settings panel. Additionally, there are settings to allow social logins, GDPR consent, email verifications, and success tracking.
Publishing a Contest with RafflePress
RafflePress makes publishing any contest super-easy.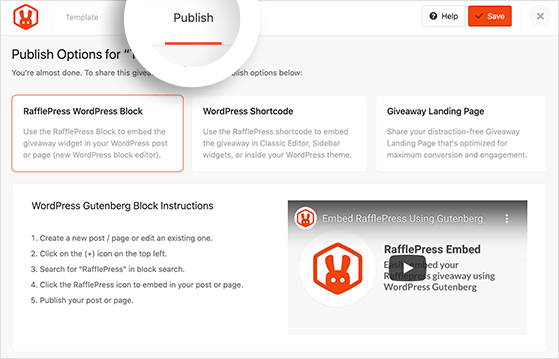 You can use the built-in RafflePress WordPress block to embed it directly in any post or page without copying or pasting code. Or you can use a shortcode if you use the classic WordPress editor or embed your contest in a sidebar or inside your WordPress theme.
RafflePress also offers a built-in giveaway landing page option. Unlike Wishpond and Shortstack, your RafflePress landing page is built-in to your WordPress site, so any traffic to your page counts as traffic to your website.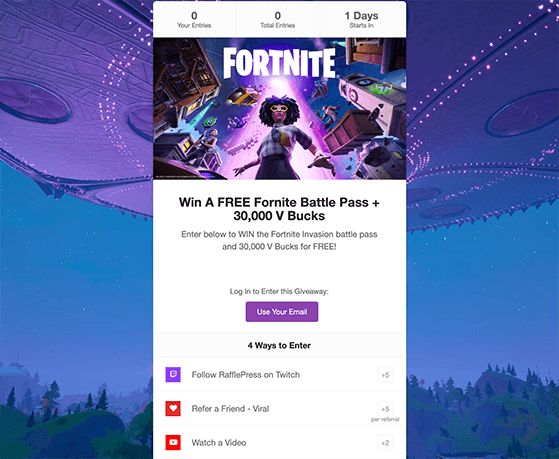 The great thing about this is it keeps your brand top of mind and makes it easy to share your contest online. After entering your contest, it also means that users can explore the rest of your website.
Choosing a Winner
Picking a contest winner with RafflePress is easy. When the contest is over, all you need to do is click the Needs Winner link in your RafflePress giveaway dashboard.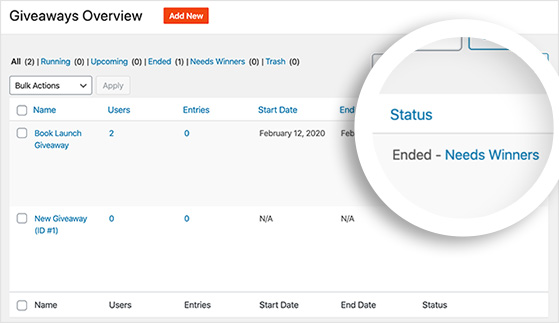 From there, you can choose winners from verified or unverified entries randomly. You can even click a link to email the winner right from the results page.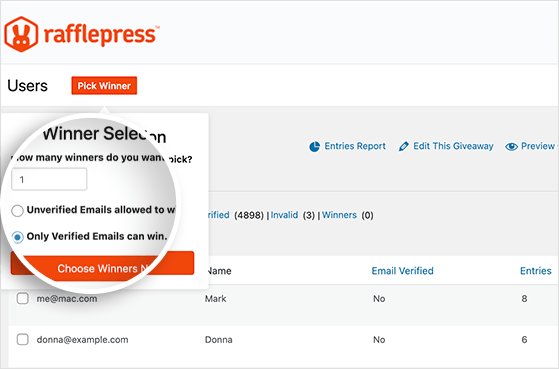 Third-Party Integrations
Having a way to manage the leads you collect from a contest is just as important as generating them. So in the next section of this comparison, we'll look at how good each contest tool is at integrating with third-party services.
Wishpond Integrations
Because Wishpond is an all-in-one platform, it's no surprise that it offers plenty of ways to integrate with your favorite marketing services.
Some of the direct integrations in Wishpond include:
Email marketing providers like AWeber, ActiveCampaign, Constant Contact, etc.
CRMs like Salesforce, Pipedrive, and OnePageCRM
Other 3rd party tools like Zapier, Slack, Twilio, and Shopify
Shortstack Integrations
Shortstack offers several ways to integrate your contest with third-party apps and services. First, it works with all major social media platforms, and you can connect your campaign to Google Analytics to track its performance.
Additionally, you can use Webhooks to integrate your Shortstack contest with email marketing services like Mailchimp and platforms like Salesforce and Shopify.
RafflePress Integrations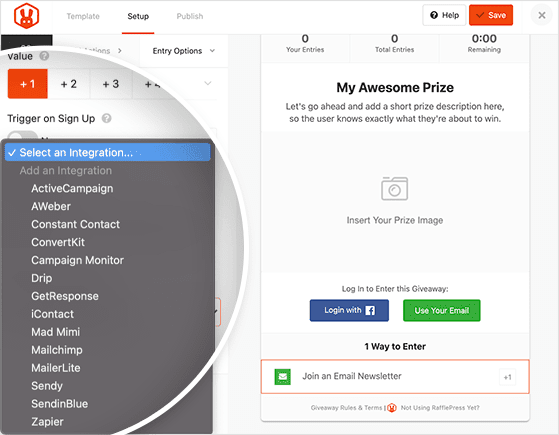 RafflePress integrates directly with many popular email marketing services, including;
ActiveCampaign
AWeber
ConvertKit
Campaign Monitor
GetResponse
iContact
Mad Mimi
Moosend
Sendy
Brevo (Sendinblue)
Zapier
You can also integrate with thousands of other marketing services with its Webhooks feature.
Moreover, RafflePress works seamlessly with any WordPress theme and popular WordPress plugins. So you'll never have to worry about incompatibility issues.
Pricing: Wishpond vs Shortstack vs RafflePress
Now let's break down the pricing for each contest solution in this comparison.
Wishpond Pricing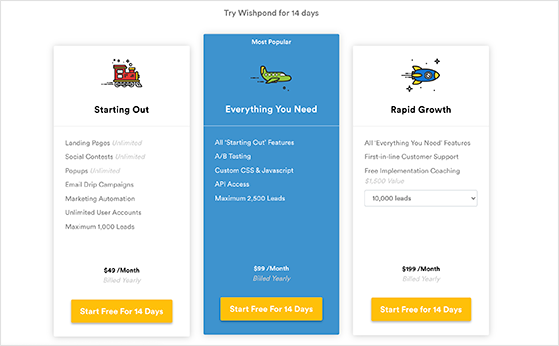 The pricing for Wishpond comes in 3 tiers:
Starting Out: $49 per month (billed yearly)
Everything You Need: $99 per month (billed yearly)
Rapid Growth: $199 per month (billed yearly)
You can also try Wishpond for 14 days and cancel before your trial ends to try it out.
Shortstack Pricing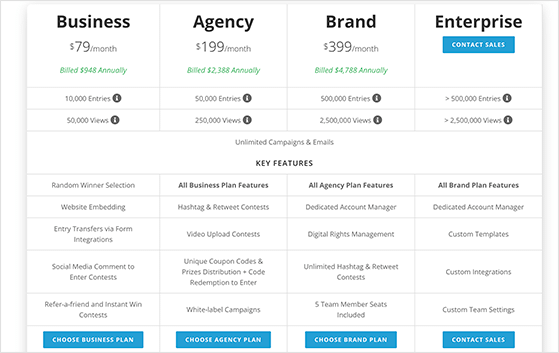 In comparison, Shortstack offers 4 paid plans for users, which are as follows:
Business: $79 per month (billed yearly)
Agency: $199 per month (billed yearly)
Brand: $399 per month (billed yearly)
Enterprise: Contact Shortstack for pricing.
In addition to the above, you can try Shortstack for free, which gives you access to all the Business Plan features, 20 entries, and 100 views with no credit card required.
RafflePress Pricing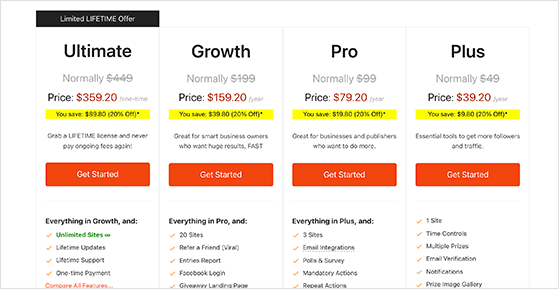 Like Shortstack, RafflePress has 4 pricing tiers for its WordPress giveaway plugin:
Plus: $49 per year
Pro: $99 per year
Growth: $199 per year
Ultimate: $449 one-time payment
RafflePress also offers a free version of its plugin you can use without paying a penny. It includes everything you need to create a viral contest in WordPress so that you can try it out without the risk.
Wishpond vs Shortstack vs RafflePress: Which Is Best?
After comparing Wishpond, Shortstack, and RafflePress, which contesting software is the best?
In our opinion, RafflePress is the best solution in this comparison. It's easy to use, incredibly beginner-friendly, and dedicated solely to running giveaways.
There are no unnecessary features bundled in to confuse you, making it an excellent alternative to Wishpond and Shortstack. Because it comes as a WordPress plugin, everything from setting up your contest and publishing it to managing entries and choosing a winner is done right from your website.
Moreover, the free version of RafflePress has everything you need to run a successful giveaway. Still, because the paid version is so inexpensive, it costs very little to extend the functionality.
In the end, RafflePress is the most user-friendly and budget-friendly giveaway solution for WordPress, with features that are just as powerful as its more expensive counterparts.
So what are you waiting for?