Running a giveaway is one of the easiest ways for your business to go viral online. But wouldn't it be great if you could know what your fans did to help you reach that goal? If you did, you could use that knowledge to be even more successful in the future.
Well, now you can!
Today we're excited to announce the new Entries Report feature for RafflePress Growth and Ultimate plans.
Let's take a closer look at how it works.
Easily See Giveaway Engagement by Action
With our new Entries Report feature, you can see a breakdown of the actions users performed on any giveaway.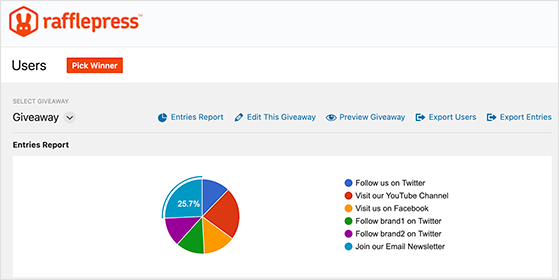 Just view your giveaway Users section, and click the Entries Report link. RafflePress will show you a helpful pie chart with each segment representing a single action for entering your contest.
If you hover your mouse over each segment, you can see a percentage of how many users took that action.

For instance, in the example above, most users signed up to the newsletter to enter the contest. And at a close second is the visit on YouTube action.
As a result, you can see that these 2 options led to the most giveaway entries.
With this information, it's much easier to make your next online giveaway more successful. Just choose the actions that drove the most entries.
You can even make those actions worth more entries than those that didn't perform as well.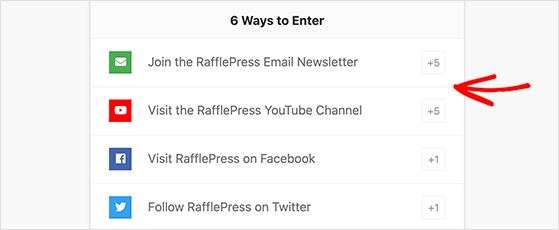 In the end, it gives you more control over the performance of your giveaways, helping you secure more fans, leads, and engagement for your business.
You can learn more about this update in our Entries Report documentation.
That's all for today!
As you can see, the RafflePress team has been hard at work to maintain its reputation as the best WordPress giveaway plugin on the market and will continue to do so. So stay tuned for more updates coming soon.
Want to see it in action for yourself?