Looking for successful virtual book launch ideas?
Planning a book launch can seem overwhelming as more events move online. How can you get fans excited without book launch parties, book signings, and other traditional book marketing tactics?
The answer is to take your book promotion online.
This article will share the most effective virtual book launch ideas to hook your fans and get them excited to buy your book.
Why Are Virtual Book Launch Events Important?
We mentioned earlier that the activities surrounding book publishing are moving online. But that isn't the only reason why virtual book launches are essential.
What name pops into your head when you think about buying books online?
Amazon.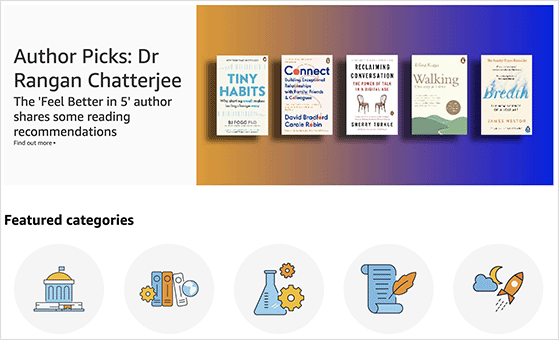 Amazon's product ranking algorithm calculates interest in a book from the moment you post it on their site and the next 30 days. The more people buy your book and leave reviews during that period, the better your chances of ranking high in Amazon's charts.
As a result, Amazon will feature your book higher in its search results. Its algorithm will also cross-promote your book with relevant titles.
The best way to leverage the power of Amazon's promotion machine is with a strong book launch. You'll need to convince many people to buy your book and leave positive reviews on Amazon.
Ultimately, you need to drive tons of traffic to your book launch event to be successful. You'll also need to start with a robust plan.
What to Do Before Your Virtual Book Launch
Book launches require a lot of planning. First, create a calendar containing the tasks you'll need to complete for your launch to be a success.
Items on your calendar can include:
Organizing your team
Notifying the press
Contacting publishers
It's also an excellent idea to create a website and start blogging regularly. Your website will play a massive role in the virtual book launch ideas we cover in this post.
You can follow this step-by-step guide to create a website for your book. Once your site is live, follow the ideas below to promote your virtual book launch.
Virtual Book Launch Ideas for Effective Promotion
There are so many book launch ideas that including them all in this article would make for a very long read. Instead, here are the best virtual book launch ideas that will drive the most traffic, leads, and sales.
1. Run an Online Giveaway Contest
The easiest way to market your virtual book launch is with an online giveaway contest. Giveaways attract tons of attention and have the potential to go viral across social media platforms like Facebook, Twitter, Pinterest, etc.
For example, you can encourage people to sign up for your virtual book launch party with the chance to win a prize. Or you can ask users to leave a book review and enter them into a prize draw.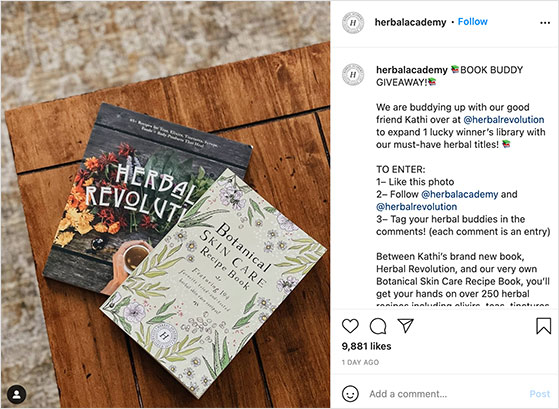 Running a giveaway is easy with the right tools, and RafflePress can get you up and running in minutes.
RafflePress's lightweight WordPress plugin is ideal for creating a book giveaway. You can start with a premade giveaway template, then customize it with the visual drag-and-drop giveaway builder.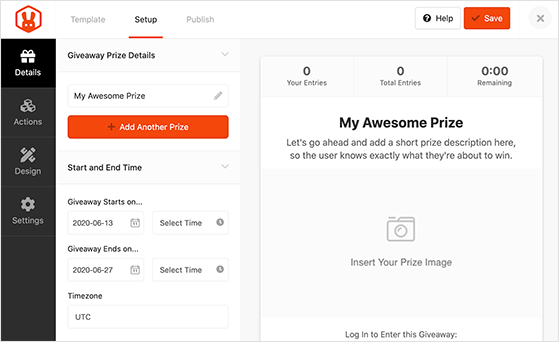 This giveaway tool also includes many ways for users to enter your giveaway, including:
Write a blog post
Join an email newsletter
Share on social media
Follow on social media
Visit a website
Answer questions
And many more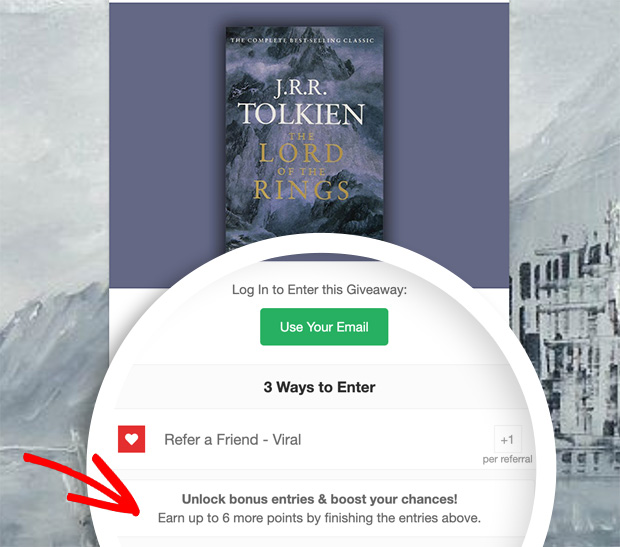 Publishing your giveaway is just as easy. You can use WordPress blocks to embed the giveaway widget in posts and pages or create a distraction-free giveaway landing page with a few clicks.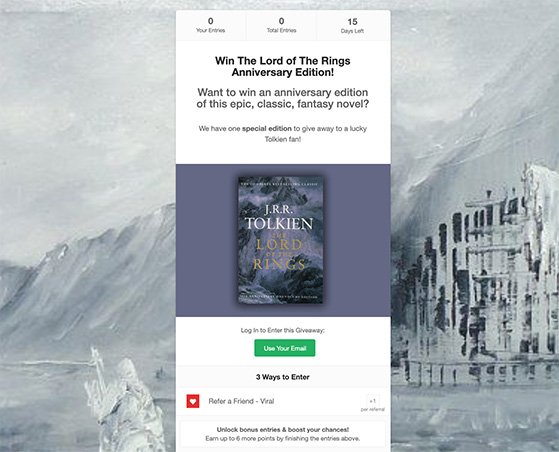 You can also manage your giveaway from your WordPress dashboard, keeping the crucial details all in one place while making it faster and easier to pick a winner.
2. Add Banners to Your Website
People who find your website via search engines often don't know much about you. When they land on your site, those users are looking for information and may not know about your new book.
You can make it easy for new visitors to check out your virtual book launch by pointing them in the right direction. For example, you can add a notification bar to the top of your site, a lightbox popup, or even a welcome screen.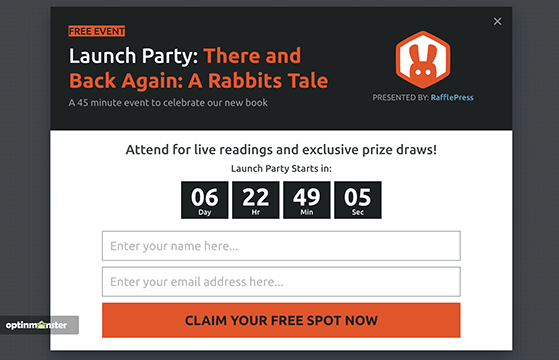 The banner can include information about your book launch and a call-to-action (CTA) to learn more or buy your book on Amazon. They're also super easy to create with OptinMonster.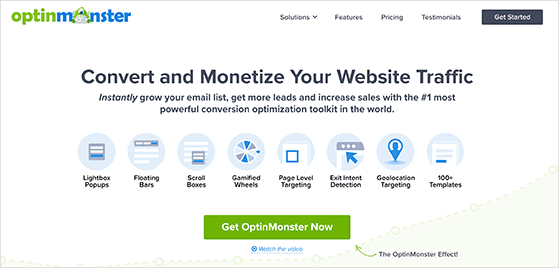 OptinMonster is the easiest way to add popups, notification bars, and other eye-catching campaigns to your website. Its drag-and-drop builder is a breeze and includes customizable templates for different marketing goals.
This tool is also an excellent way to grow your email list. You can show sign-up forms almost anywhere on your website, enabling you to build a targeted email list of potential customers.
Why not follow this guide to create a popup coupon promotion. As a result, you can drive sales while rewarding customers with money off your new book.
3. Create a Book Launch Landing Page
Virtual book launches often use paid advertising to drive traffic and sales. Yet many new authors send ad traffic to their website homepage and wonder why they get poor results.
When you send traffic to your homepage, it's like sand falling through your fingers. Visitors can click anywhere, such as your about page, blog posts, or leave your site altogether. Your ad traffic is essentially lost revenue if you don't focus it in one place.
Instead of that valuable traffic slipping away, you can send it to a book launch landing page. That will allow you to focus on educating visitors about your new book and tell them what to do next.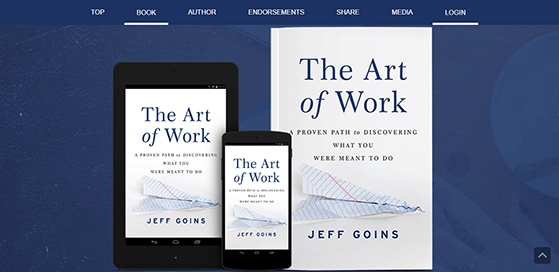 For instance, you can ask visitors to:
Sign up for a virtual event
Join your email list
Leave a book review
Pre-order your book
Because the best landing pages focus on convincing and converting, they're a much better focus for your paid ad traffic.
You can create a high-converting landing page easily with SeedProd.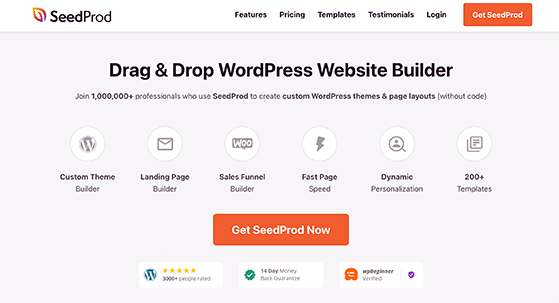 SeedProd is the best website builder for WordPress. It lets you create any landing page, WordPress site, and layout without writing code.
Getting started is easy with hundreds of pre-made landing page templates and website layouts. You can then customize your page with reviews and testimonials, countdown timers, CTA buttons, and much more.
Here's a handy guide on creating a landing page with SeedProd.
4. Send Push Notifications
Getting users to visit your book website is only one part of the struggle. But how do you get them to come back when your book launches?
One solution is to encourage website visitors to sign up for web push notifications. As a result, you can send a notification message to users' web browsers announcing your book launch with a link to check out the details.
It might sound complicated, but sending push notifications is easy with PushEngage, the best push notification software on the market.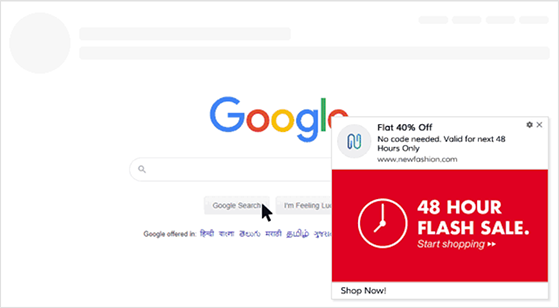 PushEngage's easy-to-use software lets you send notifications on desktop and mobile without building an app. It comes with powerful features that marketers love, including:
A/B testing
Automatic drip campaigns
Smart opt-in reminders
Custom-triggered campaigns
Interactive message options
And more
You can also track each notification for metrics that help you learn more about views, clicks, and revenue. You can learn why web push notifications are important in this guide.
5. Notify Your Email List
Email marketing is another powerful way to promote your virtual book launch. The users on your email list already want to hear from you, so they're more likely to click on any links and promotions.
One study suggests that for every $1 you spend on email marketing, you get $36 back. Wouldn't you want to capitalize on that?
You can email your fans:
1 month before your launch with an invitation to join a live book Q&A session
The week your virtual book launch starts as a reminder
On the day of the event, with a link to join in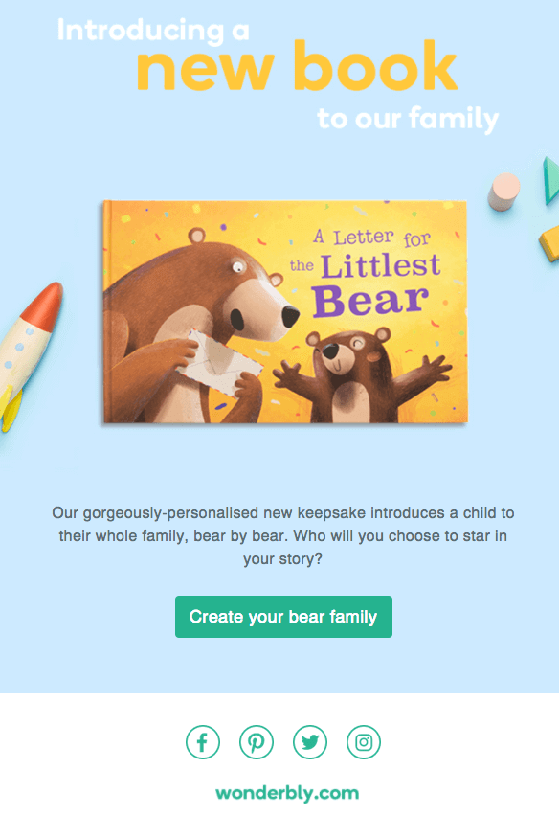 You can also promote your book launch giveaway in the same email to secure more giveaway entries and leads.
6. Host a Virtual Live Stream or Podcast
Event planning sounds complex when you can only host an event online. However, people are excellent at adapting to changing circumstances, especially with the help of social media.
Platforms like Facebook, Instagram, YouTube, and Twitter support live streaming to make hosting a virtual event easy.
Facebook Live
You can use Facebook Live to organize a live launch party and talk to your fans in real-time. You can also talk with guests, answer questions, and read parts of your book.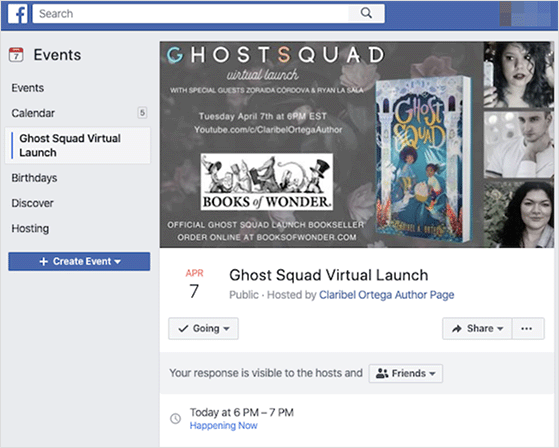 Additionally, you can set up a Facebook Event to remind users when your book launch starts.
Instagram Live
Alternatively, you can hop onto Instagram Live. Your Instagram followers will get a notification when your virtual book launch starts, inviting them to join from the Instagram app.
You can invite up to 3 guests directly from the app, helping you keep the event engaging with exciting discussions.
YouTube Live Stream
YouTube is the largest video platform on the internet, making it a popular choice for a virtual book launch. By using the most popular video platform in the world, users can join your book launch on a platform they already use to consume video content.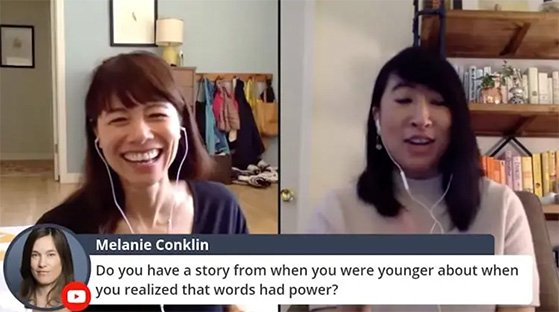 You can also use YouTube to post teaser trailers about your book before the big day. You can then invite users to enter your giveaway via a link in the video description.
If you use RafflePress's viral refer-a-friend entry option, you use your giveaway to boost awareness of your book launch, spreading the word on multiple platforms.
Twitch Stream
Twitch is another excellent place to host an event and talk to your fans in real-time. Because Twitch's users are interested in live events, the platform is a great way to find new fans.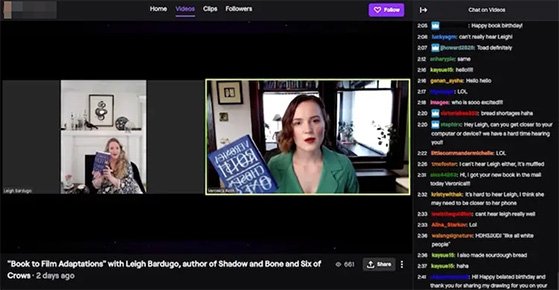 Start by announcing your live Twitch stream to get users to join. You can build your fan community with premium subscriptions, custom emojis, ad-free viewing, and more.
Kick-starting your Twitch event is super-easy with RafflePress. You can run a giveaway and ask users to follow you on Twitch for a chance to win.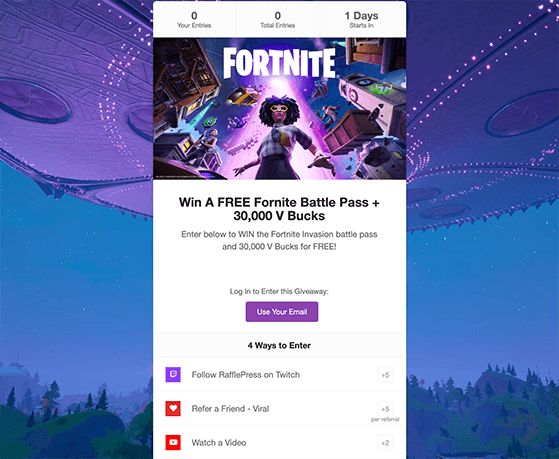 Award-winning is a particularly attractive way to get more live stream attendees because you're offering something in return.
Check out this simple tutorial on how to do Twitch giveaways to start promoting your virtual book event easily.
7. Organize a Blog Tour
Blogging is another compelling virtual book launch idea, and many authors participate in blog tours to help spread the word.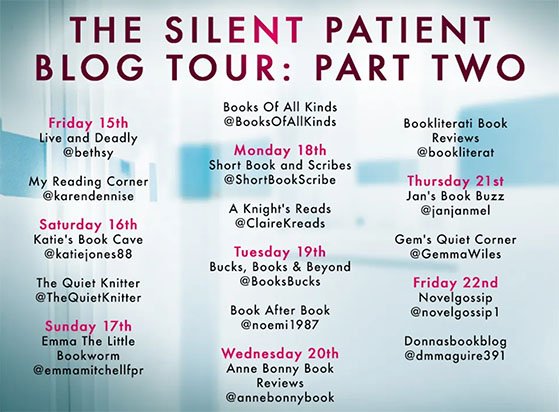 Blog tours involve asking book bloggers to read and review your book in a blog post. The blog post typically goes live right before your book launch to generate interest and excitement and often includes:
Unique Q&As from the author
Book quotes and excerpts
Links to buy the book and learn more
Bloggers will also promote the blog tour on social media platforms to raise awareness.
8. Cross-Promote your Virtual Book Launch on Social Media
When promoting your new book, don't limit yourself to 1 of 2 social media networks. If you do, some of your fans may miss the announcement.
Instead, spread the word on many channels at once to reach the maximum number of people.
For instance, if you promote your book on Twitter, you can also create an eye-catching image to pin on Pinterest. Or, if your virtual book launch is on YouTube, you can cross-promote it on Twitter with a link for users to join in.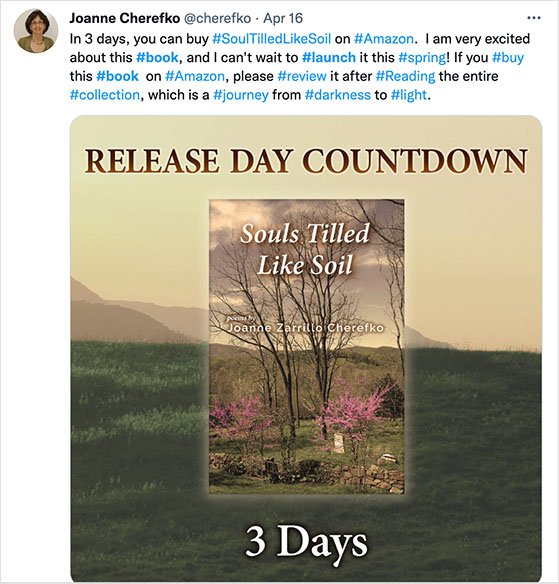 Cross-promoting your book launch is an excellent way to get your target audience excited enough to check it out.
9. Create a Reddit AMA
If you've ever used Reddit, you may know about the popularity of AMAs. Some authors host AMAs or "Ask Me Anything" to connect with readers during a book launch.
AMAs have a simple format: write a post introducing yourself and pitching your newest book. Users can then reply to your post with questions about the book you can answer throughout the day.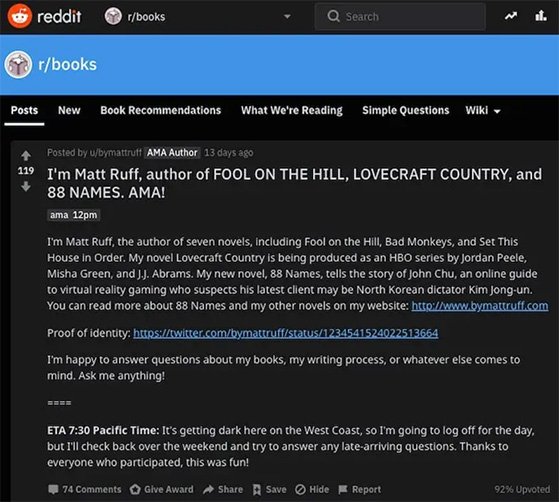 There are several book-specific subreddits that may be a good fit for hosting your AMA. However, ensure you read the rules and guidelines before posting. Some subreddits require pitching before the moderators allow your post to go live.
There you have it!
We hope this article has helped you find the best virtual book launch ideas. You might also like this post on the best social media plugins for WordPress.
If you liked this article, please subscribe to our YouTube Channel for RafflePress video tutorials. You can also find us on Twitter and Facebook.