Are you looking for the best WordPress Twitch plugins for your website?
Twitch plugins offer an easy way to display your Twitch streams and activity on your WordPress website without writing any code. As a result, you can grow your Twitch followers quickly and engage them with your website content.
In this article, we share the best Twitch plugins for WordPress you can use to grow your channel.
Video Guide
Why Do You Need WordPress Twitch Plugins?
There are several reasons for connecting your Twitch channel with your WordPress website. The most notable is it allows you to display streams from Twitch directly on your website.
By streaming content to a standalone page on your website, you make it easier to find in search engines like Google. And with good SEO optimization practices, you can attract tons of organic traffic to your site, with the potential to increase your subscribers and Twitch followers.
Typically you can do this by pasting the Twitch embed code on your website. But this isn't so straightforward if you're unfamiliar with code snippets.
Yet, a Twitch plugin uses the Twitch API to handle the complicated details for you, making it a lot easier for non-techy users to integrate Twitch with WordPress.
But that's not all.
You can also use WordPress Twitch plugins to:
Broadcast your streaming status
Publish your steam's schedule
Promote other Twitch streamers
Attract more social media followers
And more
So with the right tools, you can use your Twitch channel to grow other areas of your business.
Best WordPress Twitch Plugins
Below you'll find the best Twitch plugins for WordPress. We've also included a bonus WordPress plugins you can use to grow your Twitch channel fast.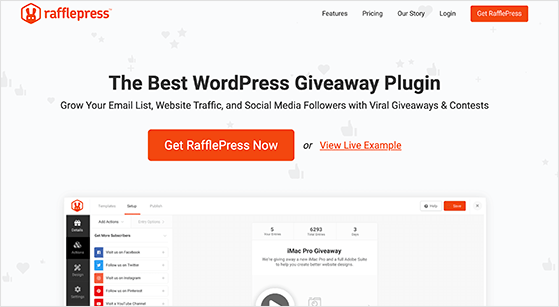 RafflePress is the best WordPress giveaway plugin on the market. It allows you to design, build, and run any type of online giveaway from your business or personal website.
Where it stands out as the best WordPress Twitch plugin is with its powerful Twitch giveaway tools. You can run a Twitch giveaway to grow your Twitch subscribers quickly with no coding required.
Just use the powerful drag-and-drop editor to build your giveaway and add the Follow on Twitch action to attract entries.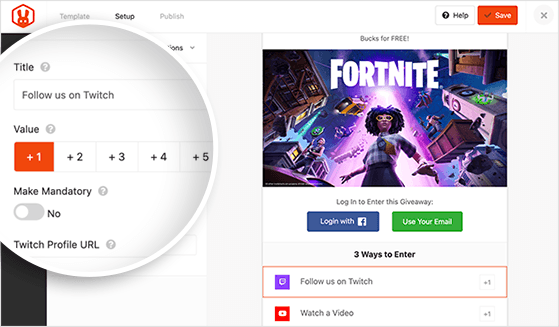 The Follow on Twitch action includes options to:
Edit the action title (like Follow RafflePress on Twitch)
Add an action value (how many entries that action is worth)
Make the action mandatory (users must perform this action to unlock bonus entries)
Add your Twitch profile URL
As such, you can ask users to complete this action to earn a giveaway entry.
RafflePress also offers tons of bonus actions to grow your brand further. For example, you can ask users to refer a friend to your giveaway to raise awareness on social media or subscribe to your newsletter to grow your email list.
You can even include the action to leave a blog comment. This is an excellent tactic many bloggers use to increase user engagement. And with photo contests, you can get free content for your website.
In addition, you can manage your giveaways easily with RafflePress. The giveaway entries are stored in your WordPress dashboard, making it easy to see who has entered, saving you from hunting across multiple platforms to count entries manually.
Choosing a giveaway winner is just as easy. With the random winner generator, you can pick winners randomly from all eligible entries and then show the winner on your giveaway widget.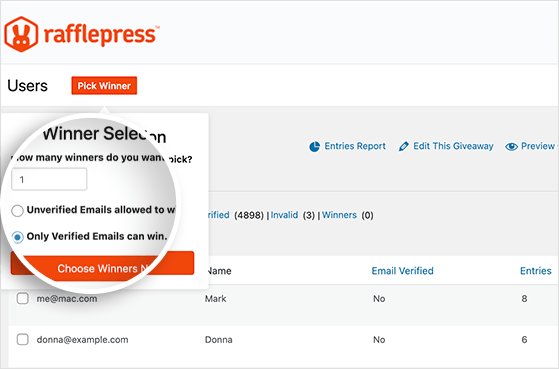 In the end, you have a powerful WordPress plugin that can significantly boost your traffic, followers, and subscribers on multiple platforms.
Get Started with RafflePress Today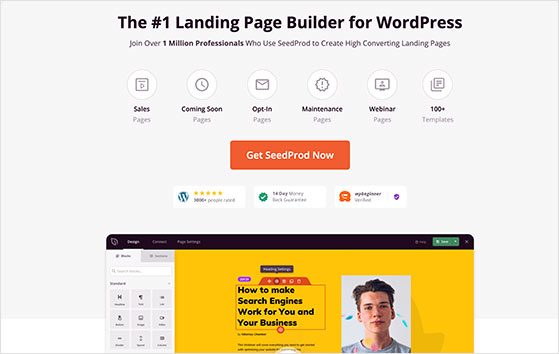 SeedProd is another powerful WordPress plugin you can use to grow your Twitch presence. It's the best WordPress page builder with coming soon and maintenance mode functionality.
You can use SeedProd to make a standalone Twitch landing page on your website. That way, you can display your Twitch streams on a single, easy-to-find page.
SeedProd's drag-and-drop page builder makes it super easy to get started. Just pick a responsive landing page template, and customize it in the live visual editor – no coding required.
You can choose from various content blocks to build your page, many of which are the perfect way to generate leads.
For example, you can:
Embed a video player to display your Twitch streams
Use animated headlines to capture people's attention
Add a countdown timer to show when your stream starts
Embed a RafflePress giveaway to boost traffic
Include testimonials and star ratings from happy stream followers
Embed Facebook and Twitter posts or timelines related to your stream
Add WooCommerce products to promote your Twitch brand's merchandise
Include call-to-action buttons to subscribe to your channel
There's so much you can do with a Twitch landing page that the possibilities are endless. You could even add a contact form to get feedback on what you should stream next.
And since SeedProd works with any WordPress theme, you won't face compatibility or speed issues.
Get Started with SeedProd Today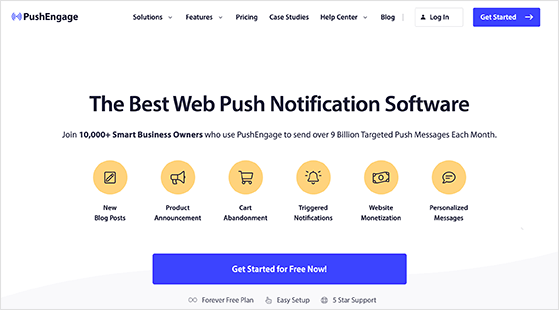 PushEngage is the best push notification software on the market. You can use this tool to send targeted push messages to visitors after they leave your site.
For example, you can send a push notification when you start streaming on Twitch. That way, people who have subscribed to receive notifications will see a browser message telling them your stream is live, so they don't miss out.
You can also use push notifications to redirect traffic to other parts of your website, grow your email list, and much more.
Plus, it comes with a variety of powerful features, including:
A/B testing
Automatic drip campaigns
Customizable opt-in reminders
Triggered campaigns
Interactive message options
Finally, you'll have access to a reliable analytics dashboard to constantly refine and optimize your Twitch growth strategy.
Get Started with PushEngage Today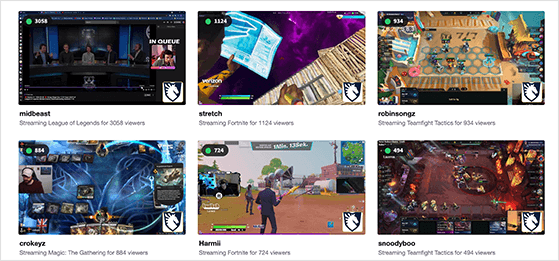 Twitch Wall Pro Branded is a must-have Twitch WordPress plugin that allows you to embed multiple Twitch videos on your WordPress website. In fact, you can use it to display a custom branded Twitch wall on your site easily.
You can get set up in minutes with the custom admin screen and see a live preview of how your Twitch video wall looks. Plus, you can add your wall anywhere on your WordPress site with an easy shortcode.
Visitors to your website can interact with your Twitch wall and watch their favorite streamers in one place.
Some of the key features include:
Show Twitch streamers based on game, team, or usernames
Show offline streamers
Unlimited color schemes with built-in color pickers
Custom branded offline screen and logo overlay
Compact layout for a more streamlined wall
Custom width, number of columns, and spacing
In the end, Twitch Wall Pro is an ideal solution for Twitch streaming teams and brands with multiple Twitch channels looking to engage their audience from their business or personal websites.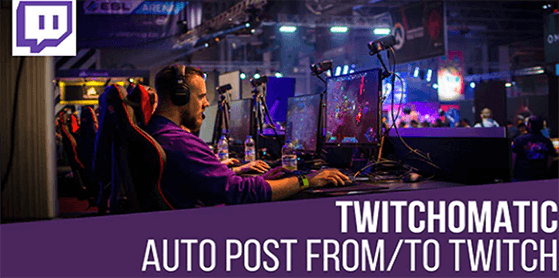 Twitchomatic is an automatic post generator plugin for WordPress. It allows you to post content from WordPress to Twitch and Twitch to WordPress automatically, making it an excellent choice for auto blogging on your website.
For example, the media you can automatically import from Twitch to WordPress includes:
Clips
Videos
Live Streams
Channel Posts
Plus, you can automatically publish videos to Twitch whenever you create a new WordPress post with a valid video link from YouTube, Vimeo, TikTok, Dailymotion, etc.
This plugin supports various search options, such as search by game name, channel name, language, and more. It also generates your post category and status automatically.
Additionally, you can set your preferred video player dimensions, featured image settings, and enable or disable comments.
So if you're looking for an easy way to automate your Twitch publishing, this plugin is an ideal solution.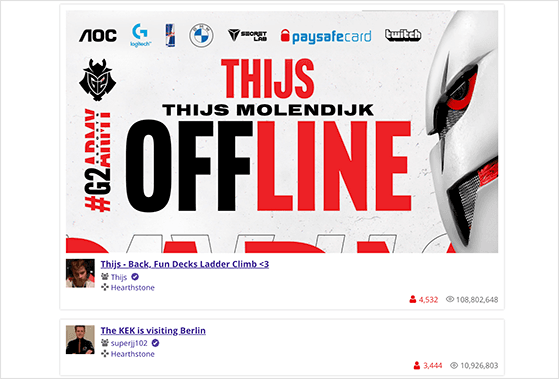 Twitch for WordPress is a free WordPress Twitch plugin that allows you to embed Twitch streams easily on your website.
With this easy-to-use plugin, you can show your Twitch streams in your WordPress sidebar without writing any code.
It offers a simple WordPress widget where you can add any Twitch username. Then you can choose a game, language, and template settings from the various dropdown menus.
Other helpful features include:
Display streams by username
Choose from 100 available games
Define the maximum number of streams to show
Choose from 3 layouts
Caching functionality
If you'd like advanced features, such as shortcodes to embed streams in posts and pages and choose different color schemes, you can upgrade to the paid version.
That said, the free version of this plugin has everything you need to show Twitch streams in your WordPress sidebar quickly.

Stream Status for Twitch is a super simple free WordPress Twitch plugin.
As the name suggests, it allows you to display an unobtrusive notification on your website, showing when your Twitch stream is live. By default, the plugin is set to show your Twitch status as offline, but with the quick and simple setup, you can optionally show a live status as soon as you start streaming.
In addition, you can add your own 'live now' and 'currently offline' texts and choose between regular and large design variations. It also includes easy customization options with a color picker for:
Status background
Status text
Twitch icon
Icon background
As a result, you can show your Twitch status in a way that matches your website's custom branding in real-time using the WordPress live customizer.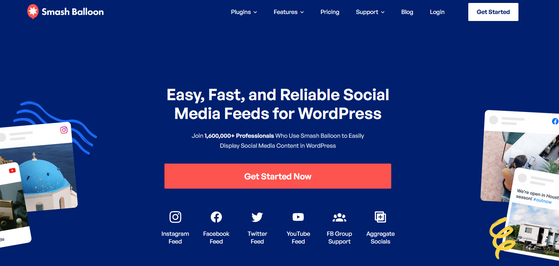 Smash Balloon is the best social media feed plugin for WordPress. With this tool, you can add social feeds to your website from social platforms like:
Instagram
Facebook
Twitter
YouTube
This is an excellent way to showcase your social media content to people visiting your website from your Twitch stream.
Streamers who frequently cross-post to YouTube will love Smash Balloon's YouTube Feed plugin. This tool helps you add video content to WordPress without manually posting each video to your site.
You can add these feeds to your website individually or purchase them as a bundle. Plus, it's easy to customize the way these feeds appear across your site. As a result, you can match your social feed to the unique style and layout of your brand's website.
You don't need any coding skills to get your feeds up and running. In minutes, you can use your site's traffic to boost your social media presence and build stronger connections with your target audience.
Which WordPress Twitch Plugin Is the Best?
The best WordPress Twitch plugin largely depends on your needs.
If you're looking for a way to build your Twitch following fast, RafflePress is the best solution. You can use RafflePress to harness your website traffic and turn it into loyal followers by incentivizing them with a free giveaway.
And if you need an easy way to embed your Twitch stream in WordPress without writing any code, then we recommend SeedProd. It offers everything you need to convert your traffic into Twitch subscribers with distraction-free landing pages.
There you have it!
We hope this article helped you find the best WordPress Twitch plugin for your website. You might also like to see our list of the best free email marketing tools for small businesses.
If you liked this article, then please subscribe to our YouTube Channel for RafflePress video tutorials. You can also find us on Twitter and Facebook.