Looking for Independence Day contest ideas?
Running a Fourth of July giveaway contest is an excellent way for your audience to celebrate Independence Day with your brand. This fun activity can help you form more meaningful relationships with your target audience while boosting leads and engagement.
We'll share some of the best Independence Day competition ideas in this post. We'll also suggest some Independence Day-themed giveaway prizes your audience will love.
Why Run an Independence Day Contest?
Around 84% of Americans celebrated Independence Day recently, which is likely to increase. Additionally, the same people spent over $7 billion on food, making it a lucrative holiday for retailers.
Those figures tell us that Independence Day celebrations are hugely popular, and if your brand can tap into the hype, you can almost guarantee positive results.
For example, you can use the excitement of Independence Day to run theme-based social media giveaways that boost brand awareness and engagement.
A 4th of July contest can also help to:
Promote products or services
Collect user-generated content (UGC)
Improve brand loyalty
Increase social media followers
Boost leads and sales
You know the benefits, but how do you run an Independence Day contest for your business? Let's find out.
How to Run an Independence Day Contest?
There are many ways to run your Fourth of July contest, but many solutions are expensive and hard to use. WordPress website owners won't need to worry because we have an excellent solution: RafflePress.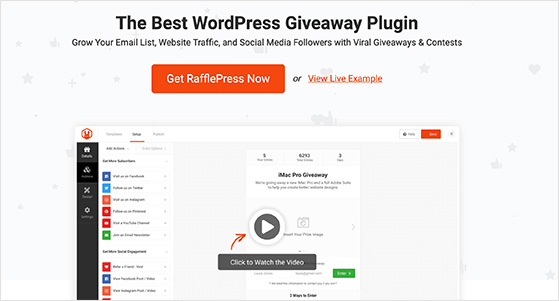 RafflePress is the best WordPress giveaway plugin with drag-and-drop functionality. It lets you create viral giveaways directly from your WordPress site without complicated settings.
You can easily choose from several goal-based giveaway templates and customize them in the visual giveaway builder. There's also a wide variety of giveaway actions that allow contestants to enter with a few clicks, such as:
Follow on social media
Share on social media
Subscribe to podcast
Join an email newsletter
Answer a question
Polls and surveys
Write a blog post
Leave a comment
Refer a Friend
And more
You can publish your giveaway in any post or page or create an instant giveaway landing page to reduce distractions. Moreover, choosing a winner is easy with the random winner picker.
Follow this step-by-step guide to create a contest with RafflePress.
Creating a 4th of July contest is easy with RafflePress. However, generating stellar contest ideas is often the most challenging part.
Don't worry; we'll cover that next.
Independence Day Contest Ideas
Below you'll find some exciting and engaging Independence Day contest ideas you can use for your 4th of July marketing campaign.
1. High-Value Sweepstakes Giveaway
One of the easiest and most popular Independence Day contest ideas is to run sweepstakes with high-value prizes. It doesn't have to be complicated either; the excitement around winning a fantastic prize is often enough to get the results you need.
Because sweepstakes attract tons of entries, ensure you include an email optin form to grow your email list. You can then use that as the method for entering your sweepstakes.
We love this example from Tuesday Morning. The sweepstakes graphic is eye-catching with its red, white, and blue color scheme and is perfect for sharing on social media.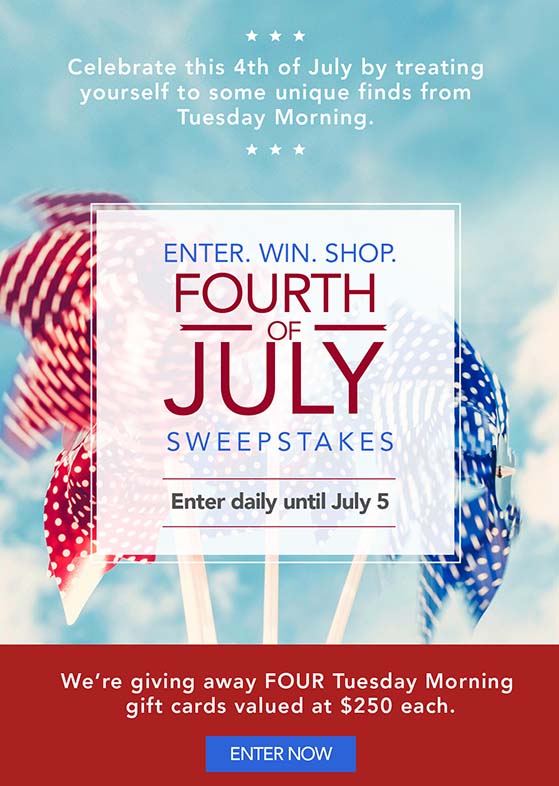 How to do it:
You can run sweepstakes efficiently with RafflePress. You can add the Join an Email Newsletter action to your giveaway widget and ask users to enter their email addresses for a chance to win.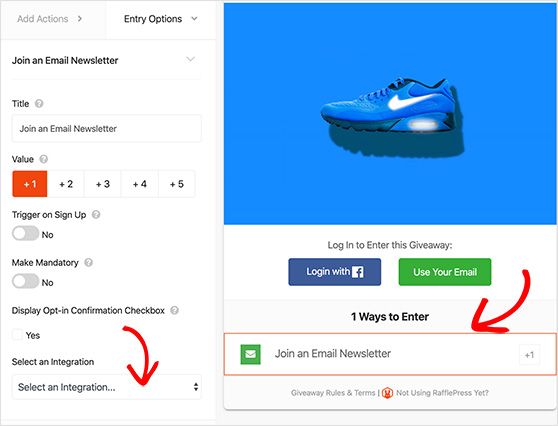 You can also add bonus actions, like Refer a Friend, to increase your contest's reach on social media.
2. Dance Challenge TikTok Video Contest
Video contests are another excellent way to celebrate Independence Day with your audience, and a platform like TikTok is the perfect place to promote them.
Considering its audience is generally younger than other social media platforms, a TikTik video contest can help you reach that target demographic.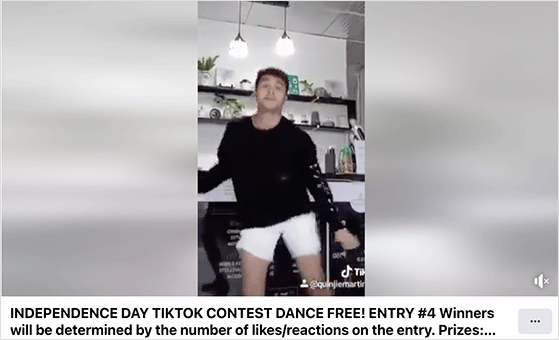 Why not challenge your audience to develop their best dance routines and post them on TikTok with your branded giveaway hashtag? You can then ask people to share it in their YouTube Shorts, Facebook Reels, and Instagram Stories to increase your giveaway's reach.
How to do it:
You can run a TikTok video contest right from your WordPress site with RafflePress. In your giveaway widget, you can ask users to watch your initial TikTok video with the View TikTok Post/Video action.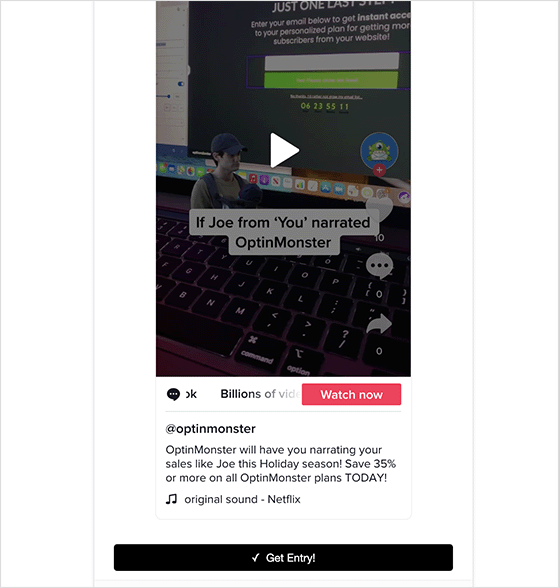 You can also include bonus actions such as Follow us on TikTok and Refer a Friend for users to earn more entries. It will also help you get more TikTok followers.
3. America-Themed Photo Contest
Photo contests are super popular on platforms like Instagram and Facebook, and 4th of July photo contests are no different. Because people generally have photos readily available, this type of summer contest idea is also easy to enter.
If you're looking for Independence Day activities for kids, you can run a 4th of July fancy dress competition.
This example from the Herald-Tribune Media Group asked users to submit photos of patriotic pets to win a $500 visa gift card.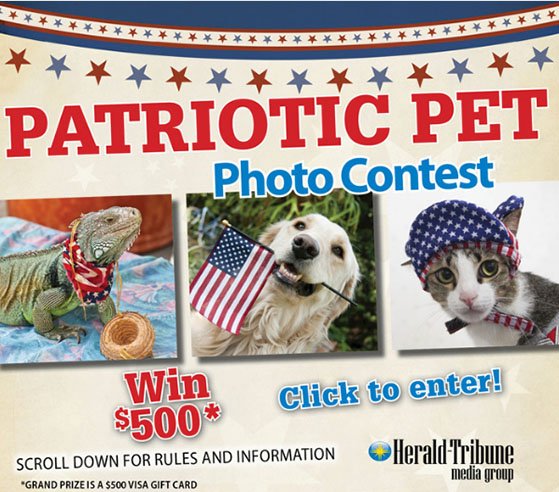 How to do it:
Use the Submit an Image action to run a photo contest with RafflePress. Any images that users submit end up in your WordPress dashboard, making them easy to find and manage.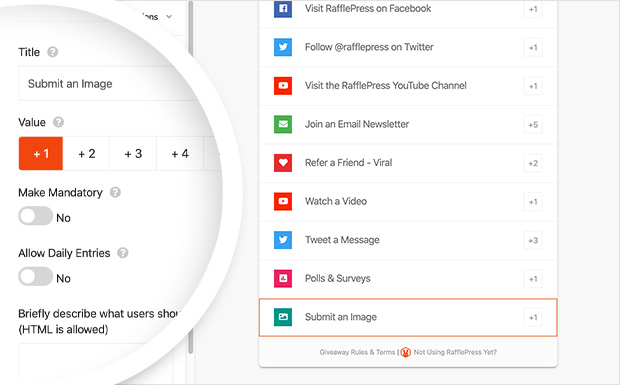 This is also the perfect opportunity to promote your social media accounts. For example, you can ask users to view your giveaway's Instagram post for an extra chance to win.
4. 4th of July Bloopers Caption Contest
No celebration runs perfectly, but the bloopers don't have to remain on the cutting room floor. Find your funniest fourth of July fail photo, share it with your fans, and ask them to caption it for the chance to win a prize.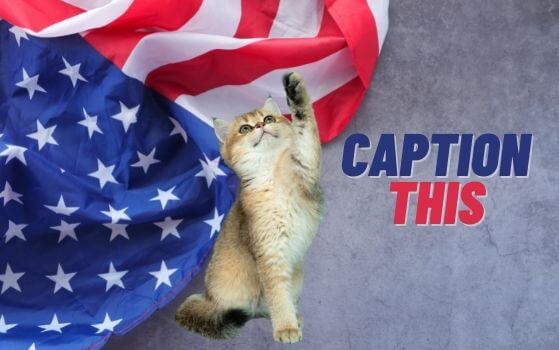 Need some ideas? Maybe you have a national flag hoisting fail or craft ideas that went wrong. Don't be embarrassed; post it on your social platforms and turn it into a lead generation opportunity.
How to do it:
Caption contests work beautifully with RafflePress's drag-and-drop giveaway builder. You can add your funny photo to the Prize Image section and use the Answer a Question action to let contestants submit their captions.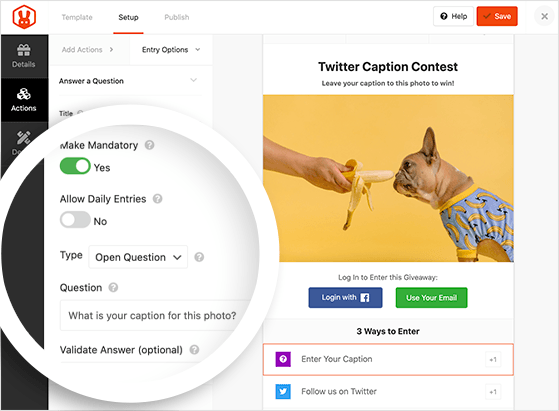 As a bonus, you can ask participants to share the giveaway on Twitter to earn more entries.
5. Best Venue Facebook Voting Contest
People love giving their opinion on things that matter to them, and a voting contest will help you find out what they love most.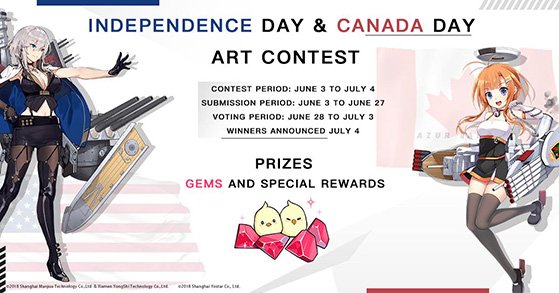 For your Independence Day contest, you can look at local events and activities in your area. You can then ask participants to vote for their favorite for the chance to win a prize.
How to do it:
You can run this type of giveaway with RafflePress's Polls and Surveys giveaway action. Simply add your activities to the list and ask users to choose an option to qualify for an entry.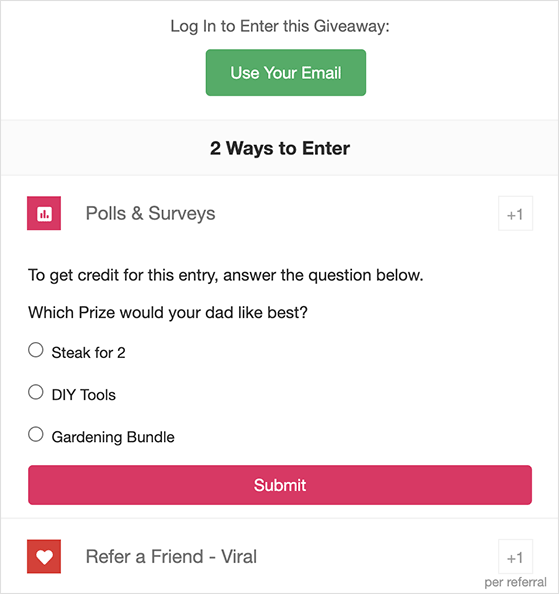 Combine this action with the viral Refer-a-Friend action to ensure your contest reaches as many people as possible.
6. Independence Day Twitter Trivia Contest
Another super easy Independence Day contest idea is a trivia contest. You can compile questions that test your audience's knowledge of American history.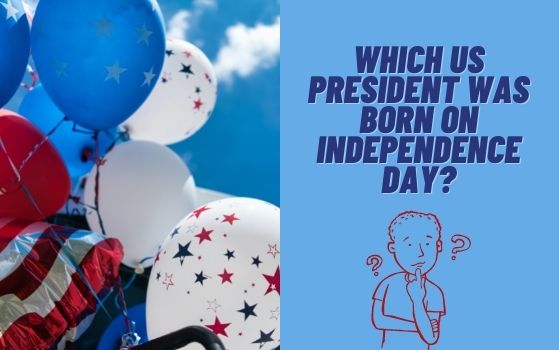 For example, you could ask them to name freedom fighters, patriotic movies, or even recall days and dates. You can award your grand prize to the contestant with the correct answers.
Or, to keep things simple, you can keep your trivia to a single question.
How to do it:
RafflePress's Answer a Question action is the best resource for this type of contest. You can add the action multiple times to ask different questions and draw a winner from each correct entry.
7. 4th of July Instagram Comment Contest
Instagram is a highly visual social media platform and an excellent place to grab people's attention with an Independence Day contest. Create a high-quality image and ask your fans to comment with their favorite memories from holidays in the past.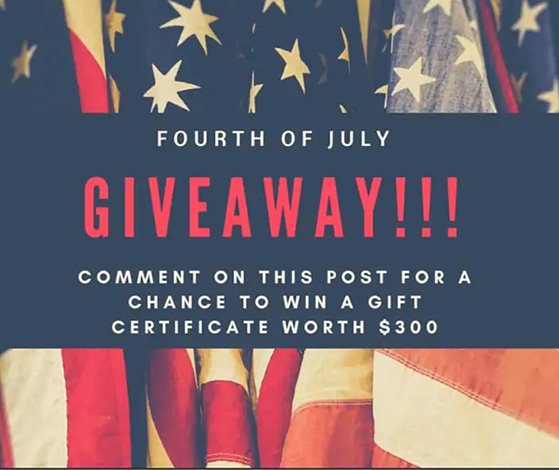 You can then choose the best memory as the winner or pick a winner randomly from the comment pool.
How to do it:
Running an Instagram contest like this with RafflePress is easy. You can use the View an Instagram Post/Video action and ask participants to leave a comment for the chance to win.
Why not ask them to visit your Instagram profile while they're there? Doing so will help you grow your Instagram followers.
8. Refer-a-Friend Hashtag Contest
Hashtag contests are another effective way to boost brand awareness. Because hashtags categorize content on social media, they make it easy for people interested in specific topics to find.
For example, if users are looking for fun Independence Day contest ideas, they'll see your hashtag contest in the results.
You could run a contest giving away some 4th of July goodies and ask users to tag a friend for extra entries. The more people users tag, the more people will see it.
How to do it:
Use RafflePress's viral Refer-a-Friend giveaway action to run this contest idea. All users need to do is share the giveaway on Facebook, LinkedIn, Twitter, Pinterest, or email for the chance to win.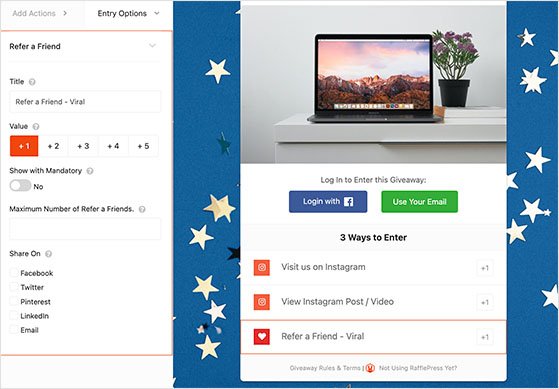 You can add your giveaway hashtag to the share message, making it discoverable on your chosen platforms.
9. Event Selfie Contest
You can run your Independence Day contest before the 4th of July, but what if you want to promote the event itself? Why not make attending your celebration part of the contest and run a selfie contest simultaneously?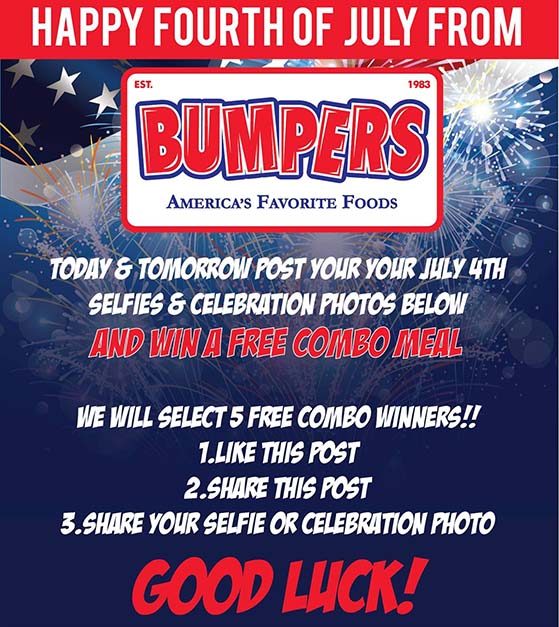 The concept is straightforward. Get participants to snap a selfie during your Fourth of July event and submit it via your giveaway page. You can then choose a winner when the event is over and award the grand prize.
How to do it:
You can use a similar setup to the photo contest idea. Create a photo contest using RafflePress's Submit a Photo action and share the giveaway page with people attending the event.
10. Karaoke YouTube Video Contest
Our last Independence Day contest idea will generate some exciting content you can use throughout the year. Ask your audience to film a video singing along to their favorite patriotic song to enter your prize pool.
If your audience is particularly competitive, you could even turn it into a national anthem karaoke contest.
How to do it:
This type of competition is ideal for video platforms like YouTube. You can post an announcement video on YouTube to kick off the celebrations and use RafflePress's Watch a YouTube Video action to explain all the details.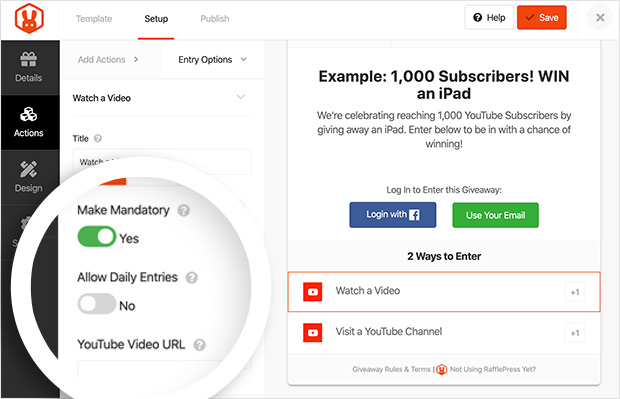 You can then use the Invent Your Own giveaway action to ask users to post a link to their video submission.
Independence Day Prize Ideas
We've covered most of the details around running an Independence Day contest. All that remains is finding the perfect prize.
Here are some Independence Day-themed prize ideas your audience will appreciate winning:
Tickets to sporting events
Camping gear Bundle
Family adventure trip
Brewery tour & tasting
Camera equipment
Summer sports equipment
Firework prize package
Barbecue or fire pit
Family food hamper
Stars and Stripes party accessories
Check out this post for hundreds more contest prize ideas.
There you have it!
We hope this post has helped you find the best Independence Day competition ideas for your business. Have fun with your campaign, and enjoy the big day.
Not sure what the different types of contests mean? Check out this Sweepstakes vs. Contest vs. Lottery definition for a complete overview.
And remember, the easiest way to grow your business with viral WordPress contests is with RafflePress.
If you liked this article, please subscribe to our YouTube Channel for RafflePress video tutorials. You can also find us on Twitter and Facebook.