Ever wanted to connect your RafflePress giveaway with an external service? At RafflePress, we want to make sure that you can.
That's why today, we're so excited to announce the release of Webhooks for RafflePress and easy Moosend email integration.
Here's a breakdown of these 2 new features and what they can do for you and your small business website.
Flexibility with Webhook Integrations
Previously, Zapier and our built-in email integrations were the only options for connecting to 3rd parties with RafflePress. But many of our advanced users needed an easy way to connect to different 3rd parties with RafflePress in just a few minutes.
So for more technical RafflePress users, our new Webhooks feature is an excellent alternative.
You can now use our new Webhooks feature to automatically send data from your RafflePress giveaways to other tools and apps.
Webhooks let you use APIs, a function that lets 2 tools talk to each other, to send giveaway data from RafflePress directly to almost any external tool on the web. It's a fantastic choice if there's an integration you need but no direct integration option available.
This power-user feature saves time and money by letting you skip the use of 3rd party connectors without writing code.
By turning on Webhooks in a giveaway's setting panel, you can trigger an event that notifies other services when someone enters your giveaway.
And once the trigger fires, RafflePress sends that data to your chosen service automatically.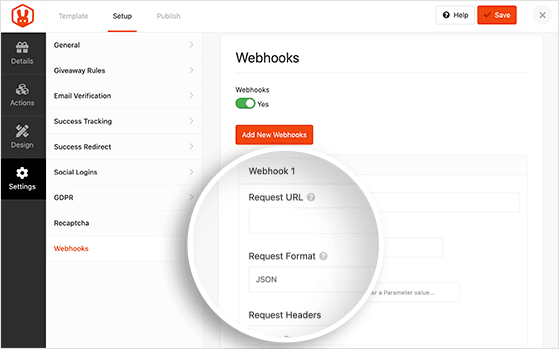 The data you can send to external tools with RafflePress's webhooks include:
Email
Full name
Giveaway ID
Giveaway name
Signup date
For example, small businesses can use webhooks to connect to FluentCRM to manage their leads, customers, and email marketing automation.
Or, if you want to keep things simple, you can use webhooks to send giveaway data to Google Sheets for easy tracking.
You can even integrate an email marketing service like Send Owl or Klaviyo to grow and manage your email list.
In the end, webhooks give you the power to automate your giveaway marketing strategy in a way that works best for you.
Our webhooks feature is available to RafflePress Growth and Ultimate plans right away.
To learn more about this shiny new feature, check out our webhooks documentation.
Moosend Integration
If all the technical talk sounds a bit scary, don't worry. We've also added another email marketing integration to RafflePress: Moosend.
Many of our users want to connect easily to Moosend without writing code, so we delivered.
With this extra integration, you can create viral giveaways in WordPress, connect them to your Moosend email list, and use it to boost your list's growth.
It's super easy to choose the Moosend integration. Just add the Grow Your Email List giveaway action to your widget and choose Moosend from the drop-down menu.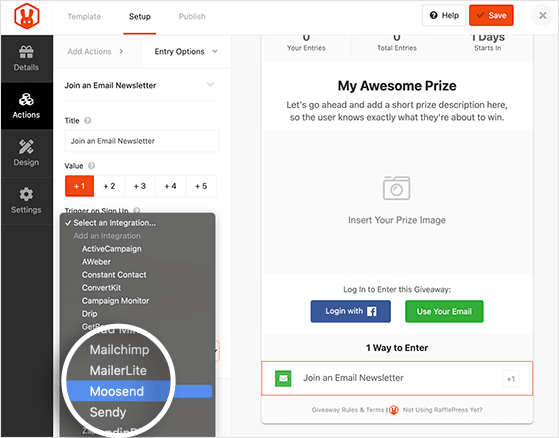 And the good news is anyone using the RafflePress Pro plan or higher can use this new integration right away.
There you have it, folks!
From everyone at RafflePress, thank you for your continued support in making RafflePress the best WordPress giveaway plugin.
And remember, Moosend integration is only available in RafflePress Pro plans and above, and webhooks are ready right now for Growth and Ultimate plans.
So if you're not using any of those plans yet…
Get Started with RafflePress Today!
We have tons of features and updates planned for RafflePress, so stay tuned. And make sure you subscribe to our YouTube Channel and follow us on Twitter and Facebook for the latest updates.