Are you wondering, is RafflePress safe to use on your WordPress website?
Many WordPress plugins claim that they're safe, but after installing them on your website, you may find unexpected issues. However, with RafflePress, you won't have that problem, and in this post, we'll show you why RafflePress is a safe solution for your site.
What Is RafflePress?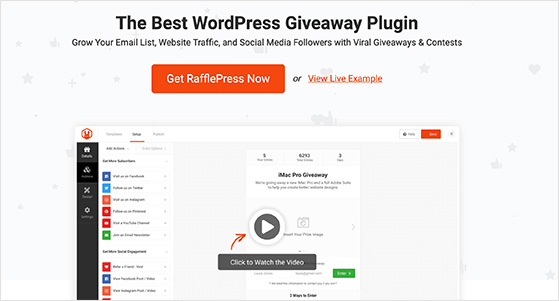 RafflePress is the best WordPress giveaway plugin. It makes it super easy to run any giveaway or contest directly from your WordPress site.
With its ready-made giveaway templates and drag-and-drop builder, creating a giveaway takes minutes. Moreover, you can include powerful giveaway actions to raise brand awareness and generate leads for your small business.
For example, viral refer-a-friend giveaways use word-of-mouth marketing to reach new users on social media. And with photo contests, you can collect user-generated content, allowing you to show potential customers that real people are using your products.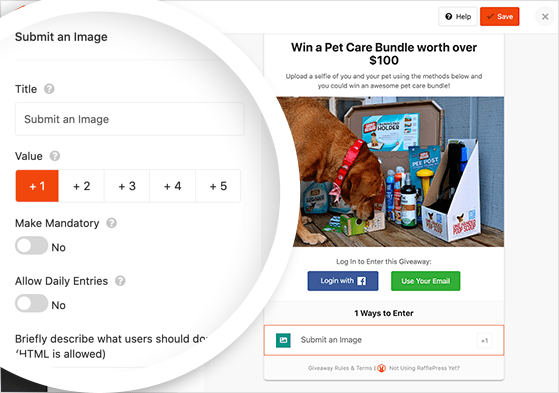 Whatever your digital marketing goal, RafflePress can help you grow your email list, website traffic, and social media followers with viral giveaways and contests.
Is RafflePress Safe?
RafflePress features aside, let's tackle the real question on your mind: is RafflePress safe? Continue reading, and we'll explain why it is.
Only Reads Your Data
RafflePress lets you integrate with popular social media platforms to grow your social media followers and boost brand awareness. You can also allow users to log into your giveaway widget via Facebook.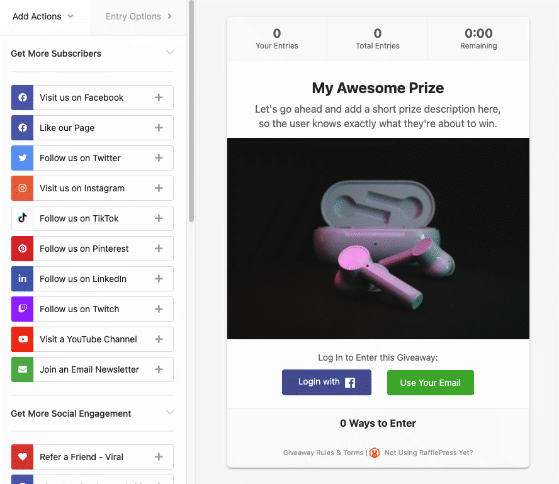 When you're setting those features up, you might worry about RafflePress making changes to your social media profiles.
The good news is that any access RafflePress has to your social media accounts is read-only. That means it can only read the data on your profiles and can't edit or change it.
For example, when you ask contestants to view a Facebook post or video, RafflePress can only read the information in that post and can't edit the content.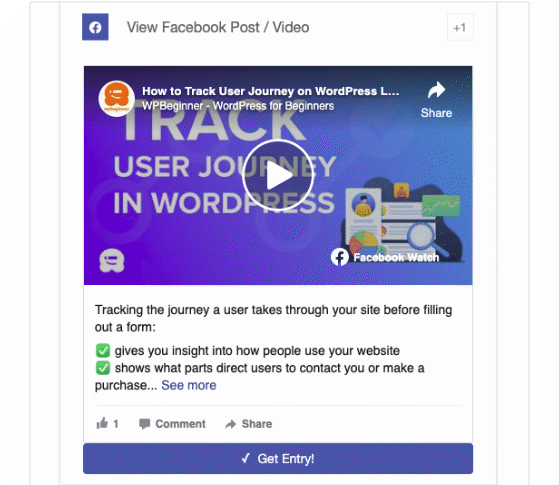 Moreover, RafflePress doesn't store any personal data of its users on its servers and doesn't send your data to other third parties.
Respects Your Visitors' Privacy
Privacy is crucial to the successful running of your small business. Something as small as violating the General Data Protection Regulation (GDPR) can incur fines of up to 20 million euros.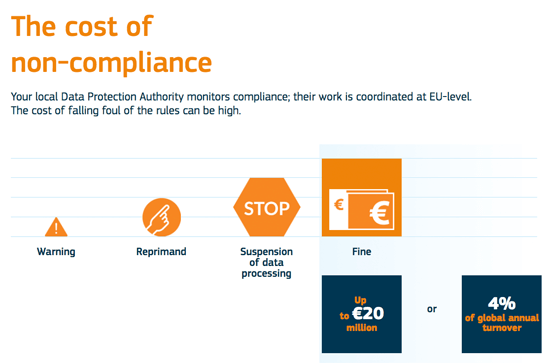 This is something you won't need to worry about with RafflePress. It includes settings to help you comply with GDPR.
For example, when using the Join an Email Newsletter action to grow your email list, you can display an opt-in confirmation checkbox so users know exactly what they agree to.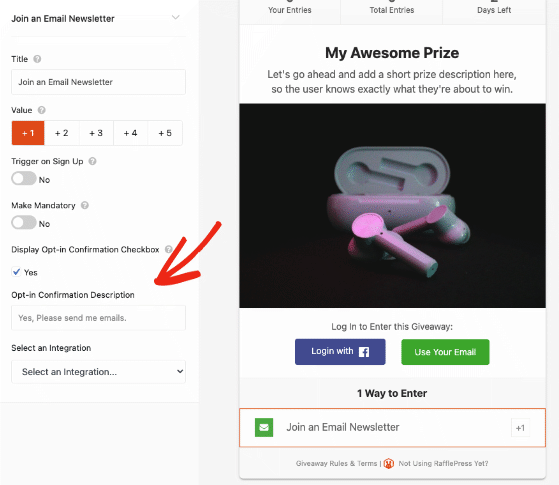 You can also enable a GDPR consent checkbox so users can provide their consent when registering for your giveaway.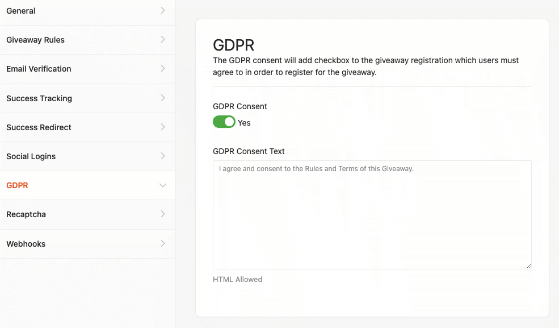 Trusted By The Experts
Another reason why RafflePress is safe is the amount of trust it has in the small business community. If it weren't a safe WordPress plugin, thousands of users wouldn't use it daily to run viral giveaway contests.
On top of that, RafflePress is from the same team behind some of the most popular and trusted WordPress plugins on the market, including SeedProd, OptinMonster, WPForms, MonsterInsights, and more. That also includes WPBeignner, the best WordPress training resource online.
With those credentials, you can rest easy knowing that we have the experience to create safe and trustworthy products.
Regular Security Updates & Bug Fixes
You may also worry about your plugins being out of date. Since outdated plugins are one of the top reasons why websites are vulnerable to hacking, it's a valid concern.
Luckily, it's a concern you needn't spend any energy on because RafflePress gets regular bug fixes and security updates.
Automatic updates like this ensure your giveaways are always compatible with the latest version of WordPress. Plus, RafflePress is constantly working on improving its features, so you get new, exciting updates along with those important security fixes.
No Coding Needed
The need to manually change code on your website is another worry for users with limited technical experience. What if you edit the wrong code and accidentally break your site?
Because RafflePress is a visual giveaway builder, no coding is required. Its drag-and-drop functionality allows you to point and click to create successful giveaways effortlessly.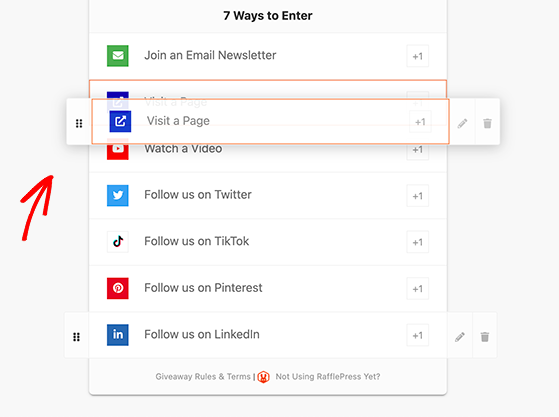 Every feature is user-friendly. You can customize buttons, colors, fonts, backgrounds, and more with a few clicks.
Adding your giveaway to WordPress is just as easy. RafflePress uses the WordPress block editor to embed your giveaway widget easily in posts, pages, and sidebars.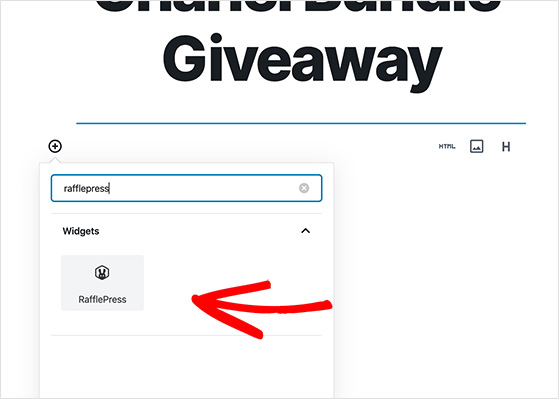 You can also create distraction-free giveaway landing pages without creating them from scratch.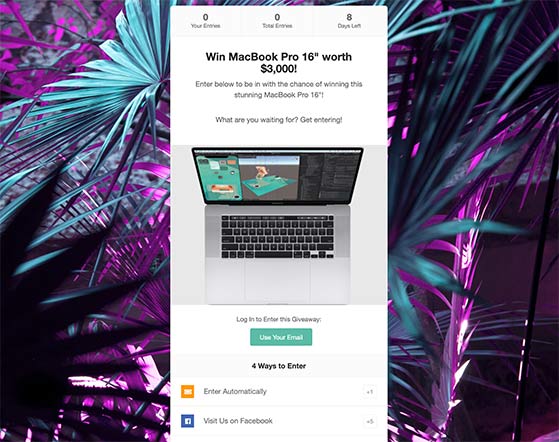 Ultimately, there's virtually no opportunity for you to break your website accidentally.
100% Money-Back Guarantee
At RafflePress, we understand that it may not be the right solution for everyone, which is no problem. You can get a full refund within 14 days, no questions asked!
That means you're free to test RafflePress for 2 weeks and see if it's the best fit for your business. If it isn't, you can get 100% of your money back.

Essentially, there's zero risk. Just give it a shot and see if it's the right WordPress giveaway plugin for you.
Moreover, RafflePress is free if you pick the lite version. As a result, you can try it out, and if you're happy, you can upgrade to any of the RafflePress pricing plans anytime.
High-Quality Customer Support
If you run into any issues with your WordPress giveaway, don't worry. RafflePress has a highly-rated support team of WordPress experts on hand to help at any time.
If you have any issues or questions, you can contact the support team for help, and they'll patiently walk you through a solution.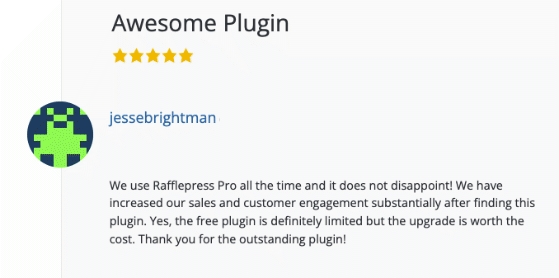 Here is a snapshot of what people have to say about RafflePress support:
"I immediately reached out to the support team, and they got back to me right away. We communicated over a period of days, and in the end, the whole platform now works like a charm thanks to their dedication and hard work."
"The plugin is super easy to use and has some great features. I have had to chat with support to resolve some things, and they were on it and took care of things right away."
Besides high-quality support, RafflePress has an extensive collection of resources, including documentation, blog posts, and video tutorials for every feature.
As you can see, RafflePress prioritizes security, safety, and ease of use, making it a safe choice for your website. And remember, you can get a 100% refund anytime, so it's practically risk-free.
So what are you waiting for? All you need to do is grab RafflePress Pro to start your journey into giveaway marketing.
You can also get started quickly with this guide on creating an online contest.
If you liked this article, please subscribe to our YouTube Channel for RafflePress video tutorials. You can also find us on Twitter and Facebook.