Today we're excited to announce that RafflePress 1.8.0 is out, featuring more ways to grow your business with viral WordPress giveaways.
We've added 2 brand new giveaway actions, and we've improved the way that exports work, making it easier to check and organize your giveaway data.
Without further ado, let's dive in and learn what's new with the RafflePress plugin.
Check out the video above for an overview of what's new, and keep reading for all the extra details about this announcement.
Follow on Twitch Giveaway Action
Considering Twitch users consume 71 million hours of content daily, it's not surprising that content creators are flocking to the platform to promote their business.
But like many social networks, building a Twitch following takes time and effort, which can be frustrating when you're just starting out.
Yet with RafflePress's new Follow on Twitch giveaway entry action, you can make the process both easier and faster.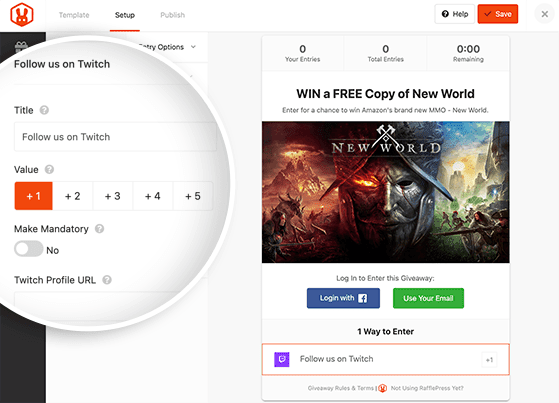 Now, whenever you run a giveaway, you can use the Follow on Twitch action to increase your Twitch followers.
Just enter your Twitch profile URL and make it mandatory for users to follow you for entry into your prize draw.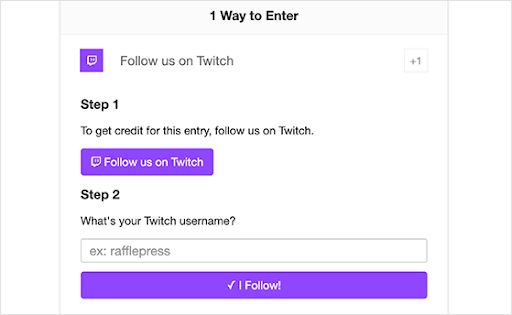 To confirm they followed you, users must enter their Twitch username, which you can check in the entries dashboard.
And the good news is any type of Twitch user can grow their Twitch brand with this method. For example:
Game streamers
Health and fitness channels
ASMR content creators
Musicians
Artists
And even food and drink broadcasters can easily run a Twitch giveaway to reward fans for supporting your channel.
Best of all, by running your Twitch giveaway in WordPress, you can drive tons of targeted traffic to your business website. And as a result, increase your leads and conversions.
Subscribe to Podcast Giveaway Action
In addition to Twitch, we're just as happy to release our new Subscribe to Podcast giveaway action. With this action, you can ask users to subscribe to your podcast for a chance to win a prize.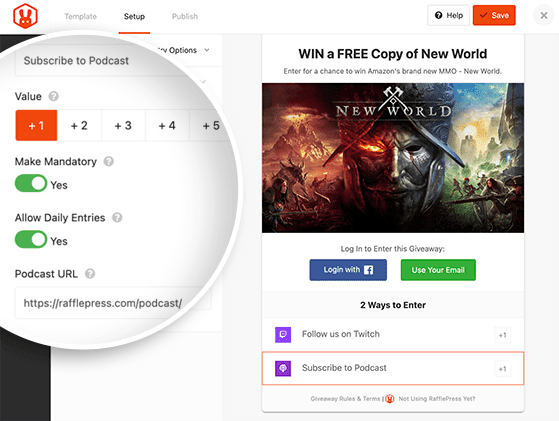 In the URL field, just add your podcast or podcast feed URL. Then when users click to enter, your podcast page will open in a new tab for them to subscribe.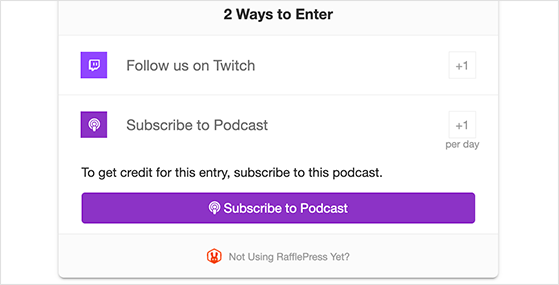 With over 850,000 active podcasts online, running a giveaway to promote yours can give it the boost it needs to stand out from the competition.
As well as using this new giveaway action to drive listens and subscriptions, RafflePress offers tons of other valuable actions you can use to promote and grow your podcast.
This includes incentivizing users to:
Follow your podcast on Twitter
Tweet about you, or Retweet one of your posts
Visit your other social media profiles
Visit your podcast YouTube channel
Subscribe to your newsletter
Share your contest with friends
When you consider that 94% of podcast listeners are active on at least one social network overall, an online contest is one of the best ways to reach them.
Improved Giveaway Entry Exports
Moving forward, we've been working behind the scenes to improve how exports work in RafflePress.
Now when you export large amounts of user data, you won't experience any browser timeouts stopping you from finishing the download.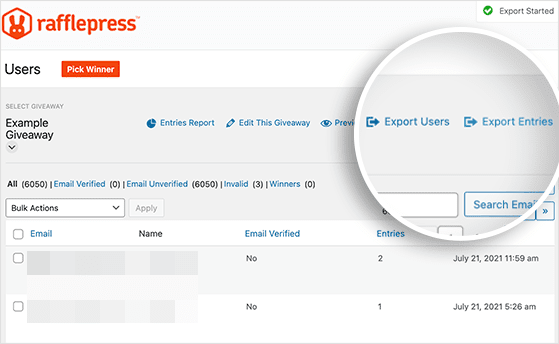 If this sounds complicated, don't worry.
This feature works behind the scenes automatically, and you don't need to configure any settings. But what it does do, is allow you to download data from your giveaways quickly and seamlessly.
As a result, you can access the data you need fast, making it easier to check your results and brainstorm ideas to make your next giveaway even better.
Update Your RafflePress Plugin Now
That wraps it up for everything new with RafflePress. We hope you enjoy these powerful new giveaway actions and under-the-hood improvements.
If you're not using it yet, today's a great day to get started with RafflePress Pro. You'll instantly gain access to these new actions, plus a lot more on the horizon.
We've worked extra hard on this release with the hopes that RafflePress makes growing your business even easier. But we don't know what works and what doesn't without your feedback.
So share your thoughts on RafflePress 1.8.0. Your feedback helps us plan new updates, and we appreciate hearing all about your experiences using our product.
As always, thank you for your continued support in making RafflePress the best WordPress giveaway plugin.