Want to take your YouTube channel to the next level?
With RafflePress, you can easily run viral online video contests, engage your audience, and grow your channel with YouTube giveaways and contests.
RafflePress makes it easy to create sleek YouTube giveaways that are incredibly fun and engaging for your community. Then you can drive traffic to your channel and encourage more views and subscriptions.
YouTube Giveaway Template
Picture being able to launch your YouTube contest in under 5 minutes.
Most contest apps on the market make it tricky to get started. What entry methods should you use? What actions drive the most traffic?
With RafflePress, there's no guesswork.
Our YouTube giveaway template comes with powerful YouTube contest actions designed to drive traffic and engagement to skyrocket your channel's popularity.
Just click the Grow Your YouTube Channel template, and the actions to visit your channel and watch a video are right there.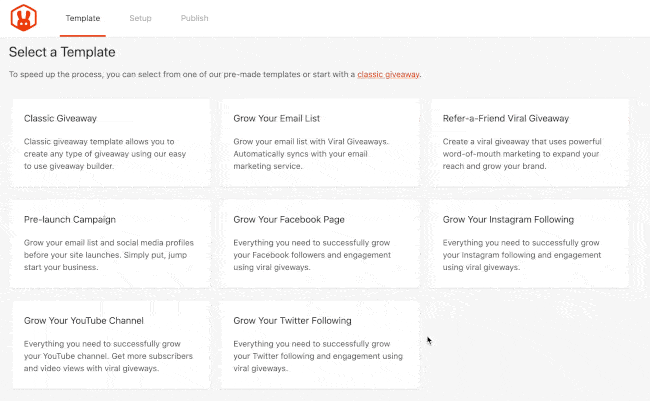 Then with the drag and drop contest builder, you can embed YouTube giveaways in WordPress posts and distraction-free landing pages with your own custom design.
And there's more…
Engaging Online Video Contests
Besides helping you craft hassle-free contests, RafflePress makes it super easy to run online video contests for YouTube too.
Our Invent Your Own action lets you design your own entry method. For instance, gaming websites running online video contests can customize the action to say "Submit a Video Link" so participants can post the link to their video submission for entries.
Or to gather user-generated content through contests for your clothing store, you can ask people to add links to videos of them showcasing this season's outfits.
Are you ready to explode your growth with effortless YouTube giveaways and contests? Get started with RafflePress today!